RACHEL MAXFIELD, EAST VALLEY
By Alexis Weber, Davis High School
East Valley High School ASB president Rachel Maxfield says it with a bit of pride in her voice: "Even though in East Valley everybody knows everybody, it feels like a home."  
Maxfield was only a sophomore when she moved from the Seattle area to the 900-person school in Moxee. Her parents moved to our area to work with the Harrah-based Sacred Road Ministries and have started a vocational T-shirt printing business, Swan Graphics. Of course, it was a quite different change to go from the city life into a much more close-knit community.
But Maxfield has taken well to her new surroundings and during the 2016-17 school year assumed the position of activities coordinator for the junior class ASB before rising to executive president. Being in the leadership class at East Valley served as an inspiration for her to run for ASB, despite still being new in a school of students who have largely grown up together.
Taking this chance running for East Valley's ASB president has offered the current senior many new opportunities that would not have been available had she not decided to run. Among these opportunities she'll cite are building relationships with other leadership-involved students across the state, meeting Gov. Jay Inslee, and learning more about public speaking.
She has also learned that being a president, or just being a leader in general, involves sacrifice.
"You have to be willing to put others' needs before yourself," she explains.
Maxfield views leadership as something that involves making the best decisions for those who will be affected. She believes people should not pursue leadership roles unless they have a passion for the people they are representing. Her past year with East Valley's ASB had helped her to understand that people will not always agree with everything with decisions that are made, and that being the person assigned to be in charge means that you cannot keep everyone happy, even if you strive to.
Maxfield spends most of her time volunteering, assisting with projects in White Swan, where her parents work. She's been involved there in leading a middle school Young Life group and a youth group at Hope Fellowship Church, and tutoring at schools. All of these activities are things she pursues under the aspirations of being like her grandmother, somebody the EVHS senior calls the most influential person in her life due to her grandmother's uncanny ability to touch others in a positive way while living her life for God.
In fact, the East Valley senior hopes to attend San Diego's Point Loma Nazarene University, a Christian college where she'd like to study business and political science in the fall.
All in all, East Valley's president is an example of the school's motto, "Spirit, Pride, Excellence".
As East Valley's ASB president explains it, spirit affects everything about the culture and community, and it's something you need to have for East Valley. She adds that pride is what students must have in their school to give them motivation. Finally, she says, you must do everything in your life with excellence.
EMMA SMITH, SELAH
By Anna Ergeson, Selah High School
Emma Smith, a dancer on the Selah High School varsity dance team, a member of FCCLA (Family, Career and Community Leaders of America)and National Honors Society, felt she needed just one more thing on her agenda ... so a year ago she ran for ASB president.
While she stays incredibly busy with dance inside and outside of school and is involved in many clubs — including Senior Council this year — the 2017-18 ASB leader still finds the time to help create change at Selah High School.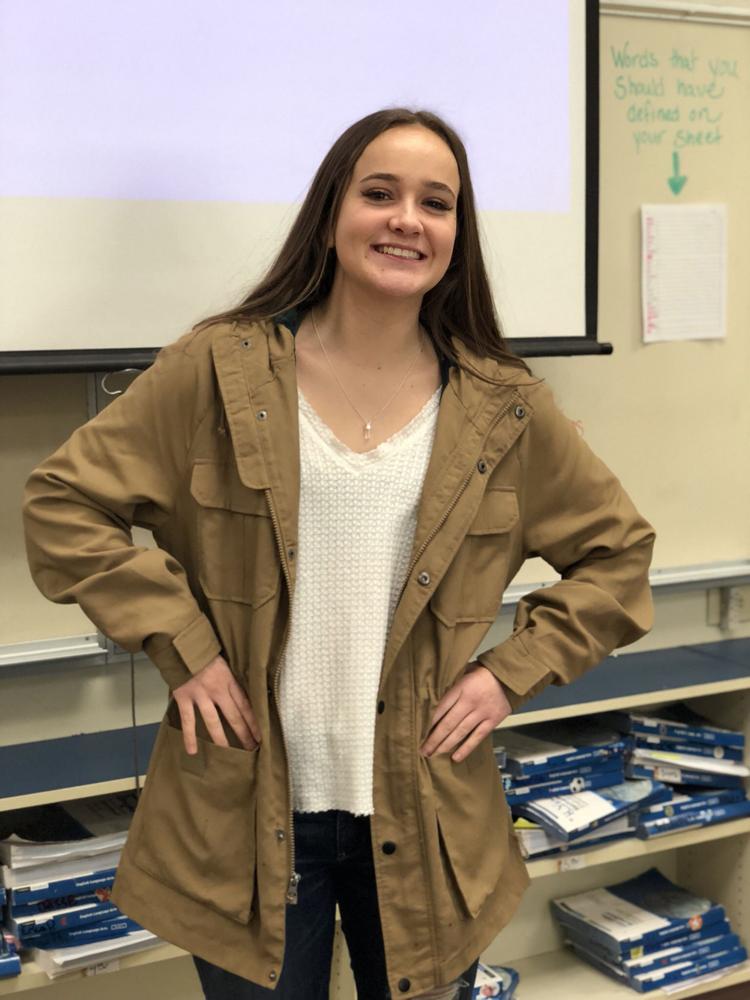 Smith decided to run for ASB president because she desired to be more involved in her school and she wanted to create a better learning environment for Selah students. She's someone who exemplifies the idea that you don't have to initially be the most extroverted person in the world to run for a school office. Rather, you just need to take a chance.  
She remarked: "As a freshman and sophomore, I was extremely shy when it came to participating and voicing my thoughts. Then as a junior something just clicked and suddenly I was attending everything."
The senior's goal this past year as ASB president has been to change how much Selah High School is involved in community service projects. And Smith feels she most definitely has helped bring positive change to Selah High School this past year.
"The Adopt-A-Family program donated to more families than ever before, reaching more families in need," she said, referring to the program that provides students the opportunity to donate gifts during the holiday season. "Overall, I have seen the desire to help and serve increase dramatically."
One project that had special significance to Smith and her fellow ASB leaders was last fall's Pink Night football game. Selah's ASB adviser, Michelle McCartney, was diagnosed with breast cancer this past year, so Smith felt it was highly important to make sure everything ran smoothly for that fundraiser. Students at the school also sold pink pompoms and did a "dash for cash" activity that together raised more than $500 for breast cancer patients.
"This fundraiser meant a lot to (the staff member) and it was very powerful to see firsthand how my work could benefit others," acknowledged Smith.
What does Smith say she most loves about her position? Being able to bring joy to the student body. She says she had a great opportunity in being able to chair last fall's homecoming committee, helping to plan the dance, assemblies and the football game. She most enjoyed seeing the smiles on students' faces during those events.
While she jokes that signing many, many papers does get boring, Smith emphasizes that being ASB president has been the greatest opportunity of her high school career. Emma Smith is an ASB president with a sense of humor and someone who is an initiative for change at Selah High School.
VICTORIA COLE, RIVERSIDE CHRISTIAN
By Cara Elzie, Riverside Christian High School
Victoria Cole. Although many words could be used to describe her, the first one comes to mind is leader.
However, I would be doing a disservice to her talents if I did not first describe the numerous other abilities she has. She comes from a family of distance runners and has participated in track and cross country for six years, during which she has been cross country captain and gone to state every year in track.  
"I love the community running creates," she explained.
In addition to athletics, Cole is musically inclined. A singer and musician, she plays the piano, guitar, ukulele and sings on the Riverside worship team and leads worship at her church. Aside from music, she also enjoys other forms of art, predominantly photography.
A fellow Unleashed member, she of course also enjoys writing, both as a way of communication and a form of personal catharsis. When not writing for Unleashed or for herself, Cole enjoys writing for competitions. Last year, she won first place in the newswriting division of International Teen Talent, a competition through the Church of God denomination. Additionally, she was a Voice of Democracy district finalist and does much of the writing for the Riverside yearbook, of which she is currently an editor.
When not involved in one of these many extracurricular activates, school keeps Cole extremely busy. Although an all-honors student and member of the National Honor Society, she still manages to laugh at her busy schedule.
"The only way I survive calculus is watching Netflix and listening to Beyoncé," she said with a laugh in explaining how she balances her academic life with her activities.
After graduating this spring, she plans to attend Tennessee's Lee University, a private research university associated with the Church of God, to study public relations and marketing. The university also offers a wide variety of music opportunities, including several vocal ensembles, which she intends on auditioning for to increase her musical skill.
Between her academics and extracurriculars, Cole has very little free time. When not working hard on school or activities, she enjoys indulging in sweets and green tea, lounging in sweatpants with her labradoodle, Riley, and co-parenting her cactus, which she named Winston the Fourth.
Above all of these things, Cole enjoys leadership and the human connection that comes from it.
"I knew I wanted to be president because I wanted to make a change," the 17-year-old said when discussing her decision to run for president of the Riverside Christian ASB. Having been educated at Riverside most of her life, Cole felt she wanted to make an impact on Riverside in the same way that it has impacted her.
"Riverside is my family and it's where my roots are," she explained. "I truly love Riverside and want to make the school better through my leadership."
She credits the teachers and staff to being leaders to her and others in the school: "They have exemplified what leadership should be."
Throughout Victoria Cole's years on ASB and student government, which began with class representative as a seventh-grader to president as a senior, she has demonstrated that her passion for leadership runs deep.
"The sign of a good leader is not just leading well in the time that they are there but leading in such a way that the environment will thrive even after they're gone," she said. "That is my goal with Riverside: To leave an impact that will stay even after I am gone."