Shari Dee Sampson Elwell enjoyed making people laugh. She was a slow cook, but a good one. Her meals were worth waiting for.
Siblings of the outgoing 30-year-old Wapato resident remember her fondly. They also live with knowing that she was murdered in a case still unsolved. Her physically and sexually mutilated body was found Dec. 30, 1992, by hunters in a remote, closed portion of the Yakama Reservation northwest of White Swan. She had been strangled.
"She would have been 59 this year, on July 28," her older brother, Bruce Sampson, said Wednesday during a gathering at Pioneer Park in Toppenish for the national day of awareness for missing and murdered Indigenous women. He was joined by their sister, Annette Sampson, a nephew and other relatives as he spoke to around 50 people who attended.
Elwell is among dozens of Indigenous women who have gone missing, have been murdered and have died mysteriously on and around the sprawling, 1.3-million-acre Yakama Reservation over decades. Most of the cases are unsolved. Several women were strangled.
"I know there's people out there that know something, but they're scared. These other women — somebody knows," Bruce Sampson said. "I don't want to be one of those people that dies not knowing. There's people out there but they're scared to come forward. I just hope they will."
He also talked about their father, Donnie Sampson. He disappeared while hunting elk on Oct. 30, 1994. The well-known religious leader had been serving on the Tribal Council's Code of Ethics Committee for eight years when he went missing. His medication, lunch, clothing and three rifles were found in his truck. A fourth rifle he left home with was missing.
"Where they found the pickup, our dad would have never gotten lost up there," Bruce Sampson said.
Cissy Strong Reyes and Lucy Smartlowit organized Wednesday's event. Most who attended wore masks due to the ongoing COVID-19 pandemic as they stood or sat around the flagpole, with others sitting or standing farther away.
"This movement is hard. It is very hard," Reyes said. "This is us standing up here as a family calling for action for missing and murdered Indigenous people. The families are the ones that are the voices for the missing."
She and her brother, Christopher Strong, spoke about their sister, Rosenda Sophia Strong. She disappeared on Oct. 2, 2018, after heading to Legends Casino with an acquaintance. Her remains were found on July 4, 2019, in an abandoned freezer less than 4 miles from Reyes' home, where Strong was staying. The FBI investigation into her homicide continues.
"Today I have this poster. This is who I speak for," Reyes said. "I'm out here today to bring awareness because we have an epidemic. ... I do this because I want this to end across Indian Country.
"If you know something, say something. This needs to end. We need to stop losing our Indigenous women and men."
Rosenda's siblings cherish the time they can spend with her infant grandson, Israel. "I see her face every time I look at him," Christopher Strong said.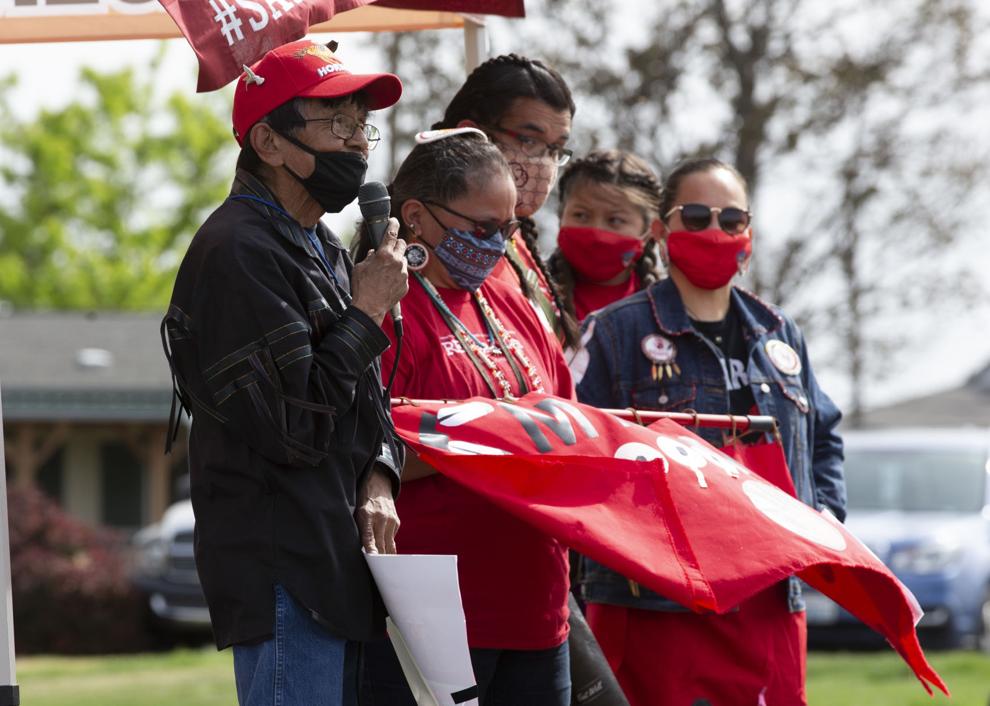 Smartlowit read the names of the more than three dozen Native women known to have gone missing, been murdered and died mysteriously on the reservation. Smartlowit also said the names of a Yakama woman who was killed in an unsolved murder in Seattle in 2003, Sandra Lee Smiscon, along with women whose alleged killers are in the court system or have been convicted.
In reading their names, Smartlowit stressed those are only the cases that have been reported, going back to 1957. The list that Smartlowit read from, which is maintained by the Yakima Herald-Republic, is incomplete.
Some cases are never reported. Others get lost in the jurisdictional maze of law enforcement and the legal system in Indian Country. Countless families over decades have been left without answers and justice for their loved ones.
"This is a human rights issue," Smartlowit said.
Most attending Wednesday's event wore red, with many women clad in ribbon skirts, regalia or specially designed clothing to show their support for missing and murdered Indigenous women and girls. Relatives and friends brought posters or photos of their loved ones. Ne'Sha Jackson, a former tribal court judge, offered prayers.
Two young girls, the daughters of Myrna Cloud, sang a warrior woman song. Cloud spoke with emotion about her cousin, Destiny Louise Lloyd, who went missing in late 2017.
"I'm sorry. This is still hard," she said, pausing briefly.
Lloyd, who was 23, "went missing on Christmas Day and was found four days later in a ditch," Cloud said. Lloyd had gone out that day with friends.
"She was with people she was supposed to be able to trust," she said.
"No woman asks for that. No person asks to be hurt. It's the society we're in, the way they treat the Native American women," Cloud added, noting that her cousin's murder is unsolved.
In closing, Reyes enthusiastically welcomed U.S. Rep. Dan Newhouse, R-Sunnyside. Newhouse has co-sponsored legislation created to address the crisis of missing and murdered Indigenous women. In speaking on the House floor for that legislation, he mentioned Rosenda Strong's name. Reyes was pleased to see Newhouse there and thanked him for saying her sister's name.
Newhouse introduced a bipartisan resolution to designate May 5, 2021, as the National Day of Awareness for Missing and Murdered Native Women and Girls. In Toppenish, he mentioned other legislation he has co-sponsored in hopes it will help address the crisis. But he also praised the grassroots efforts of families to keep public attention on the issue.
"It's important to help recognize that we're making progress. But I can't take all the credit for things happening," Newhouse said. "I just wanted to express my thanks to the people who have been raising awareness."