She lay with her face to the sky when the horseback rider found her on a blustery February day in 1988.
Though she was near a dirt road that leads from a busy Yakima County highway, no one noticed her for several months. With a height advantage over people in vehicles, the rider saw her in a brushy area roughly 5 feet from the dirt road, which runs southeast from Parker Bridge Road to the Sunnyside Diversion Dam on the Yakima River.
It was early in the afternoon of Feb. 16, a Tuesday.
"I'd say right about here," Rod Shaw said as he stood on the dirt road in July and pointed into a tangle of narrow-leaf willow, chokecherry and shaggy trees, along a rusty barbed-wire fence. "All of this wasn't here before. We're looking at 30 years of growth."
Shaw is a retired detective with the Yakima County Sheriff's Office who worked the case. He came back to the site earlier this summer with Toppenish Police Capt. Dave Johnson, a former sheriff's office detective also involved in Doe's case, and Yakima County Coroner Jim Curtice. The coroner brought his body-sniffing dog, Justice.
"It's so overgrown now, but there's a little incline. She was at the lowest point of the incline," Shaw said. "She was just far enough off the road if you were driving by, you wouldn't see her."
Back in 1988, Shaw stood on a car to photograph the scene where she was found. After lying there for an estimated four to 10 months, only her skeleton remained. She was 4-foot-11 to 5-foot-1, with black hair approximately 12 inches long. Petite clothing remained on her frame.
"She was not a big lady. She was quite small, maybe 120 pounds," Shaw said. Investigators initially thought she could be 20 to 30 years old — later estimating 30 to 40 years old — and weren't sure if she was Native or Hispanic. Her teeth showed no signs of dental work.
"Her head was slightly lower than her feet. I did tip the body over slightly to check and see if there was any dried blood underneath or a weapon, and there wasn't anything," he said. "It appeared to me she had been killed elsewhere and placed there."
They call her Parker Doe because she lay near the unincorporated Lower Yakima Valley town of Parker. Curtice wants to exhume her from a cemetery west of Yakima as soon as possible. Because of drastic advances in DNA technology, he is closer than ever to being able to identify her and return Doe to her family — goals since he became coroner in 2019.
"I'll do whatever it takes," Curtice said. "I'm waiting on the cost. As soon as they come up with a cost, we'll set a date."
"It's going to happen one way or another," he said of the exhumation.
Similar cases
Because of where she was found, investigators think Doe was murdered. Two other women's bodies were discovered in the Parker area months before.
In 1987, a paroled rapist who had moved from Texas to Yakima the previous fall terrorized women familiar with the city's rough late-night scene. His name was John Bill Fletcher Jr., and DNA evidence tied him to the rape and stabbing deaths of Theresa Branscomb, 20, and Bertha Cantu, 26, in separate attacks in 1987. Their bodies were found in the Parker area. Branscomb's remains lay in an orchard about a mile west from where Doe was found and Cantu at the end of the dirt road, almost to the river. Both were last seen in downtown Yakima.
Fletcher took two other women to the Parker area and raped them. He stabbed one woman 16 times. She escaped, crossed the river and flagged down a passing car, providing information that led to Fletcher's arrest in August 1987. He was convicted of two counts of first-degree rape and one count each of robbery and assault and sentenced late that year, entering the Washington State Department of Corrections in January 1988.
Identifying Doe could help investigators answer the question of how she died, which is no small task because what they have of her is in pieces.
Her skeleton is believed to rest in an unmarked grave at West Hills Memorial Park outside Yakima. Her clothing is in evidence at the sheriff's office, which is handling the homicide investigation. Her skull was transferred to the King County Medical Examiner's Office in Seattle after years of storage at Central Washington University in Ellensburg, where it was taken for a clay reconstruction in the 1980s.
Authorities have never extracted Doe's DNA and know they must, said Detective Sgt. Jason Pepper, head of detectives at the sheriff's office.
"It's just a matter of time. I think we're moving forward and I think we're going to get something," Pepper said. "Once we get some DNA, I think we're going to be able to identify her."
Funding for Doe's exhumation is in place, and Curtice is coordinating with West Hills and several agencies whose officials and investigators might attend. They include the King County Medical Examiner's Office, which provides forensic anthropology services for the state; Pepper and possibly others from the sheriff's office; additional law enforcement agencies; and Yakama Nation representatives.
Until she is identified, investigators are making assumptions about who Doe is and how she died. But they have good reason to believe some long-held suspicions.
The road where Doe was found is within sight of Interstate 82, but some believe she lived in the Yakima Valley or had strong ties to it.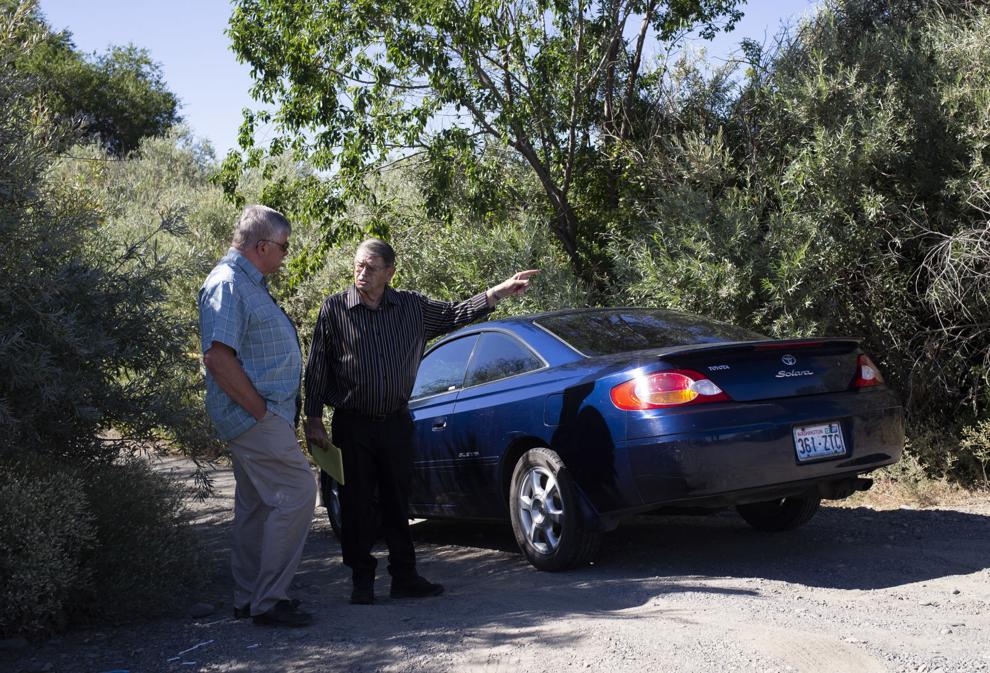 From December 1986 through early November 1987, at least three women were reported missing within Yakama reservation boundaries. Two were Indigenous, one of them petite. The third is described as Caucasian and petite. All had black hair.
Some investigators also think Doe's possible killer was from the area or had strong ties to it. The dirt road is on Yakama land and while known to some tribal citizens and nearby residents, it's easy to miss. A metal gate wasn't there when Doe died.
Doe's identity will take investigators back to the beginning, to any missing-persons reports, the names of those who reported her missing and relatives and friends, places where she was last seen and potential suspects other than Fletcher. He wasn't the only one hunting vulnerable women in the Yakima Valley.
"I'm pretty confident that we should be able to figure out who it is," Pepper said of Doe. "Then it starts from there."
Bowling shoes
Doe wore lavender pants, a long-sleeved lavender shirt with a label in Spanish, and argyle socks with lavender tones. Investigators think she was pulled out of a vehicle by her arms or armpits because her head was farthest from the dirt road. Because her feet were closest to it, her brown shoes were what Shaw saw first.
They were unique. One sole was black, the other white, with grooves in both.
"She's wearing bowling shoes," Shaw said. Performance bowling shoes are made with different soles for each foot.
He took Doe's shoes to the bowling alleys in Toppenish and Wapato. Employees couldn't identify them, Shaw said. There were also bowling alleys in Sunnyside and Yakima.
But he doesn't think Doe was a bowler.
"A bowler would have never worn bowling shoes as street shoes," he said. She may have bought them at a yard sale, borrowed or got them from someone else.
Shaw was at the scene with others from the sheriff's office, Yakama Nation Tribal Police, the FBI and the Bureau of Indian Affairs. Tribal police, the FBI and BIA were there because Doe's body was found within the reservation and she was possibly a Native woman. The FBI is responsible for investigating serious crimes involving tribal citizens on reservations.
A sheriff's deputy stayed with Doe overnight. The next day, members of the King County Green River Task Force arrived at the request of the sheriff's office. It wasn't necessarily because they thought Doe's killer might be Gary Ridgway, the then-unknown serial killer who left some of his more than four dozen victims near the river outside Seattle. The task force was involved because of its expertise in collecting information at old homicide scenes.
"When you have a decomposed body you process the scene differently," said Ron Ward, chief criminal deputy for the sheriff's office, for a story in the next day's Yakima Herald-Republic. "You take more of the scene with you for comparison."
A careful search of the surrounding area can yield jewelry that could identify the victim, as well as discarded items or bodily fluids that could provide DNA or indicate how a person died. Shaw had walked around the place where Cantu, the 26-year-old mother of two murdered by Fletcher, was found in July 1987. Cantu was stabbed several times in her neck and torso and there was a lot of blood on the leaves and surrounding area, he said.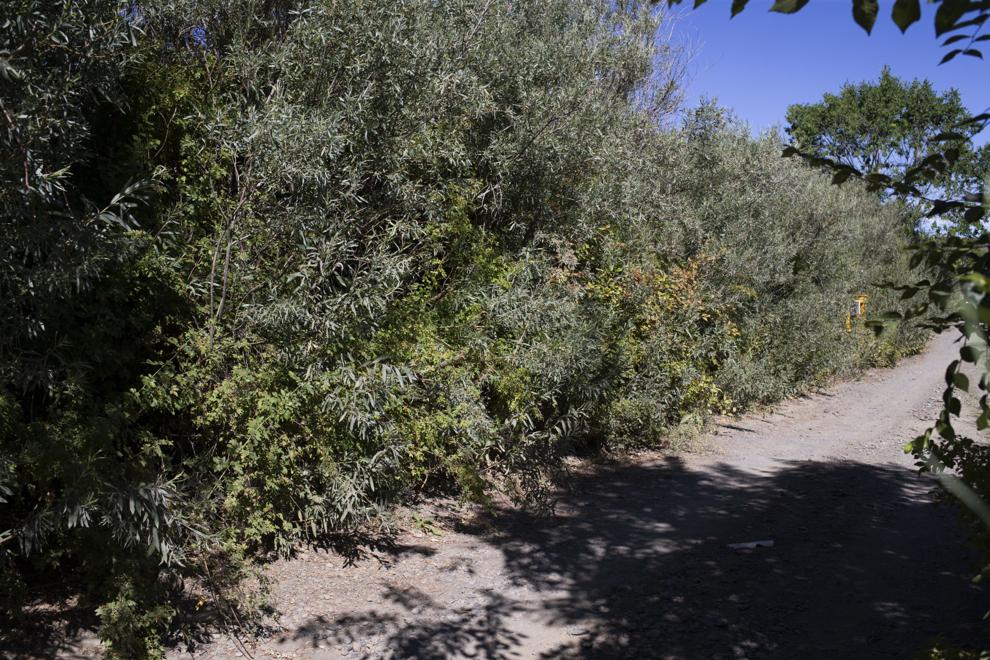 Though Doe lay outside longer, investigators still hoped for more than her clothing and hair.
"There wasn't anything at all," Shaw said. "I checked those bushes. I got down on my hands and knees. Didn't find a thing."
Who could she be?
When Doe was found, Doug Blair was in his first term as sheriff, appointed after the previous sheriff resigned. He started at the sheriff's office in 1974, patrolling in the Lower Valley and around the reservation before becoming jail manager.
"There have been several female skeletal remains recovered in the Lower Valley," said Blair, who lives in Kennewick. "There were lots of rumors."
After the initial flurry of publicity didn't yield clues to Doe's identity, investigators contacted the anthropology department at Central Washington University. Doe's skull was removed and taken to Central, where anthropology students and faculty used clay to create a forensic facial reconstruction sculpture based on her skull's bony structure.
Central's anthropology department was a forensics resource when the sheriff's office couldn't get the Washington State Patrol or FBI to process crime scenes, Blair said.
He unveiled the reconstructed clay model of Doe's skull in a news conference 10 months after she was found. It was the first time the sheriff's office used a clay likeness to further a criminal investigation.
Despite extensive news coverage, the clay model generated only about half a dozen calls and none panned out. With blankly staring eyes, a shapeless black wig and nondescript white blouse, the likeness would be considered crude by today's standards. Even some who worked on it weren't sure if it would help.
"We didn't really get much" response, said Johnson, the Toppenish police captain. Johnson was a patrol deputy for the sheriff's office when Doe was found and became a detective that summer.
Though he retired from the sheriff's office several years ago, Johnson is keenly interested in Doe's case. Authorities originally said Doe was of Hispanic descent, up to the point Blair presented the clay reconstruction of her skull. Then, they believed she was Native American. But they still don't know for sure.
Doe's DNA would answer that question, said Judd Towell, who retired in January as head of detectives at the sheriff's office. He had become familiar with her case in the past few years and brought Pepper up to speed before Pepper moved into his role.
"We need the DNA to push it. You can't go much further at this point. We've got to have some proof — is she Native? Is she Hispanic? That's what we need to know," Towell said in January.
A search of NamUs cases of missing Native, Hispanic or mixed-race women in Washington, Oregon, Idaho, Montana, Wyoming and California shows two other Native women missing at that time, one from California and the other a woman from Montana. But neither matches the description.
NamUs isn't complete, either. Though it's the most extensive public listing of missing, unidentified and unclaimed people in the United States, NamUs doesn't have as much information as CODIS, which is the FBI's Combined DNA Index System. One part of it is the National DNA Index System, known as NDIS. It contains the DNA profiles contributed by federal, state and local participating forensic laboratories.
'You have two serial killers'
An autopsy by the King County Medical Examiner's Office did not determine the cause of Doe's death, said the Yakima County coroner at the time, Leonard Birkinbine. He classified her cause of death as undetermined and that's still the case. But the manner of her death is presumed to be homicide.
Her skeleton was intact except for a few bones in her right hand. Her hyoid bone was also missing. The U-shaped bone is at the root of the tongue in the front of the neck and between the lower jaw and the largest cartilage of the larynx.
It's not unusual for the hyoid bone to be missing from a skeleton that has lain outside for several months, the coroner said, because it's held in place by tissue, which could indicate if a person was strangled; Curtice still thinks Doe may have been strangled.
Several Native women were strangled and left in remote locations on the reservation in a pattern that still makes people wonder if a serial killer — or killers — were hunting women they thought could be easy prey.
A widely acknowledged expert on the subject, Robert Keppel, helped identify Ted Bundy as a serial killer and helped capture Ridgway as the Green River Killer. Shaw met Keppel and told him about some of the homicides and mysterious deaths, he said.
A serial killer is defined as a person who murders three or more people, Shaw said. From what Shaw told him, Keppel thought Yakima County had more than one.
"I think you have two serial killers," Shaw remembered Keppel saying. "One killing prostitutes and one in the Lower Valley killing Indian ladies.
"He was quite insistent," Shaw added. "I think Bob Keppel was quite accurate when he said, 'You have two serial killers.'"
Fletcher's preference was a knife, Shaw said, and he stabbed women multiple times. He chose his victims from Yakima's rough downtown, where sex workers congregated near and in Stockman's Tavern — now a parking lot — and the Blue Banjo, which is now the site of the Crafted restaurant. Fletcher is at the Monroe Correctional Complex in Monroe.
Through the 1980s into the early 2000s, more than a dozen Indigenous women disappeared and were later found dead within the boundaries of the Yakama Nation.
Several Native women who disappeared in the 1980s, 1990s and into the 2000s were last seen at Lower Valley taverns, sometimes when they were hosting pool tournaments or other special events that attracted even more women. Some of those women went missing from the Brownstown Tavern, a rough place for decades before it was destroyed by an explosive fire June 12. Outsiders weren't welcome and even law enforcement were told to never go inside alone.
"I was told that whoever was doing it would go to the Brownstown Tavern" and look for intoxicated Native women, Shaw said. "He watched the crowd."
In a January 1993 interview with the Yakima Herald-Republic, longtime BIA investigator Melford "Manny" Hall said the same thing.
"My own opinion is this guy sits at a tavern someplace and waits for an intoxicated woman and grabs her," he said.
Some bodies were found on or near Ahtanum Ridge, which is much more than a ridge. It's a vast area of slopes and deep gullies that divides the Upper and Lower Yakima valleys.
The area is closed to non-tribal citizens, but others have been and are still known to take Brownstown Road north, past a gate that's open, to go up and atop the ridge, then head down into Wiley City.
Over the years, federal authorities have insisted the homicides, mysterious deaths and disappearances were not the work of a serial killer. In May 2009, FBI officials announced the results of their probe into more than a dozen unsolved deaths on the reservation and reiterated that.
In three cases, "significant evidence" was developed about the identity of suspected perpetrators, the FBI said in a story. But there wasn't enough physical evidence and witness statements to warrant charges, they said. Time and rough country make investigations even more challenging.
As time passes, suspects or persons of interest die, as do witnesses or others with knowledge of crimes. They may not choose to tell others what they know or think they know. Witnesses are often afraid to provide information. And with good reason, many would say.
Though witnesses can be even more difficult to locate and interview for older cases, the sheriff's office gets helpful cold case tips from time to time. Investigators welcome those tips no matter how much time has passed. So does Yakima County Crime Stoppers, which recently announced an initiative to help solve more cold cases of missing and murdered Indigenous women in the Yakima Valley.
"And even though they may be cold, it doesn't mean you have nothing," Pepper said.
Making her complete
Doe's skeleton was buried in 1989, about a year after she was found, Curtice said. Her skull stayed at Central after the clay reconstruction in 1988 and was recently rediscovered there after an inquiry from Detective Andrea Blume of the Kittitas County Sheriff's Office.
Blume contacted state forensic anthropologist Dr. Kathy Taylor, who visited the campus on June 25 to examine 13 human remains considered potentially forensic — possibly missing persons or homicide cases. Learning about Doe's skull, which Central called CWU-4, prompted her to study the other 12 specimens, Tim Englund, dean of the College of the Sciences, said in an email obtained through a public records request.
After her visit to Central, Taylor told Curtice they were going to start analyzing Doe's remains fairly soon.
Taylor died Aug. 1. The King County Medical Examiner's Office has contracted with Dr. Laura Fulginiti to continue Taylor's work until a new full-time forensic anthropologist is hired, said Kate Cole, a communications specialist for the Department of Public Health — Seattle & King County. That includes efforts not only to identify Doe's skull, but also the 12 other specimens that Central transferred to that office.
"Dr. Fulginiti and medical examiner staff are working to analyze the remains including determining the minimum number of individuals, county of origin, forensic significance and hopefully identification," Cole said in an email. "Modern forensic tools including DNA, radiography, dental charting and database entry will be utilized in an attempt to identify the remains."
Full examination will take time, Cole said. As that work continues, Curtice hopes to exhume Doe as soon as possible. That could cost several thousand dollars, but as soon as West Hills gives him a number, he will set the date.
On the day Doe is exhumed, investigators will gather around the unmarked grave where she is reportedly buried next to another unidentified woman found in downtown Yakima in July 1977. As they reveal what they believe is Doe's skeleton, Curtice will visually confirm if it lacks a skull. That will answer their first question.
Doe's skeleton will go to the King County Medical Examiner's Office for a DNA match with the skull, Curtice said. That will confirm they are from the same woman. Along with other tests and efforts to identify Doe, Taylor had recommended a digital reconstruction of her face. On Wednesday, Curtice released a digital portrait of Doe by renowned forensic artist Natalie Murry.
Her portrait of Doe shows a slightly smiling woman with straight, black hair and blond highlights around her face. Curtice hopes a presumptive family member recognizes her and provides DNA. That's one way Doe could be identified.
Once Doe's skull and skeleton are scientifically matched and any other tests are conducted, her remains will come to the coroner's office, where they will stay until she is identified and returns to her relatives, Curtice said.
"I want the family to have closure because I'm sure they're wondering what happened to their loved one," he said.