As she tossed a softball with her granddaughter this spring, Patsy Whitefoot thought of her youngest sister, Daisy Mae Heath.
Daisy played softball, just like Patsy. The two were usually on the same team, but not always. That was especially true in basketball, where Daisy really excelled. It was her favorite sport and competing against her was challenging, even for her sister. Daisy was a fighter who battled for every point.
"She was the star. She was the MVP," Patsy said.
Daisy, who traveled between White Swan and the Warm Springs Reservation in Oregon, was living with Patsy when her family last saw her in late August 1987. She was reported missing on Oct. 29, 1987, at age 29.
Her backpack, keys and ring were found in a remote area of the Yakama Reservation known as Soda Springs. It's closed to non-tribal citizens unless they have permission to be there and road access is monitored when a guard house is staffed.
Shortly before she went missing, Daisy took steps to change her last name from Tallman to Heath. Tallman was her mother's married name and the name she used growing up. Heath was her father's last name.
Her disappearance has been described by the FBI as a suspected homicide. The FBI has jurisdiction to investigate all serious crimes involving Native Americans on tribal lands.
Murdered, missing and mysterious deaths of Native girls and women on or near the Yakama Reservation and in urban areas:
In the 1980s and 1990s, at least 14 Native women were murdered in cases that remain unsolved, or died under mysterious circumstances on the 1.3-million-acre reservation spanning Yakima and Klickitat counties. At least two Native women disappeared in that time and are still missing, including Daisy. Karen Johnley Wallahee was last seen in Harrah on Nov. 7, 1987. She also was 29.
Yakima County is the second-largest county geographically in Washington. It covers approximately 4,295 square miles, from dusty shrub-steppe to densely forested wilderness and rough backcountry where life or death can hinge on a clear head, adequate clothing and the right skill set.
Daisy knew how to survive in the mountains for weeks at a time as she hunted or fished, gathered traditional foods or spent time with relatives. She was resourceful and physically strong but emotionally fragile when she went missing. Her disappearance still impacts her family and friends.
"It's hard to put your hands around this issue, particularly if you're a family member. There are different ways people are going to interface with this issue, even within family members," Patsy said. "The loss that people feel, the lifelong grief, anger ... once someone has gone missing or was murdered and you don't know what happened."
In a much-publicized effort, U.S. Attorney General Alberto Gonzales visited the Yakama Reservation in March 2006 and pledged a cold-case initiative in response to the staggeringly high number of unsolved deaths throughout Indian Country.
The first federal probe began with the Yakamas, who for years had pleaded with state and federal officials for more attention to the deaths and disappearances. Daisy's case was among them. For related media coverage, Patsy and Daisy's sister, Marie Olney, provided a photo of Daisy.
At the time, Patsy, a former Yakama Nation Tribal Council member known to some as the "grandmother of Indian education," was still working in that field. For years she carefully contained the grief and pain and frustration behind the public facade she presented to students, parents and fellow educators.
"She was probably the more sane one," Patsy said of her sister Marie. "I held anger for a long time."
Gathering to remember
On the morning of March 25, Patsy paused before a small altar inside the Kamiakin Room of Legends Casino Hotel in Toppenish. Five memorial candles stood near two framed photos of Daisy.
One showed Daisy as a young teen. She's holding up her right hand in what looks like a playful effort to interrupt the photographer. In the other photo, Daisy is an adult. She's leaning against the tailgate of a bright blue Chevrolet pickup.
More photos of Daisy were on display — sitting with Patsy and four children on a couch, clowning around with two young relatives in a Pepto-Bismol-pink bedroom (the color was Daisy's idea) and standing outside with two adults, one holding a bunch of balloons.
Their sister, Gloria Tallman of Yakima, provided the photos. She and Patsy went through Gloria's family pictures before choosing several that showed Daisy at different stages of her life. All relatives attending got framed versions of each picture on display that day.
"Just looking at the photos made me happy. It was if her spunky, lively spirit hadn't left us at all," Patsy later wrote.
She arranged the meeting of Yakama and Warm Springs sisters and close relatives of Daisy and her cousin, Agnes Whitefoot Lora. Over nearly three hours they shared stories about them, remembered and honored Agnes and Daisy.
Agnes was 38 when she was murdered in the Yakama Nation Housing Authority's Apas Goudy rental housing park in Wapato on April 15, 1994. She died of severe internal injuries. Two Native juvenile males were arrested in connection with her death in late June that year.
"Hopefully something will come of helping our families come to closure with the stuff that's open and out there," Levina Wilkins, auntie of Daisy and Agnes, said during the gathering.
Since retiring, Patsy has spoken more in public about Daisy. March 25 was the first time that many relatives who shared memories of Daisy and Agnes did so outside their close family circle. They came at Patsy's invitation as part of efforts by the National Indigenous Women's Resource Center to support May 5 as a national day of awareness to honor missing and murdered Native women and girls.
"I just want an opportunity for them to share," said Patsy, who serves on the resource center's Family Advisory Committee and has testified for the center on national legislation. "I've shared, but they've not. ... It's important for them to speak their mind in a safe setting."
The gathering was photographed and videotaped, though one sister didn't want to be recorded because of her deep fear of serial killers. Patsy told her that was OK. She knows the feeling. Though she speaks more in public about Daisy, she's also cautious. There's anxiety and fear.
"While it has been several years since my sister has been missing, any type of traumatic experience still makes me relive the trauma of her life," she said.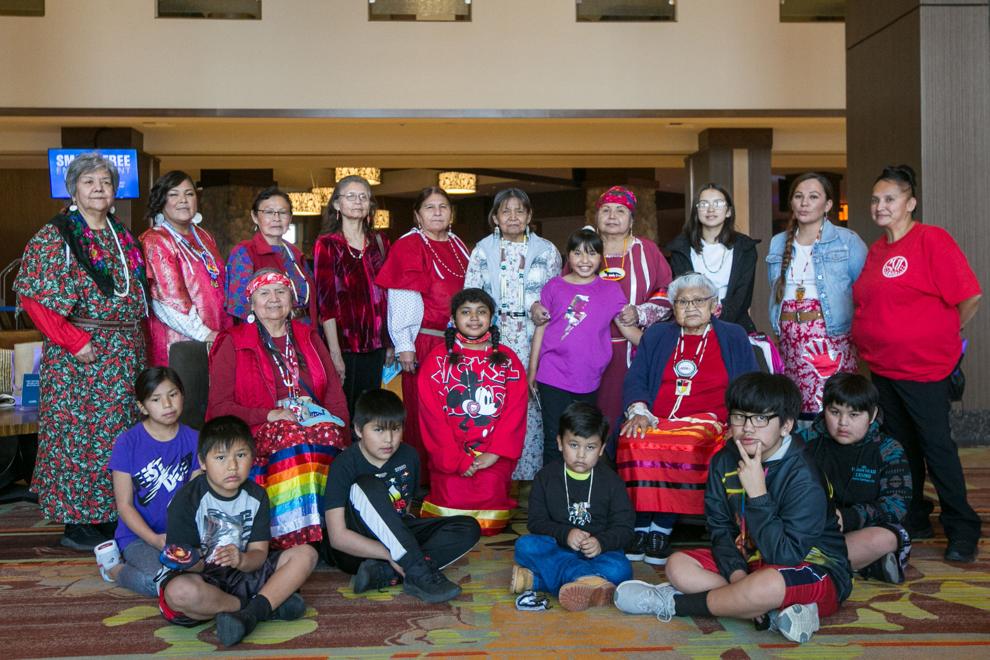 As the women arrived, Patsy greeted them. Almost all wore traditional Yakama wing dresses, beaded necklaces and bags and head scarves of red fabric, or with a red background. The color red has been adopted by advocates raising awareness for the decadeslong crisis of missing and murdered Indigenous women throughout the United States and around the world.
She brought boxes of tissues for each of the three long tables pushed together in a "u" shape. Some women spoke only briefly. Others read from prepared statements as children and a few men sat in chairs lining the walls. Many paused as they spoke, overcome by emotion.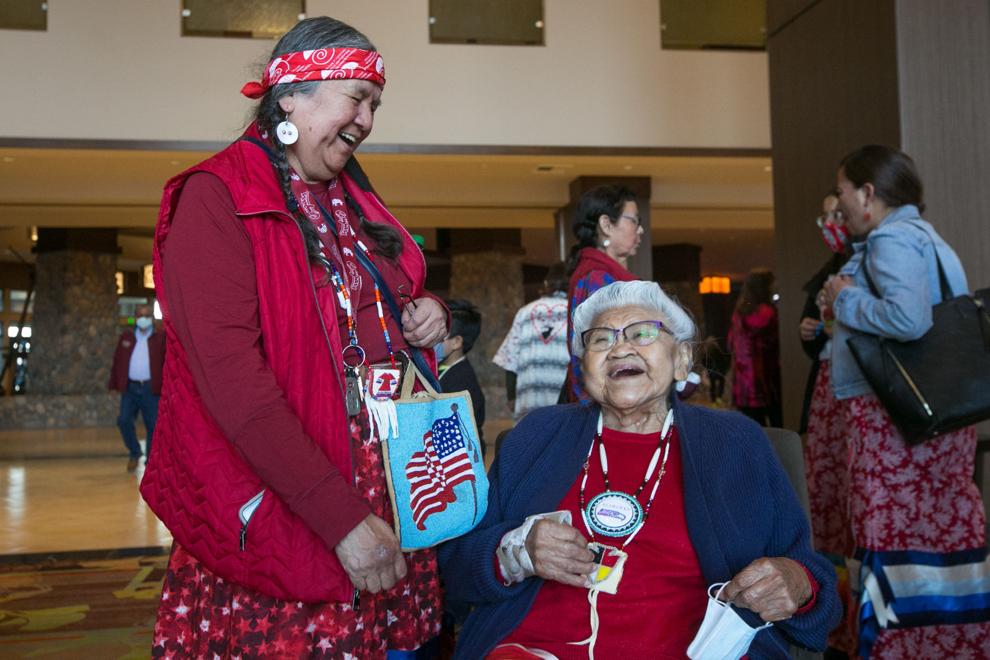 Georgianna Frank's husband, Joe Frank, was raised like a brother to Patsy and her sisters. Georgianna, who lives in White Swan, recalled when she worked alongside Daisy root digging up on the ridge in Medicine Valley and cutting fish and eels. It was good family time, she said.
"I think of her and Granny and the boys and kids," Georgianna said. "She would always be there with us, and then she would cook for us. She'd cook for churches. When I lost Joe ... she came over to the house and cooked.
"She was a very traditional lady. She was always willing to help," she added. "She was quiet, but yet a lot of company."
Daisy loved her family. "When she turned up missing, we couldn't believe something like this could happen," Georgianna said.
A lackluster response by law enforcement compounds the pain of those with missing loved ones.
"They report it and the most awful thing is (police) don't come back to talk to the families," she said. "There's no communication. I hope something comes of this. They need to be more compassionate.
"I'm just glad I could be here in remembrance of Daisy. I'm glad that we could honor her this way and let them know she existed," Georgianna added. "We have never forgotten her. She's always included in our family gatherings."
Daisy was the sister who linked them all together, Patsy said. It's important for the world to know who she was.
"I want to get the story of my sister out there, other than the fact that she is missing," Patsy said. "She was a good person. She was looked to in a very positive light by her sisters and family members and nieces and nephews she helped raise."
Daisy's story
The profile of Daisy on NamUs, the public national database of missing and unidentified people, mentions a scar on her left arm from being struck by a vehicle as a child. Patsy remembers that morning.
They were waiting for the school bus when Daisy saw a puppy had followed them. She picked up the puppy, took it to the house and ran back to the road.
"She didn't see this car coming and it hit her," Patsy said. The school bus stopped but the elderly driver didn't. Daisy got a huge cut on her left arm and shoulder but it could have been worse. The car wasn't going very fast.
Daisy was born on Jan. 10, 1958 to Eldred Heath and Nancy Whitefoot. She was the youngest of six sisters and raised by maternal grandparents Elias and Lillie Whitefoot, along with extended family, on a ranch in Medicine Valley near the foothills of the Cascades.
As the oldest daughters, Patsy and Marie helped raise the younger ones. Their grandparents provided a stable home and nurtured them in Indigenous ways of life. Everyone was expected to work hard and help the others.
"We had cattle, horses, gardens. We were always taking care of the animals and the gardens," Marie said. "We helped with harvest of corn, peas, potatoes, green beans. We were also in the mountains a lot."
Deanna Condon of Harrah, Daisy's cousin, spent time in the mountains with her. "(One time) I thought it was just going to be a couple days. It ended up being a month and a half. That's where I learned how to stay up in the mountains so long," Deanna said.
"I think that was the best time in my life, up in the mountains."
Daisy could dig roots faster than anyone, Marie said. She was fearless, undaunted by deep water or the size of her quarry.
"One day we were here at the house. She came walking in and said, 'I have an elk we need to take care of,'" Patsy said. "Sure enough, she butchered it and got it ready. I had to get all the jars and everything. I don't remember how long it took us to can. It was so much canning."
She gave some of the meat to other relatives. "That was her, always sharing whatever she had," Patsy said.
Daisy and another younger sister, Beverly Tallman, lived with Patsy and supported her in raising her children and helping with other nieces and nephews. Beverly died in Seattle after Daisy went missing, Patsy said. They were close.
"I acknowledge my sisters for their contributions not only for the upbringing of my children, but my own education as well," Patsy said. "I was a single parent while I was in college. They were both here providing."
As a child in elementary school, Daisy raised money for UNICEF. As an adult, she helped Patsy's daughter become a powwow queen.
"She would do anything for the nieces and nephews. She went out and raised funds for my daughter when she was very young," Patsy said. "She was their supporter. She was their cheerleader in everything they did. She would work with my daughter on basketball skills when she was playing basketball in high school."
In 1986, Daisy gave birth to a daughter she named Sherry, after a sister who died at a young age. She was overjoyed at becoming a mother, and when baby Sherry succumbed to Sudden Infant Death Syndrome, Daisy plunged into despair. In August 1986, the beloved grandmother who raised them died.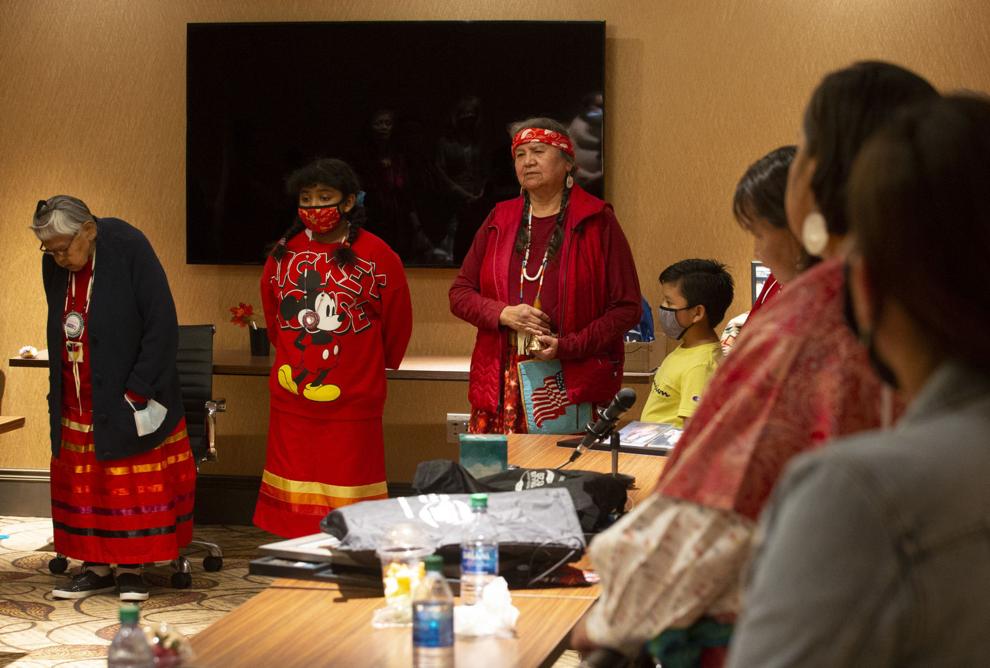 Patsy was working in Olympia, at the state superintendent's office. As the oldest of the sisters, she wasn't always present in her younger sisters' lives. She knew when they needed help, though. She returned home to the Yakama Reservation "and recognized during that time she was in a crisis," she said of Daisy. Her sister was in a "very vulnerable state" when she disappeared.
"Those circumstances — losing a baby and your primary caregiver — were probably very tragic for her, being the youngest one," Patsy said.
'Unanswered questions'
Several years after Daisy went missing, her sisters had her declared legally dead. Marie met with the coroner and submitted the necessary documents. Daisy's date of death was set as Oct. 30, 1997.
"We miss her very much," Marie said. "I just want to encourage all our Native people to take care of themselves."
In Yakama tradition, people don't mention the name of someone who has died and don't display photos of that person for at least a year after death, unless they release themselves from mourning before that. At a year after or later, relatives hold a memorial.
Though family held a memorial for Daisy after she was declared legally dead, it wasn't the same as a traditional memorial because she hasn't come home to them. They still hope to find her.
But it's hard to know whom to trust.
"Leading up to my sister going missing, there was all this community conversation going on about what happened to the other women. Other women were found in the closed area of the reservation," Patsy said.
Vast areas of the Yakama Reservation are closed to non-tribal citizens unless special permission is granted. That is allowed for some hunting, for example. After Daisy disappeared, her backpack, keys and a turquoise ring Patsy gave her were found in a closed area outside White Swan.
"I identified the ring as a special ring I had given her. My fingers are much smaller," Patsy said. "It fit her just perfectly.
"We never did receive those (items) back. Where are all of these items for all of these individuals?" she asked. They don't know who has Daisy's possessions "again, because of the whole communication issue" with law enforcement, she said. They want them back.
Someone would have to go by the guard house and a gate to take the road where Daisy's items were found. Guard houses and gates can be found at other access points between open and closed land.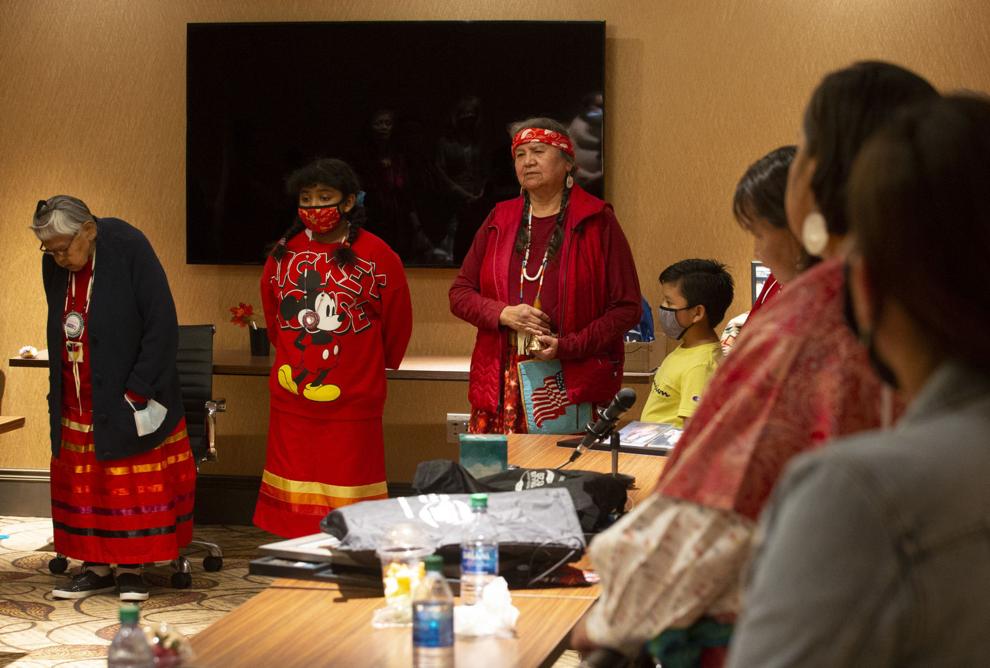 At the end of summer going into the fall, there likely would have been a person at the guard house, but it is "kind of iffy. And then it would probably have been at night or the middle of the night," Patsy said.
Whether the gate guard would be awake at that time or if they just left the gate open, it's hard to say, she added. But it does beg a big question.
"If they were located in the closed area of the reservation — so then you have to ask yourself; any logical person would do this. If it's in the closed area, does that mean a Native person was involved with this?" Patsy said.
"All of these questions ... so many unanswered questions," she said.
Relatives met with federal investigators a few years ago, Patsy said. They still want answers and justice.
They also want change.
"As a lifelong educator, former elected official and now a great-grandmother, the lives of our grandchildren are sacred and I want the world to be a safer place for them and their future," Patsy said.