ELLENSBURG — Eight seconds.
Like every rodeo rough-stock cowboy, Steven Peebles' world revolves around that little snippet of time between the moment the chute gate opens and the instant the buzzer sounds. Says Peebles, "I live for that."
Nine weeks ago, though, something happened in those eight seconds that relegated his life to another period of time.
Thirty minutes.
To live, period.
Only he didn't know it.
Brian Bain knew it before Peebles did. But even he didn't know it at first.
It was July 2, the heart of "Cowboy Christmas," when cowboys hoping to make the National Finals Rodeo (NFR) can hit eight to 10 rodeos in a week provided they're willing to bypass sleep and perhaps overlook a speed limit or two.
Fellow bareback riders on the Professional Rodeo Cowboys Association tour for eight years and traveling partners for the last three, Peebles and Bain had both been in the money at Livingston, Mont., and were leaving the rodeo arena for the two-hour drive to the airport in Billings.
But something wasn't right with Peebles.
His ride had been great — an 86-pointer that would hold up for first place — but it had ended badly.
"An awesome horse, real wild, turning back and forth," recalls Peebles, who had lost his grip on the binding on one of those contortions. He held on to the eight-second buzzer before his hand finally slipped out, "and when it did, he back-doored me — threw me up real high, and I came down and landed on my back."
Peebles walked out of the arena, but getting his gear together was an ordeal. "Every time I'd move, it felt like knives in my guts," he says. "My stomach was hurting, I had pains in my guts and I'd never really had that."
He and Bain climbed into the van for the drive to Billings.
Bain started the engine and looked at his buddy. What he saw wasn't good.
• • •
"All of us have injuries and stuff when you leave a rodeo," Bain says. "But Steven is a tough guy, and when he was real pale and sweating and he kept saying he was tired, I was like, 'Eeeyeeah, buddy, we need to get this checked out.'"
And thus began the negotiation.
Peebles' argument: I can get a checkup in Billings if it keeps hurting.
Bain's response: If it's hurting that bad, let's just go now.
"I'm pretty sore," Peebles recalls, "but I wanted to get to the other one" — the next hospital, the next rodeo, anything next, just not now — "and he said let's go to the hospital now if it's in your stomach. And I said if we go to the hospital, we're going to miss the flight. There's no way.
"And he said, 'I don't care, I'd rather miss my flight if it's something bad.'"
So Bain drove the two miles of back road from the rodeo arena to the town of Livingston, population 7,000, not having any idea where the medical facility was, and came to a T-intersection.
"Well, you go left or right," Bain says. "We made a right" — which turned out to be the correct turn — "and I thank God every day he was watching over some fools that day."
Could even the two or three minutes caused by a wrong turn have been critical?
"Oh yeah," Bain says. "With what was happening to him? Absolutely."
• • •
This is why — what the cowboys didn't yet know, but what the Livingston doctors quickly figured out:
When Peebles had landed on the arena floor, several ribs had fractured, one of them slicing through a major artery. His entire chest cavity was filling up with blood, collapsing his lungs.
"They did a CAT scan and the next thing I know I'm in an ambulance and they're shipping me to Bozeman, and I had 30 minutes to live," he says. "They were pretty panicked. They said if we'd made the decision and drove to Billings, I'd have been on the side of the road, dead. Wouldn't ever have made it to Billings."
The ambulance specialists were doing everything they could to keep Peebles awake, but it wasn't easy. He was dizzy, weak, sweating profusely.
"I got real close to death," he says. "They said they didn't know if I was going to drown in my blood and die."
So he spent what time he could — not knowing if it was all the time he had left — texting his girlfriend, his mother and a few other people close to him. "Telling them I loved them," he says. "And we said a prayer in the ambulance.
"(The EMT technician) said I was losing heartbeat pretty fast and they didn't know what was going to happen, so ... I thought I was going to die.
"It's a pretty scary deal, when you have to face it. That you're going to die. So I fought with everything I could to stay awake."
When the ambulance arrived in Bozeman, Peebles was just awake enough to see "a crew of about 15 doctors all right there to grab me and rip me off the stretcher, instantly shoving hoses into me."
Only then did he finally black out.
• • •
The next morning, he woke up. Alive.
"A bunch of doctors came into the room and they said no way, how I lived, that was a miracle," Peebles says. "They'd never seen nothin' like it."
They told him it would be six weeks, minimum, before he could begin physical rehabilitation. Naturally, at six weeks — being a gritty rodeo cowboy intent on reaching the NFR for a seventh straight year — he was back on a horse at the Omak Stampede Rodeo, having slipped from ninth place at the time of his injury to 22nd, determined to be one of the top 15 who make it to the NFR.
In his first time out, he scored an 85-point ride to finish second. Then he won at Moses Lake. And won again at Lynden.
"I was weak and I could barely breathe," he says. "There were a few rides where I was about to faint, and I'd have guys helping me get all my stuff off when I got off. But I just kept fighting through it, because I wanted to make national finals."
Consider that done.
He came into Monday's Ellensburg Rodeo finals right on the cusp, probably 15th or 14th, back on the kind of roll he was on before his injury.
On Monday, he rode a Corey & Horst bronc called Trip Wire to a sensational 88-point ride, winning both the short-go and the aggregate for an $8,000 payday. He's a lock for the NFR.
Better yet, he's still alive. And on Monday, watching and rooting him on from the chutes was the guy he can thank for that.
"I'm so dang proud of him. It's awesome," says Brian Bain, who gave up that plane flight — and the chance to be in a couple of big-money rodeos that might well have vaulted him into a hot streak and the NFR — because of something more important. He's not likely to be in the NFR. His buddy is.
And, bigger than that, Steven Peebles is alive.
"Rodeo's just a sport," Brian Bain says. "Yeah, I make a living doing it.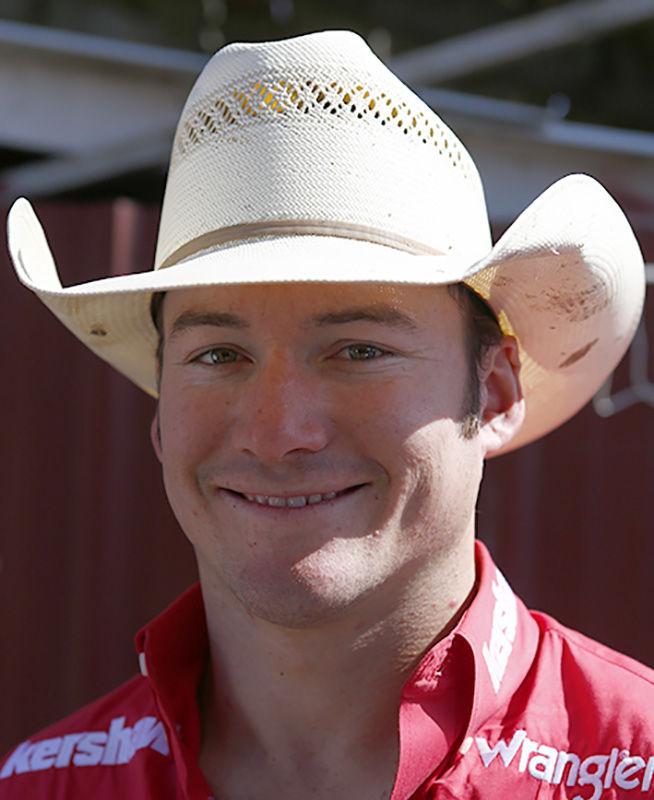 "But my friends are worth way more than that will ever be."