It all started so well and looked so easy that is seemed liked it would last all night.
When it did not, West Valley got a reminder that its sleek aerial attack would not overcome all obstacles, especially on a night beset with self-inflicted troubles and facing a chilly westerly breeze.
Jumping out with three Skyler Cassel touchdown passes in the first quarter when that breeze was at their backs, the Rams then sputtered their way to a 27-7 victory over Davis to open CBBN play Friday night at Clasen Field.
Cashing in on two Davis fumbles to open the game, Cassel converted those opportunities into scoring strikes to seniors Ben Pupplo and Jackson May, and then Pupplo added a 77-yard touchdown reception with 17 seconds left in the first quarter for a 20-0 lead.
"It was a great start but then we just ran into trouble with penalties and didn't play as well," said Pupplo, who finished with seven catches for 205 yards and added a third touchdown with 2:29 left in the game. "We had a hard time getting back in our rhythm."
While the Rams' offense stalled in the second and third quarters and had only one possession in the final period, what the Rams could rely on was their defense. And that's a nice feeling for defensive coordinator Ryan Scott and last year's returners, who still sting from giving up 104 points in the final two games.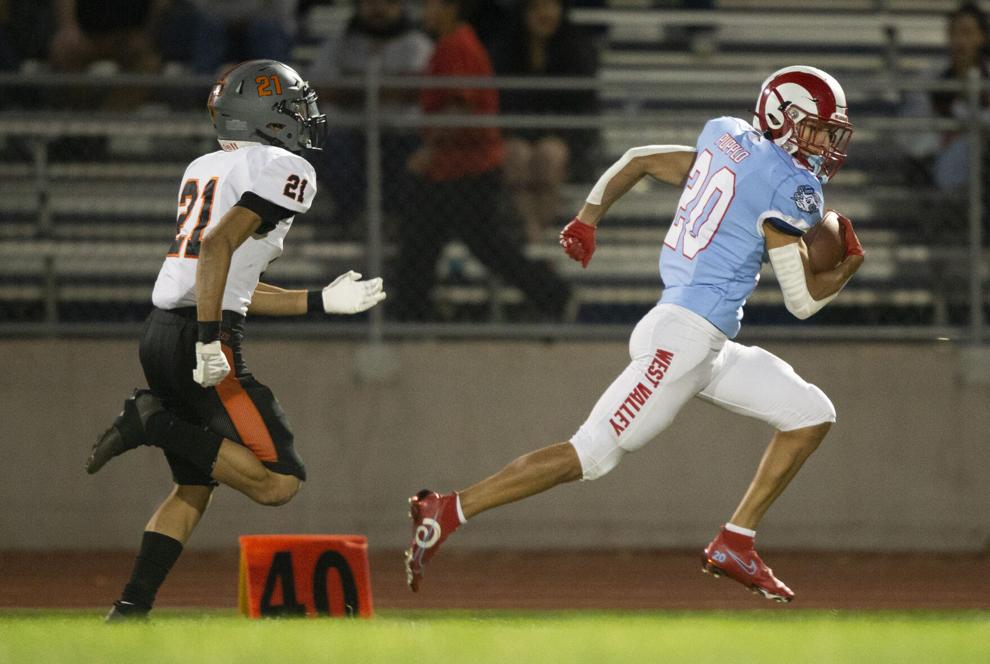 Pupplo was one of them.
"We're young now but we're more aggressive and play downhill more," said the defensive back who was an all-league linebacker as a junior. "We knew we had to get better and we've worked hard at it."
The Rams opened with a 34-0 shutout against Walla Walla and last week fell 21-14 to unbeaten Juneau-Douglas. With Friday's effort, the defense has earned nine shutout quarters in three games.
Davis did make it interesting when the Rams floundered in the third quarter with a barrage of penalties and back-to-back special teams muffs on punts. The Pirates turned one of those muffs into a short-field score with Rigoberto Martinez's touchdown run making it 20-7.
The Pirates then took the next muff and reached WV's 25, threatening to make this one even closer, but the Rams' defense recovered its third fumble and stopped Davis' next two drives on downs to finish out the game.
"We got off to a great start but then got sloppy," lamented WV coach Dan Eyman. "We talk about staying on schedule but this was not that. We've got a lot of stuff to clean and the penalties are the biggest thing.
"But I like how our defense has come along and how they've responded when challenged," he added. "Up front we're better than we've been."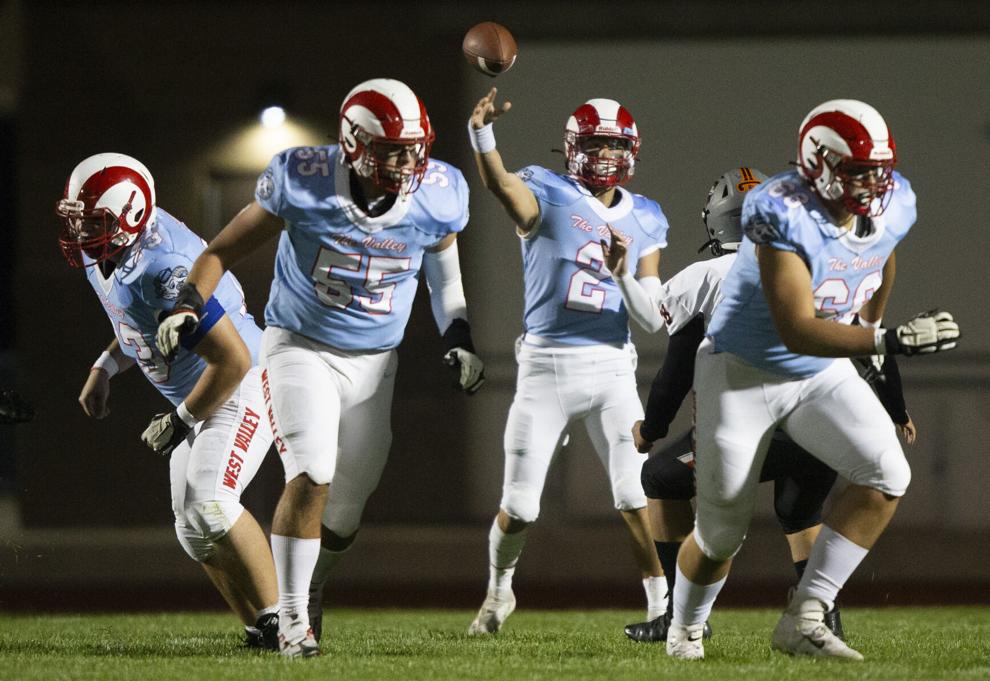 That effort up front — on both sides of the ball — came without the services of two-way, all-league standout Izaya Magana, who's out for a few games nursing an ankle injury.
Cassel completed eight of his first 10 passes and then went 8-for-23 the rest of the way. But he still piled up 310 yards and four touchdowns, and Antonio Barajas added 76 yards on the ground.
With a variety of dives and fly sweeps, Davis stayed almost exclusively on the ground and gained 172 yards. Martinez had a game-high 77 yards on 15 carries.
CBBN plays continues next Friday with West Valley (1-0, 2-1) traveling to Sunnyside while Davis (0-1, 0-3) hosts Eastmont.
Davis 0 0 7 0 — 7
West Valley 20 0 0 7 — 27
WV — Ben Pupplo 7 pass from Skyler Cassel (pass failed)
WV — Jackson May 8 pass from Cassel (May pass from Cassel)
WV — Pupplo 77 pass from Cassel pass failed)
Davis — Rigoberto Martinez 2 run (Sergio Soto kick)
WV — Pupplo 53 pass from Cassel (Michael Hyde kick)
INDIVIDUAL STATISTICS
RUSHING — Davis, Martinez 15-77, Morgan Rodriguez 8-42, Jacob Alcala 10-36, Jason Chavez 9-9, Becken Murphy 2-5, No. 30 2-4, Jayden Corbray 1-3, Team 3-(minus 4). WV, Antonio Barajas 13-76, Cassel 2-6, Zion Lee 2-5, Team 2-(minus 4).
PASSING — Davis, Chavez 4-12-0-47, Jamasen Carter 1-1-0-15. WV, Cassel 16-33-1-310.
RECEIVING — Davis, Murphy 2-32, Phoenix Sanchez 1-15, Josiah Magana 1-8, Corbray 1-7. WV, Pupplo 7-205, May 4-42, Demetreus Sadeddin 2-26, Lee 2-19, Sam Summers 1-18.