Playing football in Zillah goes beyond just doing whatever it takes to win games on Friday nights, something the Leopards have typically done better than anyone in the SCAC West.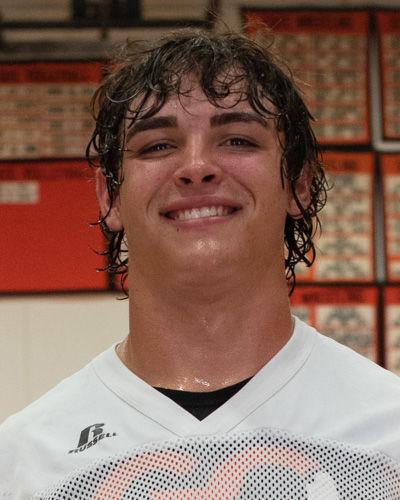 Senior Bailey Sparks learned early about the key role football would play in his life, even if he was a bit skeptical at first. But his mom convinced him to try out in fifth grade, and now he's eager to share the game's lessons with other youth players.
"I just try to inspire them and keep them working," Sparks said. "It's not just on the field you're working. It's off the field and in the classroom, it's all that."
The 6-foot-3, 250 pound all-league lineman owns a 3.8 GPA and may look imposing to opponents, even before they see his above-average speed. But second-year coach Ron Rood said to young kids, Sparks looks more like a giant teddy bear.
Several teammates joined him this summer as he taught the basics of blocking at a Grid Kids camp for kids ages 6-10. Sparks plays tackle on both sides of the ball for the Leopards and said he's learned how to keep things simple and figure out the ways different kids respond to coaching.
Rood has encouraged Sparks to go into education, since he thrives in a leadership role thanks in large part to a strong understanding of the concepts he's teaching. Sparks also referees fourth- to sixth-grade football, something Rood said makes a difference in games.
"I think it's beneficial because as a referee you begin to see that there are more opinions than just yours about how things are going on," Rood said. "He's not someone that complains about bad breaks or calls in games."
Former Zillah linemen Andres Ponce and Triston Cullen passed down their knowledge to Sparks, who hopes to continue the cycle as a mentor to younger players. He also credits assistant coach Matt Flood for emphasizing the importance of hard work in the weight room.
It paid off last season as Sparks earned first team all-SCAC West honors on offense and made the second team on defense. Then at Eastern Washington's summer recruiting camp, Sparks went from an unknown to one of four athletes recognized by coaches for outstanding performance.
He's hoping to earn a scholarship to play on the defensive line at EWU, and coaches at smaller schools such as Central Washington, Montana Western and Western Oregon have also expressed interest. But before he heads off to college, look for Sparks to continue setting the example Rood wants for the future of Zillah football.
"He's a force on both sides of the ball," Rood said. "He provides a little bit of leadership for us, as well as a few other seniors."