Tim Gatton, the newly appointed commander of Yakima VFW Post 379, said every generation has an event they'll remember forever. For him, that day is Sept. 11.
"For most veterans and people in my generation, it's the day you remember where you were, what you were doing," he said. "Everything."
Gatton knew, when joining the Army in 1993, that he might have to go to war. But service in war zones was not a given when he first joined up. That changed after Sept. 11, 2001, he said.
"Those who joined after 9/11, they knew they were going to war," he said. "I am amazed by them."
Years spent in war-torn Iraq, Kuwait and Afghanistan forged deep bonds of friendship, as well as leaving physical and emotional scars, for those who served. Gatton and Yakima Valley veterans National Guard Sgt. First Class Josh Tash and Army veteran Dustin Stump talked about enlisting, where their service has taken them, what Sept. 11 means to them, and the support people in the Yakima Valley have given them.
'Our world has just changed'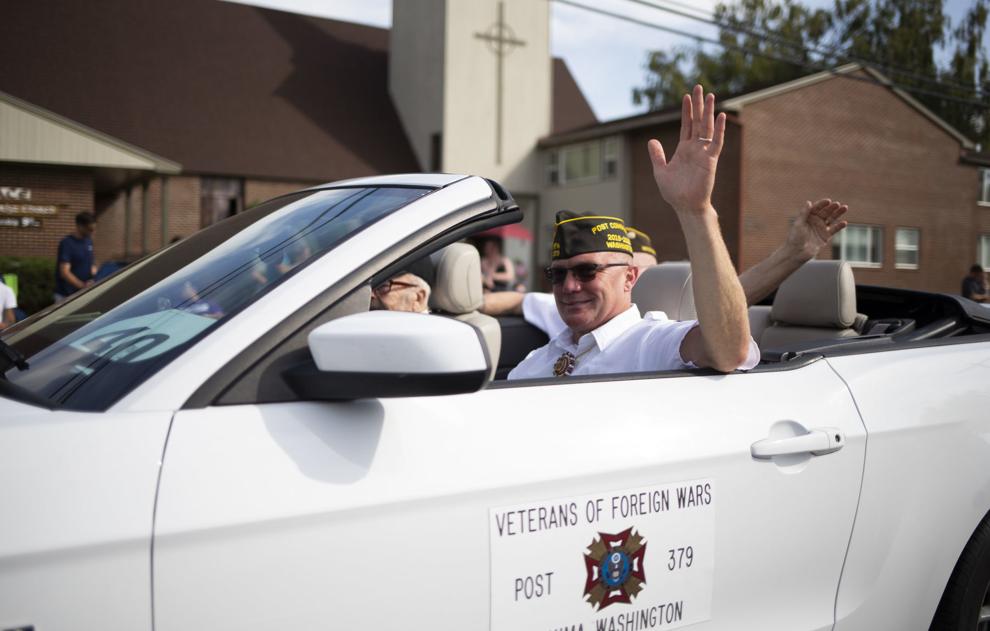 Gatton comes from a family of veterans. His grandfather and several other relatives served during World War II. Gatton grew up hearing their war stories, and as he became a young man he felt a longing to belong to something bigger than himself.
The Army seemed like a natural fit. He enlisted in 1993. He completed basic training but took a yearlong break before he re-enlisted and decided to stay. Gatton said he had a more positive experience with his second unit, which inspired him to serve as a positive point of contact for incoming privates.
"I wanted to help the younger soldiers coming up, to help teach, coach and mentor them the way I had been in my second unit," he said.
Gatton was serving in the Army in Wiesbaden, Germany, when the hijacked planes hit the Twin Towers in 2001.
"Our sergeant stood in front of us and said, 'Our world has just changed. We're going to be at war,'" he recalled. "I felt disbelief. Then I felt anger."
The day's events fortified his desire to help his country. He was in Iraq, serving as a medic, when the war started in 2003. Gatton said he spent 18 of the months from October 2002 through 2005 stationed in Iraq or Kuwait. He was part of a four-man helicopter crew that handled medical evacuations from Iraqi airfields out to Navy ships. His experience as a flight medic in a combat situation convinced him to remain in the military.
"Going to war was the ultimate test, and it showed me this is an important job," he said. "The people I served with and helped made it all worthwhile."
He came to expect multiple deployments, as did many in his generation.
"It was constant," he said. "You were preparing to deploy, you were deploying, or you were recovering from deployment. It makes you face life in a way that you wouldn't have to otherwise, because you don't know if you'll be coming back. In those months leading up to deployment, you live life at full speed."
In 2009 and 2010, he deployed to Afghanistan. He had two young children at the time. After his tours, his wife encouraged him to consider finding a non-deployable position. Gatton found that was something he wanted as well.
"I wanted to stay home for a couple of years, so that if I was deployed again, my kids would be able to understand where I was going and why," he said.
He shifted to positions as a civilian contractor, a military family assistance counselor, and now as a ROTC instructor at Sunnyside High School, positions that brought their own memories.
"The first day of my new job, I kissed my daughter goodbye at the door, and she said, 'OK, Daddy, I'll see you in a year,'" he said. "We had to differentiate for the kids between 'regular work' and 'far away work.' "
Gatton said Yakima is a veteran-friendly city and that he and other veterans appreciate the support.
"It used to be hard for me to walk through the Fred Meyer in my uniform because everyone would stop and shake my hand," he said.
'I joined for the cause'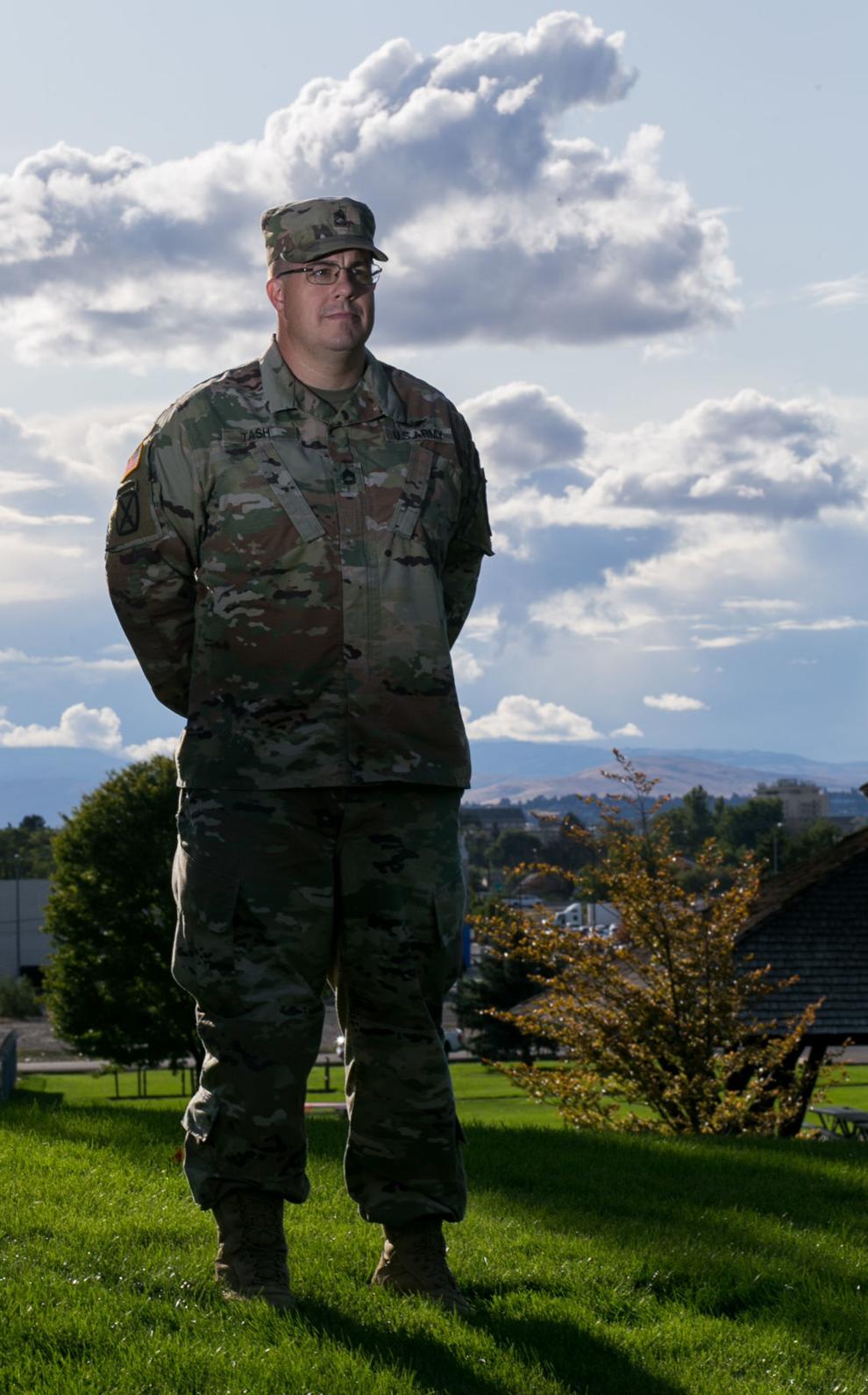 National Guard Sgt. First Class Josh Tash remembered seeing veterans at community events during his childhood, experiences that would mature into a sense of purpose, particularly after Sept. 11.
"As a kid, I always looked up to the military. They were my role models, people I aspired to be," he said. "When the towers fell, as a country we came together for one cause. That's how it's been for me in the military. I joined for the cause."
Tash became active duty Army in 2004, completed his basic training at Fort Jackson in South Carolina, trained to be a medic at Fort Sam Houston in San Antonio, Texas, and later transferred to Fort Drum, New York.
"I always wanted to do something in medicine, but nothing lined up with work and all the school involved," he said. "When I joined the Army, I got that opportunity."
Tash said he knew he'd likely be going to war when he joined. He deployed to Afghanistan in 2006. He served in Iraq in 2008.
"Nothing prepares you for that first real patient," he said. "I thought in my head, 'This is when I'll find out if I'm meant to do this.' I was helping soldiers, providing comfort to those who were sick or injured, and it was very fulfilling."
After eight years of military service, Tash decided it was time to settle down. He left active duty and joined the National Guard.
Sept. 11 serves as a reminder for Tash of the sacrifice veterans make to secure others' freedom.
"Everyone joins for a different reason, but we all make a sacrifice," he said. "Most of us aren't looking to be heroes, though. We just want to serve our country."
Tash and his wife have two sons. Their 21-year-old is active duty at Fort Hood, Texas. Their youngest, 17, is starting his senior year in high school with no plans to join the military, Tash said.
"I think they're both great," he said. "They're both finding their way in life, and that makes me happy. That freedom for others is why we serve."
"I wanted to fight for freedom"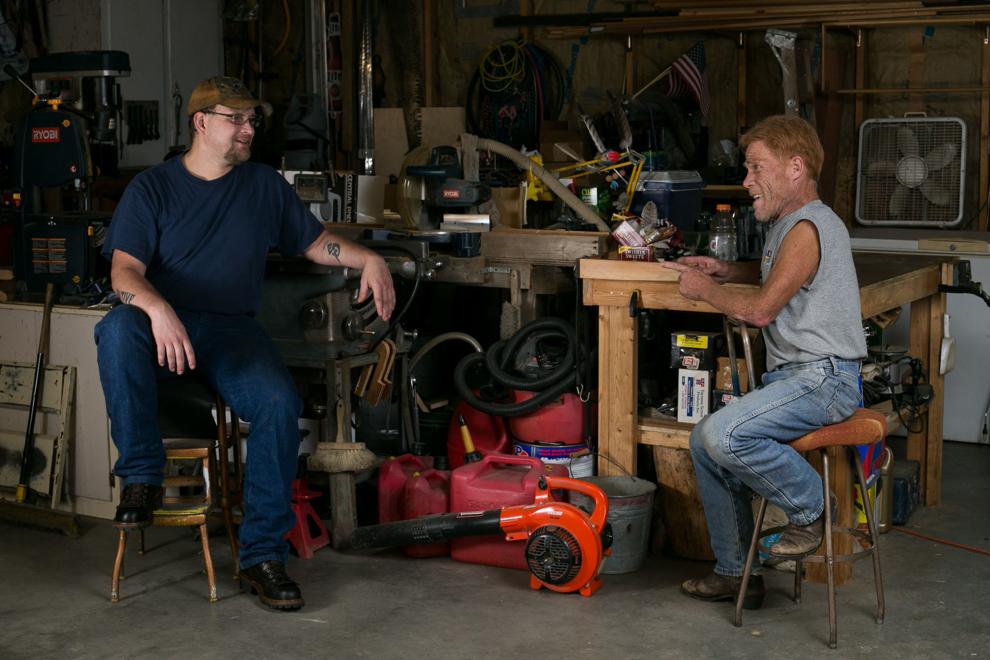 Dustin Stump was a 10th grader getting ready for school on Sept. 11, 2001. His grandfather, who was watching television that morning, told him what had happened.
"My granddad said, 'Someone just attacked the towers,'" Stump recalled. "He asked me whether I wanted to go to school or stay at home. I told him I would go to school, that it was happening far away and didn't impact (me)."
In retrospect, Stump said Sept. 11 had a big effect on him. As war swept the country, Stump saw new meaning in the day's events and his grandfather's military service during World War II.
"My grandfather fought for my freedom, and I wanted to fight for freedom too," he said. "The military was also something I could do right out of high school."
Stump enlisted in the Army three months after graduating from Mabton High School in 2005. He completed basic training at Fort Knox in Kentucky, drilling as a cavalry scout and paratrooper. He deployed to Iraq, then transferred to Fort Richardson in Alaska. He stepped on an improvised explosive device while in service at Fort Richardson and was medically discharged in April 2010.
Stump returned from service with a traumatic brain injury from an explosion, a shattered ankle from stepping on the IED, and post-traumatic stress disorder and anxiety that plunged him into sudden rages, depression and impulsive ideations. Desperate, he turned to drugs. When he ran out of painkillers in September 2010, he committed an armed robbery that landed him in the Yakima County Jail, awaiting a trial.
In jail, he connected with a psychologist who helped him open up about what he had witnessed in war zones. Stump said recovery for him was a long process, filled with mistrust and suspicion of asking for or receiving help. Other veterans, who vouched for the psychologist, helped him along.
"I really didn't decide I wanted help. It was forced on me," Stump said. "I couldn't have done this without support, particularly my dad's support. If it wasn't for him, I would likely be dead or on drugs still."
He's doing better now, Stump added. He has close ties with his family, who never stopped supporting him, a loving wife, and he received word in early September that he had landed a desired job working at Ultra Yield Micronutrients in Moxee. He also has become involved with Battle in Distress, a network that helps struggling veterans stand tall again. He said his journey is an example for other veterans that a few bad decisions don't mean life is over.
"There have been times when I've talked to veterans for hours, and then there have been times when they've talked to me for hours," he said. "I tell them that life does get better, and I can stand tall now because I want to stand tall, for my family, my friends, and for all the other veterans."
Stump emphasized that war leaves veterans with invisible wounds as well as the physical ones. Stump said he had difficulty getting the services he needed after the war, that many veterans also struggle to receive the help they need, and that it all adds up to a feeling of being swept under the rug.
"We as veterans sacrificed our time as young adults to serve, but when we came out of the military and were no longer useful, we got swept under the rug," he said. "I was even told by one person to 'get over it.'"
Stump said Sept. 11 is a time he honors the sacrifices of his friends and those who served after him. He also said it's important for everyone to still remember the sacrifice of veterans and to remain patriotic. Stump also encourages any veteran who might be struggling to ask for help.
"For any veteran, if you need the help, get the help," he said. "It's not worth taking your life. With these invisible scars and wounds that won't go away, we have to help each other."