EDITOR'S NOTE: Mount St. Helens erupted 40 years ago today. The following is a small selection of the letters and photographs we received from readers about their experience at that time. You can find more at yakimaherald.com. Our thanks to those who took the time to record and send their experiences.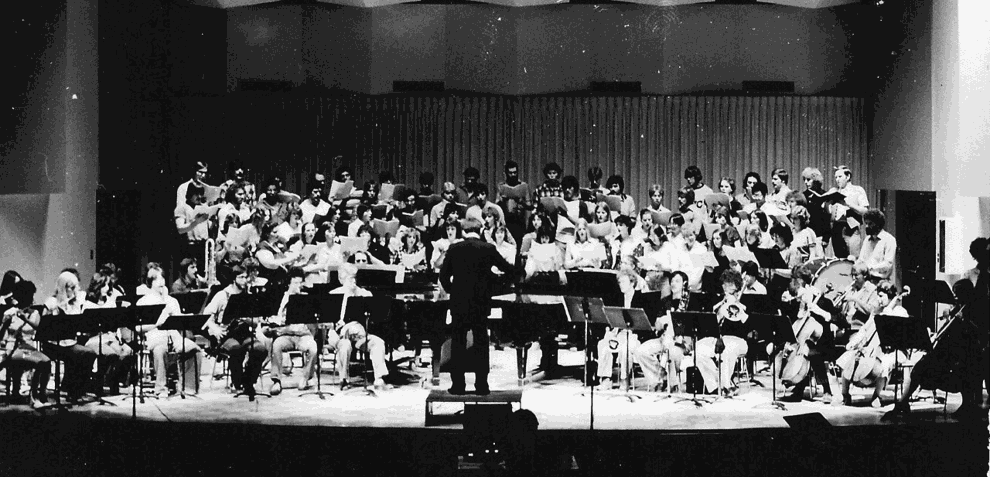 Scott Peterson
During the week prior to the May 18 eruption of Mount St. Helens, the Concert Choir of Yakima Valley College had been on tour in the Seattle area. On the afternoon of Friday, May 16, the choir arrived at the CWU campus in Ellensburg where it was to join the CWU Choirs in a performance of Leonard Bernstein's "Chichester Psalms." Since the YVC choir was staying in Ellensburg, the buses were sent back to Yakima and would return to pick up the choir after the concert on Sunday.
St. Helens had other plans and erupted at 8:32 a.m. Sunday, preventing any return to Yakima that day. The performance went ahead at 3 p.m., mostly because there was not much else to do and it helped keep the students calm in the face of disaster. All the performers wore old clothes and boots to the recital, and only the graduate student who was conducting dressed in a tuxedo.
The YVC students were staying with CWU students and people from the Ellensburg community and were spread out all across the Kittitas Valley. This was before cellphones or texting, so keeping track of everyone was quite difficult. Several attempts were made to get buses to Ellensburg from Yakima, but it was impossible due to the heavy dusting the Valley had received and the blowing ash that obliterated any visibility.
Finally, on Wednesday, May 21, the choir director (me) drove his car early in the morning down through the Yakima River Canyon in a caravan of vehicles with a Washington State Patrol escort. After getting to the campus of Yakima Valley College, the band director, Douglas Nott, and I managed to drive two YVC vans to Ellensburg to pick up the choir students and return them safely to Yakima. Probably a choir tour they will never forget!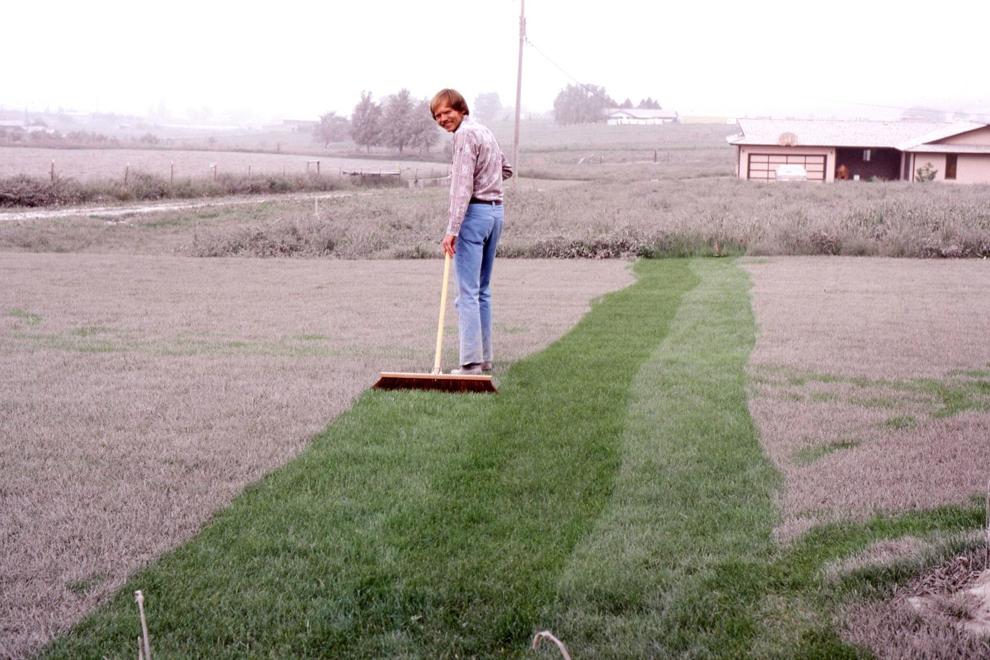 Joyce Hagen
As if surviving the May 18 eruption wasn't enough of a challenge, we then had to deal with the cleanup afterward. One big problem was the yard work. My husband was worried about burning up the lawn mower engine, so before mowing he swept the entire one-acre lawn with a garage broom. The sweeping exposed the green grass beautifully, but by the time he finished the acre of mowing, the engine had been ruined anyway.
Shoveling the ash was no picnic, either. We found that snow shovels also worked for shoveling ash, except for one thing. A shovelful of ash was so heavy that it almost bent the shovel. The vegetable garden was a disaster. It had looked great on May 17, but on May 19 we had to rescue the plants. Rhubarb leaves fared no better than snow shovels under the weight of the ash. Ash even became embedded in the strawberries, giving them a delightful crunch when we took a bite. Eventually, of course, the ash worked itself into the ground and helped improve the soil.
Kenneth Phipps
On May 17, 1980, my wife and I, with our 12-year-old daughter, decided to go on a weekend motorcycle camping trip. We loaded our motorcycles with our tent, sleeping bags and camping gear and traveled over White Pass. Saturday night, we stayed at a KOA campground a few miles east of Mossyrock.
Sunday morning, I accompanied our daughter to a pond just a few yards down the hill to see if she could catch a fish or two. A half hour or so passed by and I noticed a few ash flakes falling upon us. Must be coming from campfires at the campground. Minutes later a woman came running down the hill from the campground office screaming, "It happened — it happened." I asked, "What happened?" "The mountain just blew." Even though Mount St. Helens was only a few miles south of us, we could not see it because of intervening hills. Nor could we hear the explosion. But as we looked up, the sky was getting darker and darker. "We've got to get out of here."
We quickly loaded our camping gear back onto the motorcycles and joined the mass exodus leaving the campground. Getting back to Highway 12, the State Patrol were there directing traffic west to Interstate 5. There, traffic was only allowed to travel north. We rode through Seattle and stopped in Issaquah. My wife's aunt and uncle lived there and they graciously let us stay with them a few days until we were allowed to travel back to Yakima. While there, we watched the television news showing the devastation the volcano was causing in the Yakima area. We wondered what we would find when we returned home.
Kay Benedicto
May 18, 1980. It was a quiet, spring morning with clear blue skies. That was about to change.
While pinning bed sheets on the clothesline, I thought a heard a sonic boom. Pigeons circled and took refuge in the neighbor's tree. Strange. Very soon a black cloud was forming in the west. Strange. Nothing in the weather forecast said that was a possibility. I started unpinning the laundry to take it inside. Just then our neighbor peeked over the fence and said, "Did you hear Mount St. Helens erupted?"
I hurried indoors. Most of the day we spent listening to news reports, except for when we were outside collecting the falling ash — never dreaming how much we'd eventually have.
At the time, my husband was teaching at Lewis and Clark Junior High; our daughters were 12 and almost 10. I worked at People's Store. My family stayed home, missing school, shoveling and sweeping ash; every day I went to work downtown. We weren't allowed to park in the central business district, so we parked about six blocks away then walked to the store through ash-covered sidewalks and ash-filled air, dust masks firmly in place. At the end of the day we'd walk back to our cars, now covered in ash from the day's traffic. Every day I prayed our car would keep running despite the effects of the ash. It did.
The funniest thing I remember was that our main office in New York City asked for a box of ash to be shipped to them. We did. We could have shipped more!
Neal Springer
That weekend I was scheduled to umpire the Selah Community Days slow pitch softball tournament so my wife, Debbie, decided to take our 1-year-old daughter to visit her sister in Bellingham and leave me alone for the weekend with my umpiring duties. On that fateful Sunday morning, I was working the first game of the day starting at 8 a.m. As we all remember, it was a gorgeous day until that ominous black cloud with visible lightning started rolling in from the west. "Knowing" it was a thunderstorm, I was hustling the game along to make sure we'd get done in time.
I vividly recall one of the players jokingly commenting that it was probably Mount St. Helens. We all laughed — until about five minutes later a sheriff's car pulled up and ordered everyone to go home immediately. It was, in fact, Mount St. Helens.
I rushed to my car and headed to my East Valley residence with ash already falling as I passed Boise Cascade. At my house the ash had not quite arrived, so I was able to do some quick outside cleaning before hunkering down alone inside my house, which quickly became pitch black and eerily quiet as the ash fell for the rest of the day.
Meanwhile, my wife was unable to come home as all the state routes were closed. And every day for the next five days she would try to drive home but was turned away at North Bend (no internet then) until she finally was able to come home on Friday the 23rd. But I did one thing on Monday morning the 19th that I also vividly remember. I collected three one-gallon milk cartons of undisturbed ash off my back patio; it remains in those unopened cartons to this day. So, is that untainted ash worth anything today?
Sid Morrison
Former U.S. representative, Yakima
I could tell from the distress calls of the birds on May 18, 1980, that something was wrong. What was right at that same time in my life was that I was running for the U.S. Congress after serving the Yakima Valley for 14 years in the state House and Senate, and had a good chance of winning. What was wrong was that Mount Saint Helens had erupted and sent billowing clouds of ash all across Central Washington, and our campaign literally ground to a halt with downtown Yakima closed. So, someone thought of mobilizing some of my farm supporters, who had trucks and tractors to clean up large areas like church parking lots.
One of the first questions was, "Where do we put this very heavy fallout material?" The answer from the city was Chesterley Park, which at that time was a series of canyons and scrub-covered gentle hills. Through the years, Chesterley became a wonderful addition of soccer fields and public areas and is now home to a magnificent Aquatics Center, and part of our campaign effort is buried there. I had to smile when I saw the pictures of kids who got to do the ground-breaking for the new YMCA/Rotary Aquatics Center, and around their shovels as they turned the soil were wisps of the powdery volcanic ash that was still there, and always will be. A happy ending to that part of the story.
I also won the election and had the privilege of representing the people of the 4th Congressional District for 12 years, a district that includes part of Mount St. Helens and much of the forested area that was virtually destroyed by the eruption. We created the nation's first National Volcanic Monument under the U.S. Forest Service, built the first volcano-proof highway and a number of visitor centers that have hosted millions of guests to that part of the state. It is an awesome place to visit: The forests are growing back, and it is living proof that public-private partnerships can be good investments. Even the mountain is growing back, and in a few million years we may be able to see it, again.
Connie Ostrander
Our son was home from college for the weekend and before going to sleep Saturday night, broadly hinted that he would like beef stroganoff for Sunday dinner. I had all the ingredients on hand except the sour cream. Sunday morning I pondered what to do because I never shop on Sunday (Third Commandment). But, on the other hand, he was home infrequently and I was flattered that he liked my stroganoff. What's a mother to do?
So, while most of the family was still sleeping, I hopped on my bike to head to the nearest market. Coming out of the store with my 35-cent purchase, I noticed an ominous-looking storm approaching from the southwest and raced it home. I had only been back in the kitchen a short while when our daughter came in from outdoors and said, "I can hear it raining on the roses, but I don't see any water."
Puzzled, I went out to investigate and quickly realized it was ash particles and, well, you know the rest of the story. To this day, our family will tell you that Mount St. Helens blew that Sunday because Mom shopped that Sunday.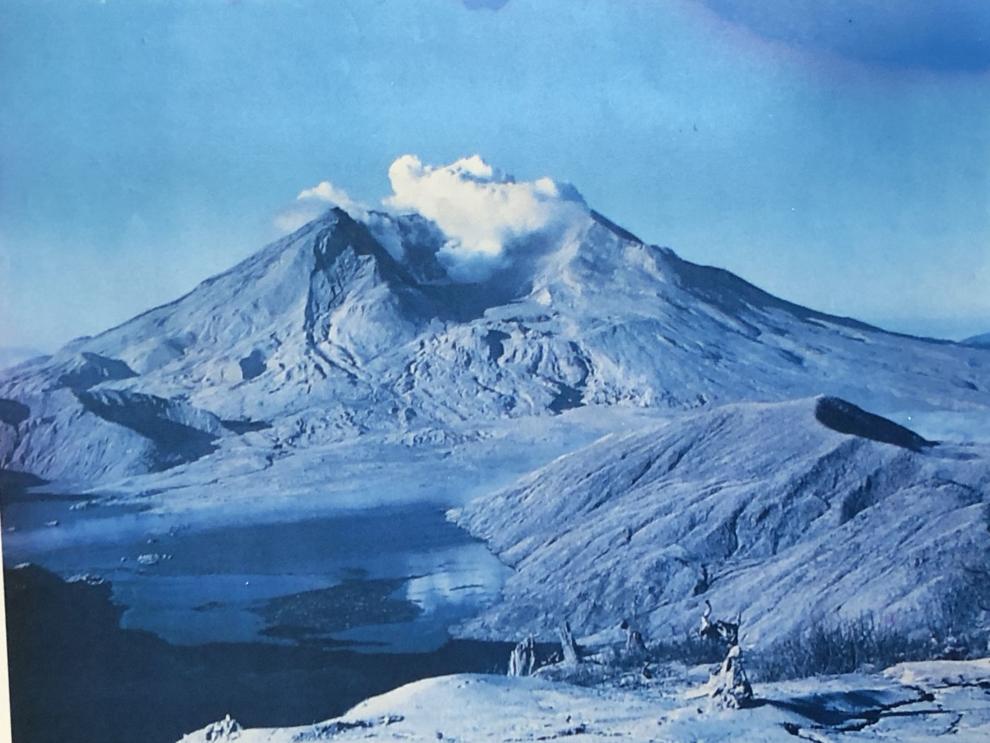 Norm Vader
I was about 3 years of age when my family started going to Spirit Lake and Mount St. Helens. We were poor and couldn't afford vacations. The "mountain" was the only summer activity for our family, plenty of hiking and boat renting. I went to Boy Scout camp on Spirit Lake. In 1968, I summited Mount St. Helens.
The morning of May 18, 1980, all of our neighborhood gathered on the brow of an east-facing hill to observe the eruption. Our rivers were clogged with ash, downed trees and houses. No ash landed in our area, as the prevailing winds were from the west. The next morning, the Cowlitz River near our house had raised about 20 feet and was steaming and looked like wet concrete.
Beginning in 2009, I served for 10 summers as a roving interpreter with the Mount St. Helens Institute at Johnston Ridge Visitor Center to give the very busy rangers a bit of help.
Linda Barta
My husband and I were in Yakima on that day for what was supposed to be a daylong "hamfest," a gathering of amateur radio operators. The event was held at Eisenhower High School. We left Wenatchee very early, and not too long after arriving at Eisenhower the eruption took place.
Many of the locals understandably went home, which left the rest of us out-of-towners stranded at the school for four days. It wasn't bad, though. The Red Cross came in with food and provided everyone with personal hygiene items, so we had everything we needed. We were allowed to use the showers and at night we curled up in a corner of a classroom. All in all, we were comfortable.
Because we were there for an amateur radio event, stations were already set up that could provide emergency traffic informing our relatives and employers of our situation, since this was long before the days of cellphones. We joke that the highlight of our entertainment was watching bugs maneuvering through the ash. But of course what was most remarkable was watching daylight turn to night by noon. When we were finally cleared to head home, those of us from Wenatchee traveled in a caravan in the event of any cars breaking down along the way. It was quite the experience.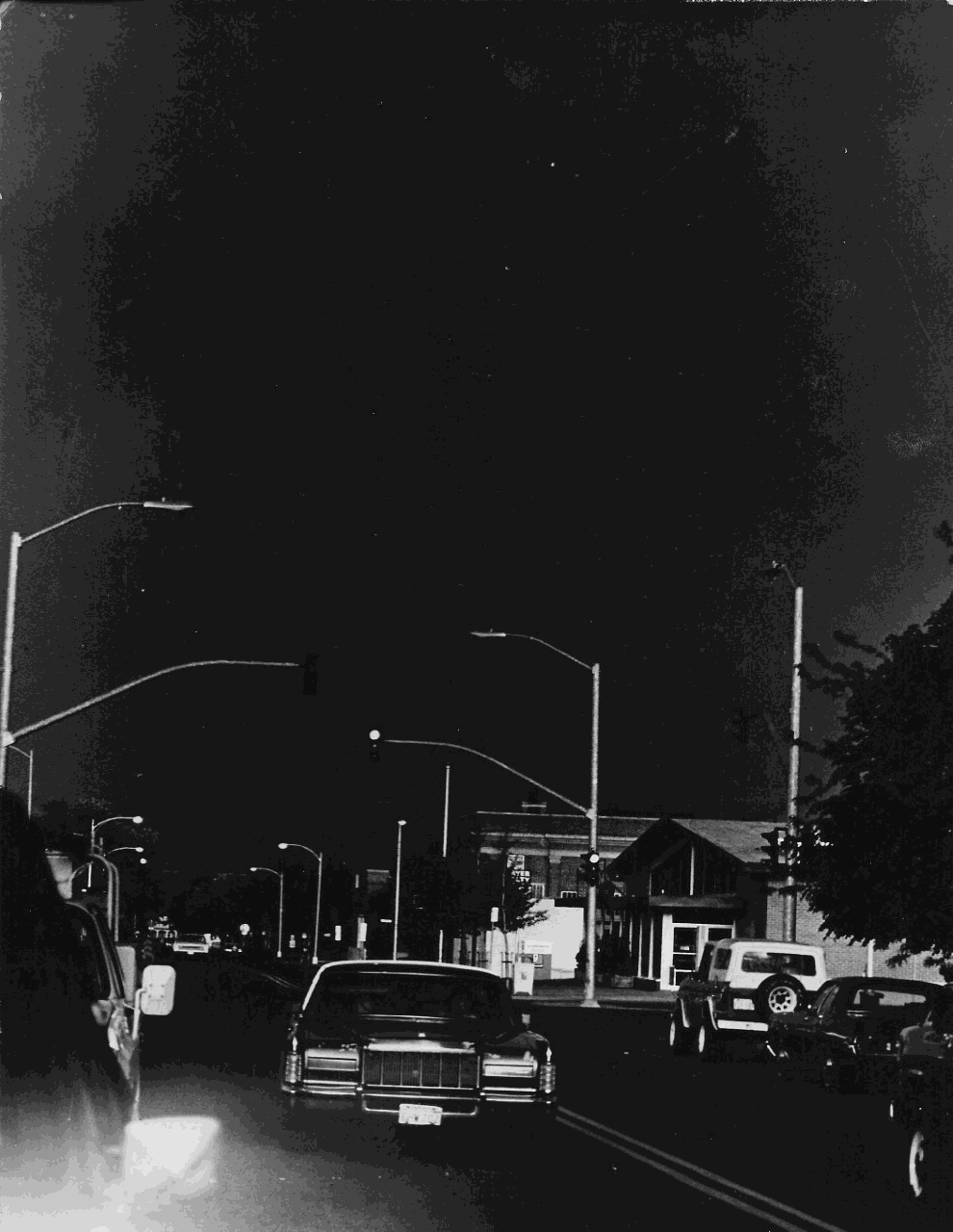 Glen Yallup
I was a freshman at Central Washington University in Ellensburg. That morning, I went for a jog when Mount St. Helens erupted.
I ran back to the dorm; everyone was getting excited and trying to decide what to do. Announcements said to get necessary items, eat, get a drink, then return to housing units as soon as possible. After showering, I went to the cafeteria and people were excited, nervous, phone lines were jammed. I ate fast, went to my room and phone lines were still busy; I, like most people, was trying to call home. The black cloud covered the Kittitas Valley; day became darkness.
Gray ash started falling; it was surreal, face masks, goggles, scarves, hats of all kinds, it was sort of like a warm winter scene, ash angels everywhere. In a few hours, reality started hitting. Classes canceled, roads were closing, ash piled up fast. Trucks, cars, trains, public transportation were all shut down.
After a day of scrambling, I tried to hitchhike home, but was too late. The road to Yakima was closed. If I remember right, it took about nine or 10 days to open roads. Ash clogged engines, health warnings were issued about breathing too much ash. The eruption parties kept going for a while, but after about two or three weeks classes started again. The quarter was extended by a week, I think.
I did make it home for a weekend before classes started, visiting family; it was something to think about. Yep, food, water, gas, beer, other stuff was running low for a while. Don't know what I did with my small bottle of ash.