Yakima's only hospital hit another grim milestone this week as the number of patients exceeded the number of beds it is licensed for, medical officials said.
"Our hospital right now is as full as it's ever been," said Dr. Marty Brueggemann, chief medical officer of Yakima Valley Memorial Hospital, during a news conference Thursday. "We're licensed for 226 beds and yesterday morning, I think for the first time ever, our morning census actually exceeded that number. We had 229 patients in the hospital."
The hospital had about 45 COVID-19 patients on Thursday morning, Bruggemann said during the noon news conference. Nearly all the COVID-19 patients are unvaccinated.
"About 95% of the cases this week have been in unvaccinated individuals and all of our vented patients since last week have been unvaccinated as well," he said of those connected to a mechanical ventilator because they can't breathe on their own.
The total number of people with COVID-19 in Yakima County's three hospitals set a record at 70 on Sept. 9, according to the Yakima Health District. It was 57 countywide on Thursday.
Brueggemann and Dr. Bismark Fernandez, a hospitalist for Yakima Valley Memorial, provided updates in English and Spanish on COVID-19 numbers and how they continue to strain staff levels and impact care for non-COVID-19 patients. Their presentations are available on the Yakima Valley Memorial Facebook page.
There was a faint glimmer of good news amid the COVID-19 statistics they mentioned Thursday as Brueggemann said the number of COVID-19 patients at Memorial on Thursday was flattening.
But medical experts are also seeing crucial COVID-19 statistics fluctuate daily as the delta variant persists. They strongly urge people to get vaccinated for several reasons, among them the fact that if they become ill with the highly transmissible variant, they likely won't need to be hospitalized.
The health district reported 326 new COVID cases on Wednesday and 248 on Thursday.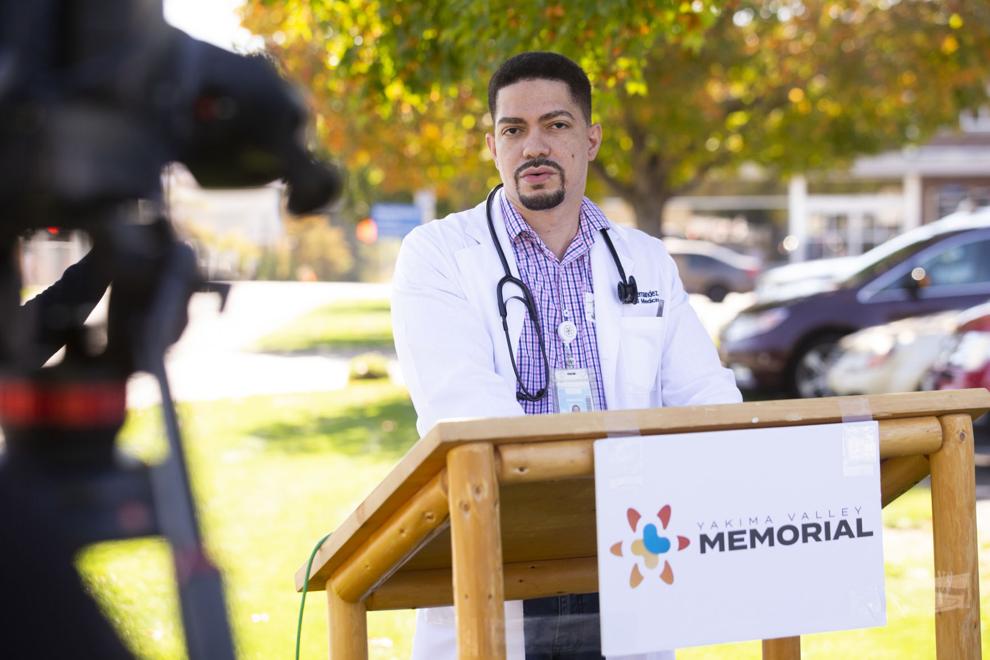 Health care system in crisis
Medical staff members at Memorial are routinely holding 10 to 15 patients in the emergency department because they don't have the bed space, Brueggemann said, with many holds lasting several hours. Transferring patients also continues to be a problem and is expected to continue after Idaho extended its crisis of care standards to the entire state.
"We watch that closely. That puts a lot of pressure on our eastern hospitals," Bruggemann said.
He mentioned that Providence Alaska Medical Center in Anchorage has also implemented crisis standards of care, which are guidelines that may be used when there aren't enough health care resources to provide the usual standard of care. Providence has routinely transferred patients to Seattle hospitals, as have many others. Transfers are a "safety valve" that's increasingly unavailable.
Though hospitalizations in Yakima County due to COVID-19 are slightly down, Bruggemann and Fernandez stressed that case numbers remain high. "Just yesterday, there were 326 new cases. There were also five additional deaths yesterday," Bruggemann said. "This is also impacting our staff."
Staffing
On Thursday, 75 people throughout the Yakima Valley Memorial organization — which has more than 3,000 employees — were out because of COVID-19. Forty were hospital employees, with nine of them nurses, he said. That puts pressure on a staff already diminished by people leaving, mainly because of burnout due to the unrelenting demands of the pandemic.
In his remarks, Bruggemann mentioned two ongoing social media discussions he's seen recently concerning staffing. One is that Yakima Valley Memorial has a hiring freeze for nurses. That's not true, he said.
"We are continuing to hire all bedside positions," Brueggemann said. "We have over 100 positions posted that we would fill gladly if people would apply for them. So there is no hiring freeze affecting our staffing problems right now."
And some think the vaccine mandate for employees is affecting staff levels. It's not keeping Yakima Valley Memorial short-staffed at this point, though it is something administrators are watching closely as the Oct. 18 deadline for being fully vaccinated approaches.
Officials are still compiling statistics concerning how many employees have been vaccinated, and to what level. Before the state and federal mandates that employees be vaccinated, "We had no need to know on that. We actually were not able to ask staff if they were vaccinated," Bruggemann said. "Now that it's a mandate, we need to find out whether we're in compliance with that mandate.
"I can tell you that ... we're over halfway to having our entire staff being in compliance. That's not saying half aren't; it's just we haven't heard or haven't been able to process a lot of them yet. It's a big project."
Those who aren't fully vaccinated by the deadline won't be allowed to work. If they get vaccinated after that date, they can come back to work, Bruggemann said. "We aren't firing anybody, you're just put on unpaid leave while you're out of compliance with it," he added.
Younger patients
The number of COVID-19 cases among infants to those age 19 continues to increase. That's one of the trends medical officials are seeing at the community testing site. "In any given day, it's roughly 25 to 35% of the new cases are in that younger group," Bruggemann said.
"Certainly the schools have seen a lot of activity that they're navigating," he said, noting that the Yakama Nation Tribal School building in Toppenish was closed to in-person learning Monday and will remain closed through Sept. 24 per the tribal officials' decision to revert back to Phase 2 of its COVID-19 reopening plan because of rising infections and limited hospital capacity in Yakima County.