Yakima County has the highest rate of COVID-19 infections in the state by a significant amount, and is double the state average, according to state Department of Health data.
The county had a rate of 337 cases per 100,000 people, according to the latest state data, accounting for the 840 Yakima County cases recorded by the state as of midnight on Monday.
That's significantly higher than the next highest county rate in the state, Snohomish County, which has 274 cases per 100,000 people. It's double the state rate of 168 confirmed COVID-19 cases per 100,000 people.
Yakima County also has the second-highest rate of testing for COVID-19 in the state after Snohomish County, according to Yakima Health District spokeswoman Lilian Bravo.
As of Tuesday evening, Yakima County had 886 confirmed cases of COVID-19, including 38 deaths, according to the Yakima Health District. Twenty-five people were hospitalized with the respiratory virus. The health district did not provide updated numbers Wednesday due to technical difficulties.
Map released
On Tuesday, the health district released a map showing the breakdown of confirmed COVID-19 cases among residents in each city and town in Yakima County.
The health district map shows where community members infected with the virus live, not where they contracted the virus, said Bravo. Community members can contract the virus from anywhere in the community, she said — not just areas with higher rates of residents with confirmed cases.
The health district mapping is based on COVID-19 cases per 100,000 population, not actual case numbers in each town or city. Cases in long-term care facilities, which account for about a third of cases in the county, were not included in the map to prevent the data from being skewed. P.O. Box addresses were also excluded.
High densities of cases can be seen in parts of Yakima, Sunnyside, Toppenish, Wapato and Tieton, among others.
The high case rate in the county compared to elsewhere in the state can be attributed to outbreaks in long-term care facilities, as well as the high proportion of essential workers in Yakima County, Bravo said.
Cases at seven Yakima County long-term care facilities make up 25% of the county's total cases.
Essential workers
About 72,700 of 115,000 Yakima County jobs, or 63%, are in essential industries like agriculture, health care and wholesale trade, according to job figures from the first quarter of 2018 provided by the Yakima County Development Association.
This compares to 54% statewide.
"Context is that over 60% of jobs are still considered essential in Yakima, so we're not as shut down as some areas in the state," Bravo said. "Having more individuals still working, not necessarily always being able to work from home, having to show up to work — that's going to put them at a higher risk of infection."
Bravo said it was too early to tell whether this could mean that Yakima County reaches herd immunity faster than other areas in the state. She said there had been instances in other countries where individuals had recovered from confirmed cases of the virus and then tested positive again, making it hard to say whether infections could lead to immunity in the long run.
"Our goal is to keep everyone healthy, so we're advocating to get more resources for testing," she said, adding that essential workers are prioritized for COVID-19 testing.
People who are essential workers should call their primary care provider for testing if they show symptoms of the virus including cough, fever or shortness of breath, she said. They should say they are an essential worker. People without a health care provider can call 211.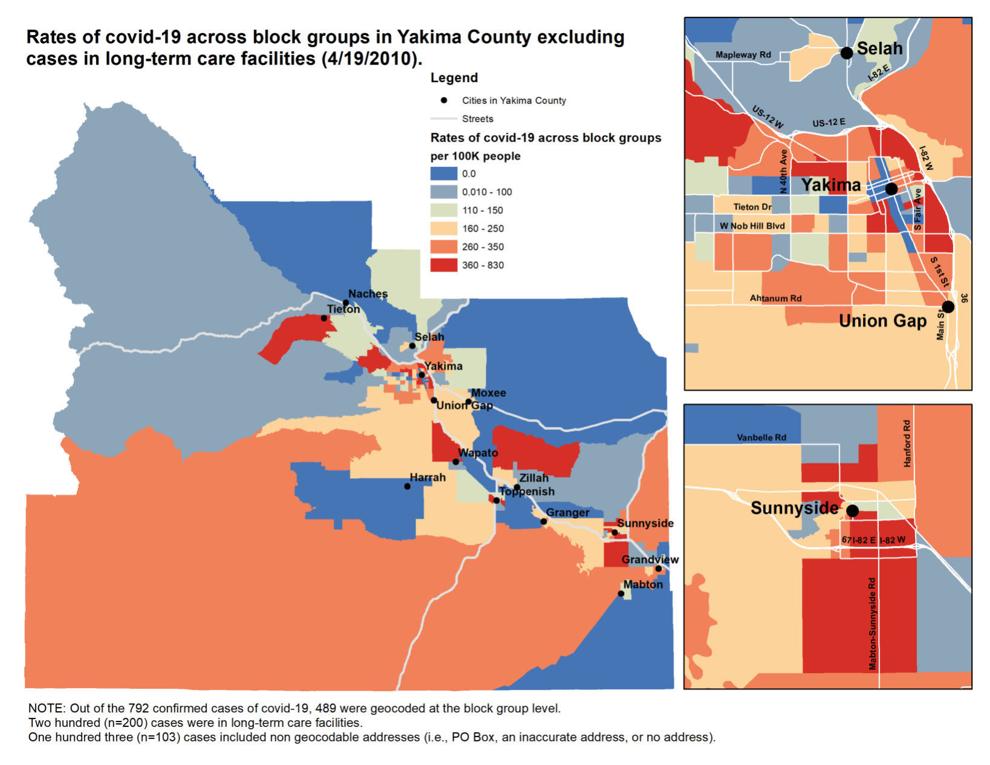 Agriculture
Last week, the state issued new guidelines to protect agriculture workers against COVID-19.
The new Department of Labor and Industry rules require growers and operators to have procedures for a suspected or confirmed case of the virus, to educate workers on health recommendations, and to have employees stay home if they are sick. They are also required to ensure social distance and physical barriers between workers, to have hand-washing stations and to increase sanitation.
But the measures to keep workers safe were seen by some as piecemeal. Two farmworker groups filed lawsuits in Skagit County Superior Court last week seeking tougher rules and immediate oversight.
In a news release Wednesday, Yakima-based advocacy group Latino Civic Alliance demanded the state adopt clear and enforceable standards to protect agricultural workers from exposure. The organization noted 96% of the state's agricultural workers are Latinos, with many living below poverty levels and without health care benefits.
As of Friday, at least 70 agriculture workers had tested positive for COVID-19, according to the Yakima Health District. On Tuesday, Bravo said the number includes warehouse workers, administration and drivers in the sector.
Washington Beef employees account for 38 confirmed COVID-19 cases, Sonja Totland, the company's human resources director, said Wednesday.
"We are monitoring the status of the pandemic in Yakima County very closely and we are working closely with Yakima Health District and implementing additional mitigation measures to protect our team members, while continuing the essential production of food products for our community and our nation," said Totland, noting that the plant employs more than 1,000 people.
Measures include reducing staffing and splitting shifts to minimize employee overlap, as well as new efforts to add dividers along the production line, she said.
Jon DeVaney, president of the Washington State Tree Fruit Association said Wednesday that the proportion of Yakima County cases among agriculture workers was surprisingly low, considering the high population of workers in the sector.
"Any case is more than you want, but when agriculture is almost 28% of all employees in Yakima County, it would be shocking if there were no cases connected to our industry," DeVaney said. "The fact that about 10% of the reported cases (in the county) so far are in agriculture… (means that) we're sort of underrepresented, and in a sense that's good news. It still means we need to take additional steps, because we're still asking people to report to work as essential workers."
DeVaney of the Tree Fruit Association said the fact that individuals can be asymptomatic makes preventing the spread in essential workplaces a challenge. He said more widespread testing for COVID-19 would help to better identify and isolate people who are infected.
Staff writer Lex Talamo contributed to this article.