Yakima County's coronavirus transmission number is 2 to 2.5, meaning each person with the illness is infecting an average of two people, local health officials said.
The transmission number, also called the R-naught number, indicates how contagious an infectious disease is. Having a transmission number below 1 is among the requirements for Washington counties to move to the next phase of reopening.
Yakima Health District spokeswoman Lilian Bravo said Wednesday the term indicates how many people likely will be infected from each person who has COVID-19.
Dr. Teresa Everson, the district's health officer, said each person will have to infect fewer than one other person for the county's rates to go down and for things to reopen.
"We are counting on every citizen, every employer, to be doing their part," she said.
As of Wednesday evening, Yakima County had recorded 4,103 cases and 92 deaths since mid-March. That's up 46 cases from Tuesday. A total of 1,429 people have recovered.
"We feel every death in the health district," Everson said. "We feel every case and every hospitalization. It hits us hard."
Masks
One tool to fight the spread is cloth masks. A health district directive urging people to wear face coverings in public took effect Wednesday.
During the briefing, community members asked Everson via social media what she hoped the mask directive would accomplish. She said she hoped the directive would encourage at least 80% of people to start wearing masks when in public.
She said the health district chose that goal because some individuals, including very young children or those with breathing issues, could not wear masks.
Everson said the health district did not initially include a mask recommendation in its March 22 stay-home order because she did not want to penalize people who couldn't afford or obtain masks, given time constraints.
But groups have since been sewing masks, and the health district has obtained more than 300,000 cloth masks from the state Department of Health for distribution. People can also use a scarf or a bandana as a face covering, she said.
There's a difference between an order, which can come with enforcement penalties, and a directive, which doesn't penalize people. Everson said the district has not issued a mask order because historically the county has been able to start with education and have voluntary compliance.
Everson said case counts in Yakima County haven't reached a point where she would even consider the county apply for a modified Phase 1, which would open additional activities.
Mask wearing is a critical part of bringing case numbers down, she said. Others include staying home if sick, practicing social distancing, and not gathering with people outside of a person's household.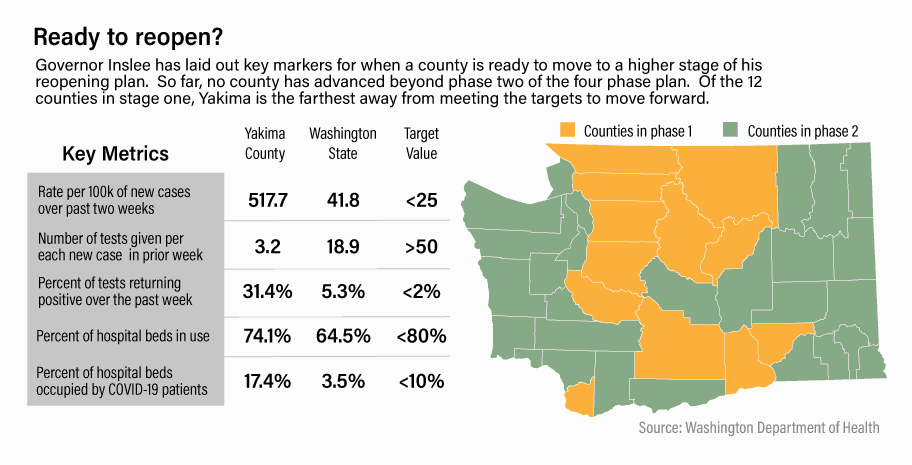 Hospital capacity
Dr. Marty Brueggemann, the chief medical officer at Virginia Mason Memorial, also asked residents to wear masks, if not for themselves, then for others, including his staff.
Brueggemann said sunshine and summer days can obscure the reality of the pandemic for some people. But spending the day in the hospital offers "a very different picture," he said.
Brueggemann said his staff recently had 36 patients with confirmed cases of COVID-19: the highest daily total to date. Of those, 11 are on ventilators.
"This is real," Brueggemann said. "People are getting very sick and dying from this."
COVID-19 hospitalizations countywide totaled 41 on Wednesday, according to the health district. The county also has Astria hospitals in Sunnyside and Toppenish.
Brueggemann said Virginia Mason Memorial has reached capacity and has had to transfer patients to partner sites in Eastern Washington, including Wenatchee.
He said that's not ideal, as transferring a patient removes their support network and also increases COVID-19 exposure to the drivers, health care workers and hospital staff in the receiving counties.
Brueggemann said hospital staff have contracted the virus and asked able people who refuse to wear masks to reconsider.
"Every time a patient comes into the hospital, they are putting my team at risk. We have had a number of people get sick for this," he said. "So it's not just a personal choice. You are putting people at risk other than yourselves by not complying with these recommendations. On behalf of my team, or in support of my team, I want to appeal to you, please, if you don't do it for yourself, do it for them."
The health officials reminded people to wash their hands or use hand sanitizer before and after putting on their masks and to wash their masks, rather than wear them for multiple days at a time.