Although the spread of COVID-19 and related hospitalizations may be on the decline at this very moment, health officials are concerned about what might happen this winter.
Last year, a winter surge in cases spiked hospitalizations and deaths. Many businesses, such as restaurants, bars and movie theaters, were closed or only allowed to provide takeout or curbside services.
We are in a similar place as last year despite a recent decline in cases and hospitalization, said Lilián Bravo, Director of Public Health Partnerships for the Yakima Health District.
While some things are different — namely, there's a vaccine that can curtail hospitalizations and deaths — the delta variant spreads faster than previous versions and there's still a large segment of the community resisting the vaccination. On top of that, we're headed into the flu season, Bravo said.
"We knew there would be some type of surge in the fall. That's to be expected with school coming back in the fall," she said. "But it came much sooner. All these different factors are really compounding at this time."
As of Monday, 59% of Yakima County's population age 12 and up was fully vaccinated, with about 60 vaccinations given a day, according to state and local numbers.
Closures not on table
Business closures are unlikely moving forward, Gov. Jay Inslee spokeswoman Tara Lee said.
Closures were a tool before the vaccination, but mandatory masking in public settings remains in effect, she said.
"The vaccine and the vaccine mandate for state employees and health care workers are the tools we have now," Lee said. "It is extremely unlikely that we would go back to business closures and shutdowns."
State health officials during Wednesday's news briefing again urged the public to get vaccinated, and continue to mask up in public settings.
Despite a recent downward trend, the number of cases and related hospitalizations remain dangerous, said state Secretary of Health Dr. Umair Shah.
"The reality is the numbers are way too high," Shah said during the briefing. "They are way too high to sustain."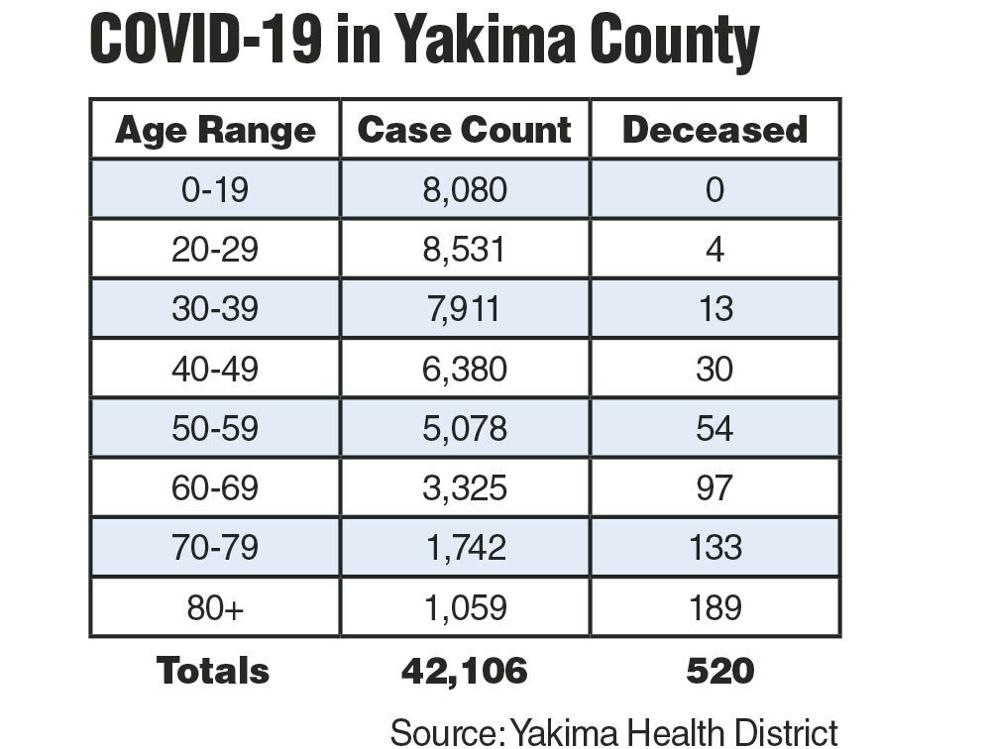 Spread
The late August-early September peak in cases tied to the delta variant was similar in numbers to a previous peak in cases and hospitalizations in late December and early January. Those spikes happened in Yakima County and statewide.
The virus' 14-day spread trend in Yakima County reached 1,236 new cases per 100,000 over a period that ended Jan. 8, according to the state Department of Health. Statewide, the spread began increasing in October with the two-week trend of new cases peaking at 524 new cases per 100,000 people over the same period, DOH figures show.
This fall, Yakima County's two-week spread rate peaked at 1,074 over a period that ended Sept. 5, DOH figures show.
The statewide rate was less, with 627 new cases per 100,000 people over a two-week period ending Sept. 5.
Now we're seeing slight declines. Statewide, the 14-day trend had decreased to 578 per 100,000 as of Sept. 20 while the county's trend had declined to 905 as of Sept. 21, DOH figures show.
Washington state implemented a mask mandate for everyone in public places indoors on Aug. 23. Inslee expanded it to large gatherings outdoors on Sept. 13.
As of Wednesday, Yakima County's total case count was 42,106 with the state's at 652,011.
As of Wednesday, the virus had killed 7,654 people statewide and 519 in Yakima County, according the DOH and Yakima County Health District figures.

Hospitalizations
Hospitalization trends are tracked over a seven-day period. Yakima County's peaked at 30 per 100,000 people at the end of December before another spike ending Sept. 18 reached 26 per 100,000 people, DOH figures show.
Statewide, hospitalizations peaked at 11 per 100,000 people over a period ending Dec. 15 and peaked again to 18 over a period ending Aug. 29, DOH figures show.
Bravo said gatherings coupled with a delay in people getting tested are the drivers behind the recent surge in cases.
"That's what we're seeing," she said. "Someone in a family gets infected with COVID and before they find out they've infected the entire family."
Hospitals are stressed and easily could become overrun with COVID patients, especially with the closure of Astria Regional in Yakima, Bravo said.
"So we have to remember we're down a hospital and it doesn't take much time to get into concerning situations," she said. "If you get in a car accident, what level of care can you get when the hospital is full or if you have a heart attack what level of care can you get?"
Chances of a winter surge are high given holiday gatherings, she said.
"You can imagine how fast it will spread once we're all indoors and ventilation isn't as good," she said.
More cases equate to more hospitalizations and deaths, she said.
In September alone, 45 people in Yakima County died of the virus, Bravo said.
Echoing state health officials, she urges everyone to mask up, practice social distancing and get vaccinated.
"We all have a role to play," she said. "We know these measures work, so let's use them."