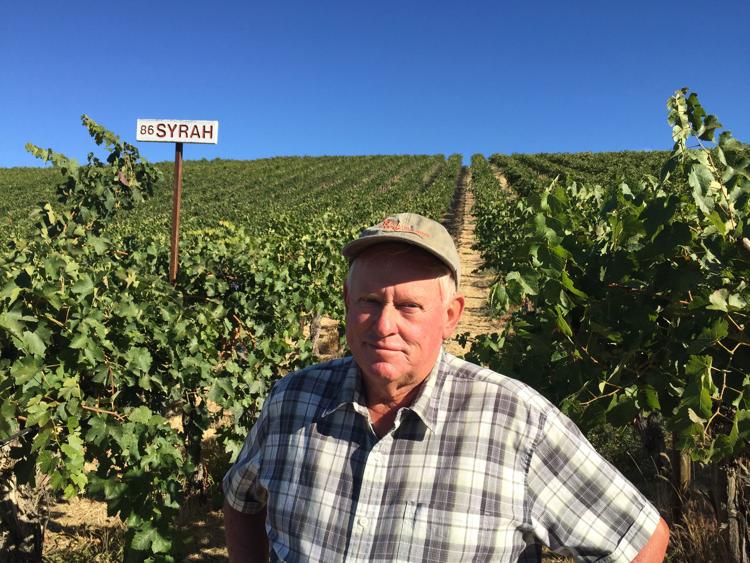 A DUSTY HIGHWAY outside the town of Granger, in the east end of the Yakima Valley, leads to holy ground. With Mount Adams as a cathedral, Red Willow Vineyard is where Washington syrah was born and baptized.
Today, syrah is the third-most-planted red grape in Washington, behind cabernet sauvignon and merlot, and its acreage grows year by year.
How syrah got here is part of Washington wine lore.
In 1983, Red Willow owner Mike Sauer was harvesting his first crop of cabernet sauvignon when he was approached by Peter Dow of Cavatappi Winery in Kirkland. Dow was interested in making nebbiolo, a classic Italian variety. The affable Sauer agreed and planted an acre. When David Lake, winemaker for Columbia Winery in Woodinville, found out, he suggested planting syrah, too. Lake helped Sauer select cuttings from a vineyard in California, and Sauer cultivated them in his nursery for a year before planting in 1986.
As the story goes, Sauer invited Lake and a few of his employees to a barbecue where, fueled by food off the grill, they started planting the grapes on a steep hillside. Lake, understanding the historical significance of the moment, brought along wines from the Côte-Rôtie and Hermitage regions in France's northern Rhône Valley. When they were empty, the bottles were buried with the new vines — to encourage the plants to produce greatness. The bottles are still there.
Two years later, the inaugural crop of syrah went to Lake, who bottled the first syrah from Washington.
Because syrah is a Mediterranean variety, nobody was quite sure how it would handle the Columbia Valley's famously harsh winters. After the grapes sailed through the cold, destructive winter of 1996, people started to pay attention. Syrah really took off after 2001, when Sauer began to make cuttings available to others.
In last year's record-setting grape harvest, winemakers brought in more than 21,000 tons of syrah grapes. Much of those go into red blends, as winemakers have found that syrah adds a lot to cabernet sauvignon.
In 1995, Sauer completed construction of a stone chapel at the top of his vineyard. Suggested by Lake, it replicates the famous chapel in Hermitage — another historical nod to syrah's roots — and now the chapel is the most iconic building in Washington wine country.