5 Things To Do This Weekend: Dec. 6, 2018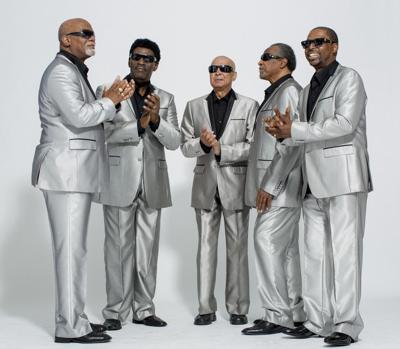 YAKIMA, Wash. -- Don't know what to do this weekend? We've got you covered; here are this week's top picks for entertainment in the Yakima Valley.
I dialed up Jason McCue on the ol' YouTube machine a couple of weeks ago to check him out in advance of this show. He was at this year's Yakima Folklife Festival, but I missed his set in the park. I was about halfway through watching my second video when it clicked: This was the kid who blew everyone away at the Folklife Songwriters Showcase. He only played for, like, 10 minutes. But after that 10 minutes, everyone in the room just kind of looked at each other like, "Whoa. This guy is good." His voice is not always my exact cup of meat, and I'm too much of a music dummy to fully appreciate his guitar playing (which I'm told is excellent), but dear lord can that young man write a song. You don't want to miss it.
Here's a fact about Jim Lauderdale: He's co-written songs with Elvis Costello. And not in the way I've co-written songs with Elvis Costello (by which I mean changing the words "The angels wanna wear my red shoes" to "The doggies wanna eat some dog food" as I feed my dogs) but by actually meeting and sitting down with him. And that's not all. Lauderdale has also collaborated with Robert Hunter, Rodney Crowell and Nick Lowe, among many other luminaries. The man is legit as legit can get. And his own songs are outstanding. There's never an extra word. It's songwriting distilled. And his singing is pure classic country. If you like George Jones or Dale Watson, this is one of those must-see shows. (And another point on the board for Brewminatti, the tiny venue in the tiny town that books huge talents.)
6-10 p.m. Friday and Saturday; Yakima Area Arboretum, 1401 Arboretum Drive; free; 
www.ahtrees.org, 509-248-7337
The antidote to commercialized Christmas — to the obnoxious inflatable snowmen and saccharine Hallmark movies and Santa shilling for Coke — is the Yakima Area Arboretum's annual luminaria walk. The cold, the dark and the quiet somehow combine to create the most peaceful setting you can find within the city limits. You walk the paths, lined by candles shining through small paper bags, and all you can hear are the hushed voices of other walkers and the carillon bells. And then, when you've left behind all of the shopping stress and visiting-relatives anxiety, you go inside the arboretum's Helen Jewett Interpretative Center for carols and cocoa. The only tricky thing about the event is parking, but there's plenty more across Highway 24 in the old Kmart (now U-Haul) parking lot, and there are free Yakima Transit shuttles available from there.
■ The Blind Boys of Alabama Christmas Show
There are times when The Seasons Performance Hall's past life as a church serve as an ironic counterpoint to the performers on stage. And there are times when it still feels like a church. This is one of the latter. That's not to say you have to be pious to enjoy The Blind Boys of Alabama, the Grammy-winning gospel group that dates all the way back to 1939. The point is that they'll make you feel the Holy Spirit whether you're a believer or not. Such is the power of their music.
■ Culture, Crafts 
& Community
Staff from the Center for Washington Cultural Traditions, the program launched in March under the auspices of Humanities Washington, have spent months researching the cultural traditions of the Yakima Valley. You can enjoy the results at this event, which will feature a performance by the Yakama Nation's Iksiks Washanal'a ("The Little Swans"), traditional Filipino dance presented by the Filipino American Community of the Yakima Valley, a quinceanera fashion show from Toppenish boutique L.A. Styles, and much more. There will be food, activities, music and crafts, all designed to showcase the broad array of cultural traditions in the Yakima Valley.