Music Notes: Pickerel enters the Grammy zone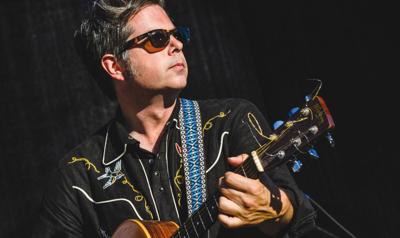 YAKIMA, Wash. -- I've known Mark Pickerel longer than I've known anyone else in Washington state.
I met him in 2001 when I flew out from Michigan to interview for a couple of jobs — one as a sports editor in an Alaskan town with no sports, and one as a city hall reporter at the Daily Record in Ellensburg, where Pickerel is from.
I grew up outside of Detroit and had just graduated from Michigan State; I wasn't sure whether the tiny Western town of Ellensburg was a good fit. But right across from the newspaper building, there was a record store, Rodeo Records, which Pickerel had opened after leaving The Screaming Trees.
There were Bob Dylan and John Coltrane posters in the window. I headed straight there, and Pickerel was behind the counter. I bought a Nick Cave & The Bad Seeds 45 — a European import of "(Are You) The One That I've Been Waiting For?" backed with "Come Into My Sleep" — and decided I'd take the Ellensburg job. In a very real way, Pickerel unknowingly played a role in my decision to move to Washington.
In the decade and a half since, I've had occasion to interview him a dozen or more times and we've become friends — not everyday hangout buddies or anything, more the kind of friends where if you see each other a party, you'll probably end up talking for a good long time.
And one of the things about being friends with someone like Pickerel (you know, the kind of friend who's played with both The Sonics and Nirvana) is that sometimes he'll casually mention having played with Jim Carroll or Neko Case or someone. And you just nod and pretend like that's a normal thing that happens to people — while inside you're going, "JIM CARROLL? THE Jim Carroll? 'Catholic Boy,' 'Basketball Diaries' Jim Carroll?"
All of which is just a long prelude to a more recent Pickerel story. It happened a couple of weeks ago when former Doug's Records owner Doug O'Leary came to Yakima for his monthly visit. (O'Leary brings a van full of records to a parking lot once a month, so regulars from his old store don't go into anguished convulsions of remorse at its loss.) Pickerel is a regular at these things, and he had some news.
"An album I worked on got nominated for a Grammy," he said.
The album in question is "You Don't Own Me Anymore" by The Secret Sisters, which was nominated in the best folk album category. It's the first project Pickerel has played on to get a Grammy nod. The awards are set for Jan. 28.
A few other notes from the local music scene:
■ Speaking of Ellensburg rock stars, if you haven't seen it yet, go immediately to CobraHawk's Facebook page and check out their video for "Christmas (Baby Please Come Home)." It's a typically incendiary version complete with frontwoman Lakyn Bury's signature rock 'n' roll scream. It's a really nice-looking finished product. You can check it out at www.facebook.com/CobraHawkband.
■ I saw Kanye Twitty, the new Yakima band made up of people from old Yakima bands, play a house show a couple of weeks ago. I liked them. As their name suggests, part of their thing is being clever. And their social media presence reads like a series of inside jokes. All of which is well and good, but it wouldn't mean much on its own. Fortunately there's actual music now; Kanye Twitty released its debut EP "The Musical Stylings Of ..." on Dec. 17. You can find it at www.kanyetwitty420.bandcamp.com. Listen to it; it's good.
■ Navid Eliot and Jen Borst, the duo from Yakima band Planes On Paper, are engaged. Eliot popped the question on New Year's Eve while the band was in Boise, Idaho, headlining the Idaho Potato Drop. (Yes, Idaho drops a giant potato like New York drops its famous ball on New Year's Eve.)
They've been together as a band and a couple for years, and now it's even more official. Borst's children were there, including her daughter, Bella Dagdagan, a Davis High School student who played violin during the show that night. Mike Gervais, who played bass for Planes on Paper following his opening set with Seattle band Shallow Lenses, announced the engagement to the crowd just after midnight.
The potato, which had been inexplicably raised and lowered several times before the actual official midnight lowering, had no comment as of press time.