There aren't many newspapers in cities this size that have a food writer better than Andrea McCoy.
That's something to be thankful for year-round, but it's especially something to be thankful for as you prepare your Thanksgiving feast. Don't know what to do with green beans? McCoy does. Haven't been able to get your potatoes just right? McCoy's got you covered there, too. Cranberry sauce? Brussels sprouts? Mac and cheese? Yes, yes and yes.
You can search her name at www.yakimaherald.com, or you can visit the library and go through old issues. But we've saved you the time and compiled a few of McCoy's best Thanksgiving sides recipes from the past few years. And as a bonus, McCoy's column and recipe this week is for a perfect Thanksgiving turkey.
If you like these recipes, check back here in this section every week for her Salt & Stone column; she does this stuff all year long, usually with an emphasis on local ingredients.
— Pat Muir, SCENE section coordinator
Aunt Meredith's Mashed Potatoes
"My aunt, Meredith, was famous for these potatoes. Served at every holiday meal for as long as I can remember, these mashed potatoes are mixed with cream cheese and sour cream and then baked a second time for a silky texture and maximum flavor. The sprinkle of paprika and green onions were her special touch, and I can't imagine skipping it."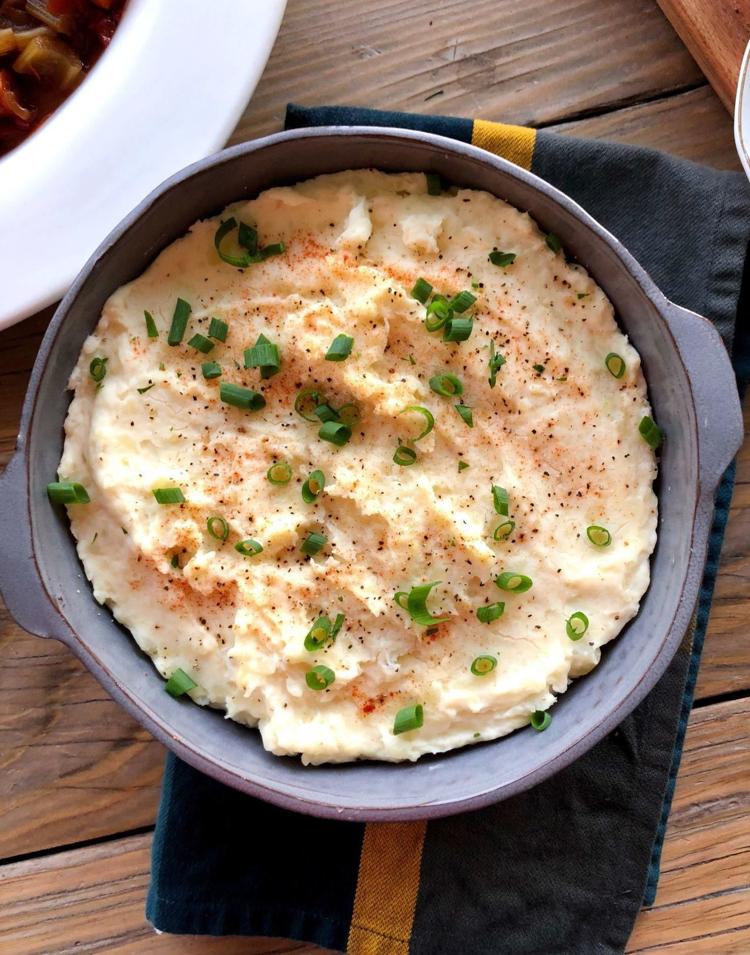 5 pounds russet potatoes, peeled and cubed
2 cups full-fat sour cream
8 ounces cream cheese
2 tablespoons butter
Kosher salt and ground black pepper
1 tablespoon green onions, thinly sliced
Dash of smoked paprika
Place potatoes in a large pot of salted water. Boil potatoes over medium heat for 20 to 25 minutes until potatoes are fork tender. Drain water from potatoes and return them to the pot. Turn the heat back to medium and cook for 1 to 2 minutes until moisture evaporates. Turn off heat.
Using a mixer or a potato masher, mash the potatoes until they are broken down and no big clumps remain (they do not need to be perfectly smooth).
Mix in the sour cream and cream cheese and continue stirring and mixing until the potatoes are smooth and the ingredients are well-combined. Salt and pepper the potatoes liberally. Taste to see if they need more salt.
Generously butter a baking dish. Place potatoes in the buttered dish, smoothing the surface. Sprinkle with a dash of smoked paprika. Bake potatoes in the oven at 350 degrees for 30-35 minutes. Garnish with slivered green onions. Serve immediately.
Note: Potatoes can be made ahead of time. Instead of baking, cover with plastic wrap and store in the refrigerator until ready to bake. Allow the potatoes to come to room temperature while oven preheats.
Roasted Butternut Squash Macaroni and Cheese
"November is all about the cozy, warm meals that are perfect for this time of year. Roasted butternut squash makes a silky rich sauce without being heavy. The salty bacon and roasted cauliflower add texture and flavor to the dish. ... Fontina cheese is very mild, which is why I chose it for this recipe, but a smoked Gouda or sharp cheddar would be delicious as well."
3 tablespoons olive oil, divided
1 medium yellow onion, diced
3 cloves garlic, finely diced
1 bay leaf
12 ounces pre-cut, cubed and peeled butternut squash (about 2 to 2 ½ cups)
1 medium cauliflower, chopped into bite-size pieces
1 cup fontina cheese, shredded
1/2 cup chicken stock
1 box pasta (penne, shells or cavatelli all work well)
1/4 teaspoon ground nutmeg
Pinch of cayenne pepper
1 teaspoon dried parsley
3 pieces center cut bacon, diced
1 teaspoon salt
1/2 teaspoon pepper
Preheat oven to 425 degrees. On a baking sheet, spread the cauliflower and butternut squash evenly. Toss with 2 tablespoons of olive oil and salt and pepper. Roast in the oven for about 20 minutes, using a spatula halfway through to flip the vegetables so they cook evenly. The vegetables should be golden brown and cooked through.
In a saute pan, cook the onion and bay leaf in the remaining tablespoon of olive oil for 5-8 minutes. Add the garlic to the onion and continue to cook for an additional 2-3 minutes until the garlic is fragrant and the onions are soft and translucent.
In a food processor or blender, pulse the butternut squash, half of the roasted cauliflower (set aside the other half for later), the onion and garlic until smooth. Make sure to remove the bay leaf from the onions! Slowly add the chicken stock (you could also use vegetable stock, water or milk) until the sauce is smooth and silky. Add nutmeg, cayenne, salt and pepper to the sauce.
In a large pot, boil the pasta in heavily salted water. Drain the noodles when they are not quite finished cooking; you want them to still have a bite. Put the noodles back in the large pot and pour the sauce over the noodles. Stir in the roasted cauliflower and mix the shredded fontina cheese into the pasta.
Spray a 9x13 baking pan with cooking spray. Spoon the pasta into the baking pan and spread the diced bacon evenly over the dish. Bake in a 350 degree oven until the bacon is cooked through and the edges are bubbling, about 15-20 minutes.
Sprinkle the dish with dried parsley and serve immediately.
Cranberry Orange Relish
(adapted from The Pioneer Woman)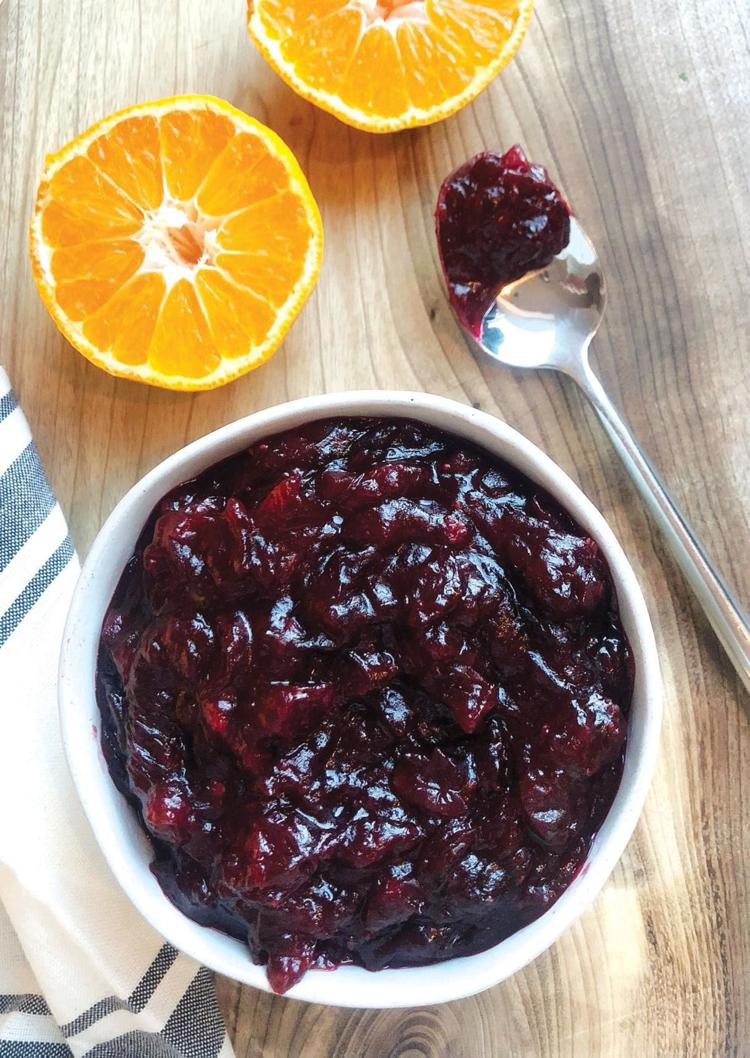 "I offer you my most favorite cranberry sauce. I recognize everyone seems to have a firm stance on whether they like cranberry sauce or not, but wherever you fall with your preferences, I challenge you to make this easy dish. Tart cranberries are softened with a little sugar and fresh orange juice and then mellowed with cinnamon and ginger."
12 ounces fresh cranberries
3/4 cups sugar
1 tablespoon orange zest
1/2 cup fresh squeezed orange juice
1 cinnamon stick
1/4 teaspoon ground ginger
Pinch of salt
Rinse cranberries well, then place them in a heavy-bottomed saucepan with the sugar, orange zest, orange juice, ginger and cinnamon stick. Give it a stir, then place the pan over medium-low heat. Cover the pan with a lid and cook for 15 minutes, stirring the mixture every 5 minutes to ensure the bottom doesn't burn.
After 15 minutes, the cranberries should all be popped. Remove the pan from the heat. The sauce will look very liquidy, but as it cools, the sauce will thicken up significantly. After the sauce has cooled completely, you can add additional water for a thinner texture.
Remove the cinnamon stick and serve the cranberry sauce at room temperature or chilled.
Maple Chipotle Sweet Potatoes
"These roasted sweet potatoes are the perfect crowd-pleaser and are an easy weeknight side dish. Sweet potatoes are an excellent source of vitamins A and C, potassium and fiber. Tossed in a little pure maple syrup and a chipotle pepper in adobo sauce, the result is a sweet and spicy 'french fry' with just a hint of smoky flavor."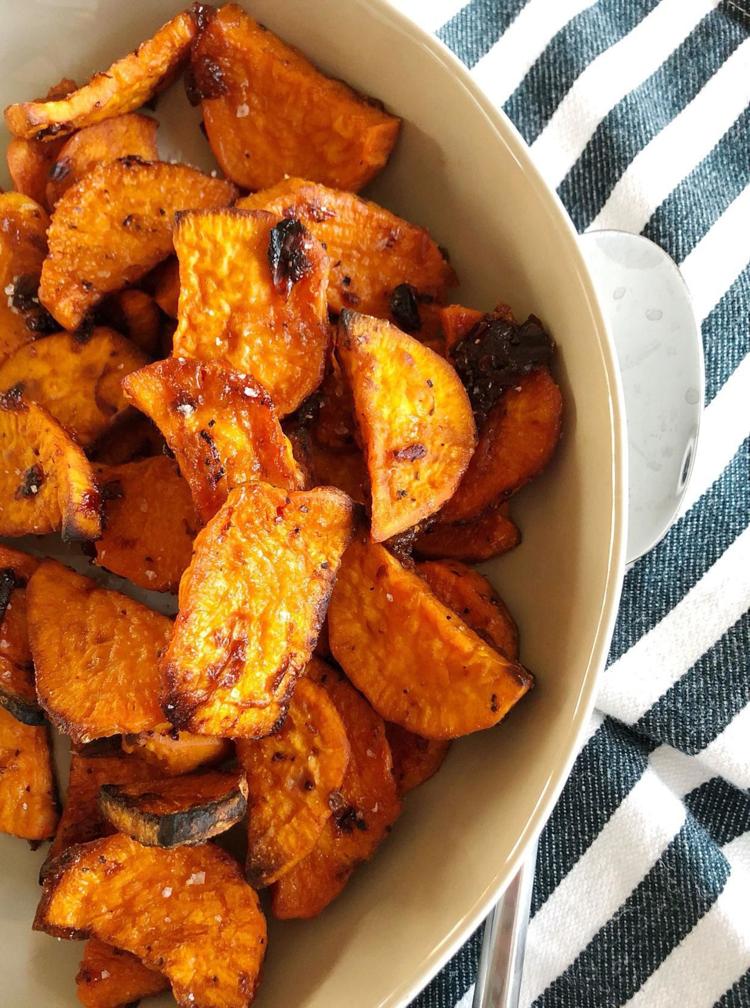 3 large sweet potatoes, cut into 1/2-inch wedges
2 tablespoons olive oil
2 tablespoons corn starch
2 tablespoons maple syrup
1 chipotle pepper in adobo sauce, seeded and finely diced
1-2 teaspoons adobo sauce
1 teaspoon coarse salt
1/2 teaspoon black pepper
Preheat oven to 450 degrees and line a baking sheet with parchment pepper. Wash, peel and dice sweet potatoes. The thinner you cut the potatoes, the quicker they cook. Thicker potatoes keep their shape a little better, but take longer to roast.
In a large bowl, toss sweet potatoes in olive oil and cornstarch. Allow the potatoes to rest for 10 to 15 minutes while you prepare the rest of the ingredients. Seed and dice the pepper. Drizzle the maple syrup, chipotle pepper and reserved adobo sauce over the sweet potatoes. Salt and pepper the potatoes and mix well.
Spread the sweet potatoes evenly on the baking sheet and bake for 30 to 40 minutes until the edges of the sweet potatoes are crispy and golden brown. Flip the potatoes half way through the cooking time to ensure they cook evenly.
Save the remaining chipotle peppers in a container and stash in the refrigerator or freezer.
Crispy Dijon Brussels Sprouts
(adapted from Cook's Illustrated)
"While your turkey is resting and your oven is warming up the rest of your Thanksgiving dishes, you can throw this Brussels sprout dish together quickly and easily. Adding a bright, tasty vegetable is a nice balance to all the rich, decadent, must-have dishes already at the table. Even better, this easy recipe can be made year-round and pulls double duty as a quick weeknight dish as well."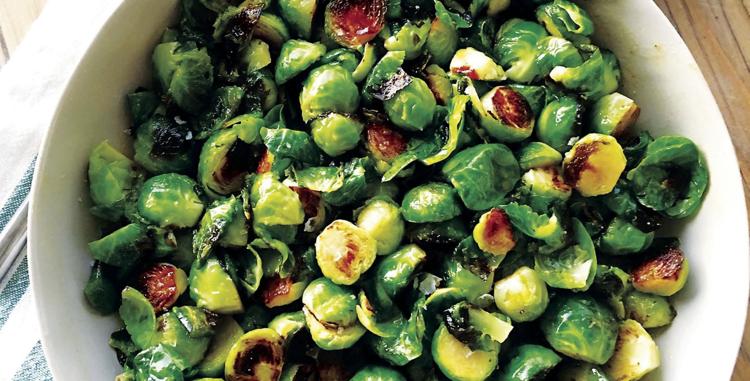 1-2 pounds small Brussels sprouts, trimmed and halved
5 tablespoons extra-virgin olive oil
2 teaspoons Dijon mustard
1 tablespoon packed brown sugar
2 teaspoons white wine vinegar
1/8 teaspoon cayenne pepper
Kosher salt
Look for Brussels sprouts similar in size, with small, tight heads, as they're likely to be sweeter and more tender than larger sprouts. For a large batch, you may have to do two batches; simply follow the instructions, transfer sprouts to a plate and start the process over.
Arrange Brussels sprouts in a single layer, cut sides down, in a large, nonstick skillet. Drizzle oil evenly over sprouts. Cover skillet, place over medium-high heat and cook until sprouts are bright green and cut sides have started to brown, about 4 minutes.
Uncover and continue to cook until cut sides of sprouts are deeply and evenly browned and paring knife slides in with little to no resistance, 2 to 3 minutes longer, adjusting heat and moving sprouts as necessary to prevent them from overbrowning.
While sprouts cook, combine mustard, sugar, vinegar, cayenne and 1/4 teaspoon salt in small bowl.
Off heat, transfer sprouts to shallow serving dish. Coat the sprouts with mustard sauce and sprinkle with coarse salt. Serve immediately.
Haricots Verts (Skinny Green Beans) with Herb Butter
"While the turkey rests before carving and the rest of the dishes warm up in the oven, these green beans come together in 5 easy minutes. Haricot verts are quickly sautéed in a little butter with a minced shallot. A splash of water over the beans and a quick 3 minutes later, they are ready to be tossed with the herb butter and set on the table for dinner. Quick, easy and, most important, wonderful."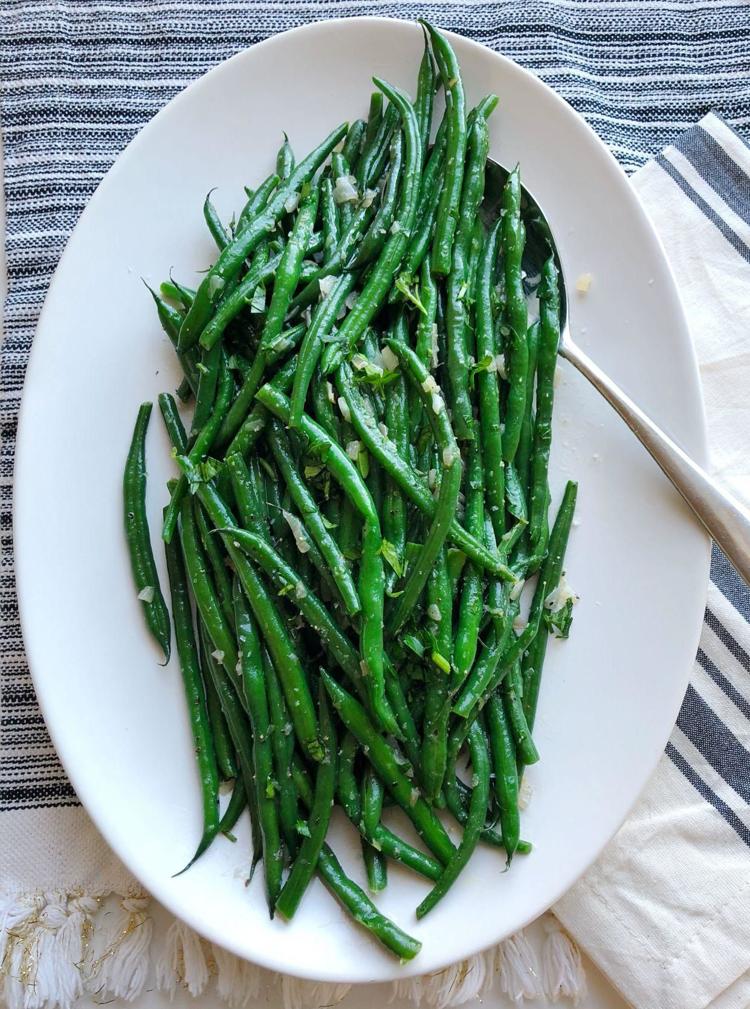 2 pounds haricots verts, washed and trimmed
2 tablespoons shallot, minced
4 tablespoons butter, divided
2 tablespoons Italian parsley, minced
Zest of 1/2 lemon
Juice of 1/2 lemon
Kosher salt and ground black pepper
In a large sauté pan, sauté shallots in 1 tablespoon butter over medium-low heat until fragrant and slightly translucent, about 2 minutes. Add haricots verts to the pan and toss well to combine the butter, shallots and beans. Cook for 2 minutes, stirring constantly.
Add 1/4 cup of water to pan and cover with a lid. Allow beans to steam for 3-4 minutes until bright green, tender but not soft. Remove from heat.
In a small bowl, combine 3 tablespoons softened butter with parsley, lemon zest and lemon juice. Mix with a fork until well-combined.
In a deep serving dish, combine the haricot verts (drain any excess water from pan before transferring beans) with the herb butter. Sprinkle generously with kosher salt and a pinch of black pepper. Taste a bean to make sure they are salted enough. Garnish with another pinch of salt if necessary. Serve immediately.
Maple and Harissa Roasted Carrots
(adapted from Bon Appétit)
"I'm always looking for a couple of things that are new and interesting to add to the mix of favorites and must-haves. Maple roasted carrots with harissa is just the bright, unexpected dish I was looking for. Full of flavor with sweet and spicy notes, this recipe is easily adaptable to individual tastes and preferences."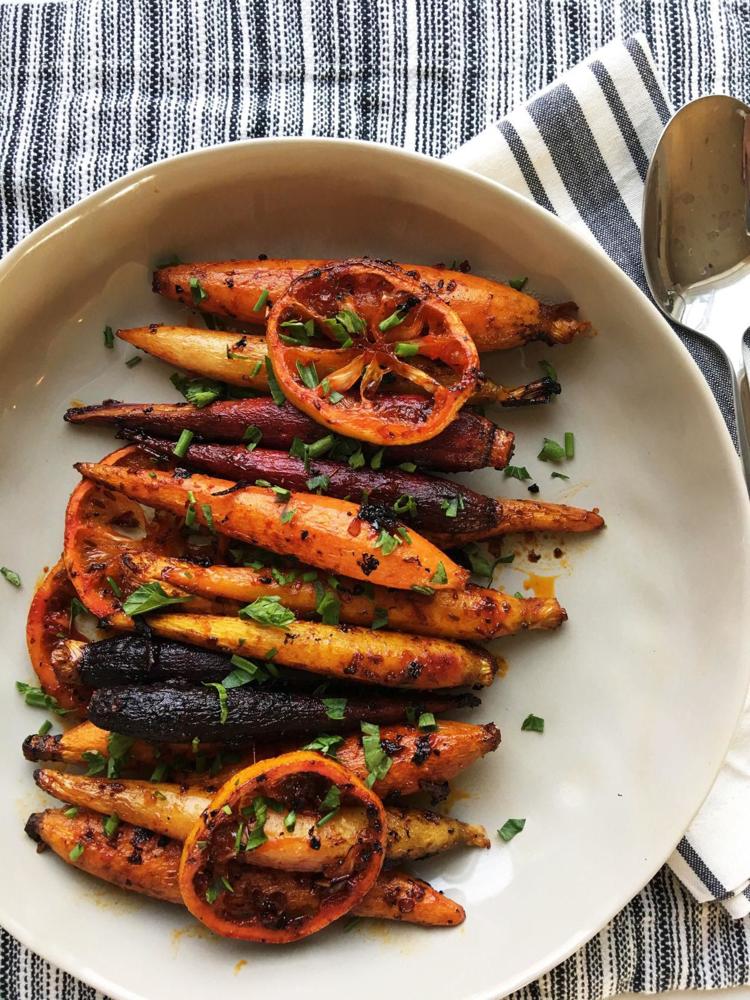 2 cloves garlic, finely diced
1/4 cup olive oil
1/4 cup pure maple syrup
1 to 2 teaspoons harissa paste
2 teaspoons cumin seeds
2 pounds rainbow carrots, scrubbed, tops trimmed and outer layer peeled
1 medium lemon, thinly sliced
Salt and pepper
2 teaspoons fresh parsley and chives, finely diced (optional)
Preheat oven to 450 degrees. Line a baking sheet with parchment paper. In a small bowl, whisk olive oil, maple syrup, garlic, cumin seeds, harissa and a pinch of salt and pepper. Toss the carrots and slices of lemon with maple syrup mixture, spreading evenly on the baking sheet.
Roast for 30 to 40 minutes until the carrots are tender and the lemon caramelized. Stir carrots at least once halfway through to ensure they cook evenly.
Remove carrots from oven and allow to cool briefly on pan, about 2-3 minutes. Put carrots (and lemon slices) in serving dish and sprinkle with fresh herbs. If you don't have fresh parsley and chives, use a half teaspoon of dried parsley or skip it all together. Serve immediately.
Also, if you can't find rainbow carrots, just use orange ones. If your carrots are large, consider cutting them lengthwise in half so they cook quickly and evenly.