In the fall of 1993, I wrote an editorial for my high school newspaper, and it made a lot of people mad.
That was a power I'd never experienced. I was hooked. I've had a regular byline pretty much ever since. It's been 28 years, including the high school and college papers. The past 12 of those years — the best 12 — I've been covering arts and entertainment for this paper.
Now I'm leaving. My wife and I are having our third kid, and I'm going to be a stay-at-home dad for a while. I've already been working from home, and I'm tired of telling the the 5-year-old and the 2-year-old I can't play with them because I'm on deadline.
Anyone who read my old column, The Indoorsman, will be surprised by this turn toward domesticity. Especially in the early years, the Indoorsman frequently touched on my laziness, drinking, fistfights and self-loathing. (I used to get a lot of, "Hey, man, I really like your column. But are you, uh, going to be OK?") Because of that column, which ran from 2009 to 2017, and because of the reams of other personal stuff I've written for this paper, it's not a stretch to say I've grown up in public. (I was 31 when The Indoorsman launched, so it's a little ridiculous that I hadn't grown up previously. But it's true.)
Readers tell me they feel like they know me, which is sometimes odd and off-putting but also sort of the whole point. Newspapers, especially THIS newspaper, have for nearly three decades been the prism through which I've interacted with my community. It's been an honor to have this outlet, to be able to tell stories and share my opinions and make dumb jokes about fast food and beer. And it feels profoundly scary to not have that in my immediate future.
But I'm also just so very ready to be there for my children in a more authentic way. My daughter, Gus, is the sort of kid who makes new friends every time we go to the park. She's a force of nature, a fighter, a lover of fart jokes and always the loudest kid in the room. You can usually find her out in front of a pack of other kids, looking over her shoulder and beckoning with her hand, saying, "C'mon, guys! Let's go!" My son, Theo, is softer than Gus. More sensitive. But he's just as funny. We dance to his favorite records. We pet the dogs together. He rides on my shoulders as I walk around the house. And he loves Gus, whom he calls Gi-Gi. It's going to be so much fun watching them get to know their new sister.
So it's time for me to leave newspaper writing, the only job I ever wanted. Until I met my kids.
Before I go, though, I figured I'd better give readers "last call." One of my favorite parts of this job over the past few years has been writing about drinks. I've written about dozens of them (hundreds?), and I've enjoyed them all. These are five of the best. Save these recipes. These are the ones I make at home.
I'm going to make one tonight, in fact. Probably a Manhattan. And I'm going to pause before I take the first sip. I'm going to raise my glass. To the Yakima Herald-Republic. And to The Northern Star, the student paper at North Farmington High School. To endings. And to beginnings.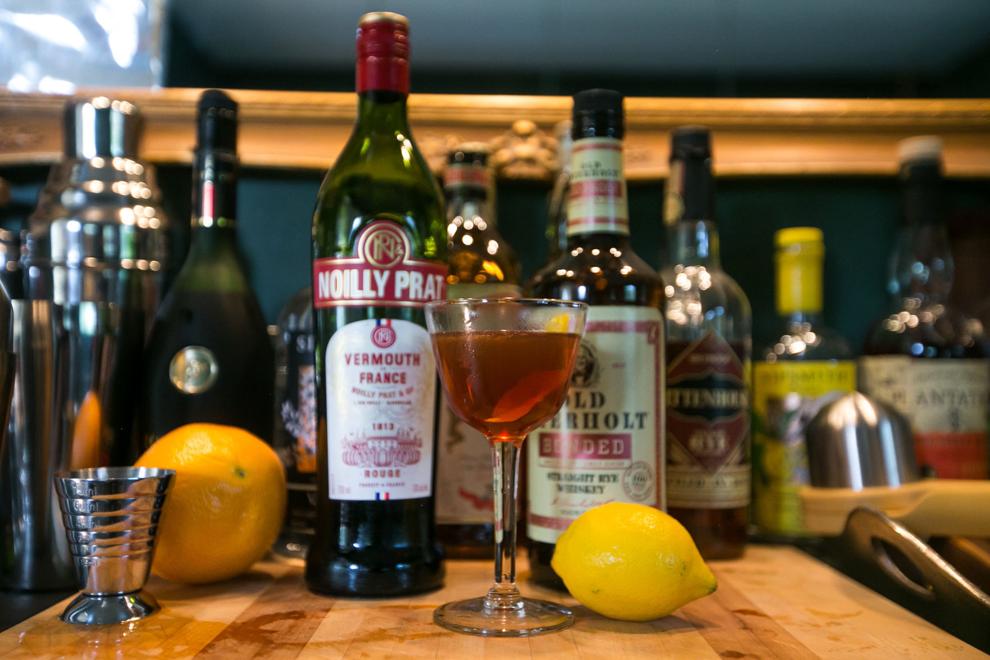 • Manhattan
This is the best drink. The drink to rule all drinks. (A case can be made, I suppose, for the martini. But it won't be made by me.) One of my favorite writers, David Wondrich, wrote, "Learn to make a proper Manhattan and you will know how to create at least one flawless thing in this world, and the person you're making it for will know, and respect that about you." I've found this to be true.
My wife's grandfather had never had a decent Manhattan until I made him one a few years ago on a camping trip (yes, I bring my bar stuff on camping trips). Now, whenever I see him it's my job to get a Manhattan into his hand as quickly as possible. And that feels good.
2 ounces rye or bourbon (100 proof is better than 80)
2 dashes Angostura bitters
Lemon peel garnish (or a good-quality maraschino cherry such as the Luxardo brand)
Stir liquid ingredients with ice in mixing glass. Strain into chilled cocktail glass. Twist strip of lemon peel over surface of glass and drop it in. (Or just drop in the cherry)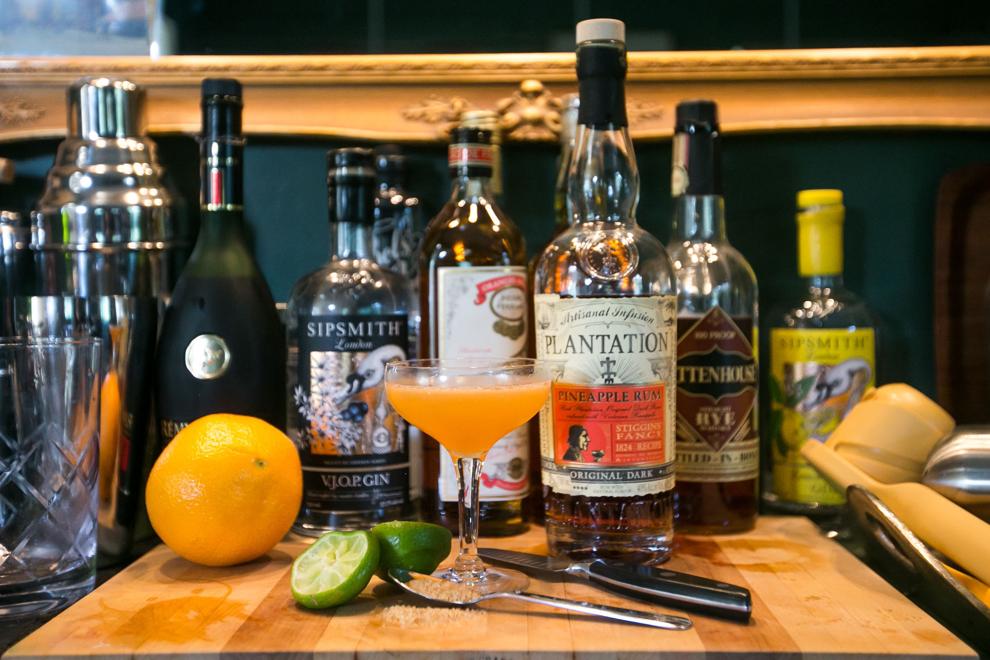 • Daiquiri
The daiquiri is the only drink I like as much as the Manhattan. It's three ingredients. It's remarkably elegant and dangerously easy-drinking. I like it with a good white rum, such as Plantation Three Stars, or a light amber rum such as Mount Gay Eclipse. Lately I've been making them with Wray & Nephew, an insanely funky white rum that clocks in at a whopping, don't-make-any-plans-for-later 126 proof. But that's not for everyone.
I even sometimes use Stiggins Fancy Pineapple Rum, another Plantation brand bottling. It's infused with pineapple but not overly sweet, and it adds one more element to the drink's flavor. The point is: With the exception of spiced rums and some of the more molasses-forward dark rums, you can make a great daiquiri with just about any rum out there.
1 ounce lime juice (freshly squeezed)
Shake all ingredients with ice in cocktail shaker. Strain into chilled cocktail glass.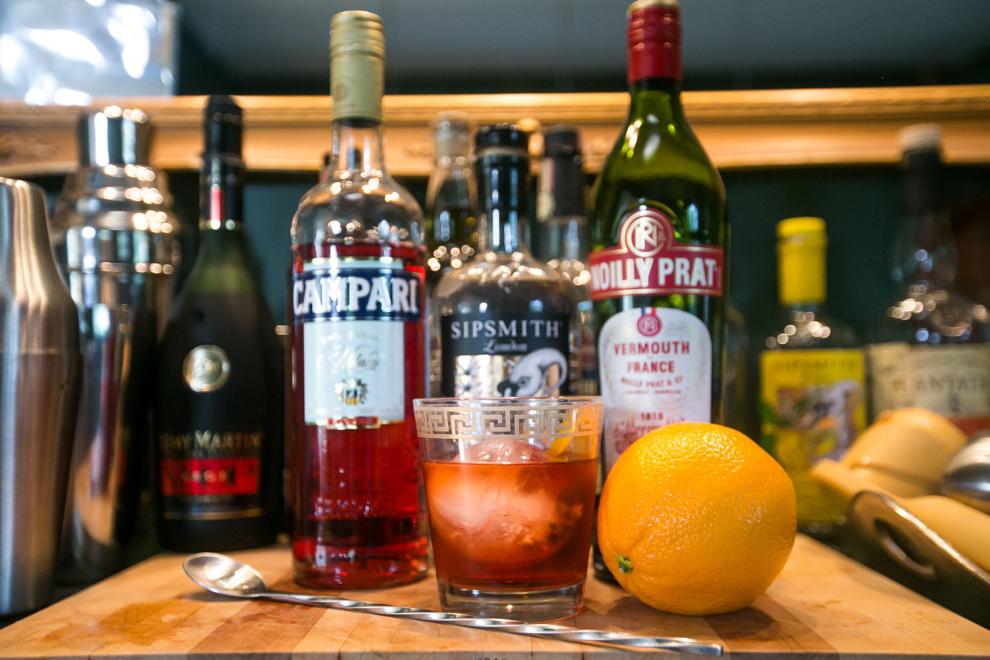 • Negroni
Only the cocktail geeks knew this one 15 years ago, but now it's everywhere. This is good and right. The Negroni should be everywhere. I like being able to order one at any bar I walk into, with the reasonable expectation that it'll taste good.
The hurdle, for the uninitiated, is the bright-red, bittersweet Campari that makes up a third of the drink. It's a bracing flavor, giving the drink a sharpness from which Negroni neophytes frequently recoil but that becomes almost comforting for veteran Negroni drinkers.
Stir liquid ingredients with ice in mixing glass. Strain into rocks glass with fresh ice. Twist strip of orange peel over surface of drink and drop it in.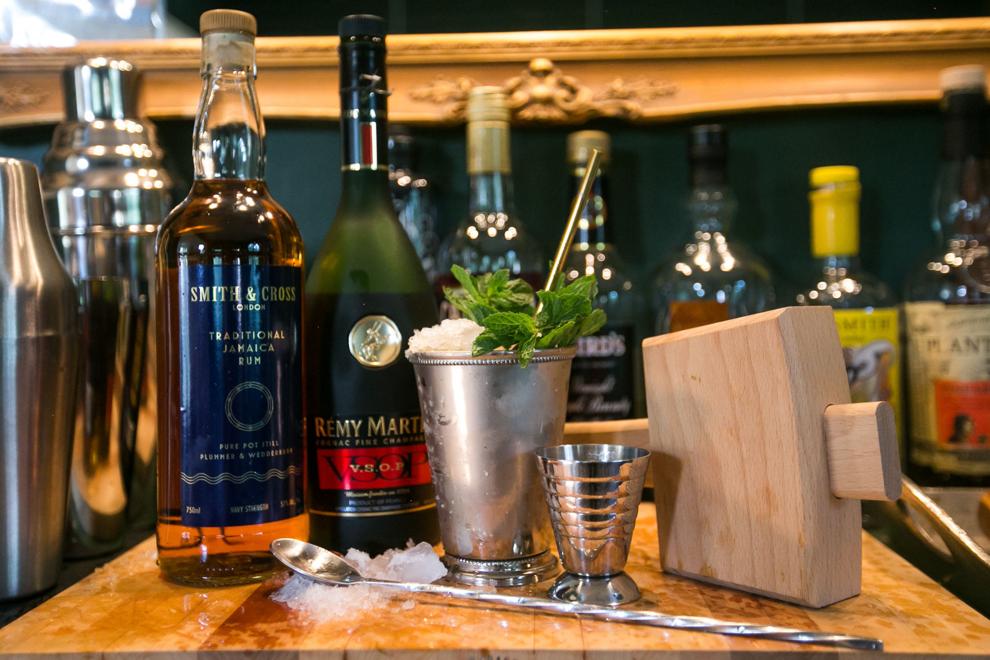 • Mint Julep
I ordered a wooden ice mallet and a Lewis bag (a double-stitched canvas bag in which you put a bunch of ice before hitting it repeatedly with the mallet) just so I could make better juleps. And, brother, it was worth it. Not only do I now have finely crushed ice for juleps and tiki drinks, I also get to go straight nutso with a hammer as part of the drink-making process. Hitting something with something else has long been a passion of mine.
Anyway, crushed ice is a key component of a good julep. So is bourbon, usually. But lately I've been making them with Cognac. It's a richer flavor. And if you top it with a splash of funky rum, so much the better.
2 1/2 ounces Cognac (or bourbon)
1/2 ounce funky rum (such as Smith and Cross)
Mint (several good sprigs)
Put the sugar into a metal julep cup (or just a glass, if you don't have a julep cup) and top it with just enough water to dissolve the sugar. Swirl it or stir it until the sugar is pretty much dissolved. Add 8 or 10 mint leaves. Gently muddle the mint into the sugar-water. Add the Cognac. Fill the cup with crushed ice. Top with rum. Add more crushed ice. Garnish with 3 to 5 mint sprigs. Insert metal straw.
• Tequila and tonic
Like everyone else in the known universe, I like gin and tonic. But gin is my fourth favorite spirit to pair with tonic. I prefer rum, Cognac or tequila. Lately, when I've opened a bottle of tonic, I've been reaching for tequila every time. I use reposado, because I like the way the oak in aged spirits pairs with the bittersweetness of a good tonic.
It's not an impressive drink, in the way a well-made cocktail is. But it's thirst-quenching and delicious. And in summertime in Yakima, those qualities cannot be overvalued.
Pour tequila and tonic into collins glass with ice. Squeeze a quarter or half lime into the drink and drop in the spent lime shell.