ELLENSBURG, Wash. — Jane Orleman was a college student on a tight budget when she bought her first piece of art from the Ellensburg Community Art Gallery. The drawing by Sue Miller cost $15, which Orleman paid in installments.
Sue Miller later became Sue McCutcheon and taught art at Davis High School in Yakima. Orleman became an artist and the Jane of Dick and Jane's Spot, the delightful visual wonderland she and husband Richard Elliott created at the corner of Pearl Street and First Avenue.
In the decades since Orleman paid off that purchase and the Ellensburg Community Art Gallery became Gallery One Visual Arts Center, dozens of artists have launched their careers through the organization, which incorporated as a nonprofit on July 8, 1968.
Gallery One is celebrating its 50th anniversary this weekend. Related events, along with the 40th anniversary of Dick and Jane's Spot and the Ellensburg First Friday Art Walk, will make it an art lover's weekend to remember, chock-full of gallery open houses, tours of artists' homes and studios, special gatherings, and opportunities to reconnect with some of the most creative minds within and beyond Central Washington.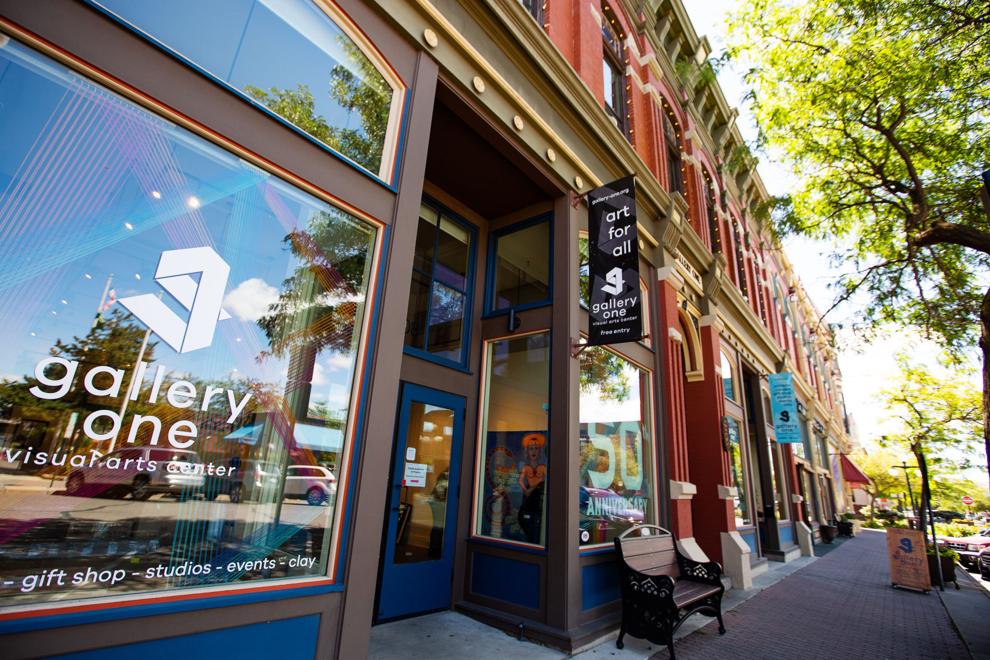 Marking 50 years
As volunteers late last week spiffed up the facade of the circa-1889 Stewart Building at 408 N. Pearl St., Gallery One's home since 1997, everyday activities continued inside amid other anniversary preparations.
On the first floor, volunteers manned the gift shop and answered questions as usual while children participating in a summer camp in the courtyard came inside for occasional breaks. An adjacent wall features artwork created by students in Ellensburg schools.
And in the nearby ceramics studio, artist and teacher Bonilyn Parker worked near the 10 pottery wheels familiar to participants in the Sip & Spin classes, where students create pottery and enjoy local wines.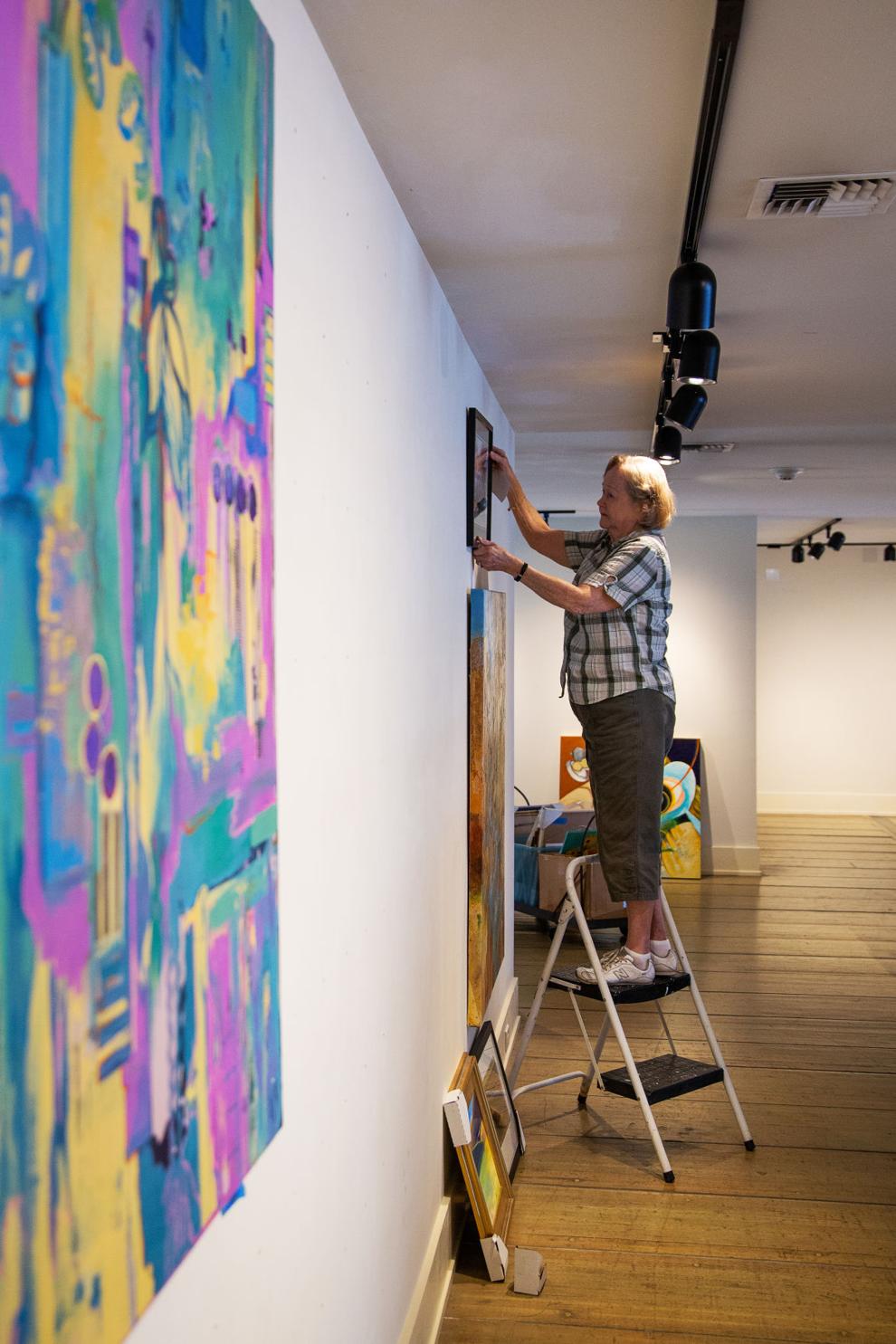 "They're very fun and popular," Parker said of the classes.
All those efforts and more demonstrate Gallery One's role as a community landmark where visitors can enjoy and buy art created by local artists — a majority of the works on display are for sale. Visitors also can make their own art and connect with others through or for art through classes and other gatherings.
Gallery One welcomed more than 20,000 visitors in 2017, with one in three from out of town, a news release noted.
Monica Miller, who started with Gallery One seven years ago and was named its executive director in 2014, said the nonprofit redistributed about $97,000 last year to artists through their sales, tuition fees and awards.
"That's about one-quarter of our budget," Miller said.
Its home in the Stewart building has allowed the board and staff to ensure that various creative opportunities continue no matter art lovers' income or ability. The second story features plenty of space for classes and artists' studios in what were offices of lawyers, insurance salesmen and other businesspeople.
"When they purchased the building in the late '90s, they tried to keep some of the authentic references," Miller said.
That includes the impressive original center staircase, which is usually closed — visitors enter the gallery on the ground floor — but which will be open Friday, she said. The weekend's anniversary events kick off with an open house from 5-8 p.m. that evening.
"We'll have some printmaking downstairs, and of course we'll have cake," Miller said, along with live music. "We may have a bubble machine."
Among the second-story artists' studios is the Gallery One archive. Founder Eveleth Green meticulously documented the gallery's history from its beginning.
"She was everything for the gallery," Miller said of Green, who retired at age 90 in 1998.
"One of her sons, Grant, will be here next weekend," Miller said. "And we'll have a piece by another son, Greg."
His artwork will be part of "Salon de G1," an exhibit of creations by dozens of people who have exhibited and sold pieces at Gallery One through the years — people such as Linda Johnson, who has been selling her work there for more than 30 years, Miller said.
"Salon de G1" will be up during the months of July and August.
"We had 170 pieces at last count, but they keep coming," Miller said. "We're just going to pile them in."
Art experiences
The celebration of local art and artists continues Saturday with a free self-guided tour of artists' homes and studios in Kittitas County from 10 a.m. to 4 p.m. More than 20 artists will participate, and maps are available at Gallery One during First Friday or on Saturday.
Upper county stops feature Catherine Cook, Tony Davey and others, along with Gallery One resident artists, Don O'Connor, Edna Bjorge and Dick and Jane's Spot.
The colorful work-in-progress, as Orleman calls Dick and Jane's Spot, almost didn't happen. City officials had eyed the small wooden cottage built in the late 20th century as a potential parking lot when it came up for sale.
"We got this place 40 years ago this summer," Orleman said of the house she and Elliott bought after the owner listed the property in the paper when negotiations with the city stalled.
Orleman and Elliott, whose large-scale creations add joyful explosions of color to the Yakima Valley SunDome and locations throughout the U.S., added a studio to the north in 1990 and another to the west in 2004 as their creative efforts and collections grew. It still doesn't hold all of their art; there's more in storage.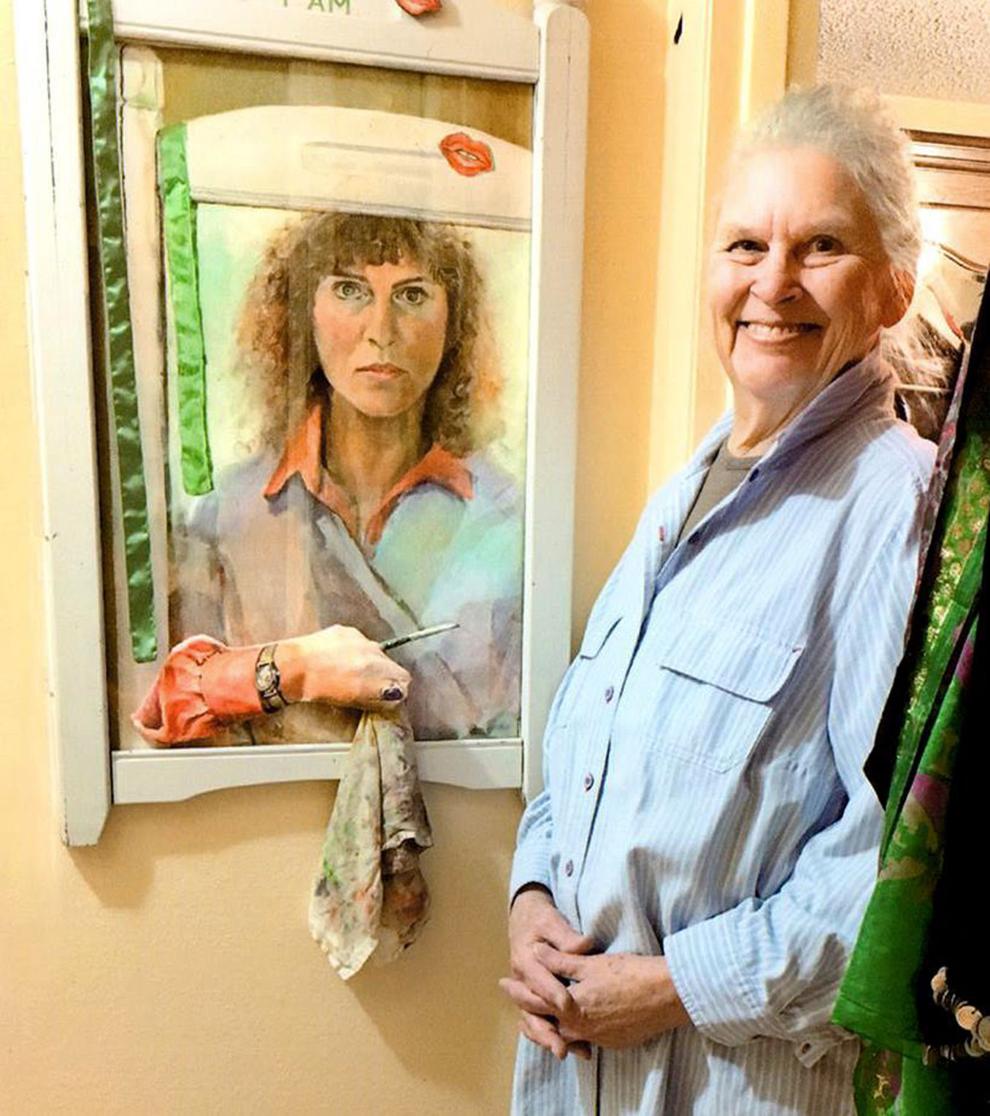 Elliott died in 2008, but he's in much of the art that fills the inside and the outside of the house he and Orleman shared.
Orleman rarely opens her home for events beyond the annual Poetry Prowl, so Saturday will be a rare treat. Visitors can park in a public lot on the north side of the house and should walk to the south gate and enter through the backyard.
The Spot will be open from 10 a.m. to 4 p.m. In addition to featured artist Joan of Art (Joan Mueller), Orleman's longtime friend, visitors will see the gardens, Orleman's latest mural and artwork by Elliott. An estimated 17 belly dancers will perform.
But the day really is about her friend, Orleman said. Mueller's talents as a costume designer, choreographer and painter will all be on display.
"We've got four racks with costumes. The kitchen will be full of costumes," she said. "This place is just going to be production city. There's nothing like this. There's just so many moving parts."
Fellow artist Rob Fraser will photograph models wearing Joan's creations at 10 a.m.; he also will photograph happenings throughout the day.
A parade of costumes will begin at noon, followed at 2 p.m. with performances by dancers from Ellensburg — Troupe Rose — and Troupe Munirah, which Mueller created in Red Lodge, Mont.
"We'll have 25 chairs here and another 25 outside," Orleman said inside one of the studios. "There will be people standing, and we'll have two announcers."
The idea for Saturday's events highlighting Mueller and her art came up last Thanksgiving when they were at the same dinner table, Orleman said. She's looking forward to it.
"The reason I'm so in love with Joanie being here is I like people to have art experiences," she said. "This will be that kind of experience."