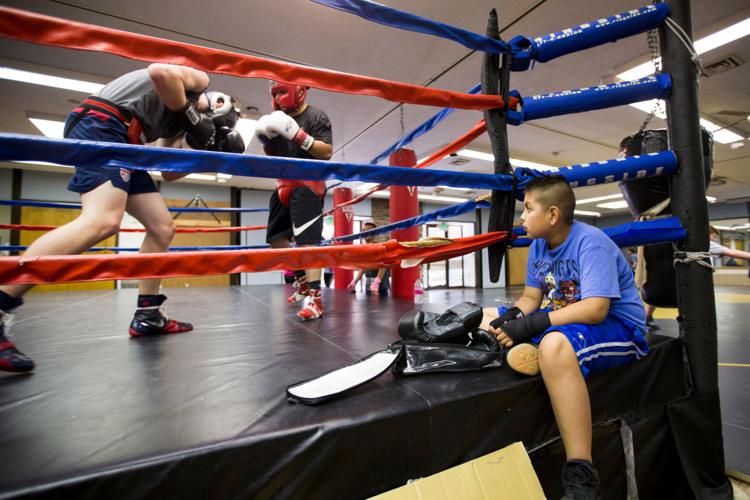 Last year, summer programs at the Henry Beauchamp Community Center served more than 130 youth, but this summer as few as 70 slots could be available due to funding cuts.
Meanwhile, the Yakima Police Athletic League is trying to increase its activities, but has yet to secure long-term funding.
While the city of Yakima provides a variety of youth activities, lack of sustained funding has hampered programs on the city's east side, where youth are most at risk of slipping into gangs.
Over the years, gang intervention programs tied to youth activities have vanished along with the grants that largely supported them. Meanwhile, the city is focused on developing regional recreational facilities, such as the SOZO Sports Complex and an aquatics center, both on the west side of the city.
But with a recent resurgence in gang violence, city officials are questioning if reductions in gang intervention and prevention efforts have contributed to the problem,
"I think we're all wondering that — did we become complacent?" said Mayor Kathy Coffey.
Earlier this month, the city approved a $50,000 grant to help expand youth activities to serve an additional 200 children. However, the funding comes as a one-time emergency grant.
Weighing priorities
Joe Miles, chairman of the city's park commission, blames former city manager Tony O'Rourke for ramrodding through the SOZO Sports Complex and the aquatics center projects while ignoring the commission's six-year park improvement plan that had been approved by the City Council.
That plan called for refurbishing outdated parks and upgrading municipal swimming pools at Lions and Franklin parks before building new facilities, he said.
"O'Rourke, he just wouldn't hear it," Miles said. "He was absolutely fixated on the big new projects and put all his resources in convincing the council and he succeeded."
Coffey, who supported both projects, agrees with Miles.
"These two projects were instigated and implemented with Tony O'Rourke, but that doesn't mean that I'm not happy with where we are with them," she said, adding that they are quality amenities with economic value.
The financial commitment to those two projects will devour funding that had been set aside for capital improvements for parks well into the future, Miles said.
"We've tied up millions of dollars for the next 20 years that has to go to new facilities that will inhibit improvement of existing parks," he said.
Parks with nice amenities tend to be used more and contribute to healthy, safe neighborhoods, Miles said.
He points to Randall Park on South 48th Avenue, which draws 50 to 100 people a day during spring and summer.
Improvements at east-side parks, such as Miller Park at Third and F streets, could have similar success, Miles said.
"Whenever we put a positive amenity in a park, the good people start to come and the problem makers start to slip away," he said.
A money matter
Relying on grants for programs geared to keep kids busy and off the streets has been an Achilles heel for the city.
A program that brought in a dozen AmeriCorp workers to help with after-school activities geared to keep kids out of gangs at the Henry Beauchamp Community Center ended in 2010 after grant requirement stiffened and the city ran into a budget crunch and couldn't provide a $50,000 match, city spokesman Randy Beehler said.
"At that time the city was looking at spending reductions," he said. "There were budget reductions in parks and recreation and that got taken out as a result."
The move affected the number and quality of programs, said center director Adrianne Garner.
"We don't have a problem with reaching the youth," she said. "We have a problem with having to turn them away."
The center at 1211 S. Seventh St. employs about five people and has an annual budget of $410,000. Of that, $75,000 comes from the city with the rest from state and federal grants and the nonprofit Opportunities Industrialization Center of Washington, which operates the facility.
A $26,000 grant reduction will reduce how many youth can be served this summer, but a search is underway to find alternative funding, said Steve Mitchell, CEO of OIC.
Meanwhile, the Yakima Police Athletic League at 602 N. Fourth St. is working to boost activities to deter youth from gangs. But the program has undergone significant changes in recent years that have affected operations. About four years ago, Yakima police stopped participating in the program, saying it couldn't spare the officers, and the program has seen three executive directors in two years, said YPAL board president Ed Shoenbach.
Last summer PAL offered fishing trips to the Yakima Greenway and field trips, including to movies and a Seattle Sounders game.
"We didn't think last summer's program was adequate," Shoenbach said. "Most of our offerings were taking the kids out of the city. Last year's offerings were kind of lean."
But now the program's boxing and wrestling programs are well attended and culinary classes and other activities are being added. The program has even teamed with the Yakima School District to provide a computer lab there, said new Executive Director Joe Willis.
But a lack of long-term funding commitments keeps operations on edge, he said.
Half the center's $210,000 annual budget comes from the city, the rest from grants and donations.
And with potential changes on the City Council come next election, Willis is worried about the future.
"Are they going to continue to fund us? I don't know," he said. "We have no commitment beyond this year with them.
"Youth programs are the first to get cut," he added. "But if you give these kids something to do, they stay out of trouble."
Parks and Recreation Director Ken Wilkinson doesn't believe there's a lack of youth activities offered on the east side of the city. There are soccer camps at Kiwanis Park, where a skate park was installed in recent years, as well as high school baseball games and movie nights at Miller Park, he said.
And for the first time, a six-week summer youth activities program will be offered at Miller Park similar to the 10-week summer program at Kissell Park at 32nd and Mead avenues. There were previously summer programs at Elks Park at North Eighth Avenue and Hawthorne Street, but none this year, he said.
He said it's not easy to expand youth programs in troubled areas. The Kiwanis Club provided $4,000 of the $12,000 cost of this summer's program at Miller Park, he said.
"How do we find a way to provide more positive things for kids to do in place of the negative things," Wilkinson said, "It's tough."
Seeking a revival
Ester Huey, former longtime director of the Henry Beauchamp Community Center, said soccer camps, high school sports and other conventional sport leagues often fail to reach at-risk youth.
Youth need activities and mentors in their own neighborhoods and those are lacking on the east side, where it's needed most, she said.
"The damage is being done and the threat to the community is being done east of 16th Avenue," she said. "Where we need eyes and ears and community spirit and people working together is east of 16th Avenue."
Sending youth from impoverished neighborhoods into more affluent areas for activities isn't going to work, Huey said.
"You can't just suddenly mix them in a more affluent environment because they feel less than, they don't feel good," she said. "They may have ragged holes in the soles of their shoes and up against someone with new clothes. But in their own communities they don't feel different."
Huey said an effort that proved successful when gang violence peaked in the 1990s needs to be revived, and that it doesn't take a lot of money.
After receiving a $25,000 state grant each, the city, community center and school district teamed up to form a comprehensive gang intervention and prevention program.
There were after school programs. Police were assigned specific neighborhoods to walk beats. And Eastside Sports, which offered baseball, basketball and other sports, was established.
But the league's focus wasn't on excelling in sports, but rather used as a gang intervention and prevention tool that engaged the community, Huey said.
Former gang members were brought in to assist youth in staying out of gangs or getting out of gangs, and organizers even received permission from parents to check the school grades of participating youth, she said.
Potlucks were held with each sporting event where parents were informed about gangs and how to keep their children out of gang life.
Parents were invited to coach.
"They didn't know how to coach so we were coaching them to coach," Huey said.
A solution to the gang problem began to emerge from within the troubled areas, she said.
"It's not always a lot of money that you need," she said. "It's an understanding that everyone has worth, has value."
Yakima needs to revive that effort, she said.
"Yakima is just going to have to step up to the plate and place some value on these kids," Huey said. "If we don't save these kids and don't reduce risk factors in their lives, we're going to have total chaos. We're seeing that now with all these killings."