Yakima Health District staff cheered Yakima County's move to Phase 2 of the state COVID reopening plan during the district's weekly video update Tuesday but warned that complacency could land the county back in Phase 1.
"It's not time to relax and say, 'Hey we did it,'" the district's Environmental Health Director Shawn Magee said. "This is a big milestone. This is a victory. But it's one that we must take care of and make a concerted effort to maintain."
The county moved to Phase 2 of the state Roadmap to Recovery plan on Sunday. The plan divides the state into eight regions. Yakima is in the South Central region along with Kittitas, Benton, Franklin and Walla Walla counties. That region was the only part of the state still in Phase 1 after Gov. Jay Inslee announced last week Thursday that it had not met the requisite benchmarks to advance. On Sunday his office announced that a hospital admissions-reporting error at a Walla Walla hospital skewed the numbers and the region had indeed qualified for Phase 2.
To remain in Phase 2, a region must meet benchmarks in three of the state's four categories: a 10% decreasing trend in case rates during the previous two-week period; a 10% decrease in COVID-19 hospital admission rates during the previous 14 day period; an ICU occupancy rate that's less than 90%; and a test positivity rate of less than 10%. Unlike with the state's Safe Start plan last year, failure to do will automatically put a region back in Phase 1. The state will reevaluate all regions every two weeks.
"We have kids going back to school," Magee said. "We have some sporting events happening. It's an exciting time. But we have to do it the right way, and we have to be smart about it. That is what I urge everybody out there in Yakima County to keep in mind as they go about their everyday life."
Another big difference between Phase 2 of the old Safe Start plan and Phase 2 of this plan is that this one includes the return of live entertainment at 25% venue capacity or 200 people, whichever is less. That development was cheered by The Seasons Performance Hall in Yakima, which plans to allow limited VIP table seating for roots-rocker Jeff Crosby Thursday and for the Seattle Repertory Jazz Orchestra Nonet's "Birth of the Cool" concert on Sunday. The shows will be livestreamed as part of an ongoing live-online concert series at the venue.
"We will be building over these two shows toward a 'grand reopening' at 25% capacity (100 live tickets) in March," Seasons Executive Director Pat Strosahl said in an email.
The state has not yet announced what Phase 3 will entail or what metrics will be used to decide when a region may advance to it. But Magee believes the continued vigilance he called for to maintain Phase 2 status could help Yakima's region get there.
"There's no reason we can't be the first region to reach that level," he said.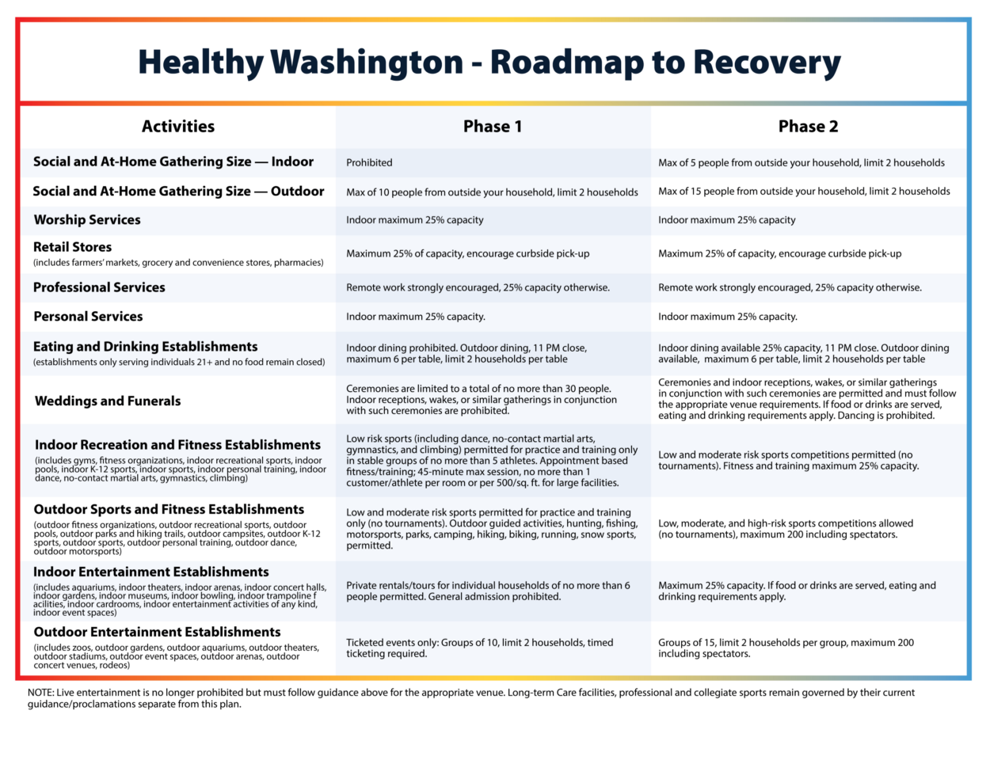 Vaccine update
A limited vaccine supply isn't helping the road to recovery. The county received 500 first doses of COVID vaccines in this week's allotment from the state and 3,200 booster doses, which is "not as much as we would like and hope for," said Nathan Johnson, the district's local emergency response coordinator. The county has the facilities and logistics in place to meet local demand of 15,000 to 20,000 vaccinations a week, he said.
"Obviously the amount of vaccine that we're getting is way less than the need that we're seeing in the county for people eligible and wanting that vaccine," Johnson said. "So it's going to take time. And I continue to say that. And I continue to urge patience. And I know it's frustrating as we look at other counties who maybe are vaccinating quicker. And I think it's important to note that our vaccine, as soon as it gets into the county, it's not sitting on a shelf anywhere. It is getting pushed out very rapidly by our community partners in the health care field."