The Yakima County jail appears to be slowly recovering from the financial crash it endured when the COVID-19 pandemic first struck the area last year.
At that time, the jail's inmate population hit a 30-year low and the county's Department of Corrections saw contracts worth millions of dollars to house inmates from other communities vanish.
Fear of virus' spread reeled back incarcerations, prompted the conditional release of many low- to mid-level offenders and forced other communities to stop sending their prisoners here.
The jail is dealing with another COVID-19 outbreak as cases in the community have climbed dramatically because of the more contagious delta variant. As of Friday morning, 38 inmates and three corrections officers had contracted the virus, according to the Yakima Health District.
The jail suffered two previous outbreaks; one claimed the life of corrections Officer Daniel Oaks, 58. He died Aug. 1, 2020.
The jail's inmate population shrank from an average of 900 to 420. The financial crash amounted to revenue losses of more than $750,000 a month, 30 layoffs — 25 corrections officers and five support staff — and demotions.
The jail's annual budget dwindled from $32 million to about $26 million this year. The county used about $1.5 million in reserves to produce a balanced budget.
Now the jail appears to be slowly recovering.
The jail's inmate population has ramped up to a daily average of 600. Of those, more than 50 are being held under a federal U.S. Marshal's contract while another 12 are housed under contracts with other communities, said interim Director Jeremy Welch.
"As the jail's population climbs, budget numbers change," Welch said. "Staffing would increase with inmate increases."
Inching forward
The jail is hiring again, and has five applicants in the pipeline, Welch said.
Some laid-off workers have returned while others moved on to other opportunities, he said.
The jail is budgeted for 139 total positions, down from 145 before the pandemic.
Of those positions, the jail is budgeted for 128 corrections officers but is operating with 113, Welch said.
Despite the improvements, the pandemic is far from over as there's been a resurgence in COVID-19 cases. Masking, social distancing and other safeguards are still being followed at that jail, Welch said.
Corrections and budget staff continue to assess incarceration rates, potential contracts and revenue projections as they head into the 2022 operating budget cycle, said the county's budget director Craig Warner.
There are several budget scenarios ranging from focusing on current inmate population trends as a base to considering projected contracts and revenues, he said.
"Many things will factor into what is adopted, but the major concern will be the COVID variants and making sure the staff and inmates are protected," Warner said. "We have not completed these scenarios at this time, but we are working on them. The amount of revenues projected or reserves used will depend on the scenario used."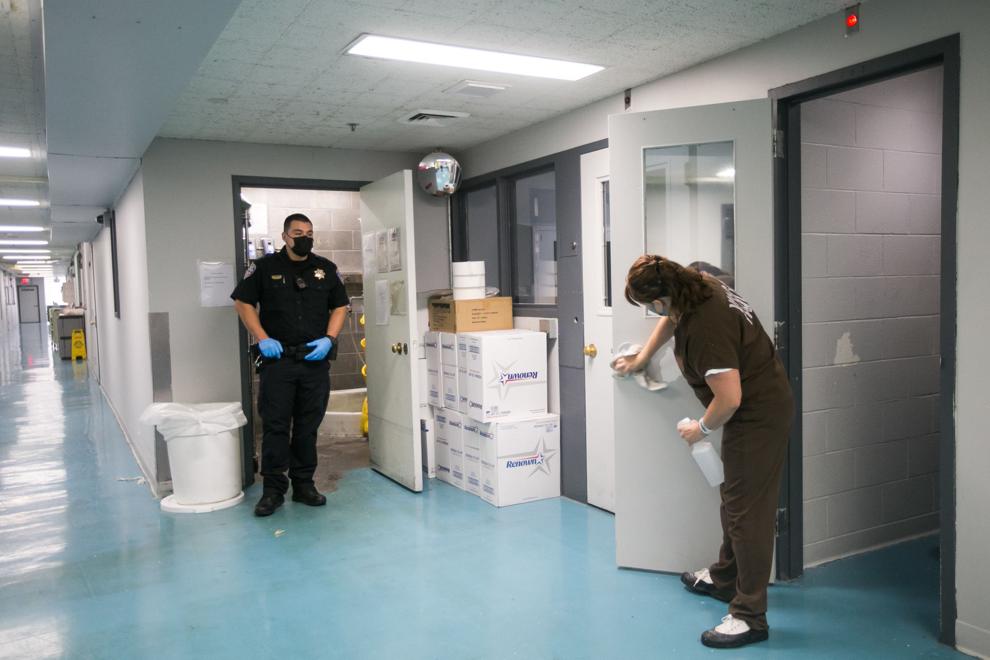 Keeping safe
Inmates are tested for COVID-19 at booking, and go through a temperature check as well.
Inmates and corrections officers are still masking up social distancing and sanitizing surfaces and high-traffic areas frequently.
"We're still doing all of that," Welch said. "Guidelines from the CDC have not changed much. We're still taking precautions because of the new variant."
One recent day at the jail, an inmate sprayed down a small room where inmates visit with attorneys.
Inmates are allowed time out of their cells to clean. They're also given cleaning supplies to keep their own areas sanitized.
The jail received weekly supplies of personal protection equipment such as gloves and masks. said Lt. Travis Irion.
"Gloves — we go through so many gloves right now," he said. "You don't want to run out of that."
The jail has two rapid COVID testers that provide results almost immediately but also conducts the standard tests that take a few days to get results.
He said inmates are given both tests and are kept separate from the rest of the jail's population until the results comes back.
"So we test them twice to make sure we protect the inmate population," he said.
Inmates also use telehealth via a video phone in the rooms used for attorney visits.
"That's a tool that's dramatically changed since COVID," Irion said. "It will probably stay that way."
The jail also holds weekly vaccination clinics. As of last Tuesday, 230 inmates had been fully vaccinated with more waiting, Welch said.
Anyone who wants a vaccination is placed on a list.
"All they have to do is say they want it," Welch said. "If they are on that list, they get pulled into medical and receive the vaccination."
Inmates who are released before receiving a booster shot are given instructions when and where to get it, he said.
"So they don't miss it," Welch said.