Stacy Stoltenow was helping Steve Forney on his farm years ago when an idea popped into his head as he pulled tools from two shipping containers used for storage.
"I thought: 'You know — I could live in one of these,' " Stoltenow said. "And (Forney) took it to heart."
Not long after, then-Gov. Gary Locke asked Forney if he could build farmworker housing out of shipping containers after seeing containers converted into housing in Asia, Stoltenow said.
That was in the late 1990s.
So, Forney and Stoltenow went to work in Forney's fruit packing warehouse at 21 W. Viola Ave. in Yakima retrofitting 40 containers into livings spaces for a Mattawa farm.
The 40-foot-long steel containers were outfitted with plumbing, heating and cooling.
Modular Transportable Housing, or MTH, had emerged in Forney's old fruit warehouse, Stoltenow said.
Since, the local manufacturer has retrofitted countless shipping containers into living spaces for mining and construction crews in Alaska and for the 2010 Winter Olympics in Canada.
MTH has found a niche in Alaska, where crews enjoy the safe, warm and durable confines of the modular dwellings.
"They're durable, easy to insulate and weatherproof," Stoltenow said. "That's what the guys in Alaska like — the bears can't get into them."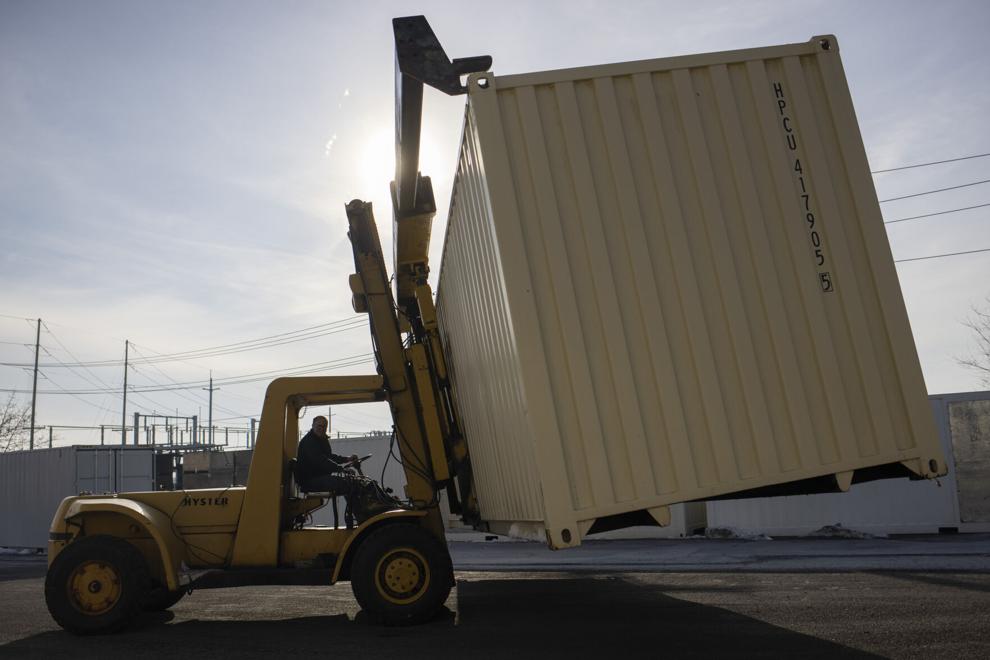 A new frontier
Now MTH is embarking on a new market by retrofitting containers to house homeless people.
The company already has donated one 40-foot container composed of three living units to Camp Hope, a homeless encampment in east Yakima.
Camp Hope purchased a second one and is fundraising for a third one that's under construction.
Mike Kay, director of Camp Hope, met Stoltenow through Habitat for Humanity. Stoltenow was working on a storage project for the nonprofit and Kay serves on its board.
After looking at one of the outfitted containers, Kay said he wanted use them as tiny homes.
"He likes what we're doing, and we like what he's doing so it's a good partnership," Stoltenow said.
The two containers at Camp Hope each feature three living spaces with windows, heaters and beds. They're insulated with a locking door. Each retrofitted container cost about $37,000 each, Kay said.
They will be used to house homeless people who cannot live in congregate settings due to past trauma, he said.
The units' interiors are finished in smooth durable wallboard and flooring without any sharp edges.
Mental health experts from Comprehensive Healthcare and Triumph Treatment Services provided input on the design, Kay said.
"These were really designed with trauma informed in mind," he said.
Counselors from both agencies are stationed at Camp Hope, Kay said.
Outreach workers have been showing photos of the container units to people reluctant to come into a shelter, Kay said.
They liked the fact that they were individual units with lockable doors, Kay said.
"They said 'yeah,' they'd live in them," he said.
Power needs to be connected to the units followed by an inspection from the state Labor and Industries before they can be occupied. Kay said he hopes to have that complete by mid-February.
"We have people that qualify for that program right now that could be using those," he said.
The container units could serve as temporary or longterm housing, he said.
But the goal is to provide those living there with services and support so they can eventually move on to a permanent housing.
Kay said the containers will serve as the step to help people get ready to take on a permanent dwelling.
"This will help so they don't get into an apartment and then get evicted," he said.
Retrofitting
MTH buys shipping containers from Seattle ports that measure 20 and 40 feet long.
Containers can be retrofitted by removing sides and placing them together to make a larger space. They also can be stacked on top of one another. Some are uses as hallways to link several other containers converted into living spaces.
"It's like Legos – you've got a big box of Legos, what are you going to build with it?" Stoltenow said.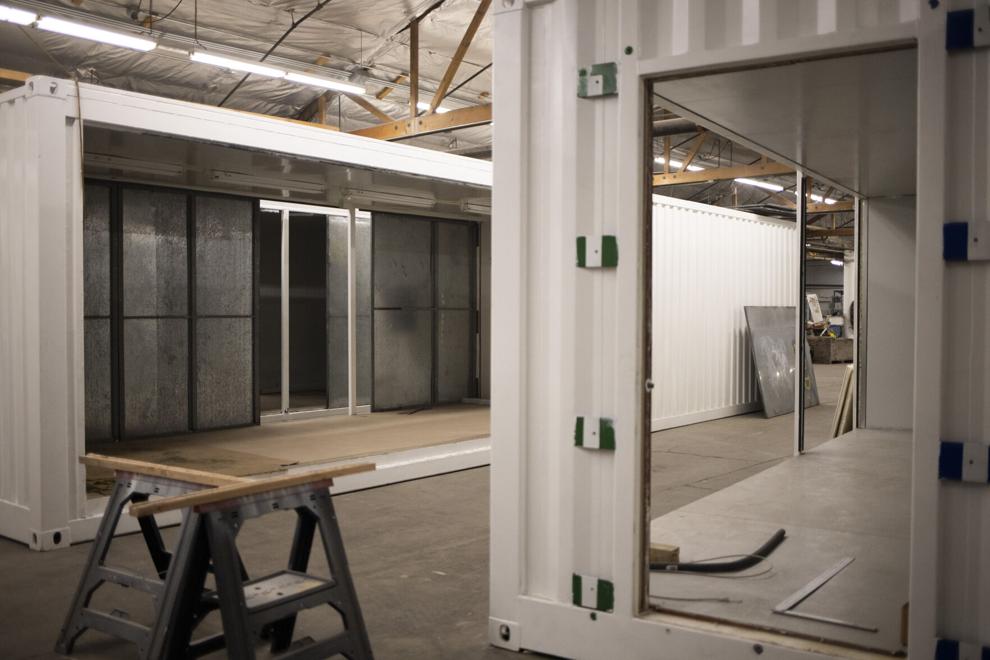 Picture of large living facilities MTH built using containers dot the shop's wall.
Several pictures depicted living facilities that composed of rows of containers stacked two, three and sometimes four high. They looked like large apartment complex.
One was of a 750-bed facility set up at Whistler, British Columbia, for the 2010 Winter Olympics.
Another of similar size was a bunkhouse built in Alaska for Trident Seafoods, Stoltenow said.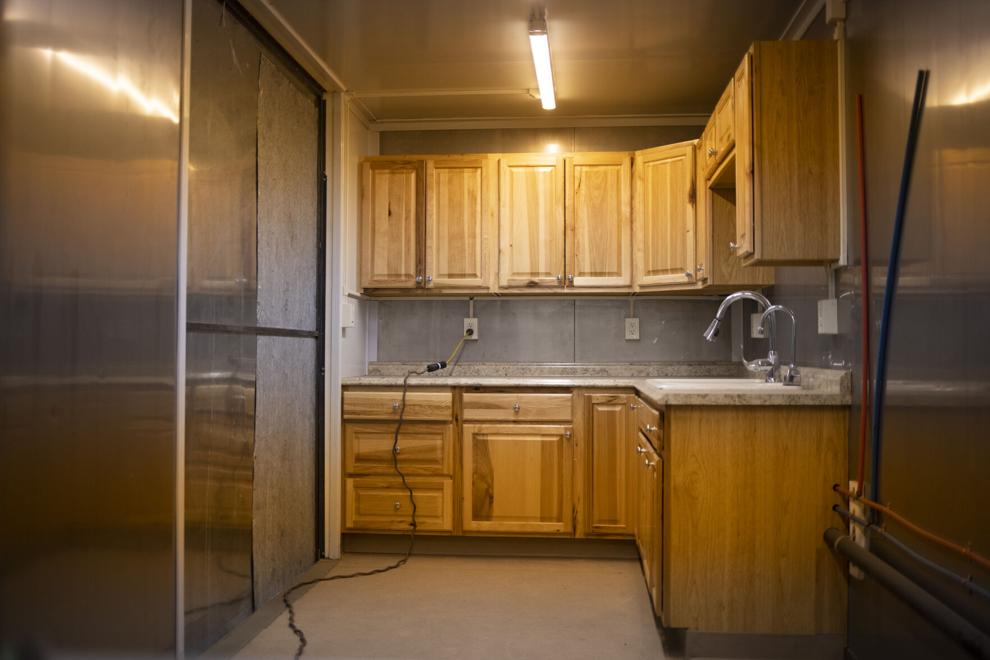 Some are outfitted with kitchens fully plumbed.
One large living facility in Alaska featured a shipping container retrofitted into water tanks that hold clean water on one side for potable use and wastewater. Trucks are used to deliver water and pick up wastewater.
These facilities used by Alaska construction crews are often moved from one construction site to another.
"They're easy to move," Stoltenow said. "You can move an entire facility of containers quickly."