In the summer of 1966, five Yakima teens started to jam.
There was Danny Wagner on drums, Chuck Funk on rhythm guitar, Randy "Jimmie James" Bowles on lead guitar and vocals, Larry "Lurch" Linse on bass and George "Georgy" Radford with his saxophones.
They called themselves The Illusions, then the Velvet Illusions to celebrate the fabric of their eye-popping outfits. The band grew to seven boys ages 14 to 19. After about a year of playing dances around town and as far as La Grande, Ore., they left Yakima early in the summer of 1967 to find fame in Hollywood.
The Velvet Illusions recorded 10 songs and released five singles, but never made it big.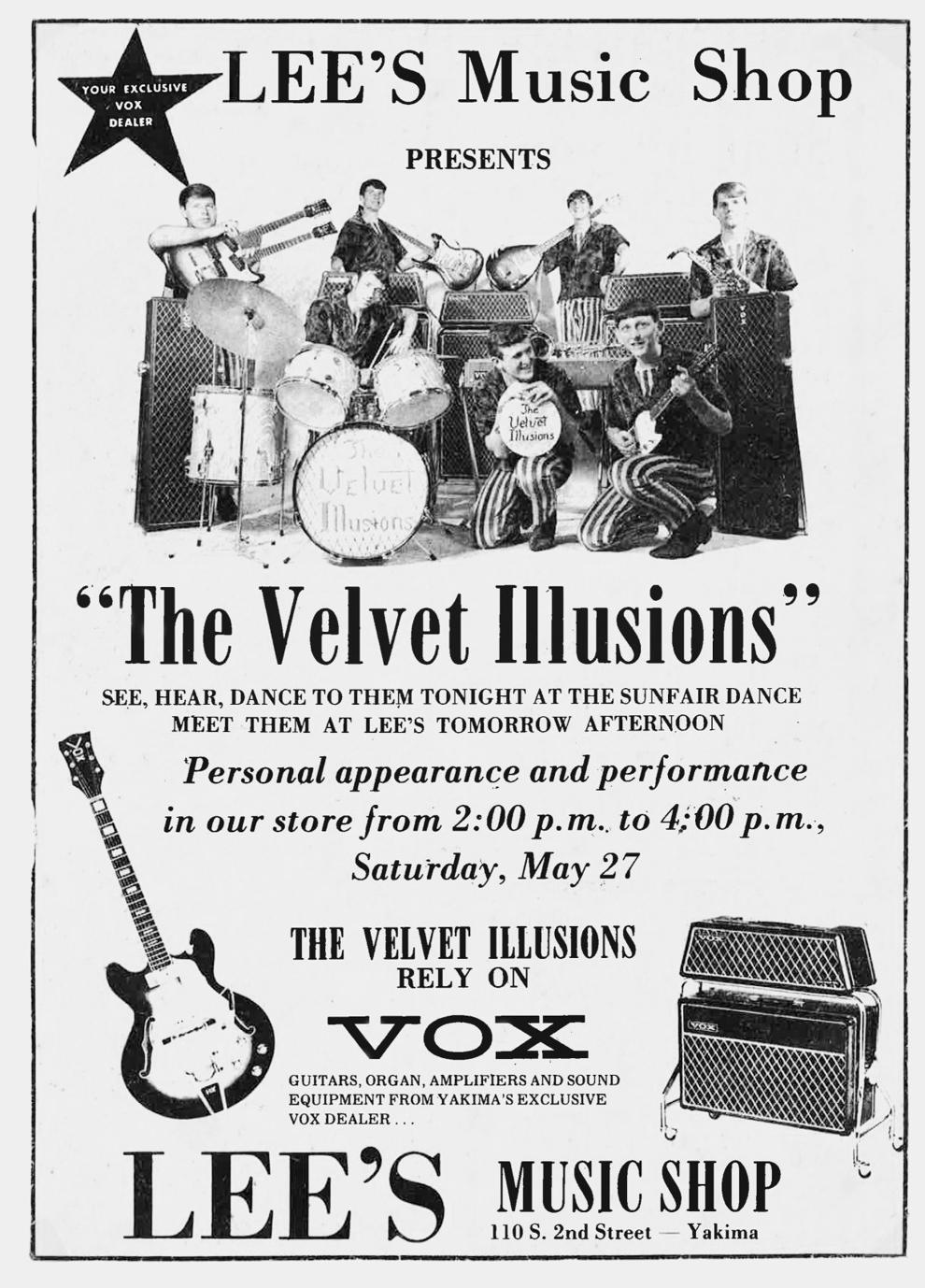 However, 50 years later, their music endures in song compilations, on Pandora Radio and Psychedelicized Radio and in podcasts, on YouTube and Facebook and eBay and in the record collections of loyal fans.
"We're way, way, way more well-known now than we ever were," said Bowles, who sang lead vocals on three of the songs by the "semi-legendary psych/garage band," as he enjoys describing it.
In the latest compilation featuring a song by The Velvet Illusions, "Lazy" appears on a three-CD set released by a London label in January. "Looking Stateside: 80 US R&B, Mod, Soul & Garage Nuggets — Various Artists" pays homage to American Mod music from the 1960s, according to its website, www.cherryred.co.uk.
"It's really great to be on that label. ... Our 'Acid Head' CD was released on a subsidiary of Cherry Red, Tune In," Bowles said. "But to get a song on Cherry Red itself is wonderful."
Bowles has made it his mission to keep the band in the public eye since 1987, when a record collector told him that music and memorabilia from The Velvet Illusions is still in demand.
Some band members have died. Others haven't spoken in years, communication fractured by distance and disagreement. But Bowles, who is 67 and has lived in Seattle since 1974, stays true to his chosen task, blogging about the band and maintaining a Facebook page, Velvet Illusions Fans.
"I spend hours every day corresponding with fans, most of them young, living all over the world," he said.
Summers unlike any others
Though far from the regional music mecca of Seattle, Yakima was jumping with music and musicians in the 1960s. Many who played an instrument were in a band or two, or more. When they jammed, they would wonder — could we make it? Musicians hopped from band to band, seeking melodic synergy.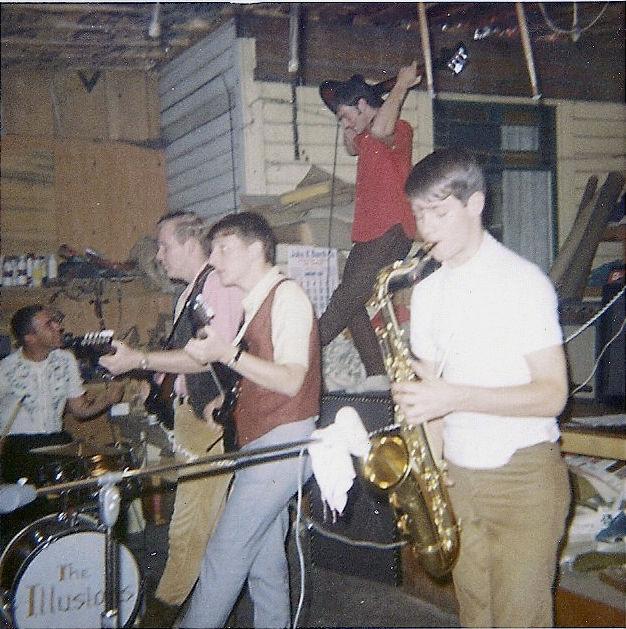 Through the decades, a number of Yakima Valley bands built loyal followings.
"A lot of groups were big in Yakima, but they never got big beyond Yakima," Bowles said.
As during the grunge zenith of the 1990s, the Pacific Northwest was boiling with musical flavors in the 1960s. Performers experimented with sounds and styles. Anything was possible.
The Illusions played teen and school dances around town, the band's popularity fueled by its massive 150-song playlist, which ranged from Elvis Presley's latest hits to old classics to Motown favorites.
Along with his longtime love of music, Radford enjoyed the social aspect of being in a band. As an introvert at Davis High School, it brought him out of his shell.
"It was about girls for me. ... And part of it was just because of my love of playing," said Radford of Yakima, who is 66 and semi-retired from his family's upholstery business.
"I would have played (24 hours a day, seven days a week) if I could have."
Radford started playing alto sax while he was in third grade and played tenor sax for The Velvet Illusions. He practiced every day and mastered the baritone and soprano saxophones as well.
The band changed its name at the suggestion of Radford's father, who managed it along with Gene Weed.
"When Mr. Radford offered to manage us, we were standing in his upholstery shop, where we practiced. He took this fabric," and declared it would make great uniforms, Bowles said.
The name did not, as Michael Hicks wrote in "Sixties Rock — Garage, Psychedelic and Other Satisfactions," reflect their "alienation from society".
"A middle-aged upholsterer gave us our name," Bowles said.
Some saw potential. Taking their matching outfits, members of The Velvet Illusions moved to Los Angeles under Radford's guidance and into a rented house there early in the summer of 1967.
The core recording lineup who went — members who did the bulk of the recording — included Steve Weed on lead vocals and Vox Continental organ; Dewayne Russell on lead double-neck guitar; Bowles; Radford; Wagner; Dale Larrison on bass and vocals; and Bruce Kitt on rhythm guitar.
Those were heady days for the teens from Yakima. They gaped at the men with nearly waist-long hair — real hippies! They snuck off to The Stash, a Los Angeles head shop where employees who were fans added "Acid Head" on their jukebox. Bowles worked 40-hour workweeks at Hody's Hollywood and Vine Restaurant, as a busboy and a fountain man; two of the other older boys worked full-time, too.
And they packed countless 45s to mail out to radio stations across the country in hopes of getting noticed.
"'Acid Head' is probably the most notable song we printed; we put the most copies (of it) out there," George Radford said. "We attempted to literally send one to every radio station in the country."
They also created a theme song for the city of Los Angeles and presented a copy to then-Mayor Sam Yorty, Radford said.
Listen: The Velvet Illusions - Velvet Illusions
Disgruntled with the challenging workload and band management issues, Bowles said he quit after two months in Hollywood and returned to Yakima. His replacement was Roland Bautista, who later joined Earth, Wind and Fire. Bautista died in 2012.
While the band always had seven members, boys came and went in its brief existence for various reasons.
"We were very young boys when we were in this band and we didn't know a lot" about the music business, Bowles recalled. He was 18 when he left the band.
"We didn't quit because we were bad boys; we wished our manager all the success in the world. We did everything we could to make that a success," Bowles said.
"We really really worked our hardest to make it go."
Steve Weed was one of the last to leave Hollywood. Now 63 and living in Selah, he started playing with a band at age 14 — The Shy Guys, managed by his brother Gene — and was one of the youngest members of The Velvet Illusions.
Weed sang, played keyboard and wrote songs.
"I saw this big advertisement in the window at the Albertson's over on 16th and Lincoln. It showed a band and brand new Vox equipment just like the Beatles had. I thought, 'Whoa,'" Weed recalled.
"I called them and talked to Georgy. I said I'd like to join. He said, 'We've got a Vox Continental just like Paul Revere and the Raiders,' and that did that. I joined in the fall" of 1967."
Weed left Hollywood in the winter of 1967-68; at that point, everyone else had left, he said. Bautista and two other members, Kitt and Jon Juette, left a week before he did.
"We all just kinda said our goodbyes," Weed said of the band's final days. "I got on a bus and rode all the way to The Dalles."
Bowles returned to Yakima and got a job at the Chinook Hotel, forming another group, Felix. He left psychedelic blues for country/western music, attended Yakima Valley College then dropped out to join a blues band.
Seattle offered more possibilities. Bowles worked day jobs, as an administrator for law firms, banks and other businesses, but kept performing; he still plays today.
A resident of a senior apartment complex in Seattle's Lower Queen Anne neighborhood, Bowles doesn't have a car and has visited Yakima only a few times since he moved to Seattle, but the 1967 West Valley High School graduate blogs about his years in the Valley and his time with The Velvet Illusions with genuine fondness.
"It was an amazing thing in Yakima. I've been amazed by it. If I wasn't in the band, I would have been amazed by it," Bowles said.
Where are they now?
The boys of The Velvet Illusions grew up, and some have passed. Bassist Dale Larrison, who replaced Linse, died in December 2014. Also gone are Linse; Bautista; Wagner and Russell.
Radford hasn't played sax in awhile, embracing another instrument instead — the Electronic Wind Instrument, or EWI.
"I like the electronic stuff, and jazz is my favorite music these days," he said. "I've accumulated this group of synthesizers and looping instruments.
"It's technical. I'm a geek — I love modern technology."
In addition to still working some in the family upholstery business, Radford customized interiors of street rods and vans, winning awards for his work, and began flying model airplanes. He's president of the Yakima Valley Aero Modelers.
Radford said he learned a lot about himself as a member of The Velvet Illusions.
"I enjoyed the whole thing. It was a great time for me," said Radford, who served in Vietnam after the band dissolved.
Danny Wohl, a rhythm guitarist with The Velvet Illusions who has lived in Naches, couldn't be reached for comment.
"I really enjoyed myself when I was with the band," said Weed, who's never stopped playing a variety of instruments. Working on an album since 1992, he hopes to release it later this year. He, his daughter and his two sons wrote all the songs and performed most of the music.
"I'm working on it right now. ... I've already got the recordings done," said Weed, who works at Tube Art Group in Yakima.
"Music — it's in my blood; there's not a thing I can do about that."
While some band members keep in touch through email and Facebook, Bowles doesn't see them reuniting.
"People ask all the time," Bowles said. "There's really not enough of us to do it now. ... No, we're not going to reunite."
Radford agreed; he's not interested in reuniting.
"Those days back then were pretty enjoyable. ... But we're not the same people," Radford added.
Every few months, Bowles types "The Velvet Illusions" into search engines to check out the latest online offerings about the band. He gets in touch with those posting incorrect information and tries to ensure that posts are up to date.
And those velvet outfits are still in pristine shape.
"If we weren't too fat, or deceased, we could probably slip into 'em right now, start playing 'Acid Head', and nobody would know the difference," Bowles wrote in his blog.
"Well, except for some white hair and wrinkles."