As he listened to law enforcement and legal experts discuss the challenges of monitoring text messages from inmates suspected of violating no-contact orders, Richard Casares became upset.
"They shouldn't be texting their victims — it's just another way to abuse them," Casares told a group of about 20 people meeting Tuesday in the Stone Church Youth Center in Yakima.
The former boyfriend of his daughter, Marcelina Briones, had texted her over and over again even though he stayed away, Casares said. There was a restraining order against 26-year-old Ricardo Mendoza stemming from a violent incident the previous October.
But Briones, whom her father called Lina, also wanted Mendoza to have contact with his young son and daughter. The 24-year-old was living with their children in Yakima when Mendoza, who was out on bail, beat her with a baseball bat at her Ledwich Avenue home on Jan. 17, 2016. She died two days later when her family took her off life support.
"Here is a photo of her at the crime scene," Casares said as he stood next to a large copy on an easel. He also brought photos of the oldest of his four daughters with a black eye, one taken while she lay unconscious in a Seattle hospital, and an image that showed how extensively her brain was damaged.
"I never thought I would see my daughter like this," he said. "She wasn't coming out of it. She died at the scene."
October is national Domestic Violence Awareness Month. Casares was speaking Tuesday to members of a multi-disciplinary team working to develop a new system of addressing domestic violence in Yakima. They hope to do that by increasing domestic violence offender accountability and improving efforts to ensure survivors' safety, among other goals.
The domestic violence coalition includes YWCA Yakima; the Yakima Police Department; Yakima city and Yakima County prosecutors, correctional and probation officers; the Yakima School District and mental health experts. A small group started meeting in May and grew over the summer, said YWCA Executive Director Cheri Kilty.
Lt. Chad Janis of the Yakima Police Department, is leading the coalition.
Janis introduced Casares after several others talked about tracking domestic violence and intimate partner violence cases and related statistics. The specific tracking of intimate partner violence cases by Yakima police began in July, when the department changed its tracking system, Kilty said.
Recidivism is a big concern, and far too common, authorities said. Since July 1, 48 people have reoffended. Most have done so twice, and some as many as five times, they said.
The "Handle With Care" program with some pilot schools in the Yakima School District shows similarly disturbing trends. It gives counselors a heads-up when children have been involved in a domestic violence or intimate partner violence call. That program started Sept. 1, and about 100 names are already on it, school officials said.
Representatives of the city and county prosecutors' offices mentioned filing rates, discussed warrants and provided updates on where cases are in the court process. They talked about tracking cases and the challenges of getting some data. A YWCA Yakima advocate reported how many survivors the group has been working with and how many domestic violence-related phone calls the nonprofit has gotten.
It's important that survivors get assistance as soon as possible. Key to that is assessing lethality when police are at a domestic violence or intimate partner violence call. The original form takes into account about 70 factors, Janis said, but Yakima County authorities whittled that down to about 14 factors, he added.
"If they answer yes to a certain set ... they have to contact the YWCA before they leave the call," Janis said. Survivors don't have to talk to the YWCA advocate on the call, but can get immediate assistance if they choose to.
Officers are also working toward three-day follow-up contacts at the scene of incidents. They will look for injuries and see if offenders are violating no-contact orders.
Casares knew, to a point, that his daughter was struggling with domestic violence as she tried to break free from Mendoza. He saw the black eye she got, but raised all four of his daughters to be strong, resourceful and independent women. She suffered multiple defensive wounds in fighting back against Mendoza when he beat her into unconsciousness, Casares said.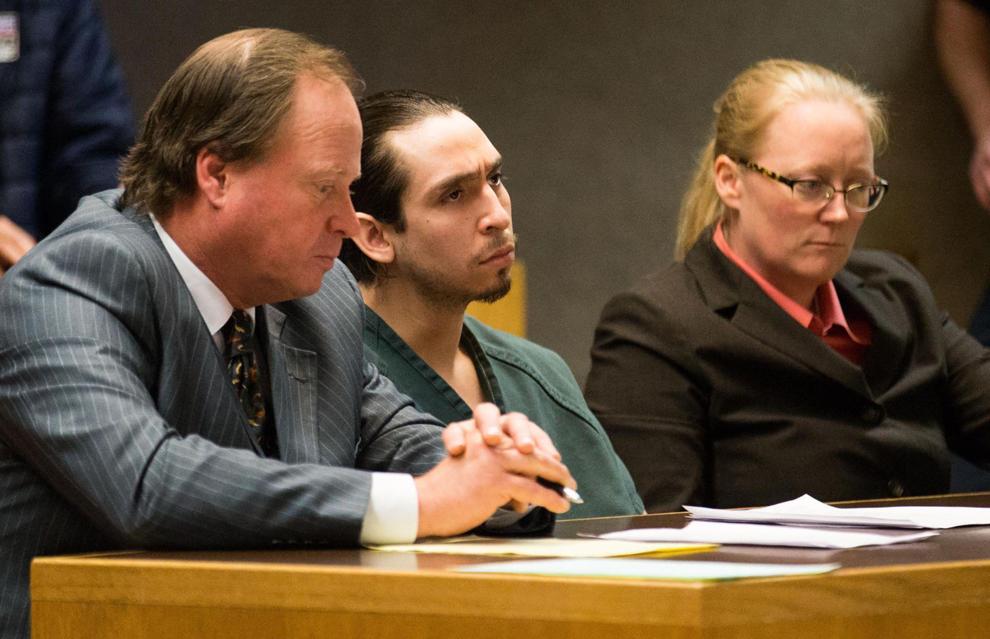 Mendoza pleaded guilty to first-degree murder in connection with domestic violence; other murder, burglary and assault charges were dismissed at his sentencing hearing in February 2017. He received a 26-year prison sentence, but could have been sentenced to 29 years. Even that wouldn't have been enough for Casares and the many people who loved and miss Briones.
"I don't agree with the justice system. I was pushing for life. He doesn't deserve to live," he said. But life goes on for his children without their mother, and for him without his daughter, he added.
"The pain doesn't go away. ... Losing a child is the worst thing a parent can go through," he said. He will keep telling his daughter's story, though, in hopes it saves another life. He adopted her children and is raising them. Her daughter looks just like her, Casares added.
"Having my grandchildren is a blessing," he said.