Fire officials are "cautiously optimistic" Washington will avoid a major fire event over Labor Day weekend, but the Department of Natural Resources is relying on people to take precautions, Commissioner of Public Lands Hilary Franz said at a news conference in Yakima on Thursday.
Franz asked people enjoying the outdoors over the holiday weekend to take special care to prevent fires. About 90% of fires in Washington are started by humans, she said.
"Hopefully, if people can make this Labor Day the safest Labor Day possible for their families, they can make it the safest Labor Day possible for our firefighters," Franz said.
People should avoid starting outdoor fires and abide by burn ban restrictions, the Department of Natural Resources said in a news release. People should also avoid parking vehicles on grassy areas, make sure dirt bikes and ATVs have operating spark arrestors, and create defensible space around residences.
Franz said the fire season this year has been one of the most challenging in Washington's history. There have been 1,700 fires in the state, with more than 640,000 acres burned. She said there's limited access to firefighters and equipment at all levels.
In 2020, more than 70 fires started in the state over Labor Day weekend, with 620,000 acres burned in 72 hours.
"All hell broke loose," Franz said.
Fire officials said the weather is the main difference between this year and last.
Last Labor Day, hot and dry weather combined with hurricane-force winds to rapidly spread fire, Franz said. This year, the weather is hotter and drier. But it is not likely the state will see those hurricane-force winds, Franz said.
Schneider Springs Fire Incident Commander Rob Allen said the cooler temperatures over the last two weeks have been critical with making progress on the fires burning now. He also said extreme high pressure weather conditions are not expected over the holiday weekend, but lightning could produce some starts.
The fire burning 18 miles northwest of Naches was started by lightning on Aug. 3, and is now 84,509 acres, or 132 square miles. About 880 people were fighting the fire on Thursday, which is 8% contained.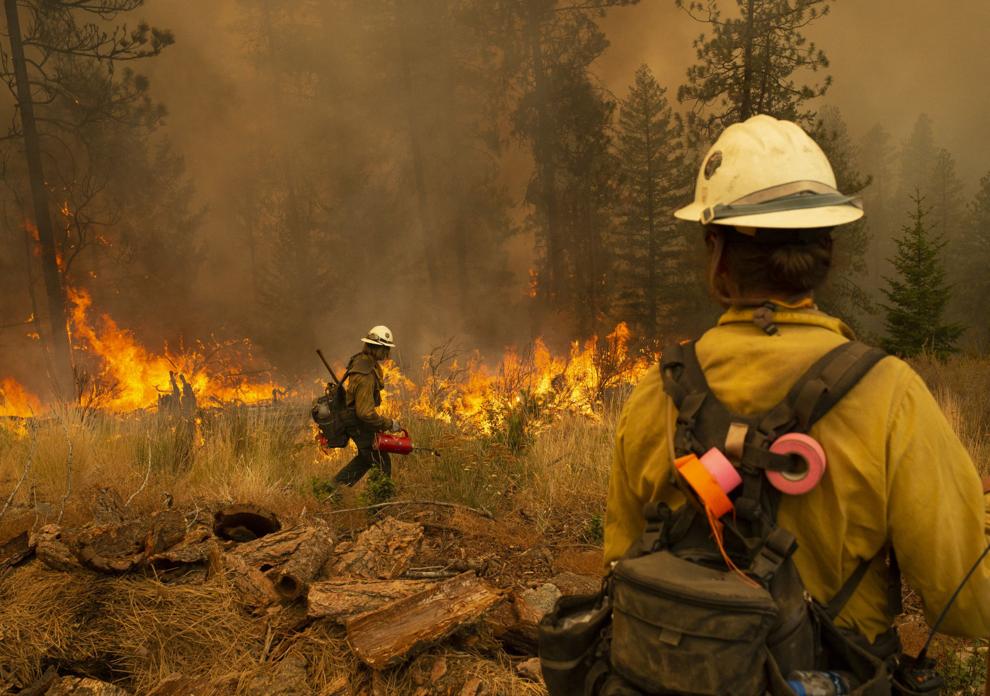 Too few firefighters
Franz and Allen said the biggest concern this year is having people available to respond to fires.
Resources are stretched thin with personnel fighting the eight large fires currently in Washington, Franz said.
"We have a lot of men and women who are very, very exhausted and tired," Franz said.
Drought conditions and fires across the western U.S. have led to limited resources nationally. Allen said the competition for fire resources has been difficult for everyone in the Pacific Northwest.
"Everybody's been short and having to make strategic decisions about where we can be the most successful," Allen said.
Allen said some extra help is coming, though: A contingent of Canadian firefighters will be arriving shortly to help fight the Schneider Springs Fire.
COVID-19 challenges
Fire crews are also seeing higher numbers of COVID-19 cases, which further limits the number of people available to respond to fires, Franz said.
She said there have been more than 50 cases this fire season across agencies in Washington, compared to just three cases in 2020. She said the increase is from the delta variant, which is known to be more more contagious than the first strain that circulated in 2020.
Franz said crews have had to quarantine in their camp if a firefighter tests positive. Entire teams have also been turned away if one or more firefighters test positive for COVID-19 before they arrive at the fire, she said.
"It is a pretty hard, challenging thing that we've got firefighters ready to fight, we need more firefighters, and we have to say, 'no thank you, you need to go home,'" Franz said.
There is a vaccine mandate in Washington for state fire personnel. State wildland firefighters must be vaccinated against COVID-19 by Oct. 18.
Franz said the DNR is bringing vaccinations to fire crew camps to make it easier for people to get vaccinated.
Reopening land
Franz said the Department of Natural Resources is assessing land closures on a weekly basis.
All DNR-managed lands east of the Cascades were closed to the public on July 23 because of extreme fire danger.
She said reopening those areas depends on weather conditions. Hot and dry weather parches the landscape and primes fuel for fires. The areas will reopen once weather and fuel conditions won't turn a spark into a fire, she said.
"We also know how important (public lands) are ... especially given COVID, where more and more people are flocking to our public lands for their mental, physical and emotional health and well-being," Franz said.
While DNR lands remain closed, the Washington Department of Fish and Wildlife extended day use hours for its lands from 4 a.m. to 10 p.m. on Wednesday.
In July, WDFW limited public access to 6 a.m. to 9 p.m. daily because of fire danger.