YAKIMA, Wash. — The Yakima County Fire Marshal's Office reminded residents Wednesday of a ban on purchasing and using fireworks in unincorporated areas of the county.
People who live in those areas cannot use or purchase fireworks. Yakama Nation members are exempt from the law, but only on reservation property and in cities where fireworks are allowed.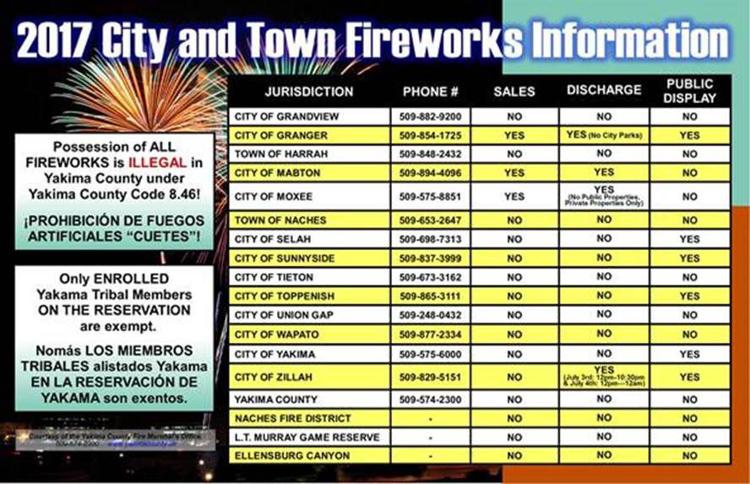 Those caught breaking the law can receive a fine of up to $1,000 or up to 90 days in jail.
Cities and towns within Yakima County have their own laws regarding fireworks. Residents in Mabton, Moxee, Granger and Zillah are allowed to discharge fireworks. The sale of fireworks also is allowed in Mabton, Moxee and Granger. Most Yakima County towns and cities — including Yakima — ban fireworks.
Residents who want to see fireworks are encouraged to attend a public display, the Fire Marshal's Office said in a news release. Cities are holding public fireworks displays are Granger, Selah, Sunnyside, Toppenish, Yakima and Zillah.  
The laws are in place, county fire officials say, to prevent the unnecessary use of firefighters and fire fighting equipment for fireworks-related incidents and injuries. Last year, Washington state had 226 fireworks-related emergency incidents resulting in 67 fires and more than $200,000 in property loss, with 62 percent of the incidents occurring on the Fourth of July, the news release stated.
Serious firework injuries also increased in the state by 40 percent in 2016 — 164 occurred during the Fourth of July holiday.