YAKIMA, Wash. — A group of volunteers spent Saturday morning making 12,000 meals at the Davis High School cafeteria.
But these were not your typical school meals, and they were not heading to students — at least not all of them, or directly.
Instead, the pouch meals consisted of white rice, beans, vegetables, beef flavoring and roux, and most of them were headed to Northwest Harvest to be distributed among food banks and in its backpack program to provide meals for children in need.
More than 200 people — from church groups, the community and an American Legion youth baseball team — assembled the packages in just more than an hour.
"I just had goose bumps the whole time," said Sheri Bissell, Northwest Harvest's community engagement manager. "It was really wonderful to watch the people of Yakima come together."
The event was cosponsored by Mod Pizza and Generosity Feeds, a Williamsburg, Va., organization that promotes food drives to help local communities.
Jessica Berg, general manager of Mod Pizza's West Nob Hill Boulevard shop, said the pizza chain joined with Generosity Feeds in 2016 to assemble meal packets, and she decided that her outlet should host a meal preparation event in Yakima.
Jon Crowe, Generosity Feeds' event coordinator, said the group's goal is to help reduce food insecurity in the United States by providing meals that kids can take home from school in their backpacks.
And Yakima County, he said, has a serious food insecurity problem.
U.S. Census data shows that 12,090 Yakima County households with children received Supplemental Nutrition Assistance Program support — commonly called food stamps.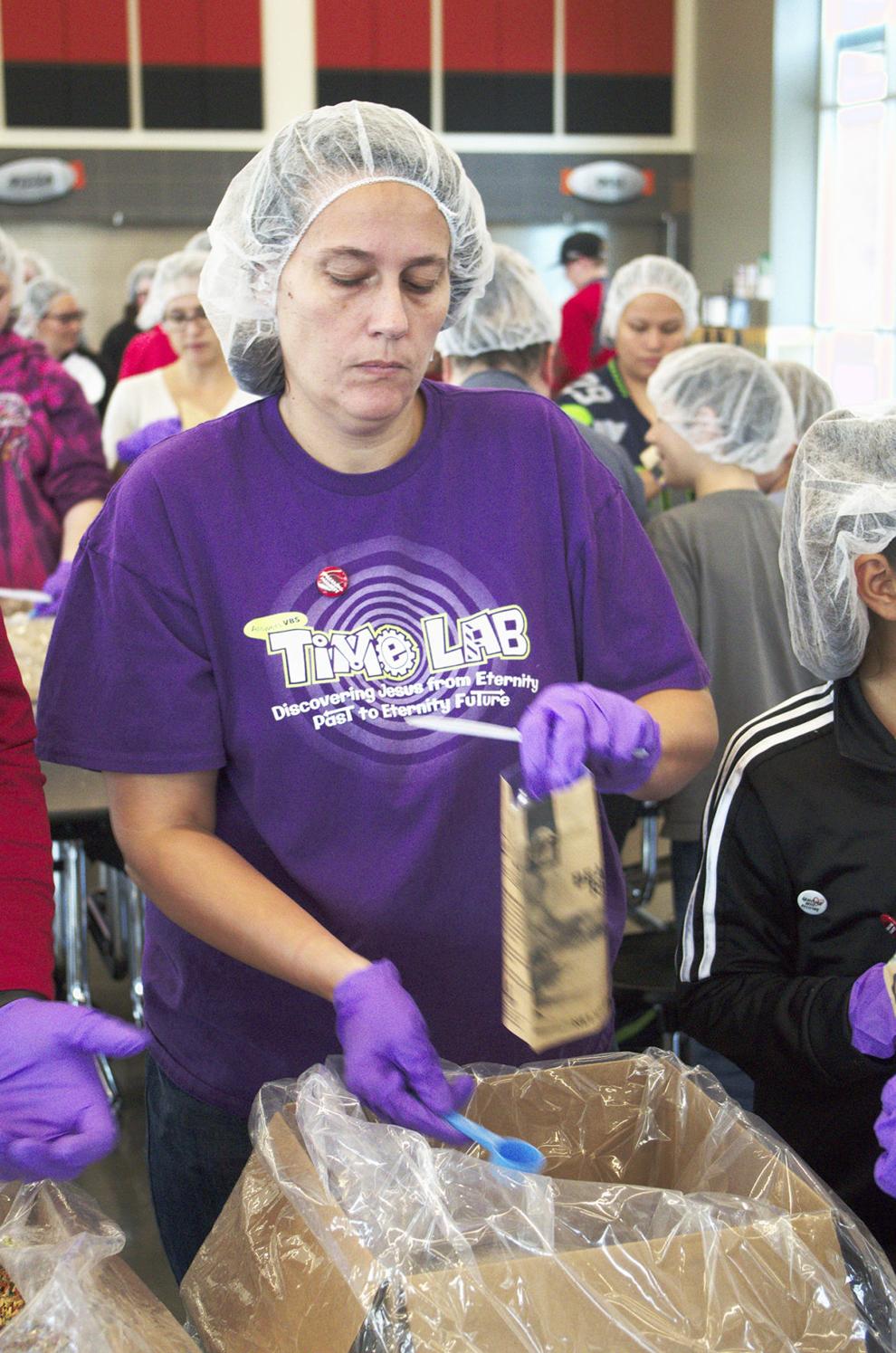 To assemble the meals, people were gathered in groups of eight around cafeteria tables. There, ingredients were measured and placed in the pouches, which were then hermetically sealed and packed into boxes of 25.
The volunteers worked as music — ranging from "Gangnam Style" to "Footloose" and the 1970s disco anthem "YMCA" — played in the room.
Crowe regularly announced how many meals had been packed, and offered little prizes to groups that did such things as pack the first box, were the last group packing or had the best dance moves during a break.
Among those participating were missionaries from The Church of Jesus Christ of Latter-day Saints and members of the Yakima Pepsi Beetles American Legion baseball team. Mark Day, the baseball team's head coach, said it was a chance for his junior and senior teams to come together as well as help the community.
"We're supported by the community, and we want to give back to the community," Day said.
Nathaniel Shipley, a player from Prosser, agreed.
"This makes us appreciate what we have," Shipley said after finishing up his shift.
Dave Oldenkamp, associate pastor of Yakima Alliance Church, said his church would be distributing about 1,000 of the meals to people in need.
"I think it's great to see people come out and help the community," Oldenkamp said while sealing the pouches.
Shanna Buckles, a Yakima resident, heard about the event through friends and a radio station and decided to help out.
"There's a lot of kids out there without food," Buckles said as she measured out roux for the meals.
The last box was sealed shut and stacked one hour, nine minutes into the event, which Berg said she hopes will become an annual activity.
Bissell said the event was a significant contribution to Northwest Harvest's food supplies.