On Mother's Day last year, Jon Joseph Cleary posted a selfie with his mom. Grinning under his sideways ball cap, he looks impish. She's beaming.
Cleary, of Huntington Beach, Calif., kept in regular touch with his mother in Florida and his father and sister in Tennessee. A big kid at 47, he had a wide circle of friends, many of them devoted fans of the Grateful Dead and Dead & Company, a band which includes three former Grateful Dead members.
He and good friend Josiah "Jo" Michael Hilderbrand, 25, of Piercy, Calif., left California for the June 7 Dead & Company show at the Gorge Amphitheatre in George, in Cleary's light blue 2004 Honda Civic hybrid. Somewhere on that long drive, they disappeared.
The car was found abandoned and partially burned on the morning of June 8 in an orchard at 8100 Lateral B Road, near the intersection with Fort Road and about 8½ miles west of Toppenish. Their disappearance was initially under investigation by the Yakima County Sheriff's Office. The FBI, which joined the investigation by the end of June 2019, is now in charge. The men are presumed dead.
Friends last heard from Hilderbrand and Cleary on June 7.
"They were reported missing and then the authorities told us there was evidence they were murdered. I still can hear the sheriff from Yakima County calling me up and saying those words, 'We believe your brother has been murdered,'" Cleary's sister, Jessica Wesner of Smyrna, Tenn., said in a letter to the Yakima Herald-Republic.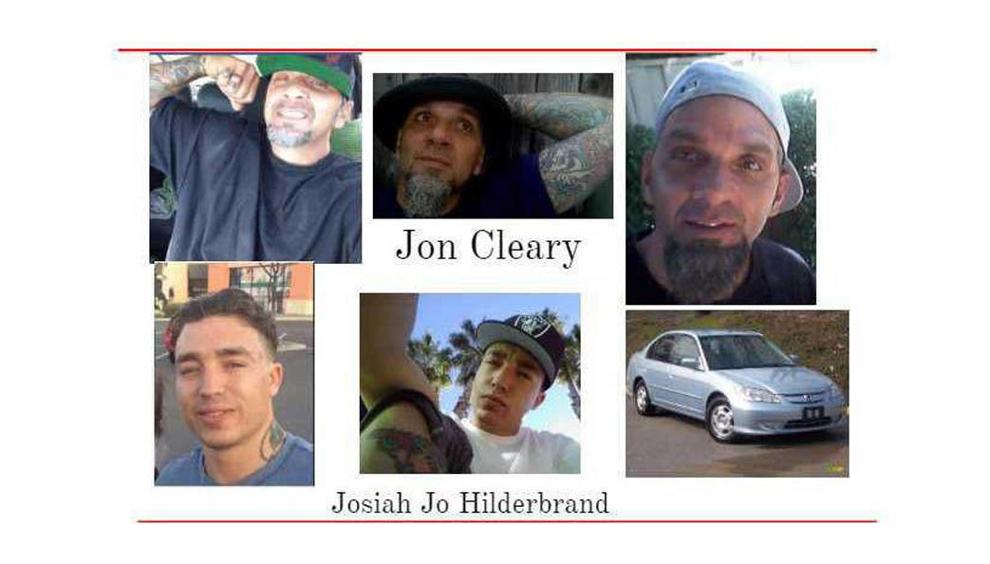 "I broke that day, crushed beyond any explanation. My world and self would never be the same."
Reward up to $35,000
Wesner and other family members and friends think Hilderbrand and Cleary stopped to help someone or pick up hitchhikers later in their long drive. Some believe it happened on Highway 97 from Goldendale to Toppenish, where traffic thins to a trickle from dusk to dawn and homes and businesses are sparse as the highway moves through dense woods and vast stretches of rolling shrub-steppe.
The men wouldn't think twice about offering help or giving someone a ride, just like many devoted Grateful Dead fans, relatives and friends said.
"There's evidence they stopped to offer help to people and that's when authorities feel they were robbed and murdered," Wesner wrote.
Cleary was the guy who would always lend a helping hand, "give you the shirt off his back, if you needed it," she said. "He always looked out for the person in need, the little guy, the underdog."
"I am asking the people of Yakima and Yakama Reservation, with a heavy heart, to please contact the authorities if you have any information as to where my brother and Josiah are," Wesner wrote. "My parents are in their 70s and we need to lay our beloved Jon to rest in the manner he deserves.
"Jon and Josiah's families need closure. They both need to be found and brought home to their loved ones."
They believe somebody knows something. They hope the financial reward, or the thought of what other parents would want for their children, will prompt someone to share that knowledge with authorities.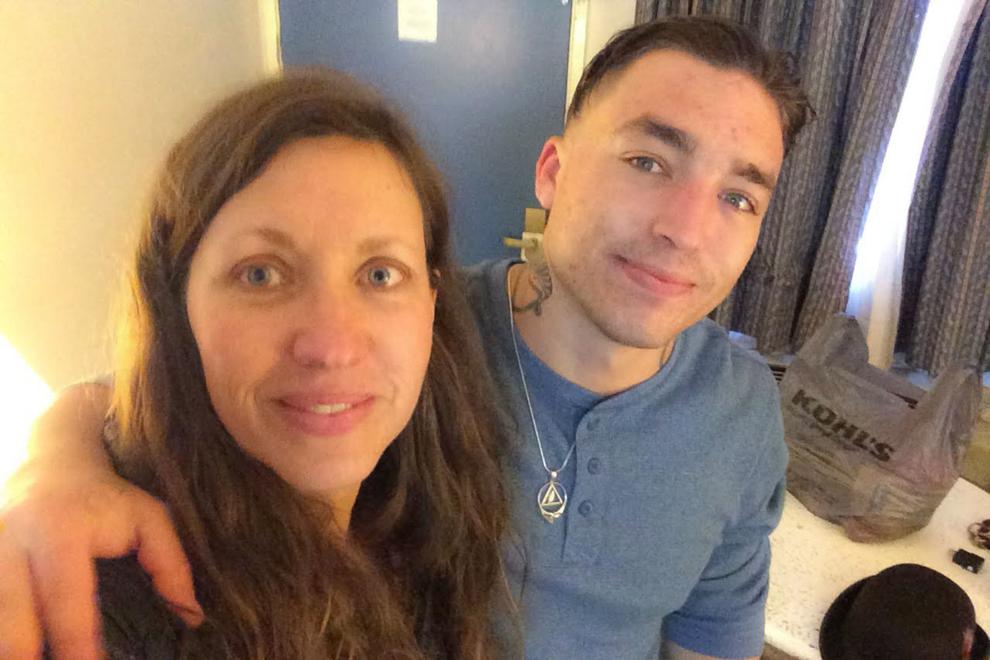 "He's not in his body anymore. I get that," said Josiah's mother, Liz Hilderbrand, of Piercy, Calif. But "I gave birth to him. I literally made those bones. Those bones came from my body. I want them back."
Her son, an animal lover like herself, had trained as a volunteer firefighter and hoped to take classes to pursue wildland firefighting as a full-time job, Hilderbrand said. Josiah Hilderbrand "was still finding his way" at age 25, his mother said. He didn't deserve what happened to him.
"He was literally handled and treated like litter. ... He was killed; he was murdered and he was dumped. He was thrown out like he was garbage. I have a real issue with that," she said.
"I feel like when we come into this world, we are surrounded by people who love us. We enter this life in love. When we depart, however that is, there are people around us. ... Even as something (like) a car accident ... the body is handled with love. They pick up with the body with reverence. My child wasn't treated that way."
Even on dark days, Hilderbrand is hopeful her son will be found. "And when they find him, they will pick him up gently. He's going be handled gently, with care."
Others tell her and Cleary's family and friends it will get better. Time has blunted the early horror of first learning the men went missing and were presumed murdered, but it also takes a toll.
"You're further away from the initial shock, but you're also further away from seeing your child," Hilderbrand said. "As time goes on, I'm further and further away from him."
'Senseless tragedy'
She marked June 7 — the same date Josiah Hilderbrand graduated from high school in 2012 — with a small ceremony and social media posts. Cleary's family and friends shared favorite memories and photographs. They had dreaded the day but wanted to remember the men the best ways they could.
"My heart goes out to the family of Josiah Hildebrand. My family understands their pain," Wesner wrote. "My family will never recover from this senseless tragedy."
They have gotten support from many in the Yakima Valley and beyond on the Yakima Scan Missing Persons page on Facebook and keep in touch with investigators through phone calls and texts. Hilderbrand also posts regularly on her Help Bring Josiah Home page and her personal Facebook page.
But some relatives and friends avoid reading news stories or social media posts about the cases. It's hard enough to know Cleary and Hilderbrand disappeared doing something they loved — good friends traveling to see Dead & Company and meet up with more friends for camping and music and great times.
"Jon and Josiah were on their way to see a show. Just two beautiful people driving to see a show," Wesner wrote.
Dozens missing and murdered
Cleary and Hildebrand are among people of all ages listed as missing in and around Yakima County, at 4,296 square miles the second-largest county in Washington. Within those 2.7 million acres is land that ranges from Mount Adams and its snowy slopes to densely wooded back country and rough high desert.
It's also land of the Yakama Reservation, with 1.3 million acres that straddle Yakima and Klickitat counties. Dozens of Native women and girls, men and boys have gone missing, have been found murdered and have died mysteriously on and around the reservation in cases that stretch back over decades. Most are unsolved.
"The state officials/government need to be made aware and do something drastic for the people of the Yakima area and lands," Wesner wrote. "From my research, there are too many people missing and many unidentified remains found, and too many young women missing in this area.
"Something needs to be done. There is a problem in this area and action needs to be taken so this heartbreak of good people and families can end. People that are traveling through this area needs to be made aware, also."
Cleary and Hildebrand's disappearance happened the day before five people were shot to death in the 5100 block of Medicine Valley Road in White Swan on June 8, 2019. James Dean Cloud was indicted on first-degree murder charges in February in U.S. District Court. He and another man, Donovan Quinn Carter Cloud, face several federal charges.
Authorities don't comment on any possible connections between Cleary and Hilderbrand and the killings that happened later in the day their car was found, but family and friends have followed the White Swan cases closely.
"The suspects went on a rampage and murdered five additional people the day after my brother went missing," Wesner wrote. "I will not go there and share how I feel about these 'things' they have in custody. They destroyed many families, broke many hearts and the worst part they took lives that weekend; acts that are unforgivable to me."
Jim Curtice, the Yakima County coroner, knows the anguish families suffer as they hope for any information that could lead to their missing loved one. Earlier this year he added a chocolate Lab named Justice to his efforts to find missing people or their remains, anything that is left of them.
"We've been out at least once a week. There's been a couple weeks I haven't been able to, but I at least try to get down there once a week," Curtice said.
Among the areas he's searched is part of Marion Drain, a lengthy irrigation canal. Curtice began at the intersection of Lateral B and Yost roads and headed to Highway 97, went a mile south and then east of 97.
"It just seemed like a logical place," he said. "I'm hopeful. We're still looking."
Until they are found, Hilderbrand and Cleary's loved ones await any news that could bring them home. Wesner misses her brother and her best friend.
"I'm sending you all my love, Jon. I am with you and you are with me, always," she wrote.