TOPPENISH — Iylani Ike stood late Wednesday morning in front of relatives, community members, Yakama Nation Tribal School teachers and fellow students. She was nervous, but what she had to say was important.
After introducing herself in Ichiskíin — the language spoken by the Yakama people in Washington, Oregon and Idaho — she explained why she chose to organize the Every Child Matters Awareness Walk from the tribal school to the Yakama Nation RV Park.
"I am the grandchild of boarding school survivors: my great-great-grandma Walsah Lumley; my great-great-grandpa Hampton Lumley; my great-grandma Hazel Lumley; my great-grandma Daisy (Tal-Li-Wah) Ike and my grandpa Fredrick Laddie Ike Jr.," Iylani said, referring to the Native American boarding schools that sought to assimilate Indigenous children into white society.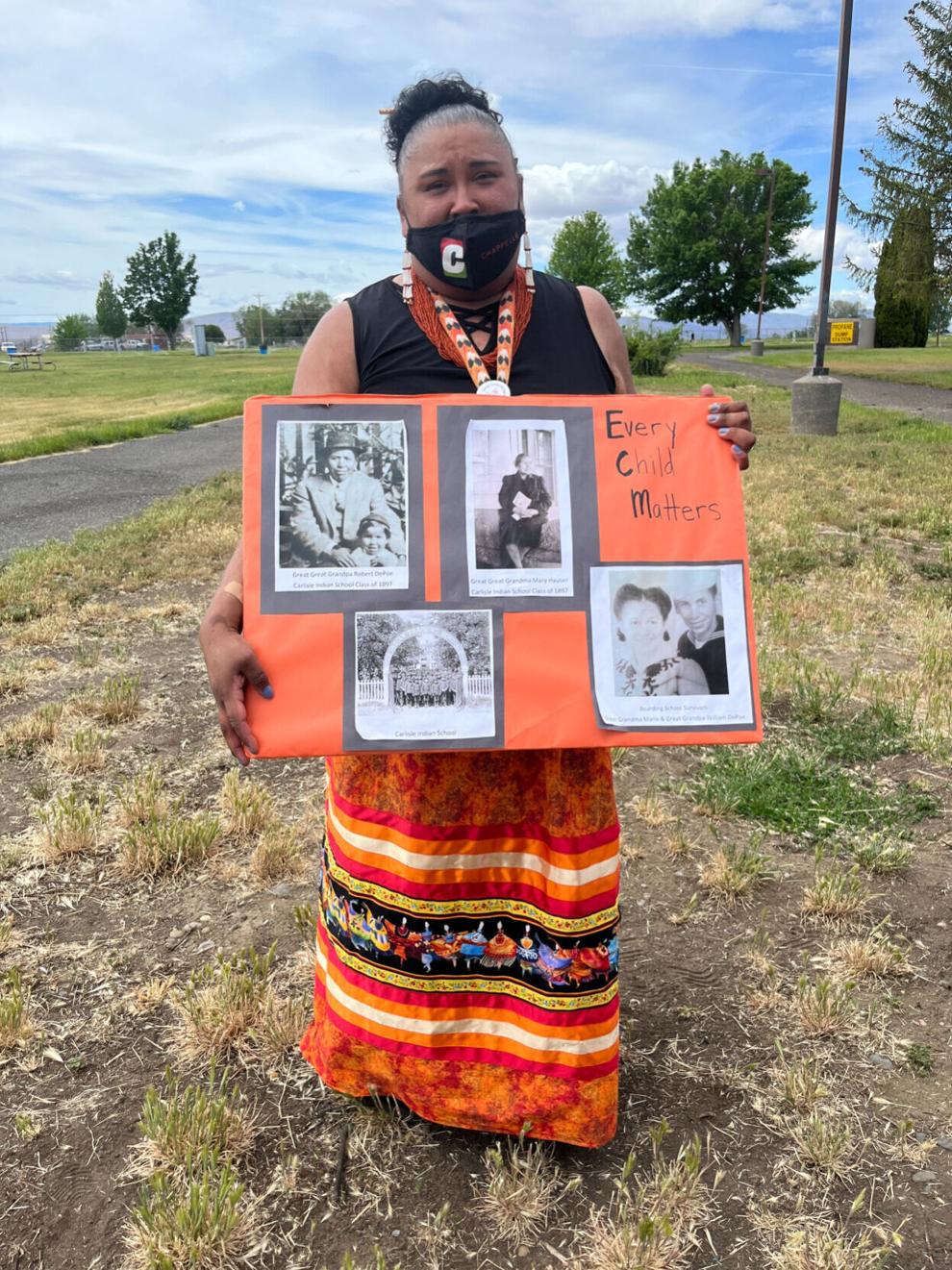 "And the reason I chose to do this as my senior project was because I want to raise awareness for our elders that still need to be found and the ones that didn't make it home," she added, "and the ones that did make it home but still suffer from the traumatic experiences."
Ilyani spent about two months organizing the walk, which was preceded by a school assembly, and the gathering afterward at the RV park. That included coordinating with Yakama Nation Tribal Police and other law enforcement for escort and intersection closings for the walk from the school to the RV park; White Swan Ambulance Service, Yakama Nation Land Enterprise and the Yakama Nation Diabetes Program, which sponsored the T-shirts with Iylani's artwork.
Several of her relatives traveled from the Warm Springs Reservation in Oregon to support Iylani as she led the events and spoke with emotion near the Land Enterprise building. Her aunts Louiza Umtuch and Julie Umtuch spoke and her mother, Felicia Ike, attended. Good friend Emma-Anne Oates, who worked with Iylani on the project, stood with her as Iylani read the speech she had prepared.
Recent federal report
Iylani mentioned the thousands of unmarked and marked graves of Indigenous children who died at the boarding schools they were forced to attend after being torn from their families and their culture. A study of Native boarding schools by the U.S. Department of the Interior released on May 11 identified deaths in records for about 20 of the schools. That figure is expected to grow substantially as research continues.
More than 400 Native boarding schools established or supported by the U.S. government were known to have operated across the country starting in the early 19th century and continuing in some cases until the late 1960s.
They included one at Fort Simcoe outside White Swan that operated from 1860 to 1922 at the then-former U.S. Army installation. Boys' long hair was shorn, and Yakama names conferred in religious ceremonies were discarded as the students were baptized as Christians and given "proper" Christian and American names.
"Back then our elders' voices weren't heard loud enough. So now I want to break the barriers of historical trauma and make the elders proud of who you shall become," Iylani said, "and succeed now as we let our people's voices be heard."
The May Department of Interior report also lists St. Joseph's Boarding School in North Yakima, which was operating in 1888-89, according to a Yakama Agency report in 1889. That report also mentions the boarding house was destroyed by fire.
Many of the estimated 120 students, teachers and others who participated in Iylani's awareness walk wore orange in honor of Canadian Native boarding school survivor Phyllis (Jack) Webstad. Her precious orange shirt was taken from her after she arrived at the school in the 1970s.
"Every child matters! Every Native matters!" participants shouted. Many carried handmade posters, some with photos of relatives forced to attend boarding schools.
Community support
Ilyani's teacher and adviser, Dawn DePoe-Ike, carried a poster with black-and-white photos of the Chemawa boarding school in Oregon and relatives who survived Native boarding schools. They included her great-grandparents Marie and William DePoe and her great-great-grandmother, Mary Hauser, a Sand Creek Massacre survivor who attended the Carlisle Indian School.
Hauser met and fell in love with Robert DePoe at Carlisle, DePoe-Ike said. The couple became teachers and established day schools on reservations to counter the devastating impact of the government- and church-run Native boarding schools, she added.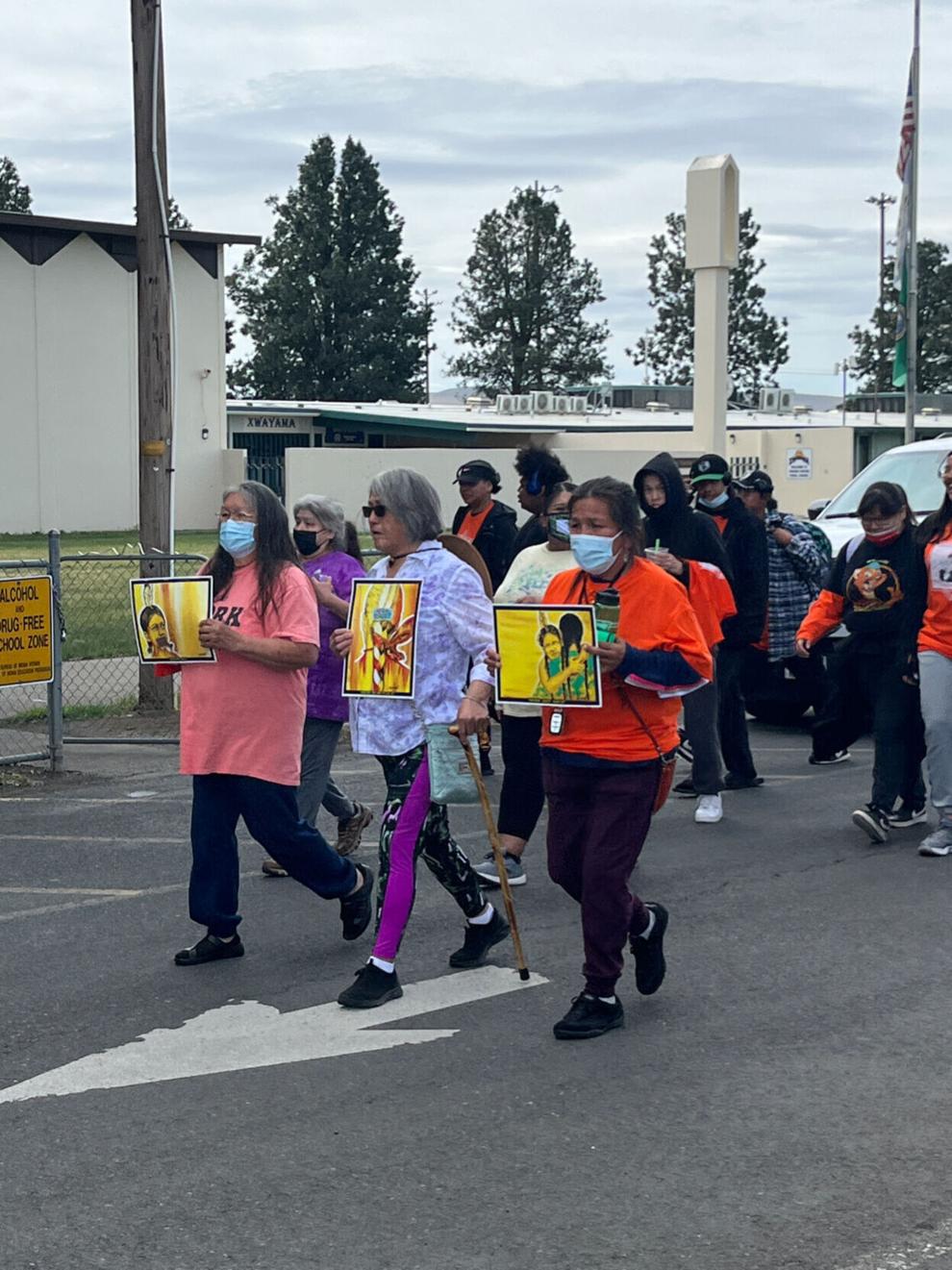 DePoe-Ike stood with Iylani, Oates and John Scabbyrobe, who drummed and sang before Iylani spoke. She and Iylani's aunt, Dawn Ike, praised Iylani afterward as Iylani visited with her relatives.
"Iylani did all of this with her family," DePoe-Ike said. "I'm so proud of her."
Though she was nervous, Iylani was pleased with her senior project. "I feel it turned out to be very good," she said.