In an effort to stop rocks or other debris from falling onto Interstate 82, the state Department of Transportation is placing large shipping containers filled with concrete barriers between the interstate and Thorp Road.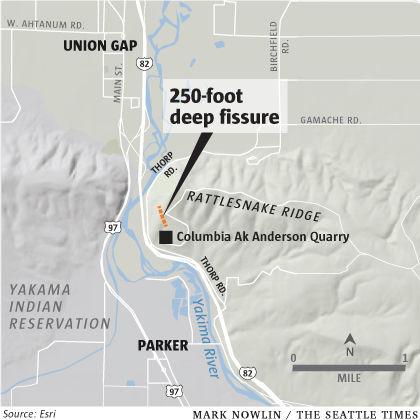 Officials began setting up the containers this week over concerns of falling rocks from Rattlesnake Ridge, where massive cracks have opened several hundred feet above the road.
The containers are meant to protect the interstate from rockfall only and aren't meant to protect it from a full-scale landslide, said Summer Derrey, a spokeswoman from the state Department of Transportation.
Should officials detect any potential danger to drivers, Derrey said the department will take the necessary steps to protect them.
"At the first sign of excessive movement or increased frequency of rockfall, our crews will close the interstate as a precaution," she said.
If the department closes the interstate, traffic will be diverted to U.S. Highway 97, Derrey said.