Grandview residents should be on the lookout for a metallic green beetle that can destroy lawns, flowers and plants.
The Washington State Department of Agriculture is catching Japanese beetles by the thousands in Grandview and some surrounding agricultural areas. The invasive species, which is typically found in the Midwest and East Coast, devours more than 300 types of plants including roses, grapes and hops, said Karla Salp, public engagement specialist at the state Department of Agriculture.
"There's a wide variety of types of crops they can eat, which is concerning for both agriculture and home gardeners," Salp said.
In 2020, WSDA caught two Japanese beetles in Grandview and one in Sunnyside.
"It's a little odd that we caught three in traps last year and this year we're catching thousands," Salp said. "It's a much larger infestation than we ever could have possibly anticipated from catching three last year."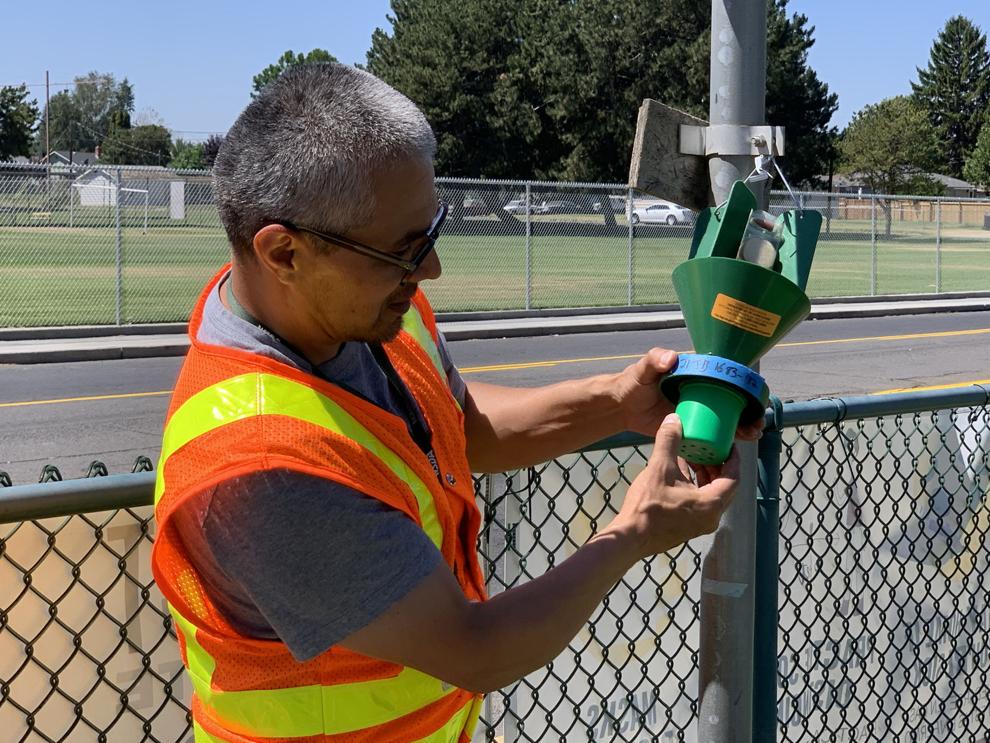 In March, a Grandview resident reported picking more than 75 beetles off her roses in one day the previous summer. At that point, WSDA realized the Japanese beetle had already been in the area for a couple of years, Salp said.
On the first day of checking traps at the end of June, the WSDA reported 415 beetles caught.
The first step for eradication in Yakima County is to trap and find out the extent of the infestation, she said.
In Japan, the beetles have natural predators to keep them in check in their ecosystem. But Japanese beetles are an invasive species in the U.S. since they didn't evolve here. The insects first arrived in the U.S. in New Jersey in 1916, according to the U.S. Department of Agriculture.
"They become a disproportionate problem when they're out of their native habitat," Salp said.
Identification
Japanese beetle grubs, or beetle larva, feed on grass roots and can destroy lawns, golf courses and pastures. The adult beetles attack ornamental plants, vegetables and flowers, said Michelle Moyer, associate professor and extension viticulturist at Washington State University.
Homeowners will first notice dry spots in their yard from grub, and then they might notice the adult beetles on their rose bushes or vegetables, she said.
"Home and urban settings tend to be places where these beetles do quite well because there's a lot of food sources for them," Moyer said. "The challenge with Japanese beetles is that they're a prolific breeder."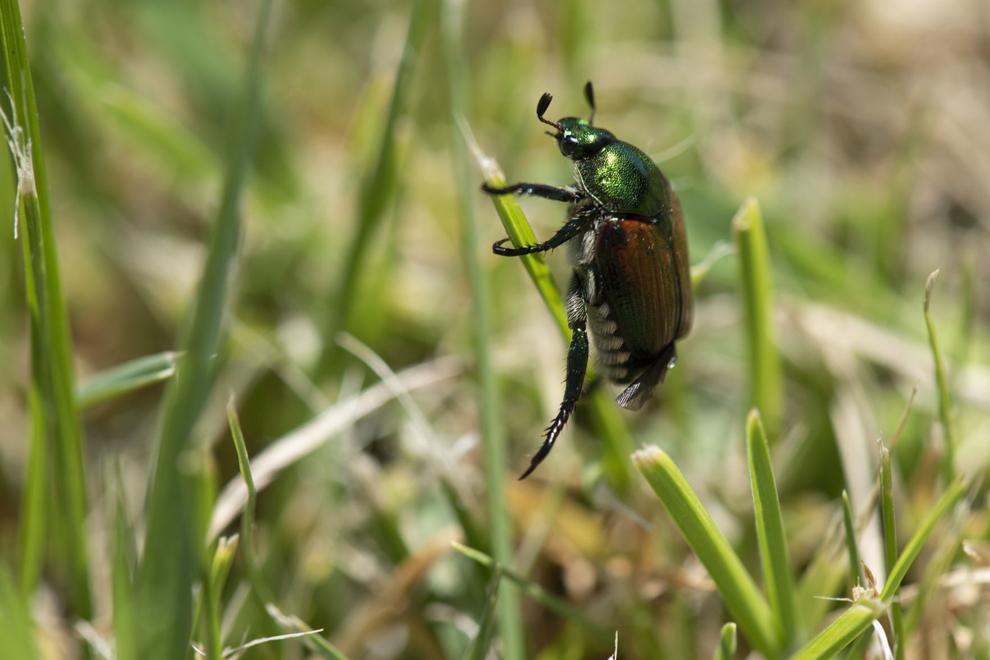 Every female Japanese beetle can lay up to 130 eggs, Salp said. The more beetles that are taken out of the environment now, the fewer will be around in the coming years.
Before beginning treatment, people should make sure the insect is a Japanese beetle.
The adult beetles are about half an inch long and a copper-green color. They have five white patches of hair along the side of their abdomen and two white patches at the tip of their abdomen.
The grubs are found under turf and are about an eighth of an inch long, have six legs and their bodies form a "C" shape.
Report if found
If you find a Japanese beetle, report it online at agr.wa.gov/beetles. You can submit a photo in the report and WSDA will let you know if it's a Japanese beetle or not.
Another way to determine if you have Japanese beetles is to set up a trap, Salp said. Hanging traps can be purchased at Bleyhl Co-op in Grandview.
Japanese beetle traps are bags that have a funnel at the top with stiff plastic over it. The beetles are attracted to the pheromones in the trap and fly to the top of the funnel. The beetles cannot hold onto the plastic material and fall down into the trap.
Once a trap is full, residents can drop it off at Bleyhl Co-op and the WSDA will pick up the bags of beetles.
One trap can attract beetles from a large radius, which means in an urban setting, every neighbor does not need to have a trap, Moyer said.
"You don't need to have that many traps," she said. "Maybe have a trap for every other yard or if you're in a neighborhood group, you can get together and do a neighborhood watch for beetles."
Pesticides
If you've seen a Japanese beetle on your property, then you might want to consider dealing with it.
Pesticides used to kill Japanese beetles are chemicals that have been formulated for homeowner application, Moyer said. They do not typically require a license for application.
People should decide for their own comfort level if they want to use pesticides themselves or hire a commercial service, she said.
If people decide to treat their own lawn or plants, they should be aware of any personal protective equipment requirements identified on the label. A pesticide may require eye equipment, gloves, long sleeves, socks, shoes, a respirator or mask.
People should also note the recommended time after you apply a product before it is safe to re-enter the area, Moyer said.
"It is important that you get pets, family members and neighbors off the lawn area for that treatment period so no one gets sick," she said. "Some (pesticide labels) say it's safe to re-enter as soon as it's dry and some say once you treat it you have to wait several hours or a couple of days."
It's also important to look at the pre-harvest interval, or length of time after you apply a product until it's safe to eat or consume the plant or garden vegetable. If you want to consume your vegetables right after treatment, you may have to look for a particular spray that has a short interval, Moyer said.
Reduce spread
Homeowners in Grandview should work together to eradicate the invasive species, Moyer said.
"If you're in Grandview, don't dig up rose plants and give them to your neighbor," she said.
While insects do move to new regions on their own, human activity is typically the reason invasive species travel to different areas at a fast pace, Moyer said.
Ordering plants online from out-of-state nurseries can cause pests to arrive in the state. People should check state quarantine rules and restrictions.
"Most invasive insects end up in the state by hitching a ride on a vehicle or an inadvertent introduction of plant material that people are shipping from out of state, when they shouldn't be," she said.