Community feedback on two proposed Yakima School District levies has been positive but minimal, school officials said Monday.
During a public information opportunity at Washington Middle School on Monday evening ahead of a strategic planning meeting, about a dozen people asked for information on the four-year levy proposals, said district communications director Kirsten Fitterer.
Board member Martha Rice said community discussions had been largely positive, adding that things are in the early stages. She said if the board approved putting the levies on the ballot, a separate committee would begin campaigning, which would spark more community conversation around the topic.
"I think there are the beginnings of awareness in the community," she said.
The meeting was an opportunity for community members to provide input before the school board decides whether to place a $2.50 education programs and operations levy and $0.54 capital improvements levy per $1,000 in assessed value on the ballot.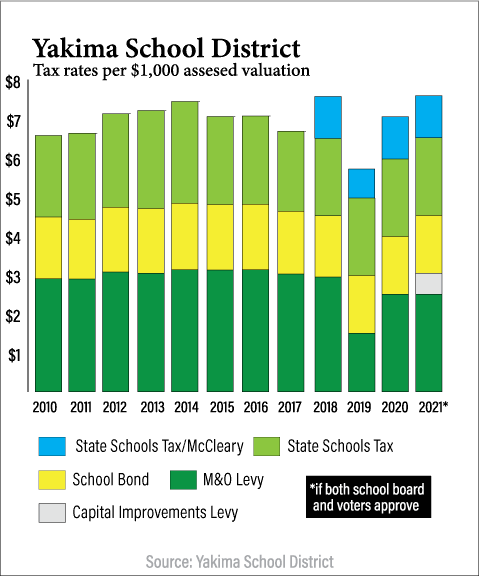 The two levies were recommended by the district's levy advisory committee. The board is expected to vote on whether to place the levies on the ballot during a Tuesday business meeting.
The decision comes as the district's existing four-year levy is set to expire in 2020. The new combined dollar amount of $3.04 per $1,000 in assessed value would be the same amount as voters approved locally four years ago.
But local and state school taxes have been revamped significantly in recent years, making the conversation more complex.
Funding changes
In 2018, the state increased statewide school taxes that would be redirected to districts and created limits for local levies in response to a lawsuit in which the state was found not to be fully funding basic education.
Local levies were capped at $1.50 per $1,000 in property value and their use was limited to enrichment programs, meaning things like general education teacher salaries couldn't be paid for with local dollars.
In the Yakima School District, this meant that local dollars brought in by education levies were cut roughly in half from $14 million in 2017 to $7.9 million in 2019, according to Yakima County Assessor records.
At the same time, state taxes increased by about a dollar per $1,000 property value, and the money was redirected to districts statewide.
Looking at the combined district dollars countywide, property taxes collected for schools in Yakima County increased during this time from about $104 million in 2017 to $113 million in 2019, county assessor records show.
In the 2017-18 school year, the Yakima School District's revenue — including local, state and federal funds — was about $214 million, according to district budget reports. The following two academic years, district revenue has hovered around $235 million.
Despite the increase in state taxes, the majority of districts statewide reported being negatively impacted. In addition to the funding changes, lawmakers removed salary guidelines, districts statewide increased teacher salaries and the state added new limits on how local taxes could be used.
In 2019, lawmakers raised the cap for most districts to $2.50 per $1,000 property value, or $2,500 per student — whichever is less. Seattle schools had a higher limit.
Districts also are allowed to run capital improvement levies for things such as technology contracts and building maintenance or repair, freeing up some general fund expenditures.
Levy proposals
On Monday, the Yakima school board accepted the levy advisory committee's recommendation for each levy amount and duration. At this point, the board can either vote to put them on the ballot as proposed or deny them, but it can no longer adjust the amount or duration, said board President Raymond Navarro.
He said the board intends to vote during its business meeting at 7 p.m. Tuesday at the district office, and there will be an opportunity for public comment beforehand.
If the board votes in favor of both levies, the new education levy alone would return local funds in 2021 to around the 2017 rate of $14 million, since property value has increased. If passed, the levy would also be matched by local effort assistance funds by the state, making up roughly $30 million in total.
The district would also receive a portion of the increased state school taxes.
The capital improvements levy would bring in another $3.2 million the first year, which could be used for technology contracts and address deferred maintenance.
Yakima school officials say the total $3.04 levy per $1,000 assessed value would help the local budget, which is expected to go into the red in the 2020-21 school year. They say this would help stabilize local funds for schools at a time when state dollars are fluctuating year-to-year.
"I get a lot of feedback," said Navarro. "I have gotten some negative comments but overall it's been very supportive from our community. They know that to continue, the levies are very important in terms of our school district educating our kids. ... Overall, we have a lot of support for it moving forward."