Sometime on March 9, Mona Renee Vallo died near a busy highway in New Mexico.
Passers-by discovered Vallo's body that day on U.S. Route 66, New Mexico Highway 124, mile marker 20, on the Pueblo of Laguna, according to a news release from the FBI field office in Albuquerque. Authorities said the mother of five and grandmother of nine suffered severe injuries that consistent with a hit-and-run crash.
She may have been struck at approximately 7 p.m., the FBI said.
Vallo, a 56-year-old Yakama Nation citizen who was born in Toppenish and grew up and had worked on the Yakama Reservation, was living in Acoma, New Mexico, when she was killed. The Pueblo of Laguna is a federally recognized Native American tribe with a 500,000-acre reservation west of Albuquerque.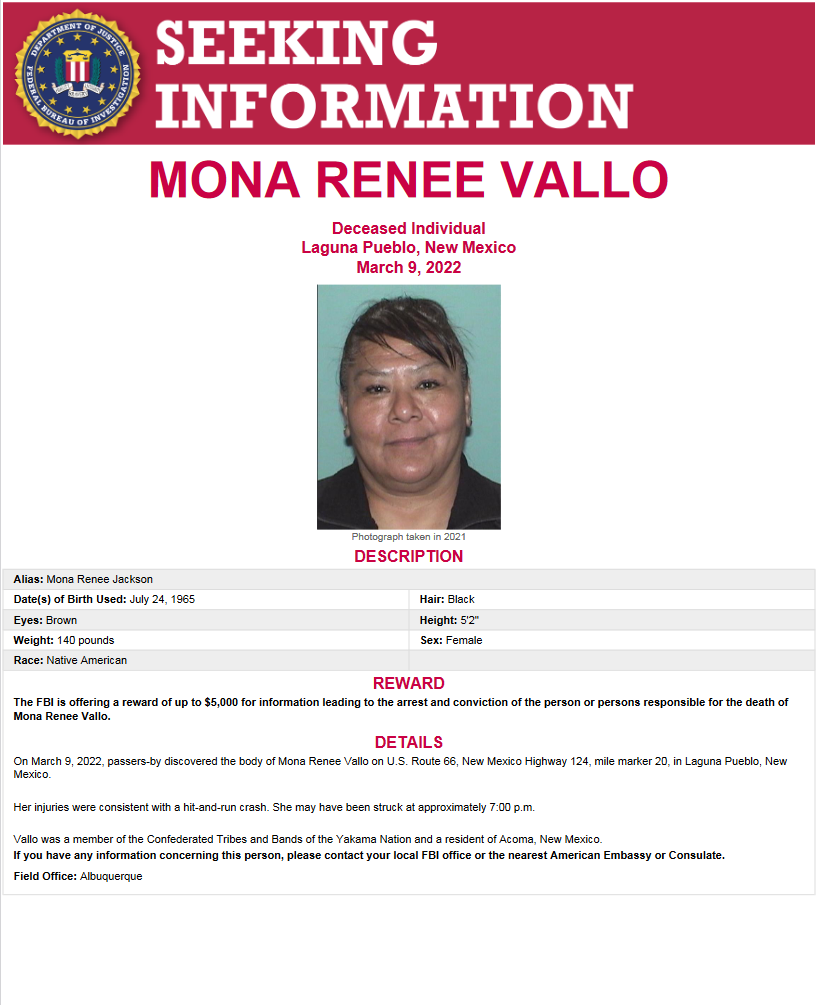 "We are working with the Pueblo of Laguna Public Safety Department to give Mona's family the justice they deserve. The public can help by contacting us if they have any information about her death," said Raul Bujanda, special agent in charge of the FBI office in Albuquerque. The FBI has jurisdiction over most serious crimes involving tribal citizens on reservations.
The FBI has released information about Vallo's case that can be shared on social media, including a photo of Vallo and a poster, at bit.ly/YHR-FBIposter. It's among 48 cases in which the FBI is seeking public assistance and information on missing or murdered victims in Indian Country.
Those Indian Country cases highlighted by the FBI are just a tiny fraction of the unsolved cases of missing and murdered Indigenous women, girls, men and boys on and outside reservations throughout the United States and around the world. The Yakima Herald-Republic's list of unsolved cases of missing and murdered Indigenous women and girls and mysterious deaths includes 36 names, and that list of cases dating from 1957 is incomplete. The crisis has continued over centuries, with devastating results resonating through generations.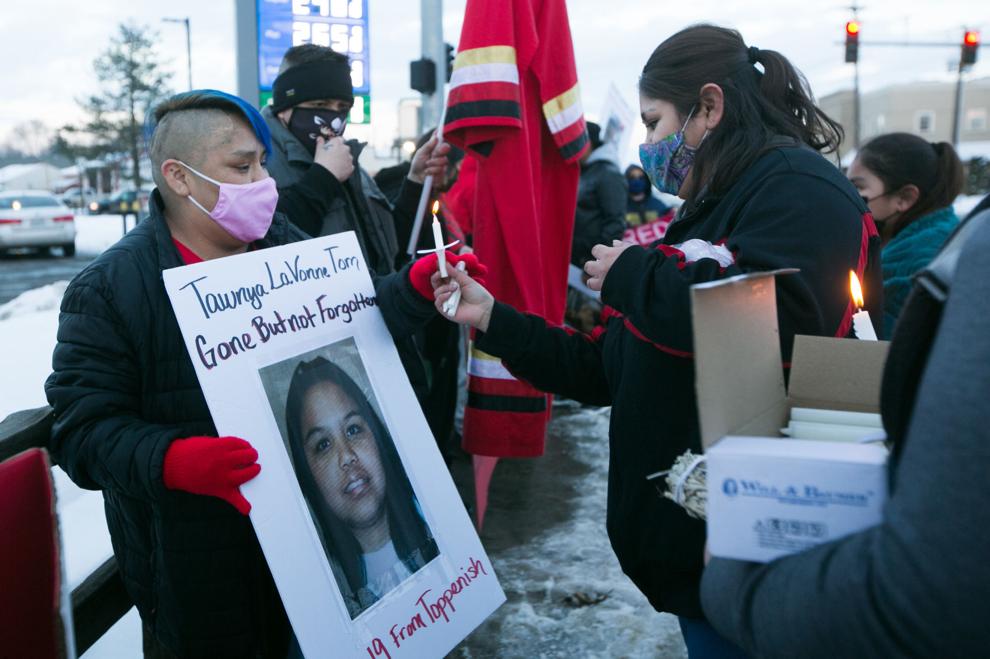 "The deaths of too many Native American men and women remain unsolved," Bujanda said in the FBI's news release about Vallo.
His statement is especially relevant on May 5, a date with a solemn purpose — a national day of awareness for missing and murdered Indigenous women and girls. Montana's congressional delegation in 2016 introduced a resolution for a national day of awareness in memory of Hanna Harris, a Northern Cheyenne tribal citizen who was beaten to death in July 2013. May 5 was her birthday.
Activities supporting May 5 as the national day of awareness started in 2017 on the Yakama Reservation and reservations and cities throughout the United States, in person and virtually and gradually expanding beyond that day to the entire week and the month. Events in Toppenish begin at 9 a.m. Thursday at Yakamart, 111 Fort Road, and end that afternoon at the Yakama Nation Cultural Center, 100 Spiel-Yi Loop.
The morning will start with the opportunity to make posters related to the crisis of missing and murdered Indigenous women and men. Some may choose to include photos of missing or murdered loved ones. Some may carry them during an awareness walk from Yakamart to the cultural center to keep their loved ones in the public eye and ensure they aren't forgotten.
Some families choose to keep information about their missing or murdered loved one private, sharing only within a small group if at all. Speaking about a missing or murdered loved one is difficult, and May 5 brings that to the forefront.
But many are becoming increasingly vocal about their loved one's stories, and sharing posters and flyers during events in high-traffic areas and through social media can be crucial, advocates say. If that happens quickly, tragedy could potentially be averted.
"Flyers with photo and pertinent info are essential in getting the word and a picture of the missing person out as fast as possible to as many people as possible," said Janet Franson, a retired homicide investigator who founded and runs the Lost and Missing in Indian Country Facebook page.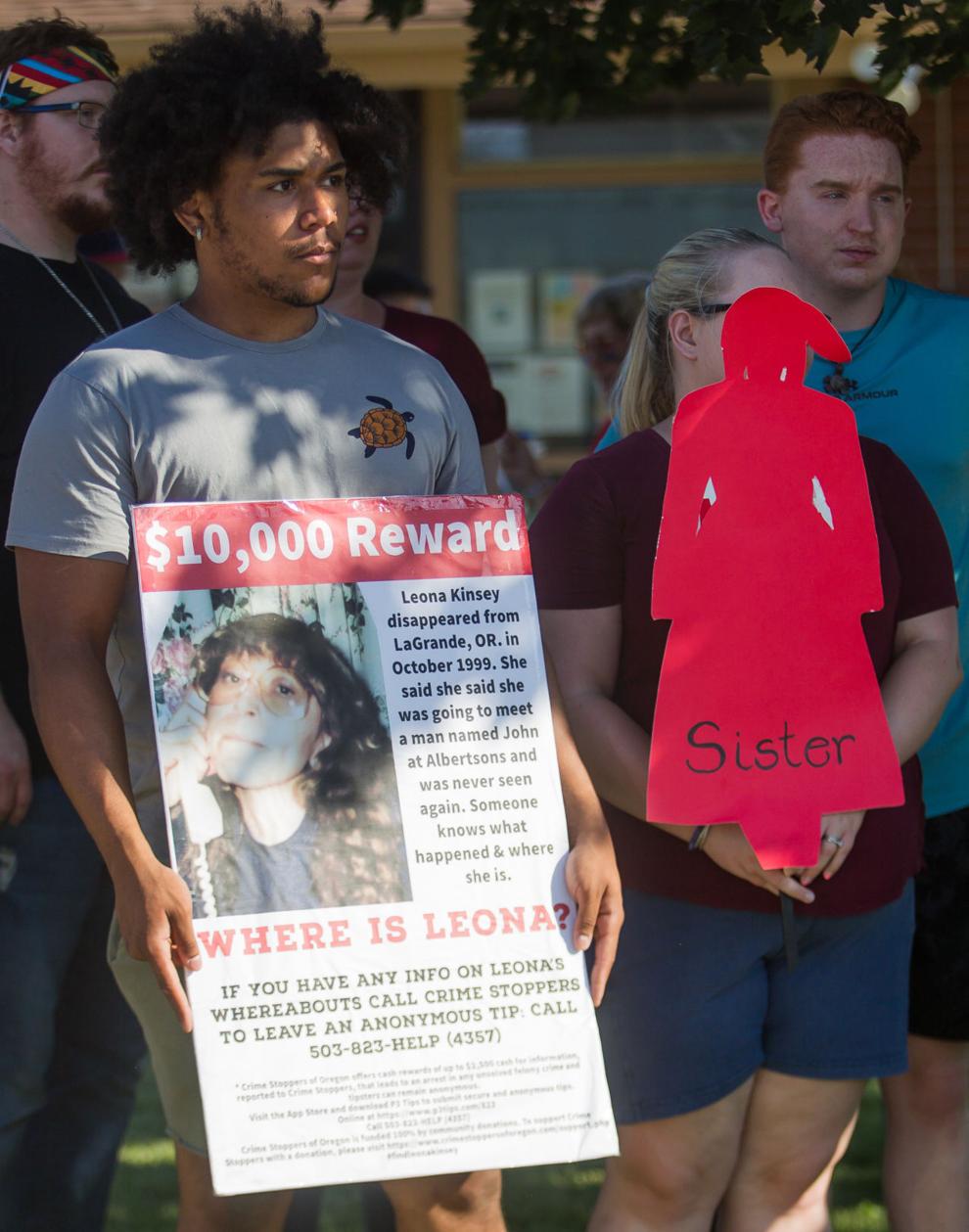 In Vallo's case, the Albuquerque FBI office is offering a reward of up to $5,000 for information leading to the arrest and conviction of the person or persons responsible for her death. Anyone with information is asked to call the FBI at 505-889-1300 or submit information at tips.fbi.gov.
Most Indian Country cases highlighted by the FBI include rewards, including those of Mary Johnson, also known as Mary Davis, and Tina Marie Finley. Johnson was last seen on the Tulalip Reservation in late 2020 and Finley, a citizen of the Coeur d'Alene (Idaho) Tribe of Indians, has been missing since March 8, 1988.
There is a reward of up to $60,000 for information concerning Johnson, who was reported missing on Dec. 9, 2020. The FBI is offering up to $10,000 and the Tulalip Tribe is offering up to $50,000. Tulalip Tribal Police and the FBI's Seattle Field Office are investigating.
In 2017, the FBI announced a reward of up to $10,000 for information leading to Finley's location. She was last seen in Plummer, Idaho, and was reported missing days later, according to the FBI. The investigation suggests she may have been the victim of foul play.
"The FBI and Coeur d'Alene Tribal Police are committed to resolving this case," Special Agent Kevin Dunton said in a news release. "We would like to speak with anyone who has information about Tina's disappearance or details that can help bring resolution and long-awaited justice for her family."
No arrests have been made.
In the past, the FBI has also offered rewards in Yakima County cases, including up to $10,000 for information about the disappearance of Felina Metsker, who was reported missing April 1, 2016. Metsker's remains were discovered that May.
In early 2019, a federal jury found George Skylar Cloud, 22, guilty of first-degree murder and using a firearm in a violent crime in connection with her death. She was killed sometime between March 23 and April 1, 2016.
And in mid-May 2020, the FBI announced a reward of up to $10,000 for information about the June 2019 disappearance of Josiah "Jo" Hilderbrand, who was 25 when he went missing, and and friend Jon Cleary, who was 47 at the time.
The two California men disappeared on their way to a concert in George. Their remains were found in August 2020.
FBI spokesman Steve Bernd said offering rewards and releasing posters are decided on a case-by-case basis after consulting with the respective case agent. Reward amounts are chosen in consultation with FBI headquarters, he said.
"Both are issued to generate tips from the public, many times after other investigative techniques have not resulted in an arrest," he said.