Opposition from neighbors has killed a plan to erect a village of tiny homes for homeless people in Terrace Heights.
The plan called for building up to 25 tiny homes on 2.5 acres behind Spirit Alive Church at 3601 Mountainview Ave. Residents would have been required to meet certain requirements and abide by village rules.
Service provider Camp Hope and Yakima Valley Partners Habitat for Humanity were teaming with the church to make the project happen.
But the plan was met with strong opposition from Terrace Heights residents when it became public.
Hundreds of comments — some for and many against the project — were posted on Yakima Herald-Republic and Terrace Heights community Facebook pages.
Two neighbors complained about the project to Yakima County commissioners during their Aug. 27 business meeting.
Pastor Jeff Allen said the opposition led to a protest at his church and drove away some church members.
Publishing a story about the plan before getting input from residents was harmful, he said.
"We have no intentions at this point of following through on a tiny homes project," Allen said Wednesday.
But other area churches are interested in a similar project, said Camp Hope Executive Director Mike Kay.
"We'll just build them somewhere else," Kay said. "We're not going to back off it. It's a good plan."
Stigma
Kay said the opposition highlights a stigma that's stymied such projects for years in the Yakima area.
He also said complaints residents had about the plan were unfair and inaccurate.
Neighbor Rick Ringer told commissioners he knew nothing about the project until reading the Herald-Republic story.
"I think this would be a horrible fit," he said. "It would affect property values. At some point I may want to sell my house and I'm not going to get out of it what I could if there's a 25-unit homeless camp ... that is my neighbor — 25 units crammed into 2.5 acres."
Construction company owner Mark Jones, who said he plans to build "a half-million-dollar home" on his land nearby, told commissioners a tiny home village for the homeless would only bring problems.
"I've been by these other sites. I've driven down North First Street. You've got people sleeping on the sidewalk. You've got people jumping in front of cars because they're high on something — this is not the case to put it in somebody's church parking lot or in the back of their area and leave people to deal with it later," Jones said. "So, if you like what you're seeing on North First Street, that's what you'll be duplicating in Terrace Heights."
"I think it's a completely unfair characterization of the plan," he said.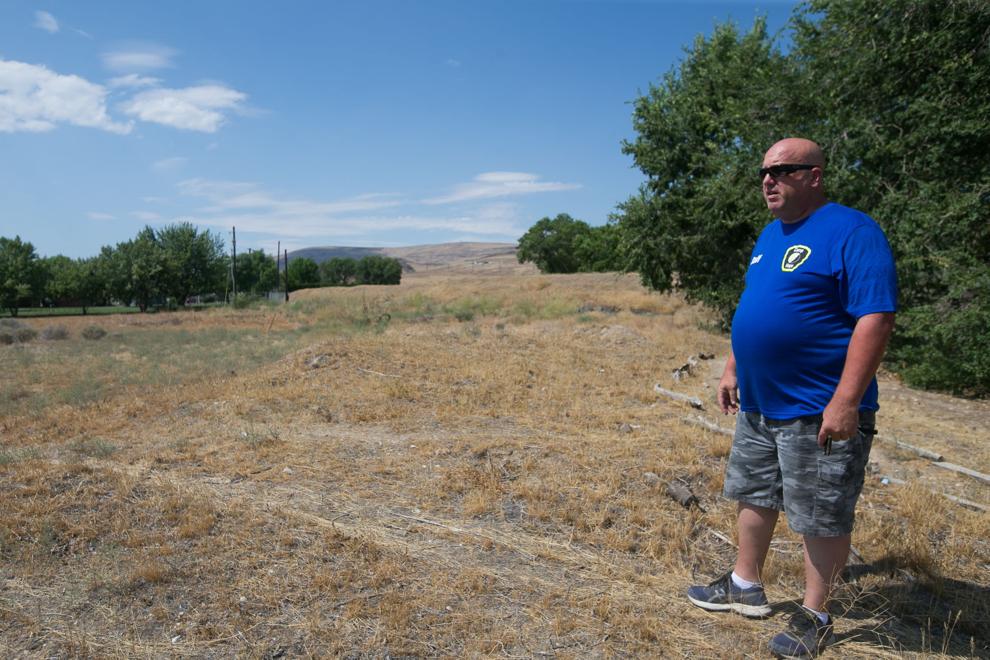 There would have been requirements for people to meet before they can live at the village, he said.
He points to two similar tiny homes that have operated at nearby Terrace Heights Assembly the past three years without any problems.
Alcohol and drugs would not be allowed, and those living there would receive case management and wraparound services, he said.
Village residents would not be pulled directly from the streets, Kay said.
"You're not going to put people in tiny homes that you see involved in what's going on in North First Street," he said. "It's not a flophouse."
The most recent Point-In-Time survey, conducted in 2020, documented 663 homeless people in Yakima County. More than a quarter — 180 — lived on the streets.
Kay and Allen said they were saddened by the negative comments toward the homeless.
Kay said a neighbor placed signs on a fence near the church that said: "We don't want to live next to the pigs on a pig farm."
Allen said upset neighbors protested at his church.
"They were yelling at our people as they were walking into our church," he said. "And because of it, people decided to leave the church. So we decided to move on. That was a project we dreamed about with Camp Hope but it's not a project that's going forward."
Moving forward
Yakima County Commissioners Ron Anderson and Amanda McKinney said they like the concept behind the tiny houses plan, but the public needs more information about such projects beforehand.
"I applaud Mike for wanting to continue to move to solving the homeless situation," Anderson said. "His heart is in helping others live better, to help them step up."
Such projects need community buy-in, McKinney said.
Anderson said he was told about the project without a clear idea of when it would come to fruition.
McKinney said she learned of it two days before the news story was published.
The county's planning department had not been notified about the project. That left neighbors believing it was going to occur without a public hearing or their input, McKinney said.
"It's always important to get a groundswell of support first," she said. "Neighbors didn't know about it. We want everyone in the community to know that there's a process."