The newly christened Centro Chinampa is the first of its kind in Yakima.
Billed as a "one-of-a-kind hub" for workers' rights, particularly for immigrant workers in the Yakima area, the Centro Chinampa opened with a community event that featured tacos, tours and an official ribbon-cutting ceremony Wednesday. The center is at 507 W. Chestnut Ave.
Speakers at the ceremony emphasized the importance of the center as a place where workers and immigrants can organize, learn and educate. In the words of Adriana Cruz, the director of outreach and education for Fair Work Center who organized and spoke at the event, the goal is to facilitate the process so workers build their power.
Organizers also explained the name. Chinampas were floating gardens which pre-colonial Mexicans constructed and communally maintained on lakes throughout the region.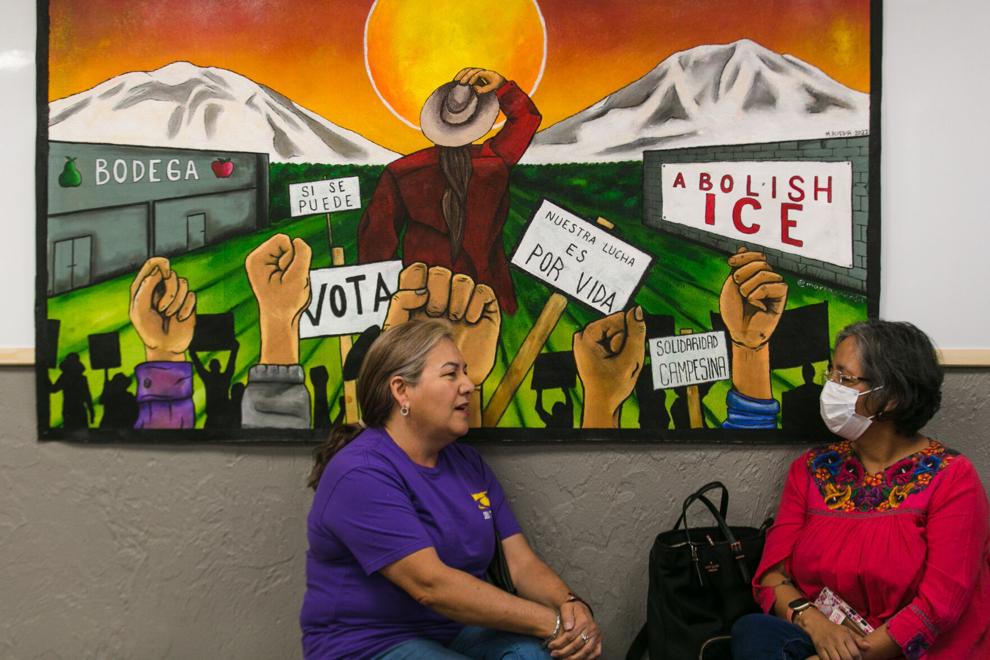 The center is the product of collaboration between many organizations and will host offices for Fair Work Center, which focuses on worker rights, and OneAmerica and the Washington Immigrant Solidarity Network, which focus on immigration advocacy.
The center will provide a place for workers, especially those in the agricultural industry, to access information on a variety of topics, including workers' rights, immigration and legal services. It will also act as an open community space, especially for those who might not speak English or may not be able to access other public resources.
Many community members praised the new center and look forward to having a place where their questions can be answered.
Carolina Valdovinos, who has lived in Yakima and worked in the agricultural sector for 31 years, said the center will help residents, especially when it comes immigrant rights and worker power.
"I think it's a good service for the community," she said in Spanish. "It's good that we have somewhere to go."
More than 27% of Yakima's workers are employed in the agriculture, forestry and fishing sector, according to data from the Employment Security Division from 2020. Those workers brought in 22.5% of the county's total wages.
"This type of worker center has been missing for a long time," said Washington State Labor Council organizer Dulce Gutierrez. "The community itself as a whole benefits when the main income providers of households have a stable income, a stable financial and economic situation, when their personal morale is high and when they don't feel exploited when they come home from work."
Organizers are most excited to offer workers a variety of resources by collaborating between organizations. The Fair Work Center, OneAmerica and the Washington Immigrant Solidarity Network all provide different services and expertise, and they hope that by sharing the Centro Chinampa will allow them to better understand and aid community members in tackling intersecting problems.
"When we get all those programs together, we'll be able to see how we can collaborate more effectively as organizations to tie those issues together," said Fair Worker Center Executive Director Danielle Alvarado. "We know people don't live one issue lives."