Monday was the first day students in Naches Valley School District could play outside at recess since the school year started, Superintendent Robert Bowman said.
Communities near the Schneider Springs Fire have seen sustained high levels of wildfire smoke since the fire started on Aug. 3. Schools in the Naches and Yakima valleys have followed guidance to cancel events or move recess, PE, sports and other activities inside when air quality reaches unhealthy levels.
Yakima has had only six days of "good" air quality since Aug. 3, according to the Washington State Department of Ecology. Yakima County has experienced the most days in air quality categories other than "good" compared to the rest of the state, the department said.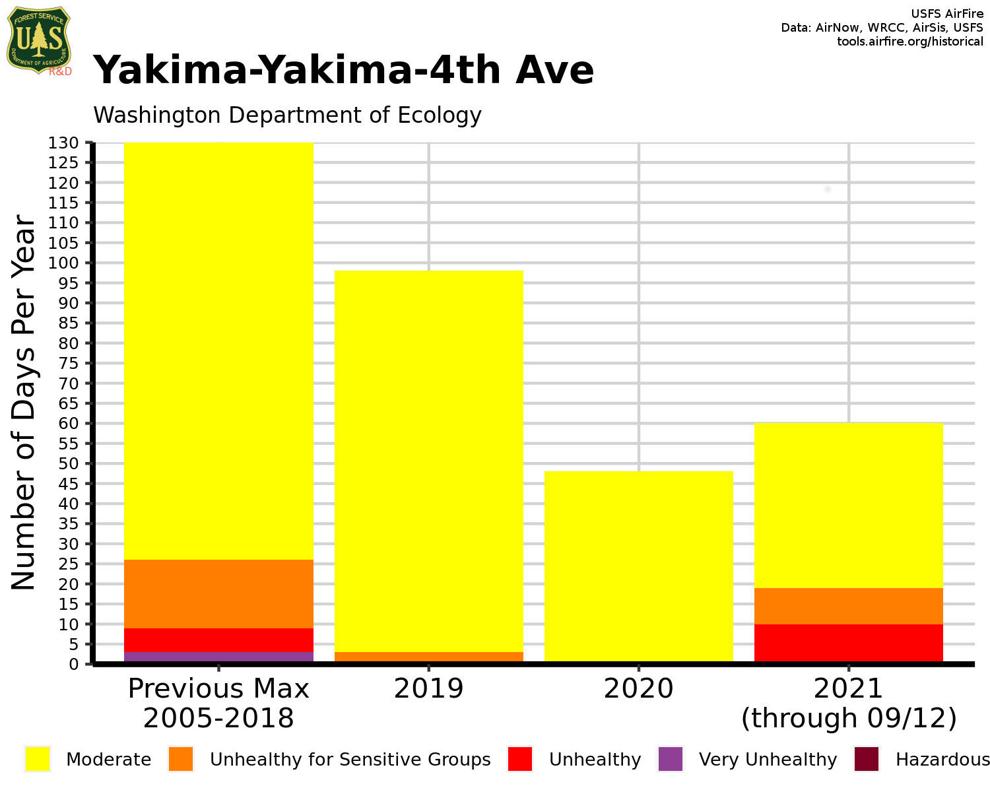 Ariane Sarzotti, an air resource adviser for the Schneider Springs Fire incident command team, said the smoke will continue to settle in Yakima and Naches valleys this week.
But rain in the forecast Friday could help tamp down the fire and the smoke. Once fire activity slows, the smoke will start to decrease, she said.
"I don't foresee seeing any of the (smoke) impacts like we have been seeing after this weekend," she said.
The weather, wind and topography all influence smoke, Sarzotti said, which makes it difficult to predict smoke impact more than a week out.
Smoke impact on schools
The Schneider Springs Fire is 18 miles northwest of Naches. Area air quality has impacted activities at the Naches Valley School District since school started in early September, Bowman said.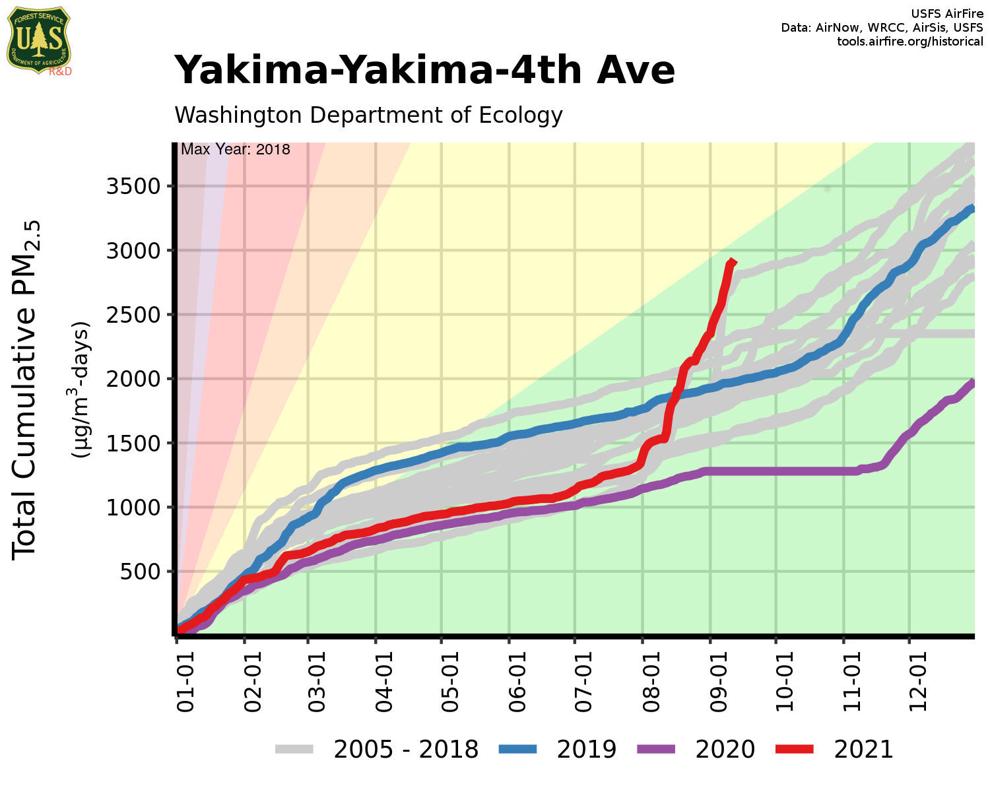 He said the schools didn't anticipate the stress of not being able to spend time outdoors. With PE classes and recess moved inside, it's taken a toll on students and teachers in the classroom. The first soccer game of the season was also canceled, he said.
"I think as a teacher, you feel that," he said. "You feel when kids don't have the opportunity to go burn some of that energy. It just makes the job a little bit harder."
Other schools in the area also have had to move activities indoors or cancel them altogether, Educational Service District 105 marketing coordinator Brittany Kaple said. ESD 105 is an agency that supports 25 public school districts and other state-approved schools in Southcentral Washington.
Some sports teams have moved practice inside. Some games have been postponed or canceled because of smoke, though COVID protocols also have been a factor. Most recently, a CBBN conference cross country meet at West Valley was postponed because of smoke Tuesday.
School nurses have seen health impacts from the smoke. Nurses in have seen more asthma attacks among staff and students, said Mary Lou Shean, the school nurse coordinator for ESD 105.
Shean said it has been a challenge to distinguish between symptoms from smoke exposure or symptoms from COVID-19. Students have had to miss school to be tested for symptoms that might otherwise have been attributed to poor air quality, she said.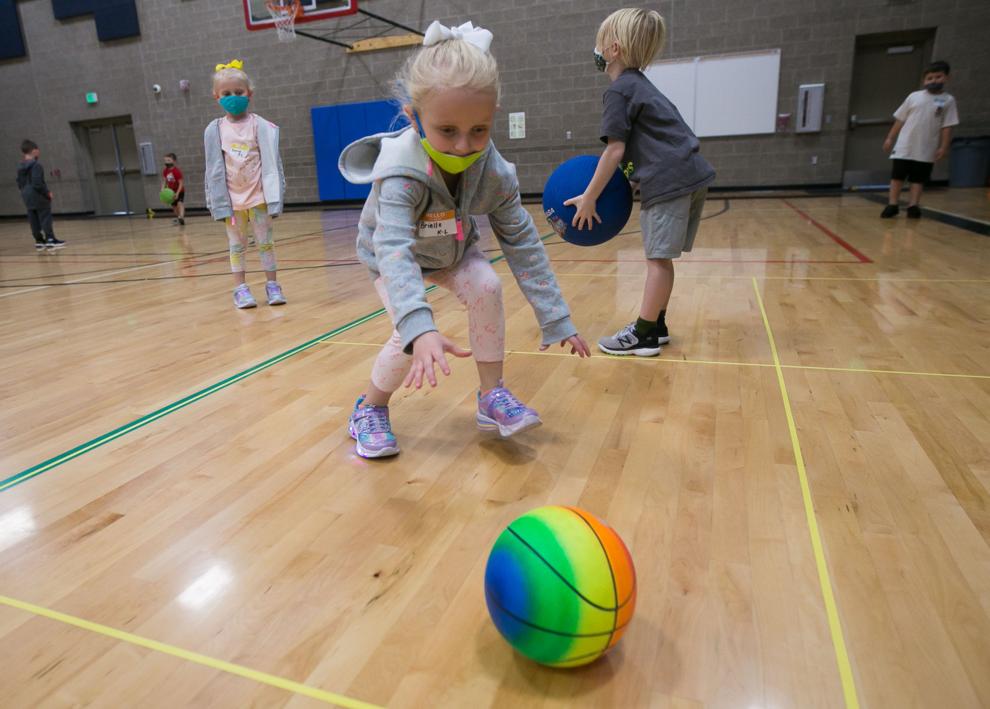 State guidance
Naches Valley School District, Yakima School District and other schools in the area use guidance from the Washington Department of Health to determine whether outdoor activities can continue. The department outlines recommendations for schools in areas experiencing air pollution.
When the air quality is categorized as "good," there are no restrictions on school activities. When air is considered "unhealthy" the DOH advises schools to keep all students indoors, and to cancel athletic events and practices, or move them to an area with good air quality.
The state Department of Ecology uses its own air quality measure, called the Washington Air Quality Advisory, or WAQA. It's different than the Air Quality Index used by the U.S. Environmental Protection Agency and available on websites like airnow.gov.
The state's WAQA shows the health effects of fine particle pollution at lower levels than the federal Air Quality Index or AQI, and is more protective of people's health, the department said. Schools that use the state recommendations for school activities and air pollution measure air quality using the WAQA.