Dr. Noah Qualls is one of Yakima's newer specialists. An OB/GYN, he spent two months of his residency working at Yakima Valley Memorial's OB/GYN department, then was recruited to work there permanently.
He said a positive experience working in Yakima County made him want to stay. And his experience working here has shown him the need for specialists in the community.
"I got to work with a great group of people and with this hospital system (Memorial) for an extended period to get a feel for what this community was like and what this hospital system was like," Qualls said. "I came away from that with a really positive experience and impression and also of the community. I got the sense the community really values the doctors here and that there was already a huge need, an unmet one for both obstetric and gynecological care."
The COVID-19 pandemic, a fluctuating housing market and an aging workforce have contributed to a physician shortage locally and nationally, and a need for specialists is apparent in rural areas like Yakima County. Hospital recruiters are scrambling to meet the community's health needs while competing at a national level for health care providers.
At Yakima Valley Memorial Hospital, recruitment efforts are partially focused on specialists. Dr. Tanny Davenport, who has been leading the search for new specialist hires at Memorial, said recruitment has been successful but challenging.
"In the last few months, we've had two new obstetricians/gynecologists. … We have a new rheumatologist and we have a new infectious disease doctor. We also have two new general surgeons who are joining us," Davenport said. "We're still looking to fill positions for hematologists, gastroenterologists and pulmonologists, all of which have been historically difficult to recruit for."
Even with these successes, Davenport said finding temporary specialist physicians to fill the gaps can be difficult.
To make recruitment easier, Davenport said Memorial has partnered with MultiCare, a Tacoma-based health care system currently exploring the idea of a merger with Memorial.
For the past year, Davenport said, Memorial has been working with MultiCare to recruit specialists for its hematology-oncology program with the hope that MultiCare's national recognition would draw more attention from potential recruits.
Davenport said a candidate for the hematology-oncology program visited Memorial in the last month.
When it comes to choosing what specialties to recruit for, Davenport said the decisions are made based on a mix of results from a community needs assessment taken by the hospital and by studying wait times for treatment or referrals for specialists.
"We have a community needs assessment that we do every few years to look at new data and see how many providers we have in each specialty relative to the population, and that really helps in the discussion about what are areas that we need to recruit for," he said. "We also study our current wait times to see what are areas where we have a lot of referrals coming in and if it's a longer period of time than we'd like for patients to see them (specialists)."
Astria Health, which has hospitals in Sunnyside and Toppenish, also is actively recruiting specialists.
Joshua Lipp, Astria Health talent acquisition manager, said in an email the hospitals have had success using specialty companies that share health care providers who want to relocate. Job search websites like Indeed have helped reach potential recruits nationwide.
While a part of recruiting physicians involves making sure spouses or partners can find work, Lipp said in Astria's case, finding nearby housing is another hurdle.
"I think the hardest part right now is finding housing. Since July, the number of homes on the market has grown, but it is very difficult to find a place to live located close enough to the hospitals," Lipp said.
Memorial and Astria use recruitment and retention methods like sign-on bonuses, relocation reimbursements, retention bonuses and internal development programs for positions like Certified Nurse Assistants, Registered Nurse Residency, phlebotomy and pharmacy.
Though no one from Astria Health or Memorial specifically cited this as an issue, on a national scale the aging workforce and aging population have put additional strain on the U.S's supply of physicians.
According to a 2020 census from the Federation of State Medical Boards, the average age of a physician today is nearly 52. From 2010 to 2020, the number of licensed physicians 60 and older went up by 48% percent. During that same period, the number of physicians younger than 50 grew by only 16%.
At the same time, the U.S population is aging. The U.S Census Bureau expects the number of people in the U.S older than 65 to grow from 54.1 million in 2019 to more than 80.8 million in 2040. This will put further strain on health care providers, whose numbers are not growing fast enough to keep up with the demands of an aging population.
New recruitsQualls said he started seeing a large number of patients almost immediately upon being hired. In conversations with patients seeking his care, he said many of them have put off routine gynecological care due to specialists and appointments being hard to find.
Qualls said he recognized the efforts made by family physicians to provide obstetric care for low-risk pregnancies. He also identified a large need for obstetric care for high-risk pregnancies that requires the knowledge of a specialist.
"I think there's a growing population of women who have high-risk medical conditions or who have pregnancies that are high-risk in and of themselves that need OB/GYN care and I think it's challenging for them to find a clinic and to be able to get in and receive that care," he said. "Basically from day one when I got here, I already had a large number of people already scheduled to be seen by me."
Qualls cited a 2009 study from the American College of Obstetricians and Gynecologists that found while 22.8% of women in the U.S live in rural communities like the ones in Yakima County, only 6.4% of the country's OB/GYNs practice in those communities. The study was reaffirmed by the ACOG in 2021.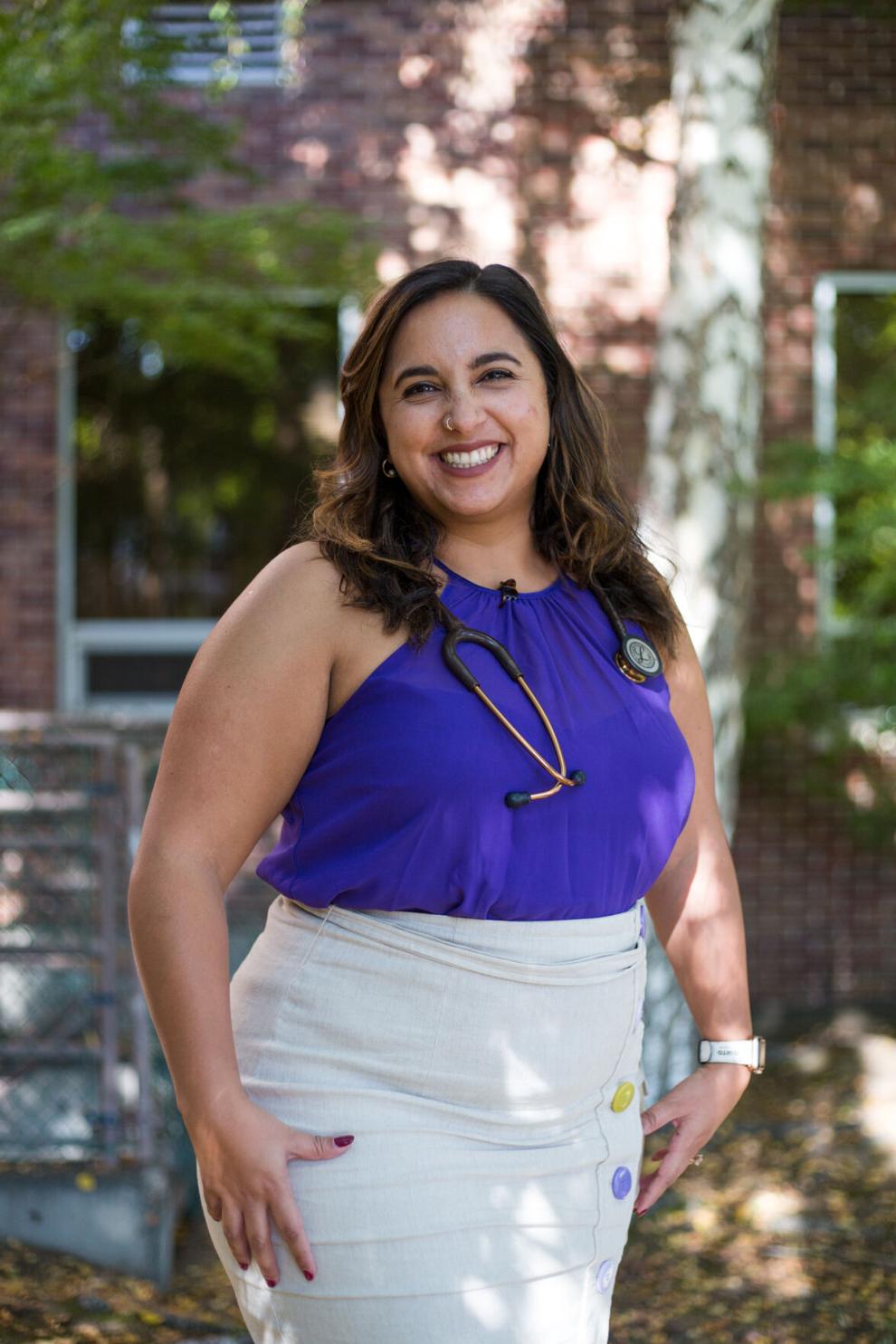 Other recent recruits, like Dr. Maria Del Mar Paredes, an infectious disease specialist who wasn't familiar with Yakima before applying, said the county's rural and largely Hispanic population first drew her to the area.
Paredes did her internal medicine residency at St. Barnabas Hospital in New York City, and later an infectious diseases fellowship at the University of Arizona.
"In my experience after working in community hospitals and academic centers, really what resonates more with me are community hospitals. These are hospitals that are a lot more in touch with their communities. They take a much more realistic approach to medicine and they are a lot more in sync with the needs of the community," Paredes said.
Much like Qualls, Paredes said she was met with a large number of patients early into her time with Memorial. She said she's received referrals from hospitals across the state and as close as Prosser.
Both acknowledged that rural hospitals pay more than their urban counterparts due to long-standing difficulties  recruiting to rural areas, though said there were a number of reasons that attracted them to this area.