TOPPENISH — Melissa Gonzalez and Delia Flores, both 19, say their local library is haunted. And it's not because of the hanging ghosts, paper bats and plastic jack-o'-lanterns decorating the lobby of the Mary L. Goodrich Library.
Rather, it's the creaky noises of the old building, coupled with stories that have circulated among local youth suggesting some type of paranormal activity on the second floor, which is kept locked from library users.
Perched at the corner of Elm Street and Washington Avenue in Toppenish, the two-story brick structure prominently stands with long narrow windows and tall pillars.
Against this backdrop, something as ordinary as a small child coughing was enough to startle Flores one recent afternoon at the library.
"He made a really loud noise and it sounded weird," she explained.
"He sounded strange," Gonzalez added.
Although chuckling at Flores for being startled, Gonzalez concurs there's something dark about the library.
"I think it's haunted ... I mean stranger things have happened," she said. "People have said they have seen stuff."
The stories are nothing new to librarian Tino Godina, who has worked at the library the past three years. He said some previous library workers reported hearing strange noises and footstep throughout the building.
"A lot of people would come in and say 'Hey, is this library haunted? A lot of them would say they've see people in the windows upstairs when they drive by or walk by," Godina said from behind the library counter. "I've worked here for three years and I haven't heard anything or seen anything supernatural. Most of it is like old building sounds, water going through pipes, just creaking, things like that."
But Godina can't help but have some fun with the stories. As an April Fools' joke, he produced a video showing books falling off shelves and cabinets moving seemingly by themselves. He posted it on YouTube and Facebook. He admits using fishing line to move the books and cabinets to create an impression of paranormal activity.
"And it just kind of blew up there a little bit locally and people just started coming in an asking more questions, things about it," he recalled. "You had people like 'Oh, it looks fake' and then you had people come in and say 'Oh, it's really haunted; it's got to be haunted — there's evidence and stuff."
The building, constructed in 1921, is on the National Register of Historic Places and is constructed of wood with a brick facade. Initially a single story structure, the second floor was added in 1931, said city building official cqBill Rathbone.
A group of residents funded the building's construction, and the federal Office of Indian Affairs (now the Bureau of Indian Affairs) leased it from the group and eventually purchased it. The Yakama Nation's government headquarters was housed there until 1944, when it moved to a different location.
In 1948-49, the building held middle school classrooms, and a museum once occupied the second floor, said Jim Thomas, past president of the Toppenish Historical Society.
The library moved into the main floor after the city purchased the building in 1954.
Upstairs is dark, with some desks and other miscellaneous items stored. In the basement is an old heating boiler, pipes and a prison cell with a heavy door and latch once used by the Office of Indian Affairs.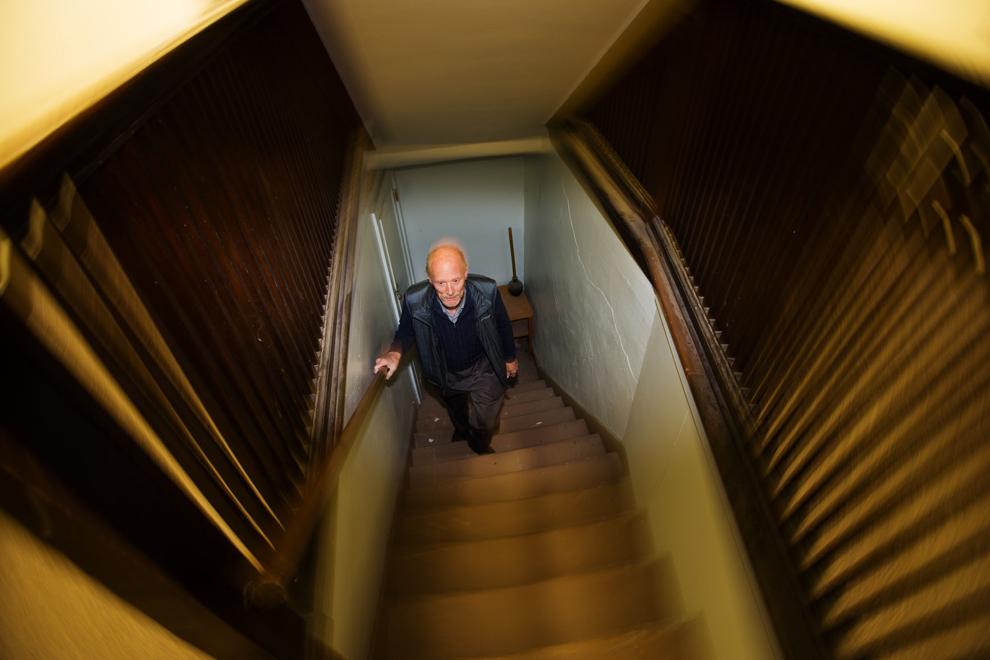 "Buildings of this age have hot water steam heating systems and they're kind of old and creaky," Rathbone said. "Old wood and things like that, so you hear a lot of noises from the heating systems, you hear a lot of noise from the wood expanding and contracting, so that leads to interesting stories about why that might occur and some people believe in the supernatural."