UPDATE 4:27 p.m. - All lanes of Interstate 90 have reopened over Snoqualmie Pass, but chain controls are in effect for anyone without four-wheel drive.  Officials report snow and ice on the roadway.
Eastbound lanes of Interstate 90 are closed over Snoqualmie Pass, the state Department of Transportation reports.
WSDOT officials said they closed the road because of vehicle spinouts blocking the roadway. Eastbound drivers are being held at Denny Creek, about five miles west of the summit.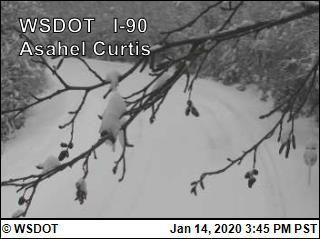 There's no estimate on when the road will be reopened.
For westbound drivers, chain controls are in effect and travelers are reporting 30 minutes of extra travel time getting over the pass.