WAPATO — The extreme heat early Wednesday evening didn't stop Cissy Strong Reyes and others from walking for justice for her sister and other Indigenous people who have been murdered or have gone missing.
Reyes has spoken out for her younger sister, Rosenda Sophia Strong, in all kinds of weather. In the nearly three years since Strong disappeared, Reyes and her cousin, Roxanne White of Seattle, have organized and participated in numerous prayer walks and gatherings in heat, snow, wind and rain. Their work, and that of so many others seeking answers and justice, never stops.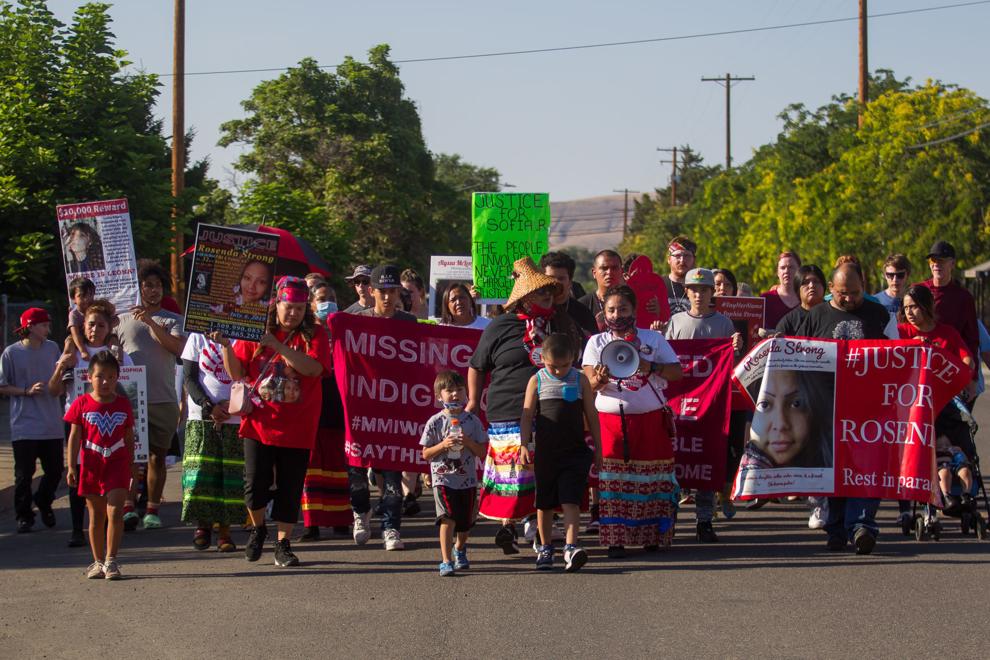 On Wednesday, more than three dozen people gathered near Wapato City Hall for the prayer walk of nearly half a mile in triple-digit temperatures along South Simcoe Avenue to South Camas Avenue and the Wapato Community Center. They included about 20 people from Eastgate Community Church in Cincinnati, all guests of Harrah Assembly of God Church for Vacation Bible School.
Before the walk began, White explained to the visitors from Ohio that Wednesday's event and others are to ensure that Strong's name, and those of other missing and murdered Indigenous people, are never forgotten. She briefly talked about the centuries-long international crisis of missing and murdered Indigenous people and some of the issues.
"Many of us don't trust the justice system. ... We also have historical and intergenerational trauma," White said before introducing Reyes, who spoke about her younger sister.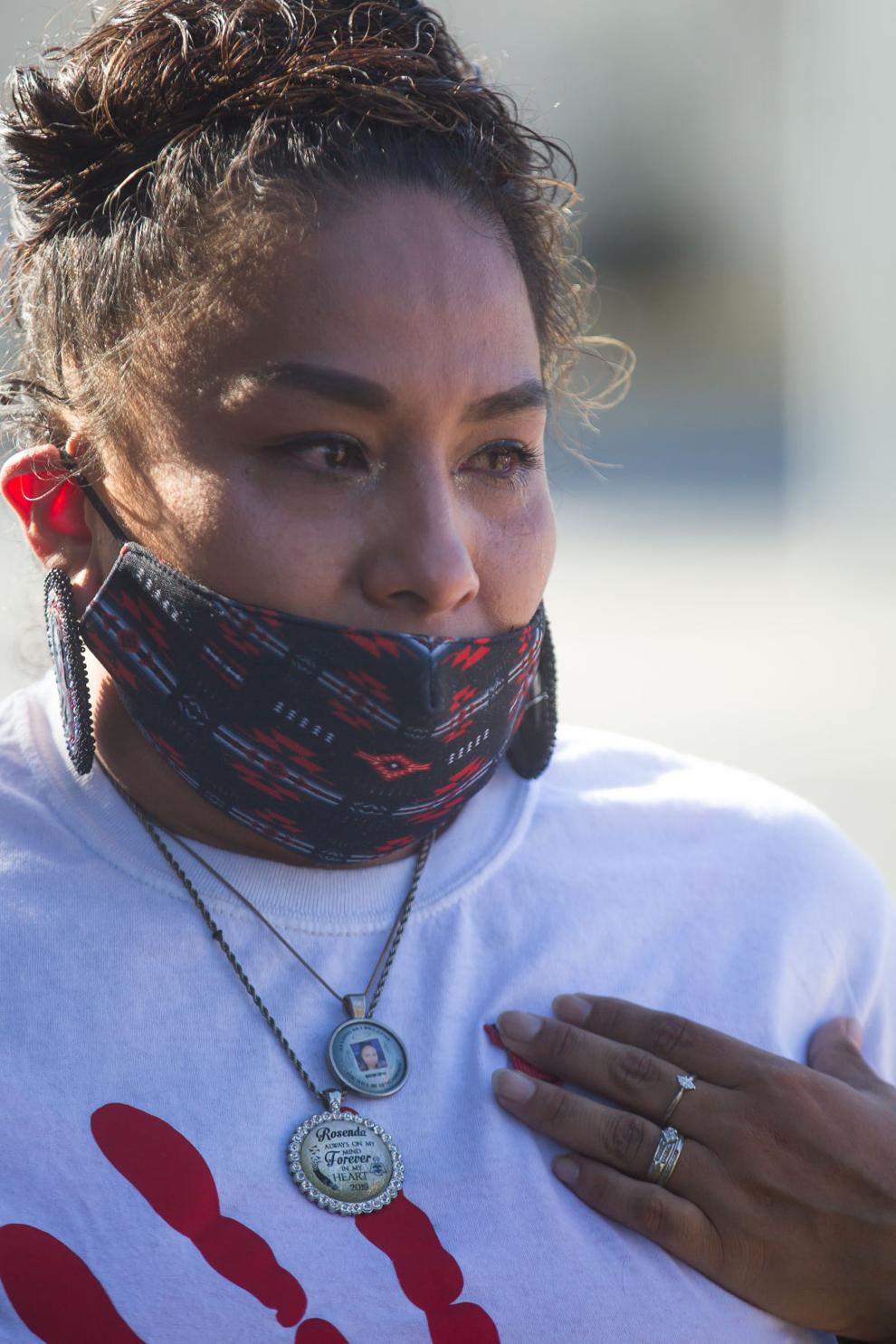 Strong was last seen at Legends Casino in late September 2018, where she had gone with an acquaintance, and was reported missing on Oct. 2, 2018. Her remains were found in an abandoned freezer in the 64000 block of U.S. Highway 97 outside Toppenish on July 4, 2019, and were confirmed to family as hers less than two weeks later.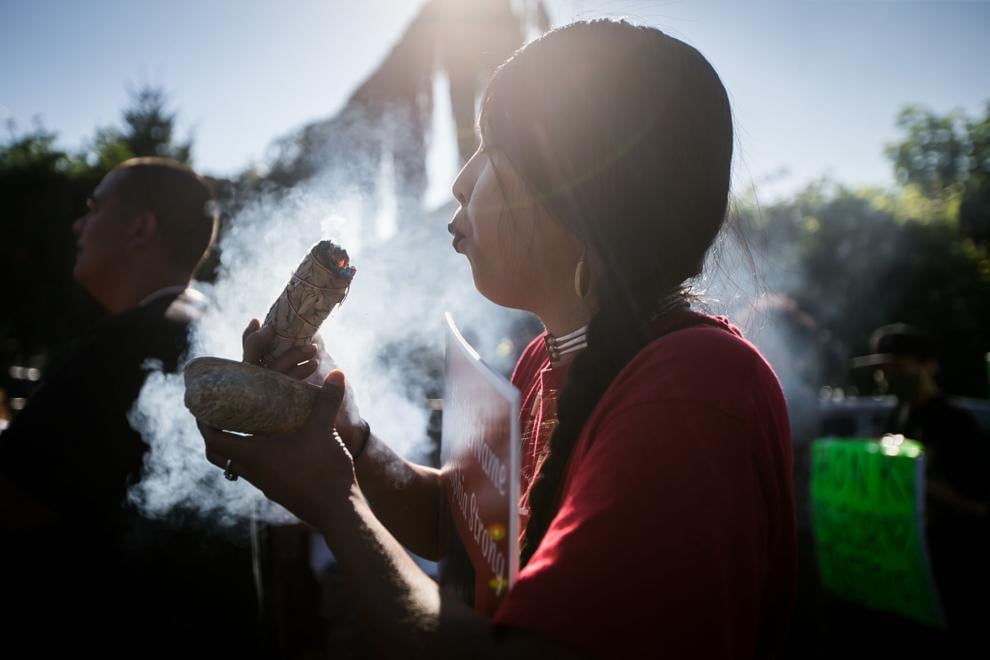 Anyone with information about her homicide is asked to call the FBI at 509-990-0857 regarding case number 18-010803.
"She never got to meet her first grandson," Reyes said of Strong. "She didn't deserve to go missing. She didn't deserve to be put in a freezer for 275 days.
"Even though she is with the FBI, I still have a hole that can never be filled," added Reyes, who looks forward to the day Strong can come home to her family for burial next to their mother on the Umatilla Reservation in Oregon.
Strong is among dozens of other Indigenous women and men who have gone missing, have been murdered and have died mysteriously on and around the 1.3-million-acre Yakama Reservation over decades. Most cases are unsolved.
Shortly before they started walking, Dale Campfield spoke for himself, his father, the Rev. Jerral Campfield, and the Ohio visitors.
"We stand with you in justice. We stand with you as we march alongside you," he said.
After words, prayer and song from Yakama elder Ne'Sha Jackson, the group began walking toward the community center, followed by Wapato police and several other cars. Passing drivers honked and shouted their support.
Led by Strong's family and other relatives of missing and murdered Indigenous people, participants shouted names as they walked and called for justice: Rosenda Strong, Sofia Ramirez, Alyssa McLemore, Destiny Lloyd, Leona Kinsey, Oscar Rangel, Elias Culps, Justin McConville, Vanessa Guillén, Ira Yallup Sr., Adam Young and Anthony Colfax.
Relatives and friends participate in events like Wednesday's prayer walk, carry posters with their photos and post information on social media to keep their loved ones' names and faces in the public eye.
Reyes and White were pleased to see many familiar faces Wednesday, including visitors from the state's west side, along with new guests. It's important as many people as possible learn about the crisis of missing and murdered Indigenous people, White said.
"This epidemic — we don't just need our own community to know about it. We need the non-Native community to know about it," she said.