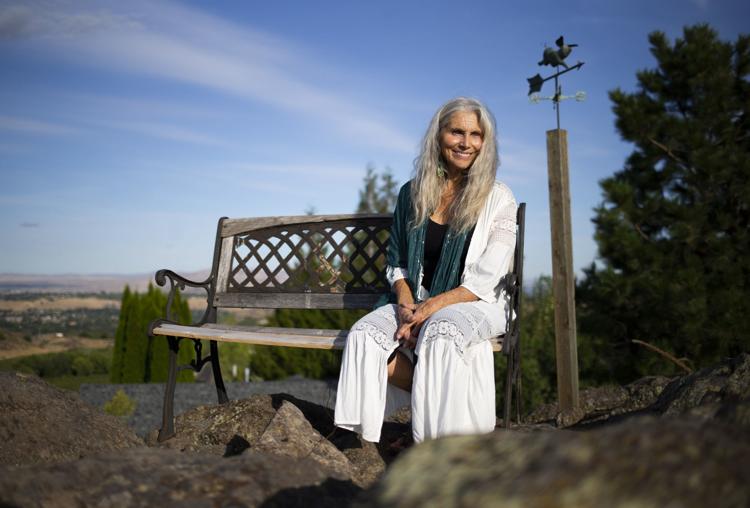 The way to Stoney Ridge climbs high into the hills of Naches Heights, winds around apple orchards verdant with life, and comes to a rest at the hilltop sanctuary, tucked beside a weeping birch and stands of blue spruce, Douglas fir, flowering cherry and white dogwood trees.
Wind chimes tinkle gently from the outstretched branches, shimmering sound on the metallic fairies that look ready to dart in and out of the profusion of wildflowers curving along the stone walkways. Spurts of purple asters and orange trumpet vine colorfully quilt the ground and arch along the cobblestone walkways. A flickering white butterfly lands gracefully on a sunflower head then flits out of sight.
From nearby, running water falls from landscaped rocks into a pool clear enough to reflect oneself. And that is the dual purpose behind Stoney Ridge, which doubles as a highly-rated Airbnb.
For those needing a break from the rush of life in Yakima, Stoney Ridge provides a respite without the fuss of packing up and heading to a different city or state. Less than 10 miles from the city's downtown, it offers eco-friendly living, including a solar shower and wood-fed sauna and hot tub.
For those willing to brave the depths of their own being, Stoney Ridge also offers opportunities to do so. Rustic benches set in secluded alcoves atop the rocky ridge invite reflection, introspection, and a chance to connect with stillness, silence and the self. A trail carved into the ridge welcomes strolls to the top of Sunset Hill, with a commanding view of the Valley below and Mount Adams to the southwest.
Candace Meils, a 72-year-old Airbnb host, artist and intuitive healer, also offers healing massage, aromatherapy, Reiki treatments and astrology readings separately or as part of a retreat package.
"Bring your wonderment, curiosity, and most of all a sense of humor, to encourage the child-like imagination within us all to come out and play," the Airbnb description reads. "We welcome seekers, nature lovers, bird watchers, photographers, contemplators and writers. Our goal is to attract like-minded, open and creative minds to visit."
Meils, who decided to open the couple's home up to others in 2012, said she wanted to build community, share beauty, and attract like-minded people. She also wanted to help others on their healing journeys — a position for which she is well poised, as she's traveled to the depths herself.
The start of a journey
Meils, on a breezy day in September, is wearing bright bobble earrings the color of sun-warmed clay and a loose fitting white scoop neck shirt. A black chopstick holds her steel gray hair in an elegant twist, and a pair of black square framed glasses hang from a cord around her neck. The delicate, almost elfin, features of her face are backlit by light streaming through the large glass windows of the 30-foot yurt in which she sits, an extravagant structure that she and Mike Meils, her husband of more than 47 years, built themselves. It features hardwood floors, a large-screen TV, essential-oil scented air, a circular skylight, a massage bed and healing books stacked on bookshelves and counters.
Meils was born in Iowa, in a farming community that offered a steady security she would lose later in life. Her family relocated three times during her seventh-grade year — to Indiana, back to Iowa, then out to La Cañada in Southern California, where she spent the rest of her young adulthood.
As a girl, Meils didn't know there was a term that applied to her father. She learned later that his addiction was called alcoholism. There was also a word she learned later that applied to her mother: submissive. Her parents created a rigid family dynamic where sexuality and emotional expression were taboo, Meils said. She learned from an early age to squelch her voice, her opinions and her emotions.
"No one in my family did any emotion except for anger," she said. "I thought that was normal. I thought it was how everyone lived. When we moved to California, I found out I had no social skills, no communication skills."
There was only one group at her school that appealed to Meils: the surfers. They were the right blend of goofy, rebellious and authentic, and she soon found herself spending all her free time with them, riding waves and enjoying life.
"We were always outside, in nature, at the ocean," she said. "From them, I learned how to be earthy. I went from brown and dark red in Iowa to bright blue, green and yellow in California."
The love of water — natural, as Meils is a Pisces — stayed with her. She's worked seascape colors into the art she's created and tucked around Stoney Ridge. Splashes of sea green, cerulean blue, lime green and anemone orange swirl inside paintings showcased inside the yurt: an abstract piece reminiscent of rolling waves on one wall, the face of a maiden with siren eyes on another.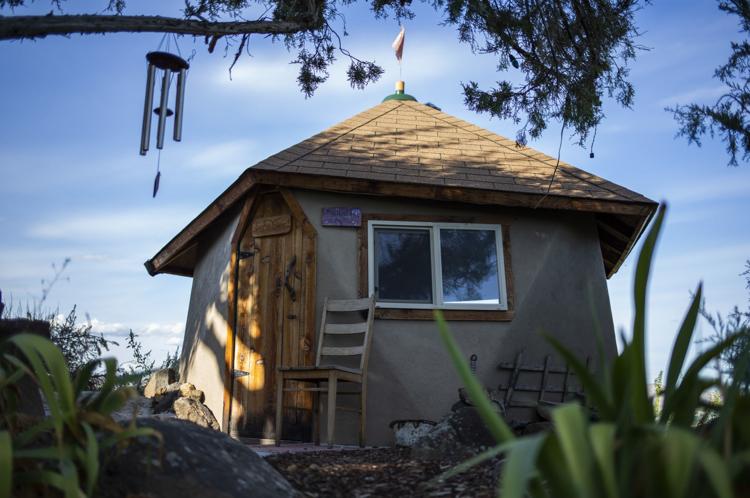 Meils' eyes turn misty as she recalls that at age 17, she found herself pregnant by her high school sweetheart, the surfer who later would become her husband. Her family was scandalized and sent her to Los Angeles to have the child, where the pregnancy could remain a "secret," she said. The child, after a healthy birth, was adopted out. What Meils felt following the forced adoption of her first child, she could not say. The event established a coping mechanism she employed for decades into the future: When faced with suffering, she shut herself, and her emotions, down.
Meils returned and married her surfer, who shortly after headed to the Vietnam War. In the years that intervened, Meils struck out on her own, eking out a burgeoning sense of independence from her first job as a receptionist at a ballet studio, a new apartment and car. When her husband returned from overseas, she found he had been unfaithful. The two divorced.
Meils said she felt little during the separation. But she started engaging in increasingly risky behavior, including taking several lovers, working temporary jobs that allowed her to wander at will, hitchhiking frequently to get to where she wanted to go. Depression — she did not know it was called that, at the time — caught up to her in the quiet hours, when she was alone in her room. On one such night, she felt compelled to connect with a friend and jetted to a bus stop to make the trip. A man in a Volkswagen pulled up and offered her a ride. She thought nothing of accepting his offer until she was inside.
"He immediately locked the doors," she said. "Then he pulled out an X-Acto knife, put it to my throat, and raped me."
The Yakima Herald-Republic does not typically identify sexual assault survivors, and did so here with Meils' permission.
Her attacker dropped her off at a phone booth. She called a friend. Police never pinned the crime to anyone.
Meils pauses in telling her story. In the afternoon light, the sea green of her eyes has shifted to steel, or the color of waves under a sky swarming with storm clouds, an edge underlying the grace with which she sits, poised, on the comfortable sofa inside the yurt.
"I'm fine now," she says, before gently shifting the subject. "I've been in a constant state of learning, and I've had to go through a lot to get here, but I'm in a better place now than I've ever been. I am a complete and avid believer that we can heal," she added. "I also believe it's best to do it somewhere safe, with people who are safe."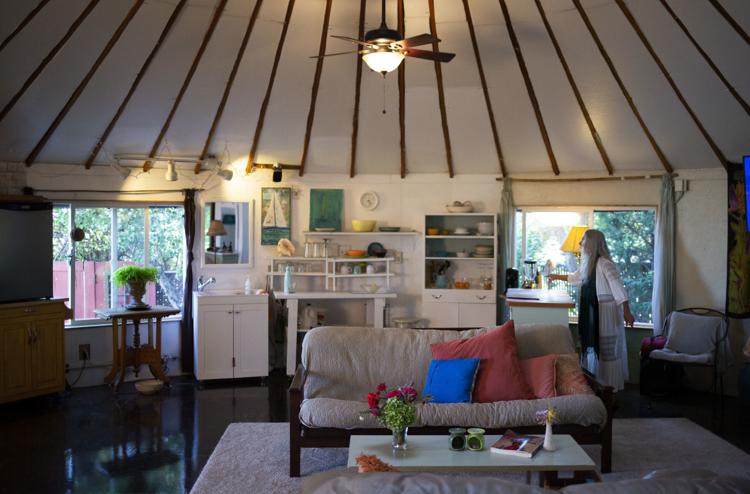 Finding peace
Meils understands that finding inner peace is a process and usually not an easy one. She didn't start studying the healing arts she offers at the retreat until much later in her life, after her path zigzagged from Morro Bay and Mammoth Lakes in California, to Mexico, Guatemala, Hawaii, to Tonasket with Mike.
Meils said she had a vision of her future husband before she met him in person. In a dream, she saw a man with long hair and broad shoulders. She woke with an intuition that she would spend the rest of her life with him. After the dream, she started working in a restaurant to support herself. Her co-workers said she had to meet one of the dishwashers, who wasn't there at the time because he was on a rafting trip. Then one day, Meils walked into the restaurant and there was Mike — the man from her dreams.
"I went up to him and said, 'Tell me what's going on in your mind,'" she said. "From that moment, we were always together."
The couple spent several years as "gypsies," Meils said. She worked odd jobs — landscaping, house sitting, vacation rental working, apple picking, cow milking — to help cover living expenses or in exchange for a place to stay. Along the way, Meils experienced several events that started opening her to the feelings she had repressed for so long. After one of the places she was staying burned to the ground, she received clothing, money and food from the surrounding community. While in Hawaii, she was exposed to ecstatic dance and freeing herself through motion.
Along the way, the couple also had three children. Meils found herself longing for the sense of stability farm life had given her in her early years. When Mike was offered a position in 2007 as a foreman for an orchard in Yakima, the couple went.
Seeking a sense of community, Meils joined a Christian-based church, no longer in existence. Her days revolved around the church, which she described, in retrospect, as "cult-like." Female members of the church were required to meet with the church leader's wife routinely, Meils said. She remembered sitting at the woman's feet and sharing her hopes to start a massage business, to help with her finances as well as to help the people coming to her in pain. Meils said the woman was scandalized by her dreams for independence and healing and told her she needed to focus only on waiting on the Lord.
"It didn't feel good," Meils said. "I went home, ran a bath, sat in the water, and cried."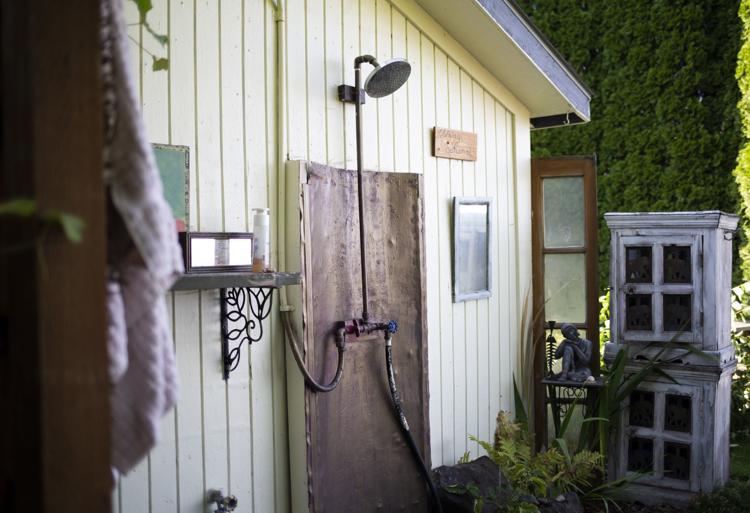 At the time, Meils was reading "Women Who Run With the Wolves," a classic female empowerment book by Clarissa Pinkola Estes that saved her.
"I had never heard of anything that encouraged a woman to have her own hero's journey," she said. "My feeding to myself had always been that I was not enough, I was off, I was not normal, I didn't fit in. I had to learn to take responsibility for this shadowy part of myself that I hated."
Meils, empowered, became her own ally. She said she was banished from the church for her views. Soon after leaving the church, she opened her massage business. A year later, Mike also joined the business as a massage therapist. Meils surrounded the property with an artistic fence and flowers, which met with mixed reactions.
"Customers who came in loved it, but someone from the business community told me to take the flowers down," she remembered. "They let me know I was supposed to conform. But I've never been able to conform."
Meils realized, in 2012, that she needed to heal herself. She started studying anything related to emotions — emotional release with magnets, human design, shamanism, astrology — to start to better understand herself and others. Meils also took a class in anatomy when she was 45 that introduced her to the concept of homeostasis, that the body has a natural state of balance.
"I learned you're not supposed to hold trauma in your body. You're supposed to let it flow through you," she said. "I was on a spiritual initiation. It was about learning how to feel, learning about how to be myself."
Meils became certified as an intuitive healing practitioner and reader through the School of Intuitive Greater Healing in Los Angeles. The program, while teaching her how to help others, also continued her own healing journey.
"There are so many of us who are waiting to have permission for personal healing," she said. "Until you know about your personal feelings, you will not be able to break free."
The Stoney Ridge experience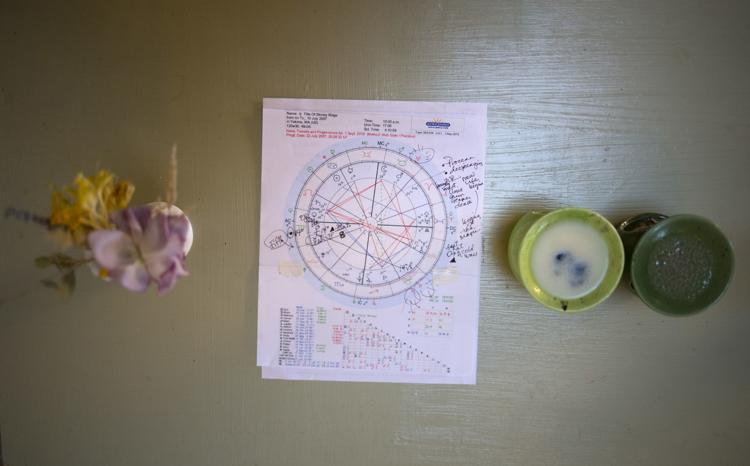 Stoney Ridge has received 228 reviews on Airbnb, with an average 5-star review. The retreat also has a series of 5-star reviews — only — on its Facebook page.
Rochelle Edwards, who is originally from Yakima but lives in Seattle, first heard about Stoney Ridge through Airbnb. She was visiting family, and feeling what she called family "drama," when she booked an overnight stay at the retreat for the first time.
"I needed to find a place of solitude," she said. "When I was looking at the pictures, it looked like a place where you could go and sit with yourself. They also try to make it as natural as possible, so a stay introduces you to sustainable living."
Edwards, who is a Reiki practitioner, remembered sitting in the sunlit yurt with Meils, drinking tea and talking about healing. "It was a life-changing event," she said.
Two weeks ago, Edwards, in the midst of a divorce, returned to Stoney Ridge. "I needed recovery," she said. "So I went back to Candace."
Glenna Bain, who also lives in Seattle, first stayed at Stoney Ridge in 2009, before Airbnb. She appreciates the natural beauty and the privacy, as well as the artistic touch of fairies, art and statues nestled into the nooks.
"From the moment I stepped on the property and saw the view, it was magical," she said. "There's something about the land. There's also a whimsy to it that's lighthearted. It's so out of the box. Getting out of the everyday routine can also be healing."
Bain has pilgrimaged back to Stoney Ridge several times since.
"I'm like a salmon swimming back upstream in that regard," she joked. "Every time I've gone there it's been healing."
Jillian Sheridan, who was living in Tucson, Ariz., at the time, traveled to the retreat in 2011 when Stoney Ridge hosted a community workshop called "Emotional Archaeology." She said being able to connect with others invested in healing was heart-opening, healing and magical.
"As a group, being out in nature on the land together, we were able to drop down into our hearts and be really authentic with each other," she recalled. "Don't underestimate the power of nature and community to help you heal. It's everything."
Meils believes people called to Stoney Ridge are looking for more than just a place to stay for a night.
"People want peace," she said.
Meils said opening the property to others has been one of the greatest blessings in her life.
"I have a part of my nature where sharing is everything," she said. "When I saw the beauty of the property, I wanted other people to experience it. I wanted this place to be a whole community of people."
But with 1.3 acres of land to maintain, Meils said she's started feeling spread out by her various roles: as the retreat's hostess, healer and landscaper. She's also realized that her part in the vision of Stoney Ridge is nearing completion.
"I wanted to dream it, build it up, create a place of beauty and community," she said. "Now I'm giving myself permission to continue to seek."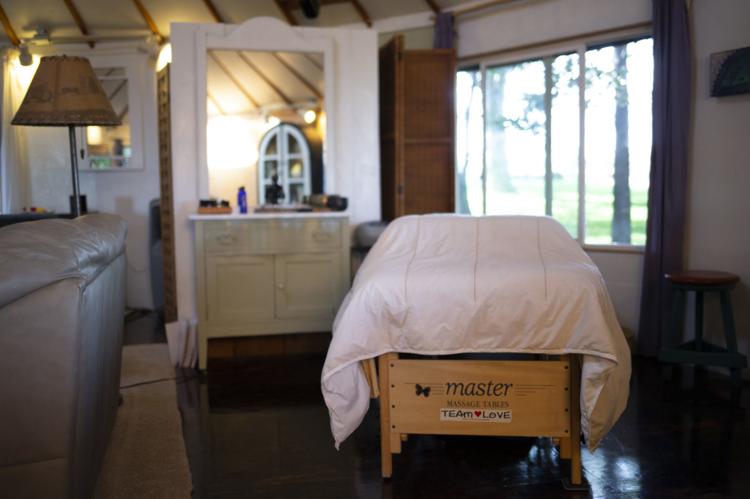 Stoney Ridge is for sale. Meils said her only hope is that whoever takes over will honor the beauty and healing energy of the space and will take care of the land. In the meantime, the couple will continue to welcome people to share in "The Enchanting Experience at Stoney Ridge."
"Come," Meils said. "Share stories, laugh, enjoy yourself. That's the whole point of it all."
Editorial Note: This article has been updated to reflect that the Emotional Archaeology workshop was hosted at Stoney Ridge in 2011.