For those who travel Interstate 90, Indian John Hill is a waypoint in the trip, as well as a place to take a well-earned break from their travels.
The hill, and the rest areas that sit on either side of the freeway between Cle Elum and Ellensburg, are named for an Upper Yakama man who lived in the area and was known to the settlers who came through. A placard at the rest area gives an extremely brief history of its namesake.
The rest area's name is expected to change as the Washington State Department of Transportation seeks a less offensive replacement.
Known to Natives as Ta'txancxca, or "sarvisberry ground," the hill was close to a permanent village Chief Owhi and 50 people set up near the mouth of Teanaway Creek.
While the Treaty of 1855 forced the 14 tribes and bands that formed the Yakama Nation on to a 1.3-million-acre reservation in the Lower Yakima Valley, some continued to live outside the boundaries.
One of those was John Quititit, who lived at the foot of the hill through the latter part of the 19th century. It was said that he was a farmer and a carpenter.
One of his projects was cutting railroad ties for the Northern Pacific Railway, with one account claiming the railroad rejected his work because, after cutting one tie too short, Quititit tried to fix it by lashing it to another piece of wood with rawhide.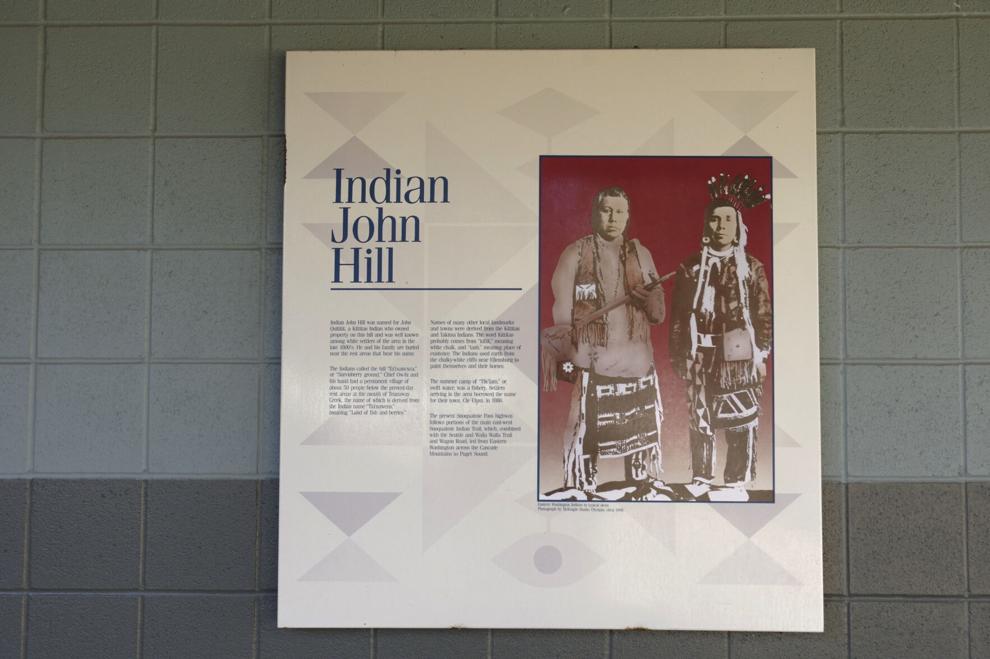 One of Quititit's acquaintances was James Masterson, who homesteaded in the area in the 1880s, establishing a 3,100-acre cattle ranch.
Masterson came to be good friends with Quititit — whom he and others referred to as "Indian John" — and his family. He also provided employment, with Quititit picking berries and his wife doing the Mastersons' laundry for a dollar a day — roughly $31 when you factor in inflation.
Quititit's family also sold produce they grew on their own farm in Cle Elum.
Some accounts claim that Quititit struggled with alcoholism, which consigned his family to poverty. He also experienced personal tragedy in his life, losing his wife to what an account in the Yakima Herald said in 1891 was "the evil influence of a medicine man."
That medicine man, the stories go, also prophesied further woes on Quititit's family, with a daughter, son and son-in-law dying as a result.
But one thing Masterson and others' accounts agree on is that Quititit was a man of integrity right up to the end of his life. On his deathbed, Quititit made his family commit to repaying a loan to Masterson, which was promptly paid.
When Masterson tried to politely refuse the money because Quititit's family needed it more than he, the family member who delivered the money said Quititit's spirit would not rest easy if his last wish were not carried out.
Quititit and members of his family were buried on the hill, near where the rest areas are located. One account said the bodies were subsequently disinterred and moved to a Native cemetery in the Upper Yakima Valley.
He was survived by a daughter, Lucy, who died in 1940 at what was believed to be the age of 100.
The hill near where Quititit lived was eventually renamed in his honor, albeit with the epithet white people called him by. The rest areas would also take the same name.
Summer Derrey, a WSDOT spokesperson, said the Transportation Department has entered discussions with the Yakama Nation's Transportation Committee on finding a more appropriate and less offensive name for the area.
"We identified this as an area where we can improve," Derrey said. "That name will eventually change."