NACHES — They're cutting down trees to save this forest.
This 548-acre logging project on the Naches Ranger District is removing trees that are unnaturally dense and at risk of catastrophic fire. By doing so, it's employing people and providing valuable timber.
It's not a clear-cut. Lots of small trees and some larger ones are being removed to create "a well-balanced forest ecosystem," said Bret Daugherty, the owner of Timbered Rangeland, the Ellensburg-based logging company conducting the work.
The timber is headed to the Yakama Nation's sawmill in White Swan. But that small mill is one of just two mills remaining in the Eastern Cascades from Yakima County to the Canadian border. The other is in Oroville near the Canadian border.  That means while more than a million acres need thinning, there's no place else buying the wood.
That lack of mills means that despite a growing chorus of foresters and environmentalists calling for sustainable harvests to reduce fires and restore forest health, no one can afford to do it on the scale that's needed.
"As soon as you lose the mill infrastructure, the industry starts failing," Daugherty said, adding there aren't enough timber sales like this one in the area to keep his company in business. "We're still alive, but barely."
Experts say the solution is to rebuild the timber industry, but by focusing on small logs now in abundance and encouraging innovative companies that use waste wood for manufactured products or biomass energy to invest here.
Photos: Logging in the Okanogan-Wenatchee National Forest
Scenes from logging in the Okanogan-Wenatchee National Forest near Naches, Wash., Friday, Nov. 11, 2016.  
"I think we need to build an economy around our forest restoration needs," said state Forester Aaron Everett. "It could be biomass, cross-laminated timber, or a small diameter sawmill. We're all a little uncertain about what it looks like, but the value of these forests and our way of life in Central Washington is more than worth the investment."
Forest products — lumber, paper, pellets, and hop poles — are a $26.5 billion industry in Washington. But the activity is now firmly consolidated in Western Washington, where trees grow faster in wet forests, and in Northeast Washington, where there's more privately owned forest land.
In Central Washington, where most timber is owned by the Forest Service, harvests have dropped precipitously in the past 20 years as new regulations tied up sales that the mills depended on. Just 10 percent of the state's timber is now harvested on the east slopes of the Cascades, where wildfires have raged in recent years.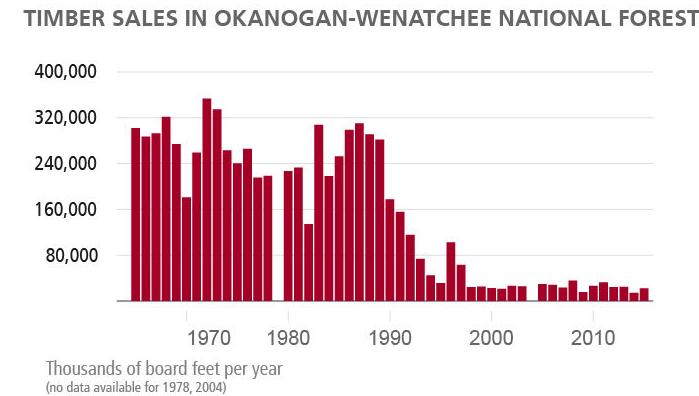 "Now, we are realizing that the fuels are building up heavily in our public lands and we're getting uncharacteristic mega fires and we need to reduce these fuels proactively," said Lloyd McGee, the Washington Forests program manager for The Nature Conservancy. "That's a natural supply for sawmills, but now we don't have sawmills, so how are we going to pay for that active management that needs to expand?"
Today, it's a struggle to find enough timber sales to keep Daugherty's 22-man crew busy year round and interest on $5 million worth of logging equipment. So they travel far and wide — raising costs — to stay in business, he said. And in the summer, he keeps his crews and equipment busy as contract firefighters.
"We watch fires burn up enough acreage for my crew to live in — 30 years worth of logging — go up in one week's time," Daugherty said.
"I wonder what they are trying to protect? If the name of the game isn't managing the resource, we might as well let it burn. You don't want us to log it, but you don't want to it to burn? Well, we live in a fire ecosystem so you have to pick your poison, you've got to log it or let it burn."
To reduce wildfire costs, some congressional lawmakers want to ease environmental protections and limit lawsuits to allow the Forest Service to plan more timber sales. That's alarmed some environmentalists, but others say it unlikely to be enough to restart Central Washington's timber industry.
Certainty about where and how much timber would be available is needed in the form of long-term contracts before the industry will invest in new mills or related businesses, said Cindy Mitchell, public affairs director for the Washington Forest Protection Association.
"If the rules keep changing all the time, then the investment money doesn't come back," she said. "To me, what's holding people back (from supporting timber-friendly policies) is they are afraid we're going back to the old days. But now there's an obvious need for forest restoration and that's where we are going to create a market."
The old market crashed as timber harvest on the Wenatchee National Forest (which didn't include the Okanogan until 2003) fell from about 168 million board feet 20 years ago to an average of about 42 million board feet in recent years.
Much of the decline is due to the 1994 Northwest Forest Plan, which gave spotted owl habitat priority over timber harvest on about 30 percent of the forest, said Forest Service silviculturist Bob MacGregor.
But litigation has also delayed or canceled timber sales and the skyrocketing cost of fighting wildfires ironically leaves little room in the Forest Service's budget for foresters to plan timber sales, he said.
"The other problem is on this forest, because the mills are so far away, our wood isn't worth that much," MacGregor said.
That means there's little or no money left over from the timber sales to support road maintenance, recreation and habitat restoration.
And it's not just the federal forests struggling without local sawmills.
The state Department of Natural Resources isn't offering much in the way of timber sales on state trust land in Central Washington because the economics don't work, Everett said. That's because the trees needing to be harvested are smaller, of lower value and the mills are so far away that hauling the timber burns up the profit, he said.
So in the name of reducing wildfires, taxpayers are footing the bill for the forest thinning in Central Washington. Last year, state lawmakers allocated 
$4 million for work on more than 6,000 acres of private and state lands last year, which has been a "resounding success," Everett said.
While he plans to seek more funds for thinning in the short term, the state is working with the Forest Service and the private sector to figure out how to entice timber investors back for the long term.
"Small diameter sawmills can bring solutions to our economic restoration needs, but now we have to prove we can bring a consistent stable supply of these materials," McGee said.
Hoping to entice investors, the Nature Conservancy is studying potential supply of material from forest restoration projects — investors like John Fujii, owner of Neucor Inc. The Vancouver businessman bought the former Jeld-Wen plant in White Swan and set it up to manufacture composite wood panels — a patented, light but strong design he spent years developing — from waste wood from the Yakama Nation's mill. Production at the Neucor plant started this fall and Fujii said he expects to employ about 120 people once operations ramp up over the next year.
But he's got bigger plans to expand using another wood technology, cross-laminated timber, to make money off the forest restoration the region needs. Cross-laminated timber uses smaller lumber, layered and glued together to make structural panels strong enough to replace concrete and steel in construction of multi-story buildings.
"I have not been bashful about talking to anybody who will listen that we're interested in entering the cross-laminated timber marketplace from White Swan," he said, adding that it's too soon to offer details.
"If you want to talk about healthy forests, you need to go after small log white fir and Douglas fir thinning," Fujii said.
"The point of CLT is that it does not require large volumes of lumber; we're not talking about huge logging operations, we're talking about thinning operations," he continued. "All of this will build the forest products activity in Yakima County in a responsible, environmental way that will contribute to economic activity and reduce the fuels for wildfires."
McGee of the Nature Conservancy said that he hopes the forest products industry can grow like this once a stable supply is assured.
"Here's the important thing, if we can get a small diameter mill here that's stable, we can get other mills that use byproducts," he said. "The saw logs will pay the way out of the forest for these other biomass products and then it's more of an integrated forest products infrastructure that can be strong."
He's optimistic the Forest Service will be better able to provide a stable supply of wood thanks to a new effort that brings together environmentalists, recreation users, timber interests and forest managers to plan restoration projects. The hope is if everyone benefits, the project is less likely to be sued.
On the Naches Ranger District, such a group has helped to plan the upcoming Little Crow restoration project on more than 15,000 acres. It includes commercial timber harvesting, thinning, prescribed fires, firewood cutting and habitat restoration.
Everett says those cooperative efforts give him hope as well.
"We owe ourselves better than to set environmental protections against the health of our forests and the economic viability of our communities, and I think this conversation about forest restoration is beginning to break past that." Everett said. "The costs of doing nothing are extraordinarily high, both in terms of our state coffers and the costs to our communities, tragically high in fact."
This report has been updated to correct the number of mills operating on the east slopes of the Cascades.