About 15 Eisenhower High School seniors stood tall in their caps and gowns before a sea of small, waving hands and smiling faces. Cheers reverberated off the gym floor as Nob Hill Elementary School students and staff celebrated the graduates.
This was the first year the Yakima School District organized trips for Davis or Eisenhower seniors to visit local elementary and middle schools to inspire their younger peers to get their diplomas.
Eisenhower assistant principal Gané Bourgeois helped organize the trips after a Nob Hill counselor reached out to her looking to celebrate the seniors who attended Nob Hill. The school has a history of highlighting its graduates when they reach their senior year.
"And I thought, 'Gosh, what an amazing idea. That's incredible.' I want all of our graduates to experience that," she said.
Bourgeois reached out to administrators at other Yakima schools and many of them eagerly agreed to the plan, she said. Over 100 Eisenhower students signed up to participate, but only 57 brought back the permission slip. Davis students also participated.
Through a survey, she tried to put students on a bus route that would take them to the elementary or middle schools they attended.
Other local school districts, including Wapato and Mabton, have traditions of "graduate parades" where seniors visit underclassmen to inspire them toward graduation.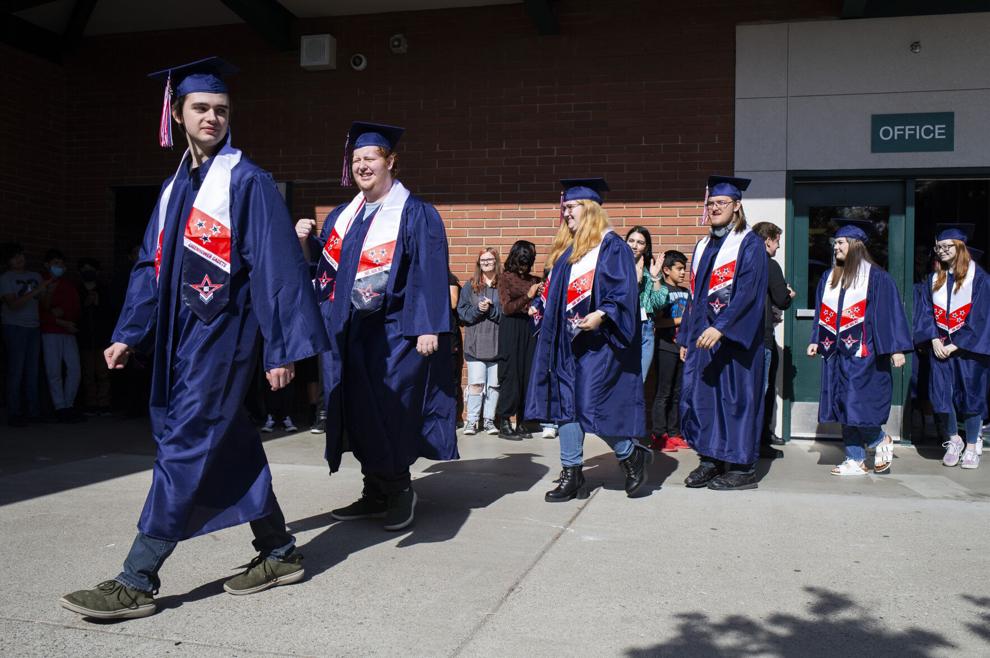 Leading the way
One group, which Bourgeois was in charge of, went to nearby Wilson Middle School and Whitney and Nob Hill elementary schools.
As the Eisenhower students settled into their bus seats, Bourgeois told the teens that the purpose of the trip was not just to celebrate their graduation, but to inspire younger students to stay in school through grade 12. She encouraged them to high five the students and make eye contact with them.
"When you're small and someone in a uniform or a cap and gown or something like that makes eye contact with you, there's power there and those students feel seen," she said.
During each school visit, the seniors were met with applause and cheers from students and staff.
At Nob Hill Elementary, the student body gathered for an assembly in the gym. The seniors walked down a red carpet on the basketball court and formed a line in front the stage. One by one they shared their plans for after high school. The Nob Hill students sang celebratory songs.
Jakob Kennicutt, an Eisenhower senior who attended Nob Hill as a child, said he hoped to inspire the younger students.
"Seeing that it's cool to graduate and that it's something they want to do and want to keep striving for," he said.
He hopes this is something the district can replicate in future years. Bourgeois echoed this and called the experience "powerful" for all students involved.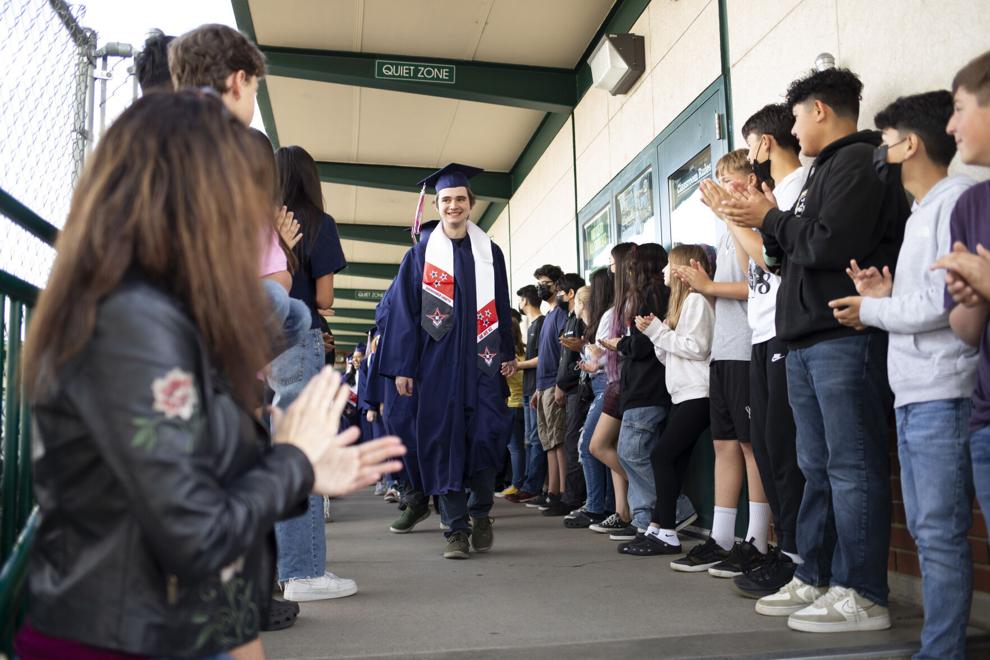 Teacher appreciation
The trip provided an opportunity for the seniors to briefly reconnect with the educators who shaped their lives.
Bourgeois encouraged the high schoolers to take time to talk to their former teachers. At the end of the trip, she also offered to deliver letters or graduation announcements from the seniors to any of their former teachers.
During their visits, several seniors hugged staff they recognized at their old schools.
Judi Harris is a third grade teacher at Whitney Elementary school. She received hugs from some of her former students when they visited Wednesday.
She said she saw their potential when they were children and she's followed their progress.
"I'm really super proud of my students, their hard work," she said.
Eisenhower seniors Angel Torres and Amha Alemeneh attended Whitney Elementary School when they were younger. Torres said it was strange to see how any teachers he knew were still there.
Alemeneh said it was great to see the teachers who helped him become the person he is today. He recalled one teacher who changed his life — Kathy Freeborn, who teaches first grade at the school. She gave him a book that helped the young immigrant learn English.
This year, Alemeneh will graduate as an honors student and is headed to Washington State University in the fall.