Lawyers seeking a court judgment that Yakima Regional Medical and Cardiac Center and its former owner violated the state's Charity Care Act say the hospital built an elaborate system of incentives and policies encouraging employees to wring as much money out of poor patients as possible for the corporate bottom line.
The lawsuit, filed in 2013 and pending in Yakima County Superior Court, alleges that Regional and its former parent company, for-profit Health Management Associates — bought in 2014 by for-profit Community Health Systems — actively discouraged eligible low-income patients from accessing charity care.
"HMA did not train its admissions staff to screen for charity care," the lawsuit's motion for partial summary judgment filed in March alleges. "Instead, it taught them to aggressively seek deposits and partial payment when patients said that they could not afford to pay."
"They had this huge system of financial incentives designed to squeeze patients at the hospital door, including scripts," said Ele Hamburger of Seattle law firm Sirianni Youtz Spoonemore Hamburger, jointly representing with Columbia Legal Services the class of patients who might have been deprived of charity care for which they were eligible.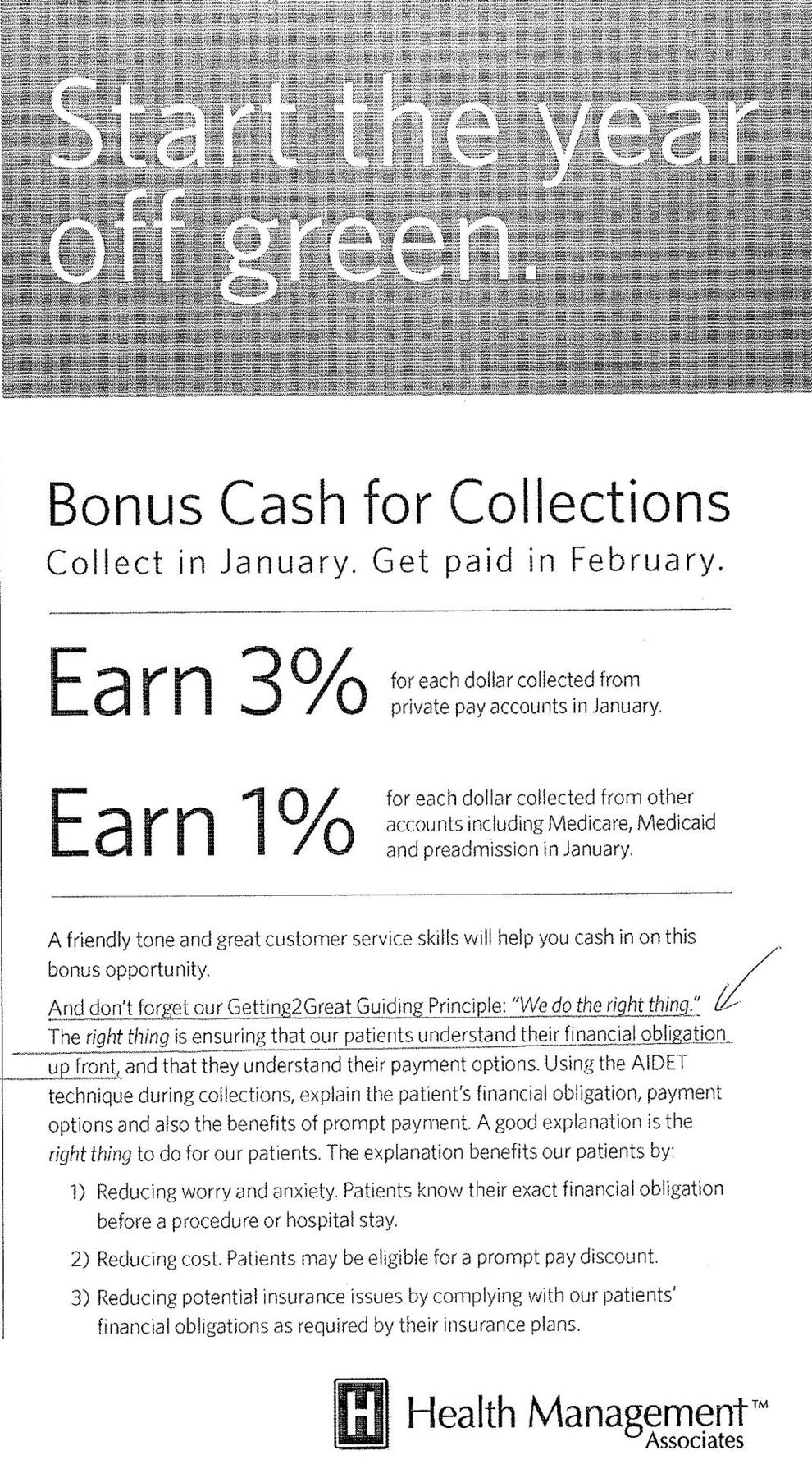 Patients who received care at Regional between 2007 and 2014 were recently given notice of the class-action lawsuit and their possible inclusion as class members, and have until Monday to officially opt out if they wish to.
Regional declined to comment on the lawsuit.
Court documents filed by attorneys for the plaintiffs show internal hospital emails and personnel policies were focused on minimizing charity care while state Department of Health data indicate Regional and Toppenish Community Hospital, owned by the same company, provided far less charity care than other area hospitals. The documents were partially unsealed by Judge Susan Hahn in March and the Yakima Herald-Republic recently received an electronic copy from the plantiffs' attorneys.
State law requires hospitals to provide charity care to anyone making less than 200 percent of the federal poverty level. Those who fall below 100 percent qualify for full charity care — responsible for no portion of the cost — while those between 100 and 200 percent qualify for a certain amount of discount.
Even if patients are insured, if they are unable to pay deductibles or coinsurance, charity care must be offered by law as an option.
But the documents show that employees at Regional and Toppenish were directed not to offer or mention charity care as often as the law dictates, and that there were incentive programs for staff to seek more money through collections from self-pay patients rather than offering free or discounted care.
In his 2007 email asking staff to inform self-pay patients that they would always be responsible for paying part of their bill at HMA hospitals, one HMA corporate officer in Florida said the company was counting on this initiative to "partially turn the tide of indigent patients entering the our (sic) hospital system."
In a January 2013 email, a Toppenish supervisor told employees, "Please do not give any patient a charity application if they request charity please tell them that yes we do have a charity program and direct them to" a toll-free number to call.
Emails from July 2013 show employees discussing whether to bring up charity care at all.
"I was under the impression that we will process charity care IF a patient applies and that we are not seeking patients out to apply for charity," one woman wrote. Another responded, "Per our charity policy, we do not reach out to patients and offer them charity. We post the charity policy in house."
Washington Administrative Code (WAC 246-453) spells out that hospital charity care policies must be made "publicly available," i.e., "posted or prominently displayed within public areas of the hospital, and provided to the individual in writing and explained" at the time the hospital asks about insurance or other means of payment.
The policies must be posted in languages commonly spoken in the area, and interpreted for non-English speaking patients or anyone who can't read or understand the writing and explanation.
Regional officials would not comment for this story, citing the pending litigation, hospital spokesman Blake Keller said. However, he wrote in an email, "Following our affiliation with CHS in January 2014, our hospital implemented new charity care policies that have been approved by the Washington State Department of Health."
Documents show that Regional sought to amend its practices in late 2013. In an email from December of that year, a patient access director told other staff members that Washington state law required them to screen everyone inquiring about charity, regardless of their credit score.
"If a patient states they fall within the (federal poverty level) ... an application should be sent to the patient or if they prefer they can pick an application up from the hospital. At that point we must stop any attempts to collect monies until a determination is made whether the patient qualifies for charity," she wrote.
In a statement filed in March supporting Regional in the court case, the hospital's chief financial officer, Cindy Rios, said that the leadership turnover at Regional and Toppenish, as well as business office consolidation due to the new corporate owners, contributed to changing charity care policies during the period covered by the lawsuit, about 2007 to late 2013. That turnover "makes it impossible to determine what screening processes or procedures were applied to a given patient" without seeing each individual file.
Rios said the hospitals thought they had charity care policies on file with the Department of Health, and "any oversight regarding this was unintentional."
When HMA first bought Regional from the Sisters of Providence in 2003, making it a for-profit hospital, the company agreed to a Department of Health condition on the transaction's Certificate of Need that it would provide charity care "in an amount comparable to or exceeding the average amount" of charity care provided by Central Washington hospitals.
For 2013, according to an annual report compiled by the Health Department, Regional provided about $4.4 million in charity care, totaling 1.45 percent of its adjusted patient service revenue (which excludes Medicaid and Medicare patient revenue). Toppenish provided about $838,000, or 1.73 percent of its adjusted patient service revenue.
The Central Region average, however, was 4.4 percent. Yakima Valley Memorial Hospital, a nonprofit, provided the highest amount of the 20 hospitals reporting in the region, with 7.09 percent of its adjusted patient revenue going to charity care.
The lawsuit was first brought on behalf of patient Angela Lopez, who was forced to pay a $1,000 deposit before she could receive a medical procedure in 2011, despite her family's explanation that they could not afford that amount.
Additional documents in the court declaration include emails, initiatives and scripts directing employees to keep pushing patients to find a way to pay at least part of their bill.
One slide offers responses to patients asking if the hospital was refusing treatment if they didn't pay that day.
If it was a scheduled service, the sample dialogue said the hospital might have to delay services until the patient was more prepared to pay.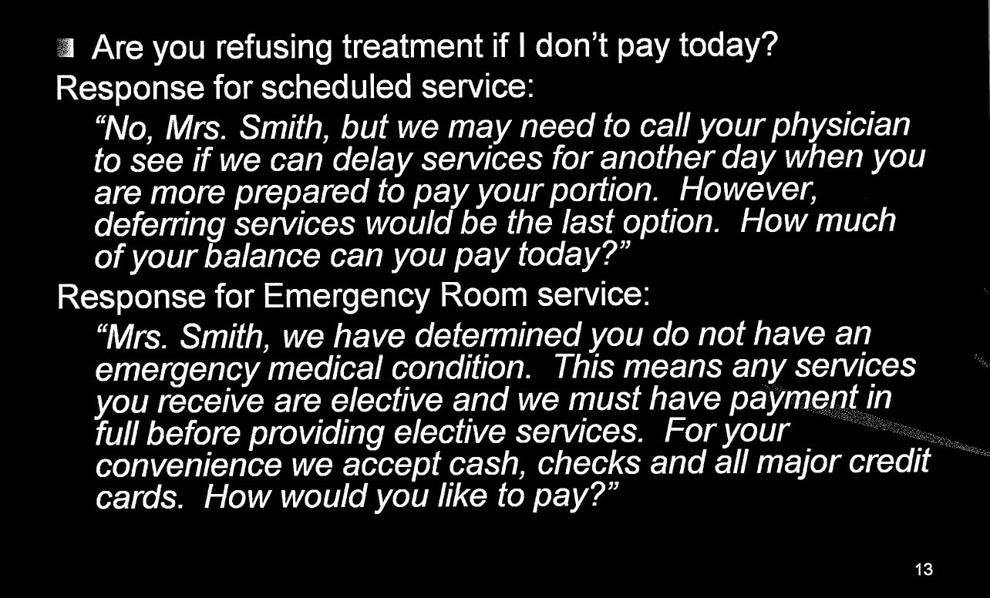 If it was an emergency room service: "Mrs. Smith, we have determined you do not have an emergency medical condition. This means any services you receive are elective and we must have payment in full before providing elective services. For your convenience we accept cash, checks and all major credit cards. How would you like to pay?"
The hospital's "Collection Bonus" plan and "Getting2Great" program allowed employees to earn back a percentage of the dollars collected from patients paying out of pocket. There were also monthly targets for how much money needed to be collected from those private-pay patients.
Under the different incentive programs, which included multiple departments, employees could receive back 1 to 5 percent of money collected in excess of their scheduled targets.
Mercy Movie tickets were also promised to staff members if they collected over their monthly established goal. Employees who consistently failed to meet certain targets were subject to discipline or monitoring.
For several years, Regional and Toppenish did not have required charity care policies on file with the Department of Health, the only hospitals in the state not on file, according to department staff. A comprehensive policy was finally adopted in February 2014, which included provisions to suspend all collection efforts on charity care cases, and to not require any deposit pending an initial determination of charity care eligibility.
In addition, the hospital's new policy agreed to make that initial charity care determination based on patients' personal declarations to hospital financial counselors or intake personnel rather than relying on lengthy credit checks or other scrutiny. The final determinations still require proof of income or other financial statements.
Hamburger said that if the lawsuit is successful, it will still only help people who actually got care at Regional or Toppenish. It can't do anything about patients who may have had to seek care elsewhere because of inability to pay for services there, which makes it hard to determine how to seek damages.
"We're only going to help half of the problem," she said. "The other half of the problem is really stark."
"Probably all hospitals do this," she added. "But (Regional and Toppenish) did it with such ferocity, they really succeeded in turning people away from the hospital."
The next step in the lawsuit is a hearing where the judge will rule on the plaintiffs' motion on whether Regional and HMA violated the Charity Care Act. That hearing should happen sometime in November, Hamburger said.