Three years to the day he was killed, Ruben Sanchez III's family hit North First Street in Yakima, hoping to find clues that will lead to his killer.
Several of Sanchez's relatives, as well as YPD Detective Scott Gronewald, walked from I Street to the Union Gospel Mission and back, putting up posters offering a $5,000 reward raised by the family, as well as talking with homeless people and others to look for other clues.
"That's all we want, justice for my son," said Thelma Guzman. "I'm living in a fog."
Sanchez, 32, was fatally shot May 10, 2019, on the railroad tracks at Gordon Road and North Sixth Avenue. So far, the case remains unsolved, but his family is confident that someone in the area knows something that will break the case open.
Wearing T-shirts with his picture, Sanchez's family members went up North First Street, talking to people in homeless encampments, motels and at the mission, handing out posters and putting them up in motels and on utility poles along the street. The area is near where he was killed, and a place where he spent time.
His family also brought doughnuts and bottles of water and sports drinks for the people they encountered.
Some of the people they spoke to remembered Sanchez, recalling him as a friendly person who cared about others.
Alexis Martin, Sanchez's sister, earlier said her brother once brought a 24-pack of soda to the mission and handed it out to people. She wore his identification badge when he was an intern at the Seattle Union Gospel Mission.
"A lot of people said they knew him, and said how he was kind," Martin said.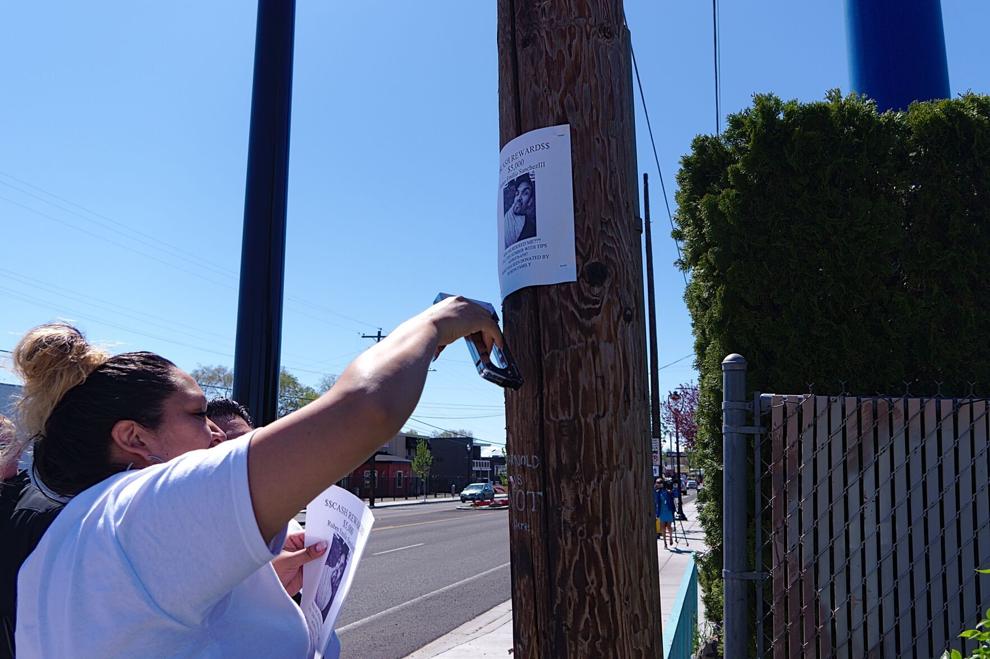 At the time of his death, Sanchez was struggling with addiction and was planning to go into rehabilitation.
Sanchez's death is one of 37 unsolved homicides dating back to 2010 that occurred in Yakima, according to police statistics. His is also one of two in that part of Gordon Road that remain unsolved, the other being Daniel Branscomb, who was shot to death May 12, 2020.
Gronewald, who was assigned to the case recently, appreciated the family's effort to push for new leads on the case.
"We need the community to come forward and give (Sanchez's) family closure," Gronewald said.
Anyone with information on the case is asked to call Yakima police at 509-575-6200 or Yakima County Crime Stoppers at 800-248-9980. Tips can also be submitted online at http://www.crimestoppersyakco.org.