Construction on a roundabout aiming to make U.S. Highway 97 through the Yakama Reservation safer will begin next week.
Officials with the Yakama Nation and state Department of Transportation gathered for a groundbreaking ceremony Wednesday morning at the intersection of Highway 97 and McDonald Road outside Toppenish, where a roundabout will be installed.
Construction on the $3 million project will begin Wednesday with a fall completion, said DOT spokeswoman Summer Derrey.
During construction, traffic will be limited to one lane at times with minor delays, she said.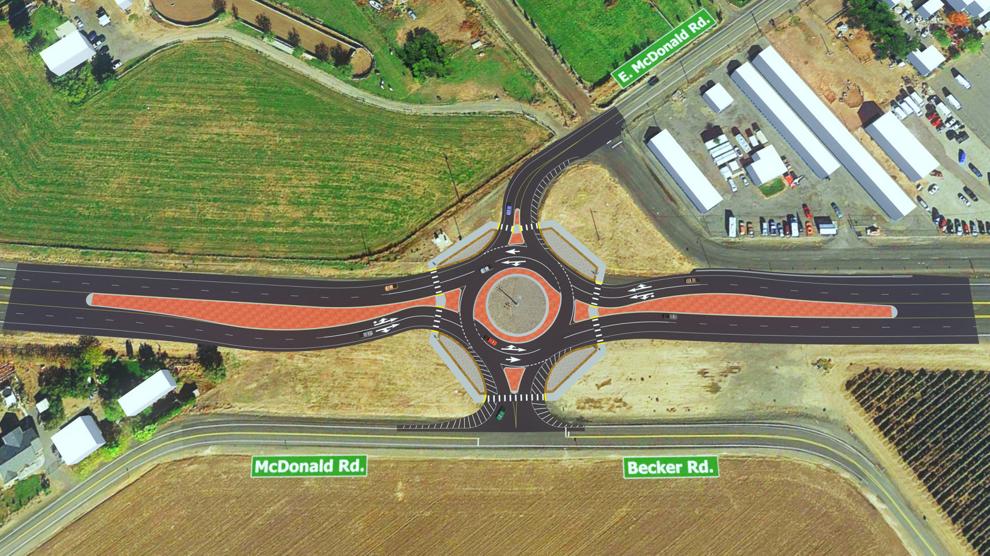 The stretch of Highway 97 through the reservation has the highest collision rate and pedestrian fatality rate in the state, according to the DOT.
Over the past decade, there have been 350 injury crashes and 22 reported fatalities between Union Gap and Status Pass on U.S. 97, according the DOT.
Hoping to make the highway safer, the Yakama Nation Tribal Council in November 2018 approved a resolution allowing DOT to design and construct the roundabouts.
"We think this is a big step, the first step, for safety on the U.S 97 corridor," Derrey said. "We really want to strive to make this entire corridor better."
This will be one of two roundabouts to be installed. Another will be installed at the Jones Road intersection near Wapato. Construction on the Jones Road roundabout is expected to occur next year or in 2023, Derrey said.
Roundabouts slow traffic and eliminate direct contact points that cause head-on and T-bone collisions.
The highway roundabouts will have evening lighting, crosswalks, crossing signals and lighted beacons informing approaching motorists of crossing pedestrians.