The city of Yakima will move ahead with plans for a permanent homeless shelter near the former Kmart on East Nob Hill Boulevard.
The Yakima City Council voted 6-1 Tuesday to rezone city-owned land near the former Kmart for the shelter project, with Council member Carmen Mendez voting no.
"I think that we need to have an opportunity to study this ... (to) know what some of these unintended consequences would be as we move forward," Mendez said.
The project is in the early stages. The rezone is a step toward what would be the first permanent low-barrier shelter — one without sobriety or religious requirements — in Yakima. The property is northeast of Camp Hope, a temporary homeless encampment near the city's sewer plant.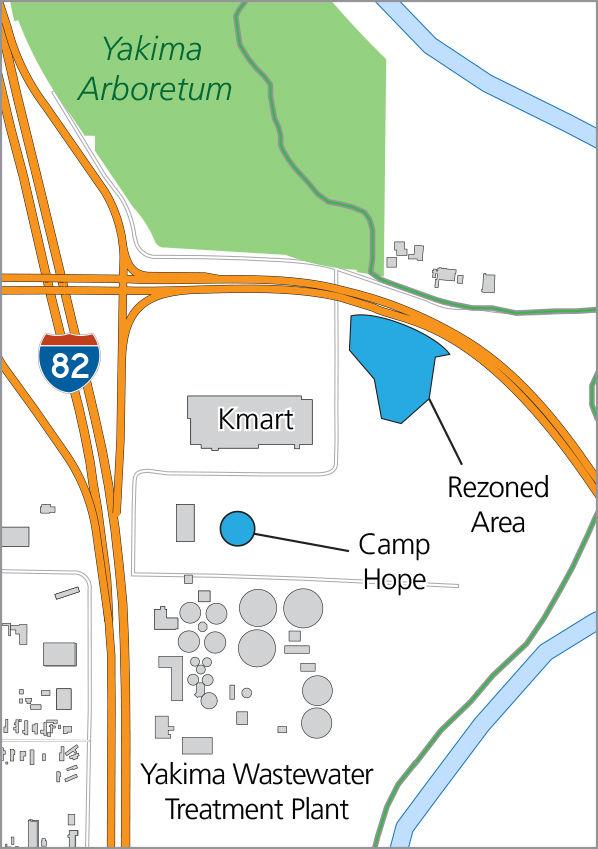 There's no specific proposal yet for the 2.6-acre property.
Not everyone is happy with the plan. Representatives from the nearby Yakima Greenway and the Yakima Area Arboretum have expressed concern.
The Greenway covers 20 miles of pathway from Union Gap to Naches along the Yakima and Naches rivers. Supporters have said the shelter proposal conflicts with the Greenway's master plan governing the area's land use and future plans.
Mayor Kathy Coffey said the ordinance is just the first step and that there will be plenty of opportunity for public comment throughout the process, Coffey said.
"Many of you would like to be heard on whether a homeless shelter should be built on the property that the city council has rezoned," Coffey said. "Before anything is built, there is an extensive land-use process which involves opportunities for public input and comment."
Coffey said the city is setting up a committee to discuss what a homeless shelter might look like at the site, including services available, housing and site screening.
Coffey said the Greenway and Yakima Area Arboretum will be invited to sit on the committee. She said members of the public interested in sitting on the committee should contact City Manager Cliff Moore.
"The process will move forward in a transparent manner that takes into account the needs of the Greenway users, the community and our homeless population," Coffey said.