Growers from the five Northwest cherry growing states anticipate a later harvest and lower yields, but are hoping for high-quality fruit as the summer months approach.
The Northwest Cherry Growers held a five-state meeting on Wednesday, May 18, in Richland, with growers from Washington, Oregon, Idaho, Montana and Utah attending.
B.J. Thurlby, Northwest Cherry Growers president, said the annual meeting provides a valuable "gut check" of how the cherry crop is developing.
"It is clear that midseason orchards throughout Washington state did not set a big crop. ... In fact, there are too many orchards that do not have a harvestable crop this year," Thurlby reported.
Earlier in May, Thurlby predicted weather-related issues such as flowers damaged from the cold and a lack of pollination would reduce this year's cherry crop by 35% compared to average volumes over the past five seasons.
April snowfall on the cherry blossoms was stunning to see, but Thurlby said extended low temperatures in the 30s caused more crop loss.
"Growers today are noting the results of generally poor pollination they have seen across their orchards and around the Northwest," he added.
As researchers and professors with the Washington State University horticulture program have noted, temperatures below 55 degrees tend to keep bees in their hives instead of pollinating flowers. And when a bee does visit a cherry flower, a figurative timer is started and the hours-long process of pollination must be completed before that time is up. Air temperature needs to remain relatively ideal for the process to complete.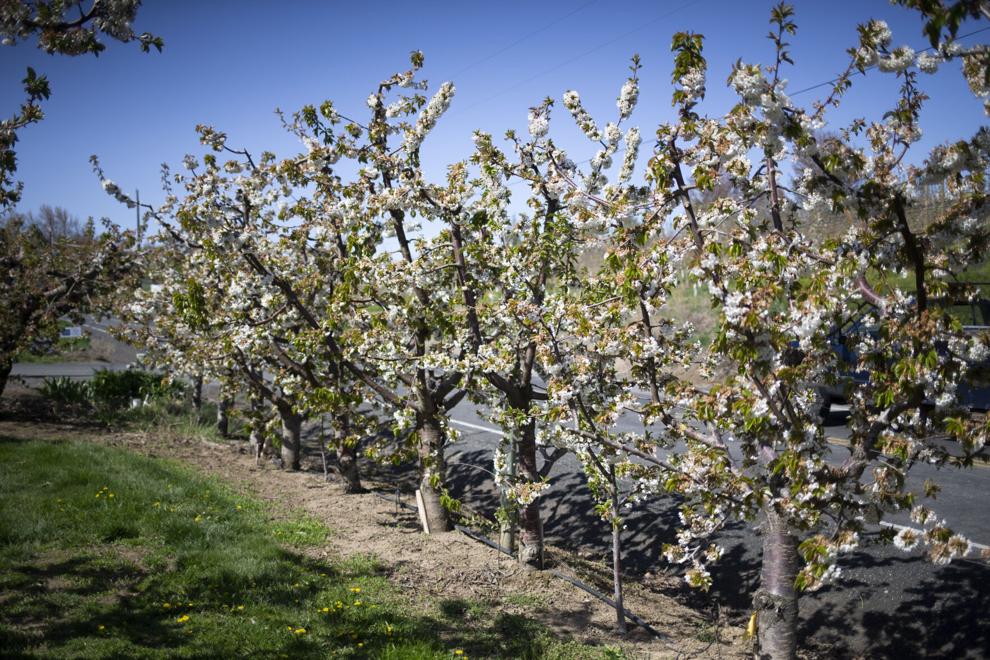 "If that period is interrupted or prohibited, by low temperatures or extreme winds for instance, it will likely prevent the fruit from developing," Thurlby said. "That unrealized fruit makes up much of the 'first drop' that growers have been observing these last few days and were discussing at the meeting."
He and growers throughout the five states hope that a smaller crop will mean larger leaf-to-fruit ratios, which in the past has produced high-quality cherries.
The extreme cold of April and continuation of cooler-than-average temperatures for much of May means the Washington cherry harvest will begin later than usual, probably around June 9-10, Thurlby said. The harvest should extend into July and perhaps even early August.
"Before the arrival of the cold, the Northwest had begun one of the earliest blooms in recent record," he added. "The snow and sub-40 degree weather that followed morphed the bloom into both one of our earlier-starting and later-finishing blooms.
"This bodes well for both early- and late-season cherry supplies for the (grocery store) shelves," Thurlby said. "However, variations in pollination and remaining crop load will make individual peaks challenging to predict."
Growers from all five states predicted a regionwide cherry harvest of 136,000 tons, or 13.6 million 20-pound boxes of dark sweet and yellow/Rainier cherries. There were 203,000 tons shipped in 2021, a year that saw record-setting heat in the Northwest toward the end of the cherry harvest.
"Mother Nature is still the largest shareholder in our crop, and we will have to see how the rest of the growing season progresses," Thurlby said. "As of today, there appear to remain opportunities for what should be a crop of dessert-quality fruit."